Rhythm and perfection coalesce as contestants traverse complex routines in 'Dancing with the Stars.' The reality television show pairs several celebrities with professional ballroom dancers. Each week, the participants showcase complex routines that decide their place in the competition. Adjudicated by a panel of judges, the contestants find themselves overcoming physical, mental and emotional turmoil to achieve perfection in the ballroom. Released in 2005, the first instalment of the reality series set the stage for unprecedented talent to follow. So, if you're also wondering where the reality stars from season 1 are these days, then look no further because we've got all the answers right here!
Where are Kelly Monaco and Alex Mazo Now?
Having received her start through Playboy Magazine as a model, Kelly Monaco has consistently diversified her abilities to accrue wide acclaim and renown. Best known for her work in 'Baywatch,' and 'General Hospital,' Kelly has consistently expanded her profile since the dancing show. She went on to star in the reality show, 'Dirty Soap,' and even judged the 2009 Miss USA Pageant. Apart from her work in modeling, she returned to seasons 15 and 25 of 'Dancing with the Stars.' On the personal front, the reality TV star likes to remain tight-lipped.
From moving to the States in his childhood to highlighting his abilities as a performer on national television, Alex Mazo has consistently progressed as a professional dancer. He has diversified his abilities since claiming the top spot with Kelly Monaco. He returned to seasons 4, 5, 7, and 9 of the ballroom competition. Besides this, the former USSR native also retains a degree in computer science and cognitive science. He has used his subject knowledge to further diversify his portfolio. He has held the position of a general partner at DGA Capital. His studio in Los Angeles also attracts countless fans and admirers of the craft. On the personal front, the reality TV star enjoys happiness with his wife and dancing partner, Edyta Śliwińska, and their children.
Where are John O'Hurley and Charlotte Jorgensen Now?
The renowned television personality, comedian, and actor became one of the stars to take to the ballroom in season 1 of the dancing show. After the show, John O'Hurley worked on productions like, 'Beethoven's Christmas Aventure,' 'Scooby-Doo! Stage Fright,' 'The Lion Guard,' and 'The Patrick Star Show.' Besides lending his voice to animation and video games, John is also a renowned host and is known for his guest-speaking events. The 'Seinfeld' actor is also working on a play with the Winter Garden Downtown Historic District. On the personal front, the celebrity continues to enjoy life with his wife, Lisa Mesloh, and their son, William.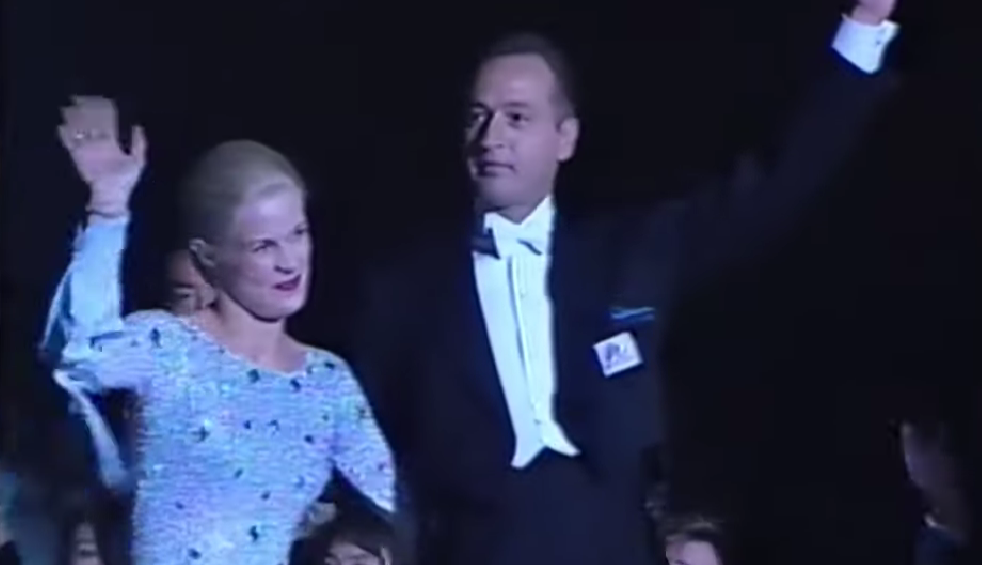 Similarly, Charlotte also paved the way for her future endeavors. The former World Finalist has also evolved in her career. After Kelly and Alex's win was labeled undeserving, Charlotte and John participated in a special "dance-off" and ultimately declared the winner. The duo also released a Bayview Films Ballroom Instructional video in 2007. Besides this, Charlotte has been helming the operations at Body Arts Consultancy in Los Angeles as the Director of Dance. She has also worked as a primary dancer in 'The Prince and the Frog.'
Where are Joey McIntyre and Ashly DelGrosso Now?
The pioneering face of 'New Kids on the Block,' Joey McIntyre, has continued to enter audiences as an artist. Shortly after appearing on the show, Joey reunited with his band, and the group released a single entitled 'Summertime.' The band also released an album and kickstarted a tour with 'Backstreet Boys' in 2011. Since then, the musician has released several albums and singles. The singer has made appearances on Melissa McCarthy and Sandra Bullock starrer 'The Heat' and 'Psych.' He hosts the 'The Move with Joey McIntyre' podcast and is on a Summer Tour as well. His latest work includes Lifetime's 'V.C. Andrews' Dawn.' On the personal front, he continues to enjoy happiness with his wife, Barrett Williams, and their children – Griffin, Kira, and Rhys.
The Utah native climbed the rode to success after years of training and practicing as a dancer. Since her appearance on the dancing reality show, Ashly has continued her association with reality television. She returned for two consecutive seasons of 'Dancing with the Stars.' Her final appearance was in season 10. Besides this, she has also released a dancing cardio workout video with fellow dancers and even guest-starred on 'The Suite Life of Zack and Cody.' She is currently a Choreographer at 'The Dance Off' and works as a Faculty Member at Break the Floor Productions. On the personal front, she enjoys equal happiness with Mike Costa, a field producer for the dancing show. The couple are parents to – Enoch Daniel, Samuel, Ammon, and Naomi. The parents recently welcomed their fifth child – Emma.
Where are Rachel Hunter and Jonathan Roberts Now?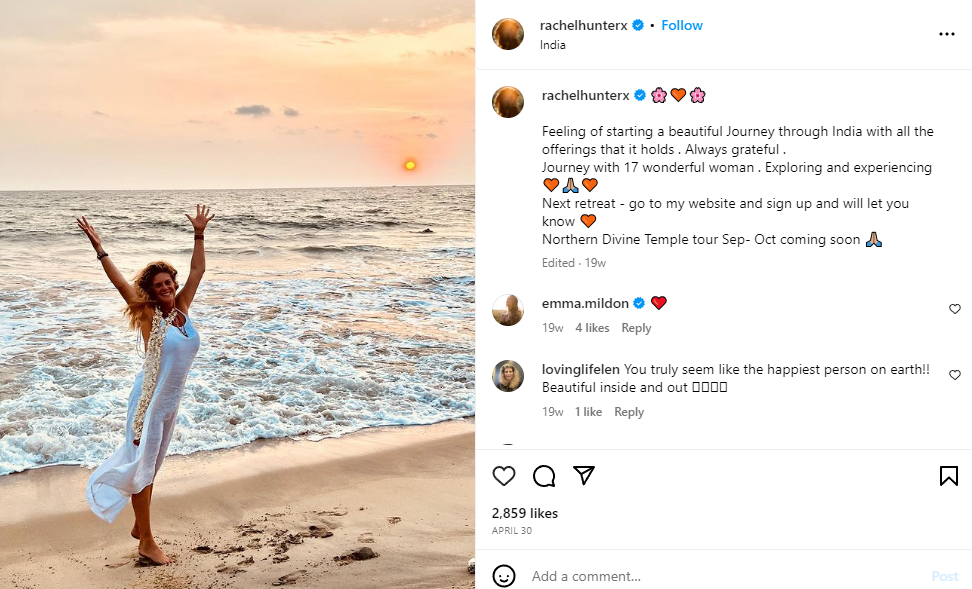 Having made her mark through her alluring abilities to model and pose, Rachel's work for eminent magazines and publications made her one of the most acclaimed models of her time. After finding resonance in dancing again, the reality TV star went on to dabble in several projects. Rachel has since become known for her charitable work. She has worked with several renowned personalities to raise funds for organizations such as The Born Free Foundations and the Rachel Hunter Lowland Gorilla Fund. She has also worked in productions like 'Lingo,' 'Piranhaconda,' and 'Confessions of a Go-Go Girl.' Besides this, the television personality enjoys life with her children – Renee and Liam. The YouTube creator is an avid traveler and posts a series of informational content on her channel.
Similarly, Jonathan has also achieved new heights as a professional dancer. After his appearance on the show, he won the 2008 World Professional Smooth Championship with partner Valentina Kostenko. He has also competed in several seasons of 'Dancing with the Stars.' His last appearance on the show was for season 9 alongside Grammy-winning artist Macy Gray. He also reviewed restaurants and bars on The Epicurean Bromance page with his late friend Mark Brock. Despite being saddened by the grave loss, Jonathan continues to honor his friend's memory.
Where are Evander Holyfield and Edyta Sliwinska Now?
Having reigned as the undisputed champion at cruiserweight for years, the professional boxer and Olympian has continued to dabble in a myriad of activities. He was briefly involved in allegations of steroid and HGH use in 2007. After making his comeback as a boxer in 2007, the reality TV star went on to compete in numerous fights until his retirement in 2014. He has since served as a boxing adviser to heavyweight prospect Zhang Zhilei. Besides this, he also owns the Real Deal Records and enjoys life with his Candi. Evander is the father to eleven children.
After displaying her skills as a performer in season 1, Edyta went on to appear on the dancing reality show consecutively for ten seasons. After a five-year stint on the show, she returned to compete with journalist Geraldo Rivera in season 22. Besides this, she has also partnered with her husband and professional dance partner, Alec Mazo, in several dance competitions. The couple are parents to – Michael Alexander and Leia Josephine.
Where are Trista Sutter and Louis van Amstel Now?
After gaining her start on season 1 of 'The Bachelor,' and 'The Bachelorette,' Trista earned wide renown for her performance on the dance show. She has since appeared on 'Marriage Boot Camp: Reality Stars,' 'Who Wants to Be a Millionaire,' and HGTV's home improvement show, 'Rocky Mountain Reno.' The author also hosts the 'Almost Famous' podcast. Besides this, Trista enjoys marital bliss with her husband, Ryan Sutter, whom she met on the sets of 'The Bachelorette.' The reality TV star is a mother to two children – Maxwell, and Blakesley.
From gaining his start in competitive ballroom dancing in the '90s, the Dutch-American champion went on to appear in two consecutive seasons of 'Dancing with the Stars.' He has also returned to the show in seasons 6, 9, 10, 11, 12, and 15. His most recent appearance on the show was with actress Cheryl Ladd in season 31. Besides this, he has also worked on 'The Suite Life of Zack & Cody,' 'Hannah Montana,' and 'All My Children.' The choreographer also runs a dance fitness program and enjoys life with partner Joshua Lancaster. The couple are fathers to two boys – Daniel and Jonathan.
Read More: Where Is Dancing with the Stars Season 30 Filmed?