Season 4 of HBO's 'Succession' reaches its inevitable conclusion by crowing the one true king to Logan Roy's vast business empire, Waystar RoyCo. However, the revelation of the successor leaves plenty of sour feelings and heartbreaks in its wake. In season 4, Shiv and Tom's relationship is at a tipping point, thanks to their personal conflicts and the power struggle around them. Given the trajectory of Shiv and Tom's relationship in the fourth season and their plays for power under Lukas Matsson, viewers must wonder about the fate of the couple's relationship. If you are wondering whether Shiv and Tom remain together or get divorced in the 'Succession' series finale, here is everything you need to know! SPOILERS AHEAD!
Do Shiv and Tom Remain Together or Get Divorced?
Tom and Shiv's relationship is a cornerstone of all four seasons of 'Succession' At the show's start, Tom and Shiv have been in a relationship for years. By the season's end, they decide to tie the knot, but the marriage is complicated when Shiv demands an open marriage. Tom reluctantly agrees, and it is implied he does not want to lose the power and influence that comes with being associated with the Roys. As the narrative progresses, Tom and Shiv make each other's lives equally miserable due to their professional ambitions. However, in the third season finale, things reach a breaking point when Tom betrays Shiv by telling Logan about Shiv and her brothers' revolt against him.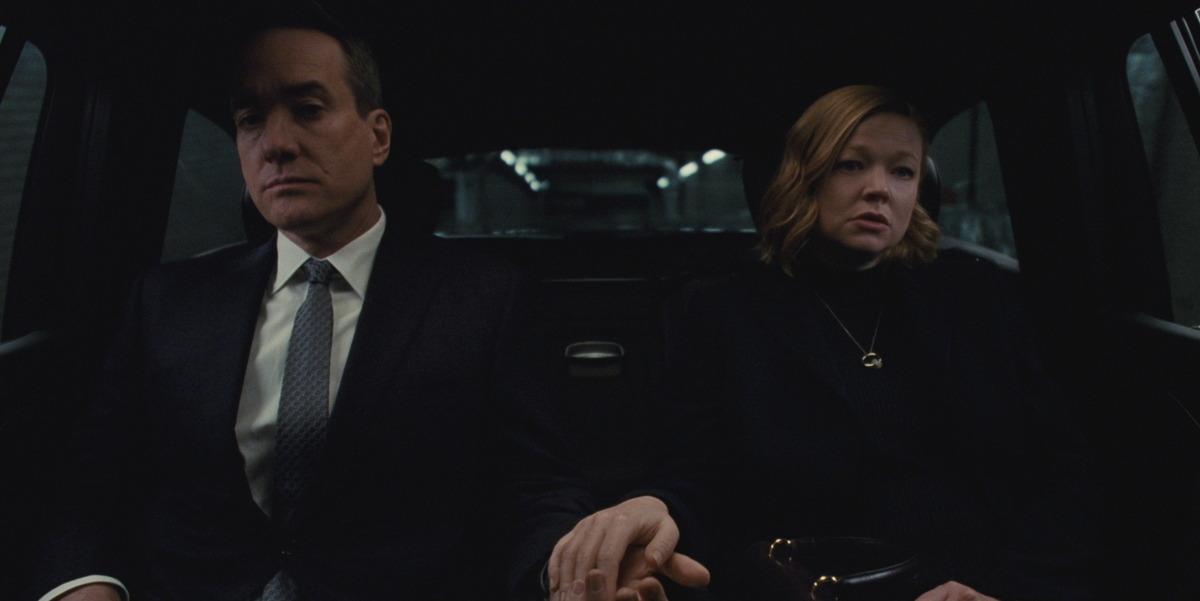 At the start of season 4, Tom and Shiv no longer live together and contemplate a divorce. Therefore, their relationship has certainly crumbled. However, Shiv is pregnant with Tom's child but keeps it a secret from Tom and others until the eighth episode. In the preceding episode, Shiv and Tom seemingly reconcile and throw a tailgate party on the eve of the Presidential election polls. As a result, Tom also learns that Shiv has aligned herself with Lukas Matsson, the Swedish tech billionaire trying to buy Waystar RoyCo. Shiv suggests Matsson appoint and US-based CEO after buying the company to get past the regulatory concerns.
In the series finale, Matsson betrays Shiv and chooses Tom as the company's CEO. Shiv, who holds the deciding vote in the board meeting, refuses to support her brother, Kendall Roy. Instead, she sides with Matsson and helps seal the deal for GoJo to purchase Waystar RoyCo. As a result, Tom is appointed as the new CEO of Waystar RoyCo, succeeding Shiv's father, Logan. It is implied that Shiv changed her mind about siding with Kendall partly due to their years of conflict. Shiv would rather lose her shot at taking over the company than let her brothers succeed their father.
It is also hinted that Shiv's decision is solidified when she realizes that she can continue the Roy family's bloodline ascending to their corporate empire's throne by continuing her relationship with Tom. In one of the show's final scenes, Tom and Shiv hold hands as they drive to Matsson's party, implying they will continue their relationship. At the end of the seventh episode, Shiv and Tom have an argument where they bleed their hearts out and share everything about the other they hate. The demeaning words cause irreparable damage to their relationship.
A conversation at the start of the series finale seemingly confirms Tom has no interest in continuing his marriage with Shiv. However, by the episode's end, he turns the tables and holds significantly more power over Shiv than in previous seasons when Shiv was in control. Hence, it seems like Tom has changed his mind and wants to continue their marriage. On the other hand, Shiv siding with Matsson seemingly ends her relationship with her brothers. Therefore, returning to Tom makes sense for her personally and professionally. However, as the final scene denotes, their arguments have damaged Shiv and Tom's relationship irreparably. Hence, even though Shiv and Tom continue their marriage, it is devoid of any affection, leaving them both emotionally barren.