Among the actors that made big in the early nineties, the name Gary Oldman stands out as one of the formidable one. Born into a working class family, he worked tirelessly to earn a scholarship into the Rose Bruford College of Theatre and Performance. In the theatre circuits, he quickly made a name for himself, for his intense portrayals. As luck would have it, director Alex Pope saw one of his theatrical performances and offered him the lead role in the film 'Sid and Nancy' (1986). Still remembered for his epic portrayal of the ill-fated rockstar, this role brought him into limelight. Over the years, he came out with some breathtaking performances and won hearts. Equally known for his hard-hitting views over the political circus that Hollywood is, he often got embroiled into controversies.
A man whose craft speaks more than him, Gary Oldman has withstood the test of time, among many controversies, some failed marriages and a career that has seen swings more than a seesaw. Here is the list of top Gary Oldman films selected from his vast filmography. You can also watch some of these best Gary Oldman movies on Netflix or Hulu or Amazon Prime.
11. Sid and Nancy (1986)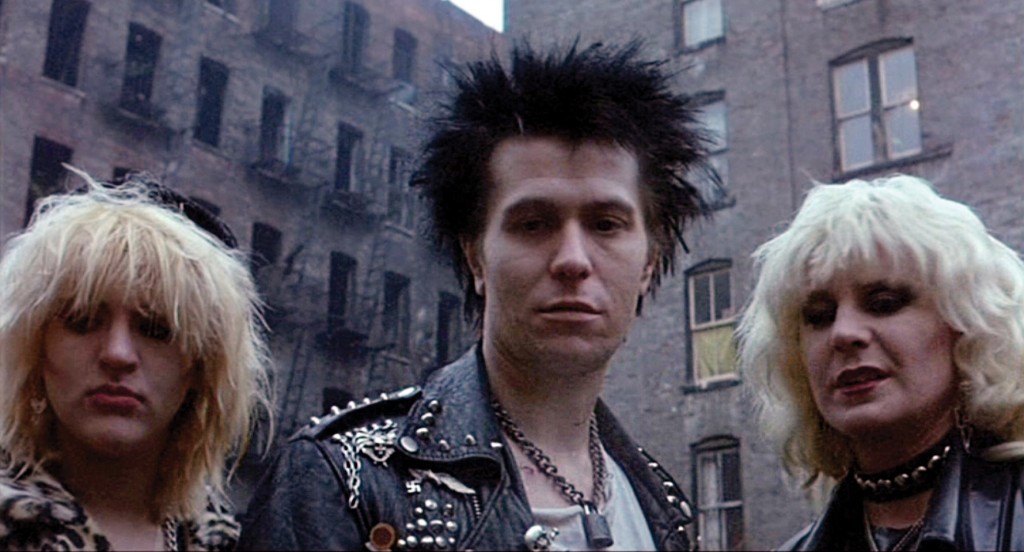 Based on the relationship of the rocker Sid Vicious of the band Sex Pistols and his girlfriend Nancy Spungen, 'Sid and Nancy' brought the unbelievable talents of Gary Oldman, to forefront. To the people watching it, as if it was the kohl eyed, punk haired Sid being alive once again. Gary perfected the slurred down accent of the rockstar to the t, who destroyed his career and eventually his life to a lifelong addiction of heroin. Commercially unsuccessful, 'Sid and Nancy' garnered positive reviews from critics, particularly for Gary's portrayal of the ill-fated rocker and went on to become a cult classic.
Read More: Best Adam Sandler Movies
10. The Fifth Element (1997)
Futuristic world, on the brink of apocalypse? Check. Last hope to save the planet is Bruce Willis? Check. Made on a budget of $90 million, 'The Fifth Element' was the biggest summer blockbuster of that year. Due to the polarized reviews at both ends, it also came to be known as the worst summer blockbuster! Gary Oldman played the antagonist Zorg with a hairstyle that blew everyone away. He played this megalomaniac character with some really over the top acting, that came out pretty cool for typical comic book super villain.
Read More: Best Mark Wahlberg Movies
9. JFK (1991)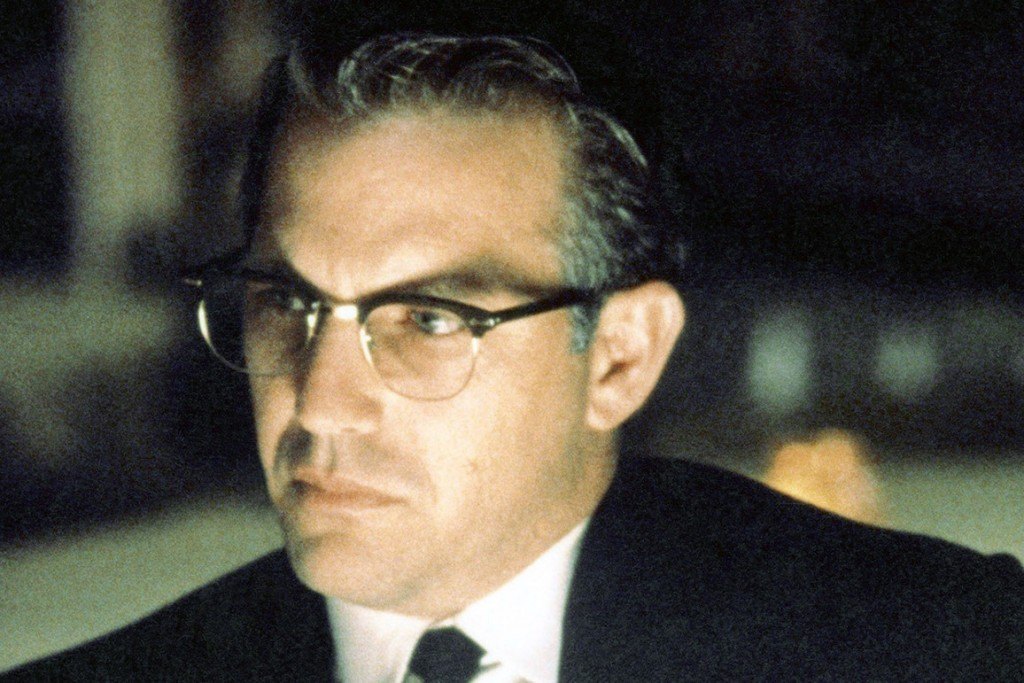 Was it a lone gunman? Was it planned by the commies? Was it the Mafia? What baffled people was the urgency of the officials to tag the murder to a certain individual and before the motive could have been established in the court of law, the man was publicly shot dead. Playing that character, all Gary Oldman had to do is be in some scenes, as his was a bit role. But he took it to a different level with his portrayal of Lee Harvey Oswald. The grim looking Oswald came alive on screen and the myth behind one of the most infamous and much discussed assassination was reborn. Part fiction and part history, Oliver Stone's 'JFK' has been one of the most satisfying work of Gary, as per his own admission.
Read More: Best Robert Downey Jr. Movies
8. Dracula (1992)
Among the many versions of the mythical count of Transylvania, director Francis Ford Coppola's 'Dracula' is considered to be almost true to Bram Stoker's version. Gary played the lead role of Count Dracula and metamorphosed himself as the brooding lover, who has been waiting for his beloved for centuries. The movie was highly praised for its rich visual content. As it happens with blockbusters, many criticized it for being a long and boring adaptation of the classic. But as far as Gary's performance was considered, the consensus was same across all lengths and breadths, he was surreal as Dracula.
Read More: Best Francis Ford Cappola Movies
7. Prick Up Your Ears (1987)
Based on the relationship between the British playwright Joe Orton and his lover Kenneth Halliwell, 'Prick up your ears' tells the doomed love story of two men. Essentially a love story, but it manages to etch the friction that usually occurs between lovers in the same line of work. Gary played the character of Joe Orton, who starts as a nervous young man, unsure of his talent. With the company of his lover, played by Alfred Molina, he discovered his true potential, only to lose himself in it. As the story progresses, this friction turns into feud between the two and ultimately ends in death.
Read More: Amy Adams Movies
6. True Romance (1993)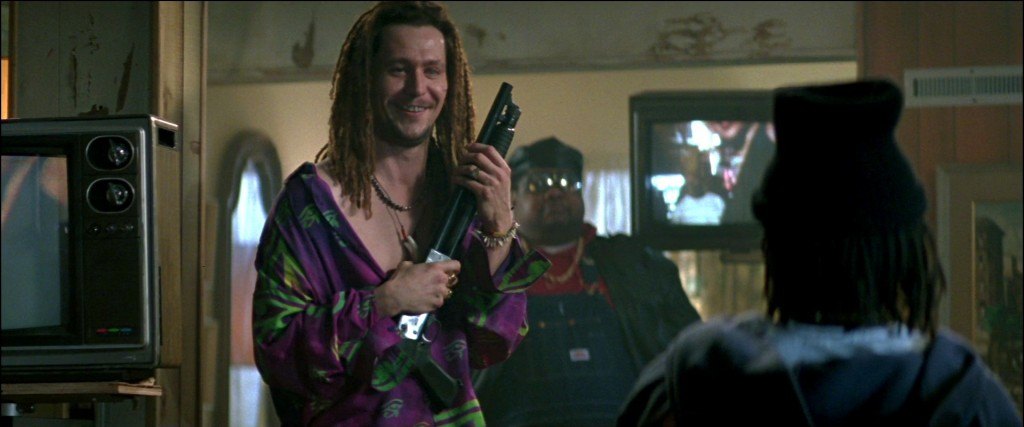 Again this one's a gem of a movie, where Gary leaves his stamp of supremacy in a short bit of a role. Playing the pimp of the protagonist's girlfriend, he becomes this despicable person, with whom you wouldn't want a biff. Wearing dreadlocks, with metal plated teeth and blind in one eye, he goes into a confrontation with Christian Slater's character and gets killed. Shortest time ever on screen, impact of a lifetime. Based on a script from Tarantino, the stylish 'True Romance' gave everyone a sneak peek of Tarantino's capability and made way for the classic – 'Reservoir Dogs'.
Read More: Best Quentin Tarantino Movies
5. State of Grace (1990)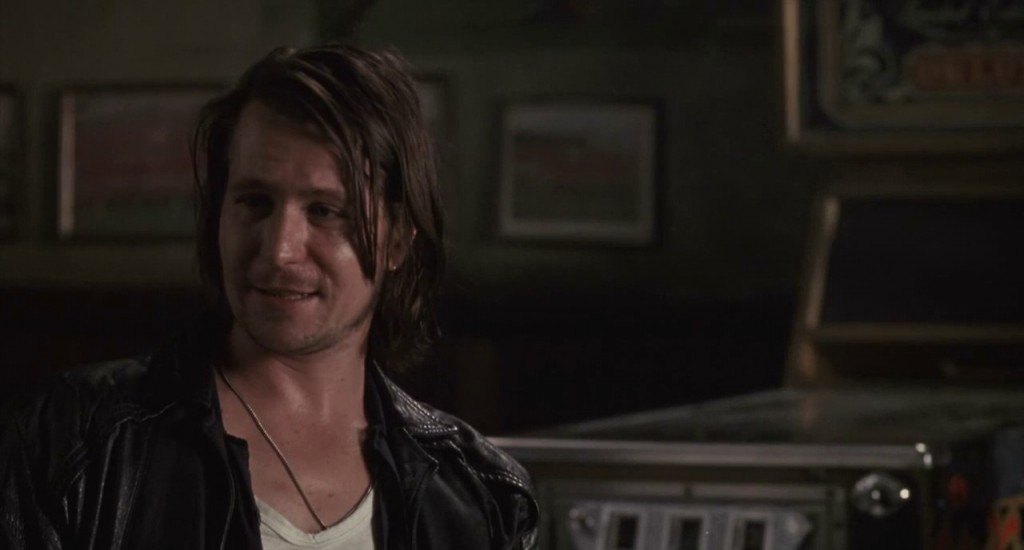 It was literally a crime to be released in the same year that of 'Goodfellas'. And to be made on similar concept, whew! There were bound to be comparisons. Though it paled in comparison to Scorsese's brilliance, but 'State Of Grace' made its mark as one of the finest neo-noirs ever made. Making his presence among stalwarts such as Ed Harris and Sean Penn, was Gary Oldman's Jackie Flannery, a crazed gangster. Owning up every scene that he's in, Oldman gave a bravura performance.
Read More: Best Martin Scorsese Movies
4. Romeo is Bleeding (1993)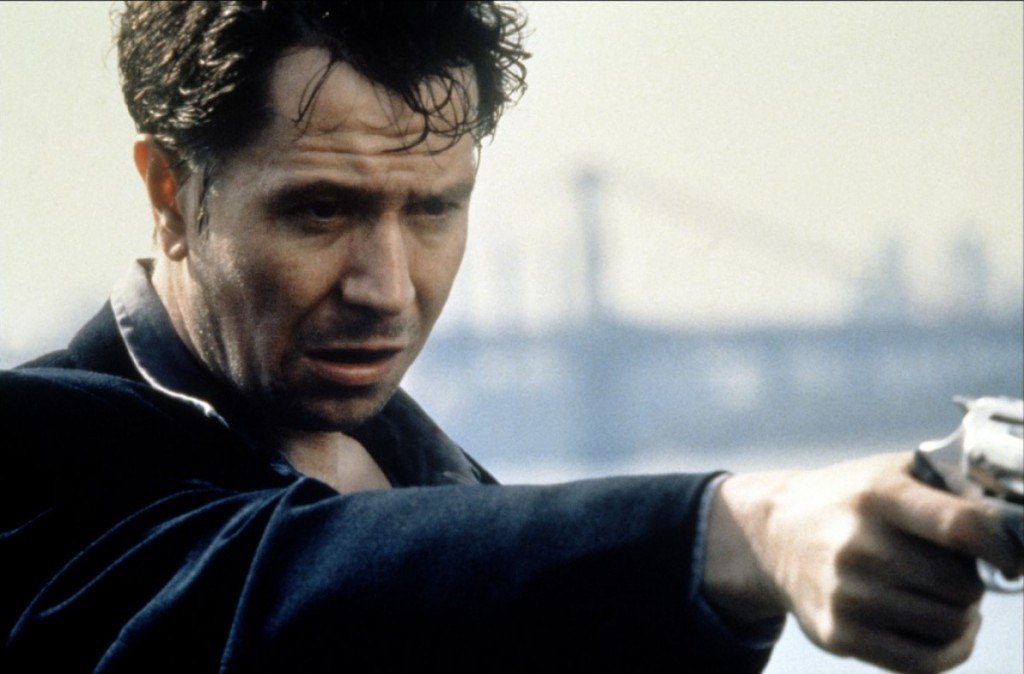 Playing an anti-hero, Gary Oldman portrayed the role of a cop, who lives a life of betrayal with his wife and mistress, is on the payroll of the mob for doing their dirty laundry and much envied by his co-workers who nickname him – Romeo. His world of fantasy becomes short-lived, by the advent of a femme fatale, who turns his world upside down. At the time of release, this was a critical as well as commercial failure. Over the time, Gary's astounding performance as a morally vulnerable man, made everyone take a second look at this film, turning it into a classic neo-noir.
Read More: Best Comedy Movies
3. Tinker Tailor Soldier Spy (2011)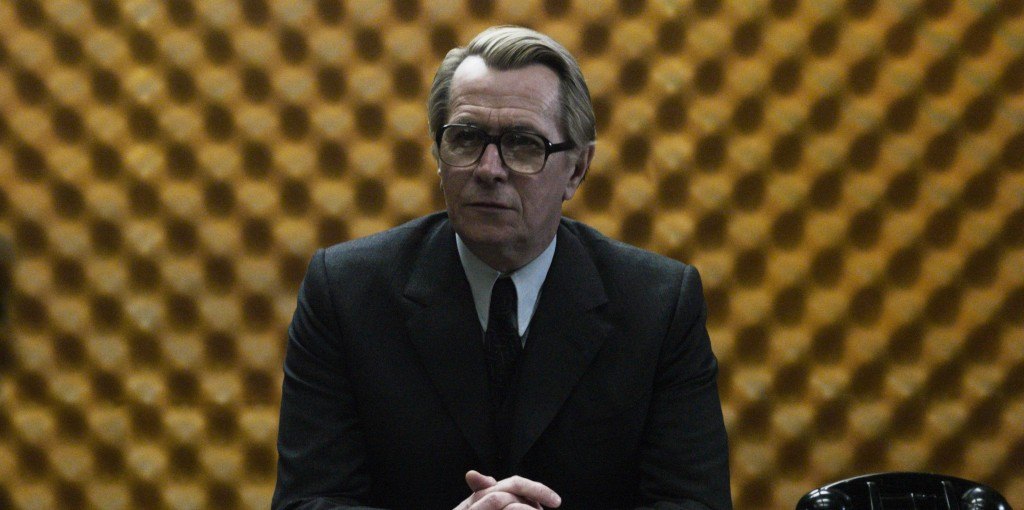 At the heights of cold war, a British secret service operative is shot and captured while he's undercover. This leads MI6 to believe the possibility of a mole in the high ranks of the organization. Gary Oldman plays the aging lieutenant George Smiley, who is brought back from retirement as the investigating officer. Highly stylized, this movie isn't your usual fare of high octane car chases and spies pulling stunts to save the damsel in distress. Instead, this appeals to the grey matter of the brain as in a series of conversation and real fine detective work, the mole is apprehended. Gary received his first best actor nomination, in the Oscars, only to lose out to Jean Dujardin.
Read More: Best Ralph Fiennes Movies
2. Leon: The Professional (1994)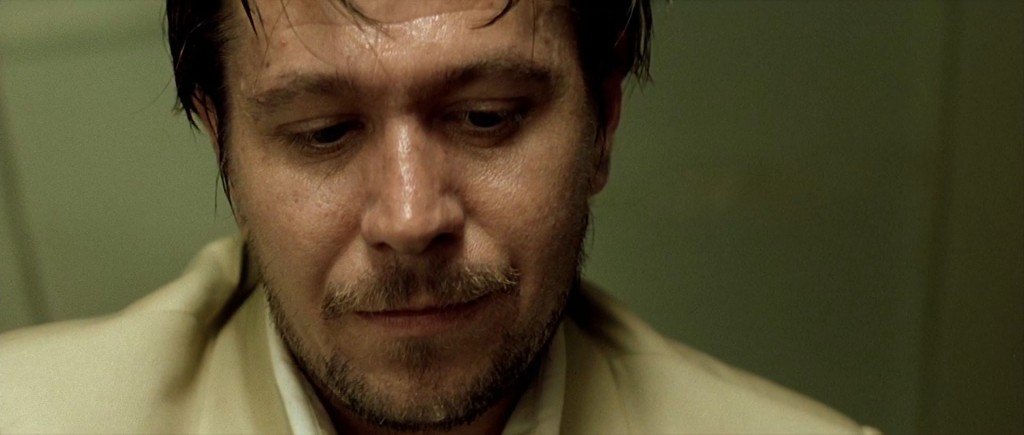 He walks into the hallway with a smirk on his face that reeks of his contempt for the world. He takes a little box out of his pocket, shakes it near his ears and pops a pill from it. His face goes through a series of convulsions and makes a stuttering sound before he calmly looks at the screen and says – "I like these calm little moments before the storm.It reminds me of Beethoven."Avid cine-goers do remember, what unfurls next on screen. Probably one of the most sadistic on screen criminals ever, Norman Stansfield is played by Gary Oldman and the reason, why 'Leon: The Professional' is the top ranked movie of this list.
Read More: Best Angelina Jolie Movies
1. Darkest Hour (2017)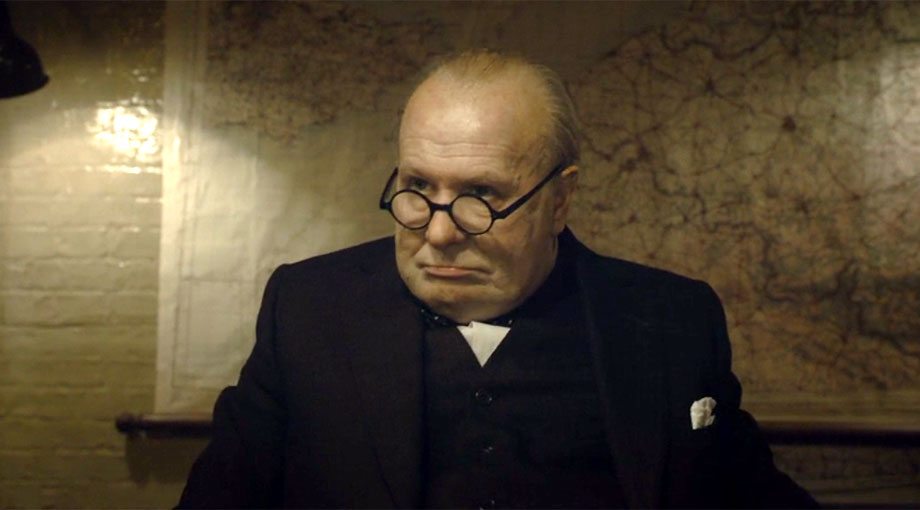 Gary Oldman's finest hour. Say no more!
Read More: Best Al Pacino Movies