Netflix's 'I Woke Up A Vampire' is a comedy fantasy show that brings the supernatural world of vampires, warlocks, and werewolves to a younger audience. The story starts with Carmela "Carmie" Henley waking up on her thirteenth birthday to a strange discovery about her apparent vampirical powers. With the help of her best friend, Kev Gardner, a comic book expert, Carmie learns that she's a vampling, a human/vampire offspring belonging to the Mythic world. Now, if surviving middle school as a teenage girl wasn't hard enough, Carmie must face the complications of the supernatural world, namely Dylan, a new kid in town hailing from a family of monster hunters.
Within the show's light-hearted atmosphere, the narrative finds occasional bouts of suspense due to the mysterious nature of the Mythic world. As such, the show's particular brand of comedy/action remains reminiscent of comic books with multiple references to the same through motif and text. If the same has you wondering about the show's connection to any real-life comic book series, here is everything you need to know.
I Woke Up A Vampire, An Original Idea
No, 'I Woke Up A Vampire' is not based on a comic book series. Created by Thomas Lynch and his team of screenplay writers/directors, this fanged coming-of-age story is an original idea credited to the creative team's imagination. Showrunner Lynch, who wrote multiple episodes for the first season, has worked on numerous other shows as a writer, producer, and director, with 'The Secret World of Alex Mack' as one of his most recognizable works.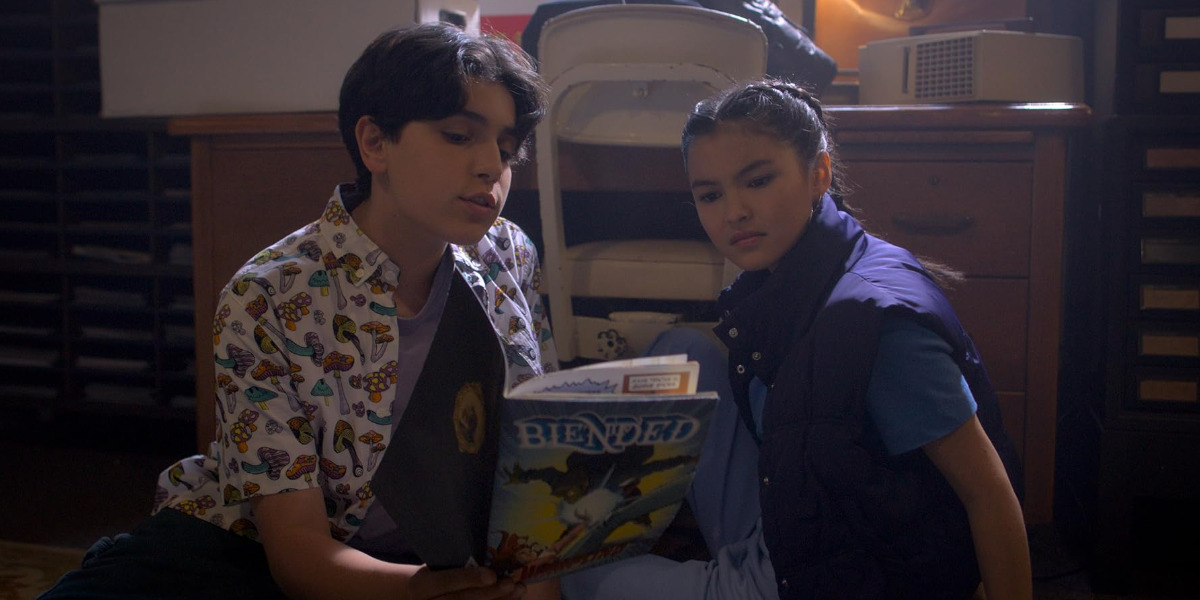 'The Secret World of Alex Mack' was a 90s family comedy show with a similar plot premise to 'I Woke Up A Vampire.' Revolving around the titular Alex Mack, a teenage girl who gains inexplicable superpowers, the show focuses on its protagonist's complicated life as she tries to juggle school, family, and various misadventures. Therefore, having essayed such a popular show about similar themes, Lynch expertly brought Carmie's story to the screen.
Nevertheless, the actual challenge remained in the complex worldbuilding of Carmie's universe. 'I Woke Up A Vampire' surrounds its characters in a rich mythology with different supernatural creatures co-existing beside humans but only in the shadows. Therefore, through Carmie's unique perspective as a kid stuck between the two worlds, the narrative expertly introduces new ideas and systems to the audience without saturating the storylines with unnecessary information.
Such a narrative tool of a protagonist getting incorporated into a magical world they were unaware of has been around for a long time and utilized by various storytelling channels. Famously, franchises like 'The Shadowhunter Chronicles,' 'Teen Wolf,' and 'Buffy The Vampire Slayer' have employed similar concepts. Likewise, in the world of graphic novels, fans will find this trope utilized by series like 'Locke & Key.'
However, 'I Woke Up A Vampire' sets itself apart by designing its storylines and character arcs specifically for the pre-teen audience. The narrative upholds 12-13-year-olds at the center, allowing their everyday problems and issues to take the limelight alongside the Mythic world's high-stakes catastrophes. In doing so, the show allows its younger audiences to resonate with the characters on screen and see reflections of their own lives against the backdrop of an exciting new world.
Through occasional pop-culture references targeted specifically toward Generation Alpha, 'I Woke Up A Vampire' builds a relatable world. Similarly, with its employment of multiple comic book themes, from the stylized title sequence to the prominent in-universe significance of a particular series, "Blended," the show remains authentic to its target audiences' interests and worldviews. However, outside of the same, no specific comic book has any connection to the show.
Ultimately, 'I Woke Up A Vampire' is not based on any pre-existing media and stands on its own. Thus, it remains an original idea penned by Lynch alongside several other writers and consultants on his team, like Tabia Lau, Veronika Paz, Ryan D. Lynch, and many others.