Ah… the 90s. We love to live our lives in nostalgia and the 90s are the go-to decade for television nostalgia. With the glacial rise of technology and creativity, the 90s saw some of the most iconic and critically successful television shows. From 'Law & Order' to 'Friends' to 'Buffy the Vampire Slayer' the 90s gave us a dose of fresh imagination. For this list, I have taken into account films which best defined the 90s and still are remembered to this day. I'm particularly leaving out shows such as like 'The Sopranos' (1999-2007), as they released late in the 90s and become popular in the 2000s. So, without further ado, here is the list of top TV shows of the 1990s.
20. South Park (1997-)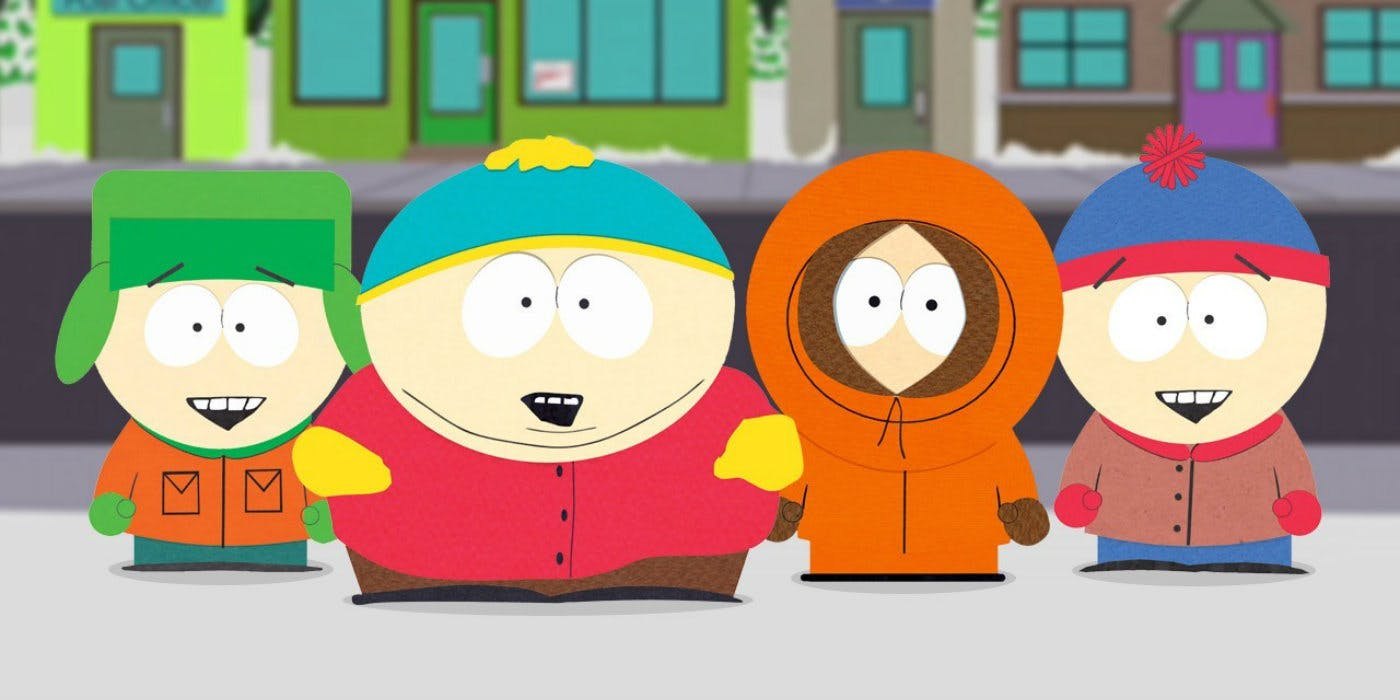 If you ever want to see just straight adult humor with no censoring and filled with satire, choosing 'South Park' is a great idea. The plot deals with the misadventures of 4 boys Kyle, Stan, Cartman, and Kenny. They live in a town called south park. Their adventure leads them to complicate things which were very simple to start with. The show has still tried to maintain its credibility and keeps on producing good episodes. Also, watch the movie. It's damn funny.
19. Boy Meets World (1993 – 2000)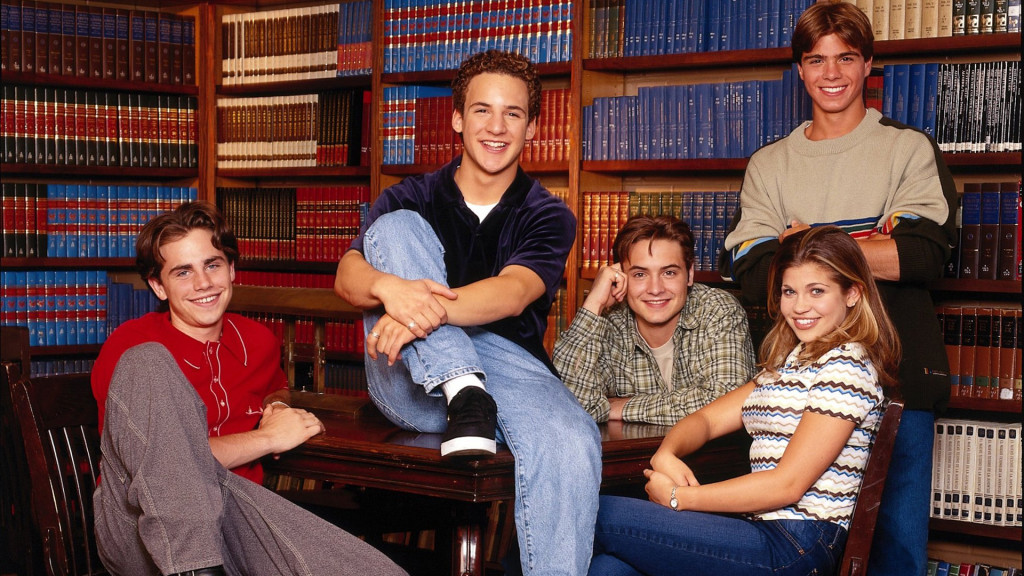 Believe it or not, B.M.W. predates 'On My Block' by a good two decades, and rendered teenage drama cool when there was practically nothing that could be categorized as a teenage drama. Cory Mathews is the protagonist in this seven-season-long TV show with a couple of seasons focusing on his boyhood to teenage to his late teens respectively. Cory and his best friend Shawn are like the Ted Mosby and Barney of our times, spending most of their time ogling pretty girls and with Cory trying to make a few relationships work for him. The high-school part (season 2 onwards) is the funniest and also the most realistic in terms of its portrayals, storyline and pace. Overall, Cory is the squandering boy who meets the world, in a very different way than we might know.
18. Dawson's Creek (1998-2003)
Kicking off the new obsession and craze for teen-themed movies and television shows in America in the late 90s, 'Dawson's Creek' revolves around Dawson, essayed by James Van Der Beek, and her friends, and their journey in life, starting from high school and continuing in college. Resonating of a "coming-of-age" drama, the series beautifully sketches out the characters which are relatable, making every fan connect innately to them. A part of the catapulting rise of the teen drama, 'Dawson's Creek' boasts of popularising this genre, and therefore earns a place on this list.
17. Freaks and Geeks (1999 – 2000)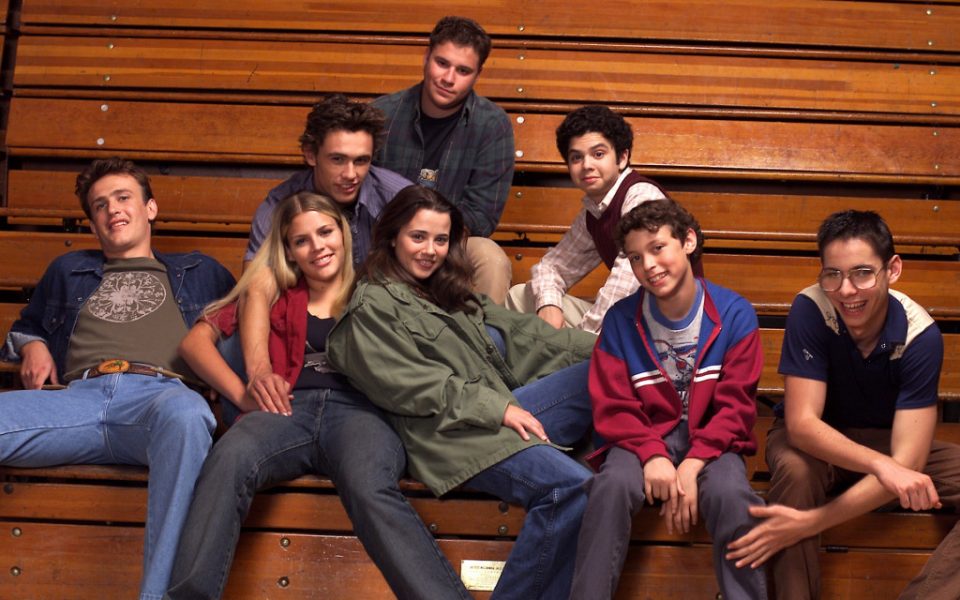 A freakishly geeky television show which is considered by many as the career starting point of today's stalwarts like Jason Segel, James Franco, Seth Rogen, Shia LaBeouf et al, 'Freaks and Geeks' tops my list as the most 'On My Block' kind of a show till date. Although the element of crime and violence in the series is almost nonexistent, it reminds us of 'On My Block' in many ways. Teens hanging out at parties, substance abuse, pornography, breakups, depression form the core content of the series and the performances have taken these stigmas to another level altogether. For those who've actually watched the television show, they must know that the difficulty involved in trying to explain the brilliance of this TV show in a few lines is paramount. It has to be witnessed, before merely being read about.
16. Homicide: Life on the Street (1993-1999)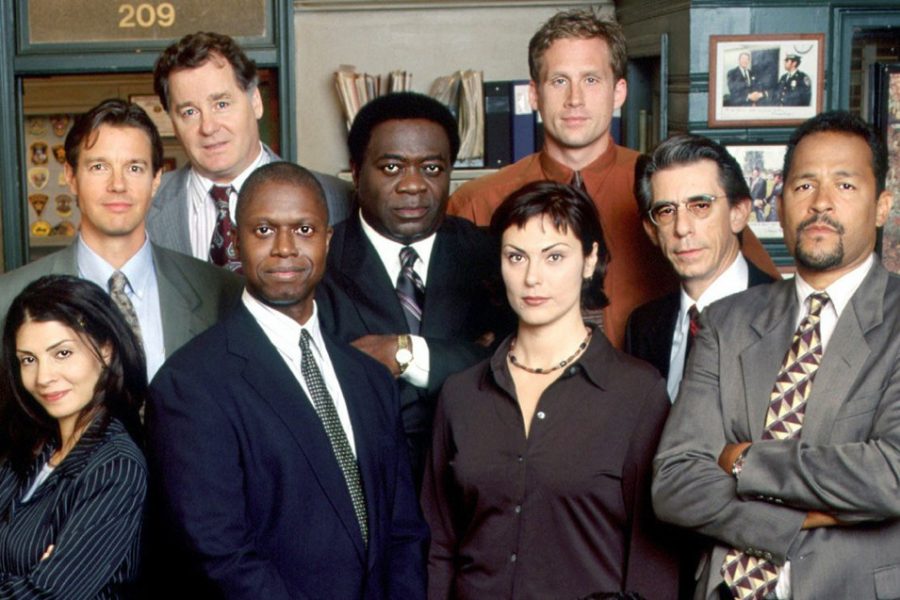 Adapted from 'Homicide: A Year on the Killing Streets' (1991), written by David Simon, this police procedural series follows a police homicide investigation unit as they investigate violent crimes in the city of Baltimore. Created by American screenwriter Paul Attanasio, the show boasted of an ensemble cast and was one of the most popular shows of its time.
15. My So-Called Life (1994-1995)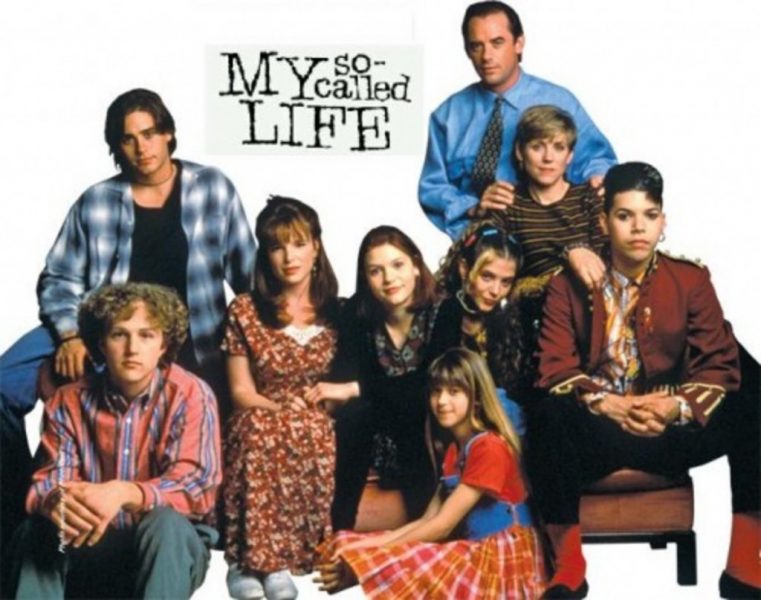 Often cited as one of the most influential shows of the 90s, it's a pity that teen drama 'My So-Called Life' lasted for only one season. Created by American playwright Winnie Holzman, 'My So-Called Life', set at the fictional Liberty High School in the suburbs of Pittsburgh, Pennsylvania, follows the emotional travails of several teenagers in the social circle of the protagonist Angela Chase, essayed by Claire Danes. Debuting in a time when teen dramas were taking the centre stage, the show drew particular praise for its deft and mature portrayal of adolescence. However, to everyone's dismay, 'My So-Called Life' was cancelled by the production house.
14. Roseanne (1988-1997)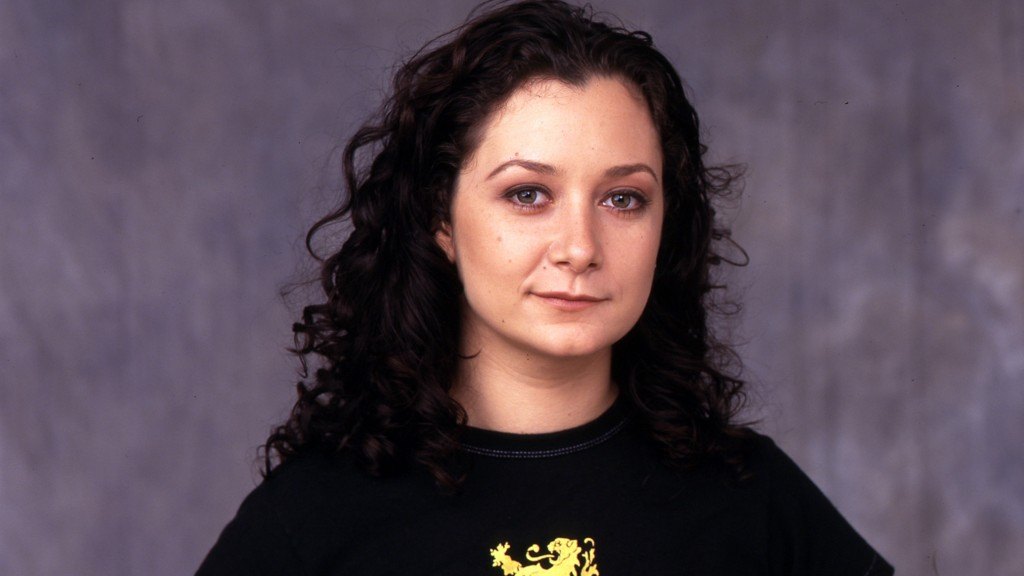 Led by American actress, comedian and writer Roseanne Barr, 'Roseanne' follows the life of a working-class family which struggles with life's problems, essentially marriage, children, money and parents-in-law. Considered as one of the best sitcoms of all time, 'Roseanne' holds the distinction of creating on the most endeared and popular female characters, who weren't based on their aesthetic appeal, 'Roseanne' prove to be the new wave in the sitcom genre.
13. Family Guy (1998-)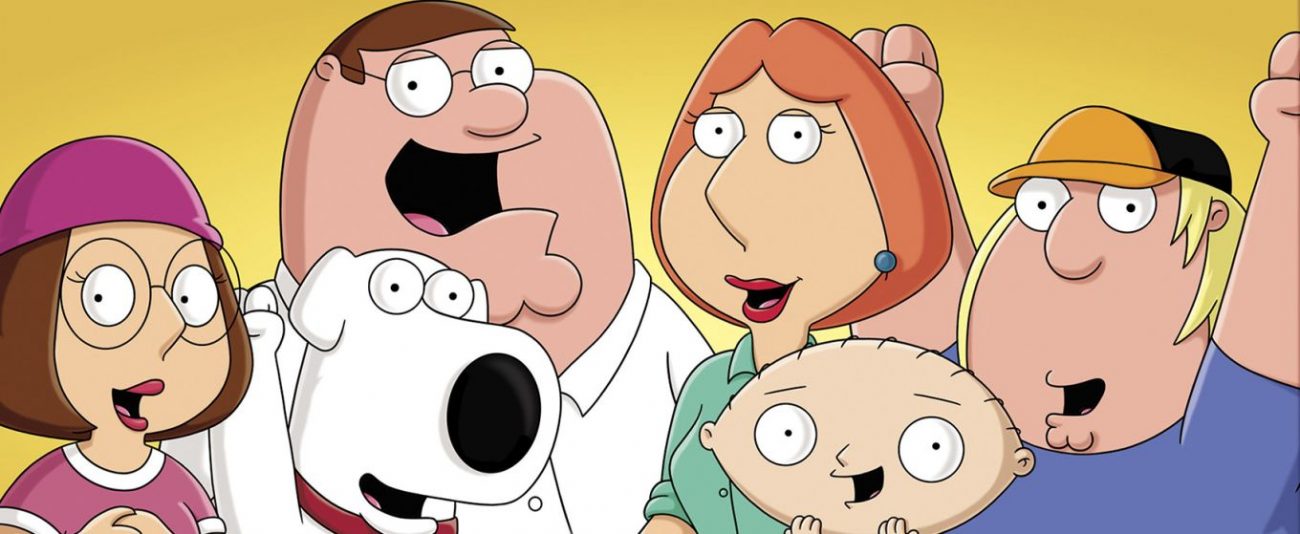 Seth McFarlane's force majeure performance has made 'Family Guy' one of the most enjoyable shows on television. The array of characters, all voiced by him, present the typical American family. The Griffin family, with an over-smart dog, battle on with their daily lives in the utmost unprepared and hilarious of fashions. The popularity of the show runs amuck compared to other similar sitcoms and the reason for that is Seth McFarlane's brilliance. A true gem that remains one of the best TV shows of all time.
Read More: Best TV Shows of the 80s
12. Law & Order (1990-2010)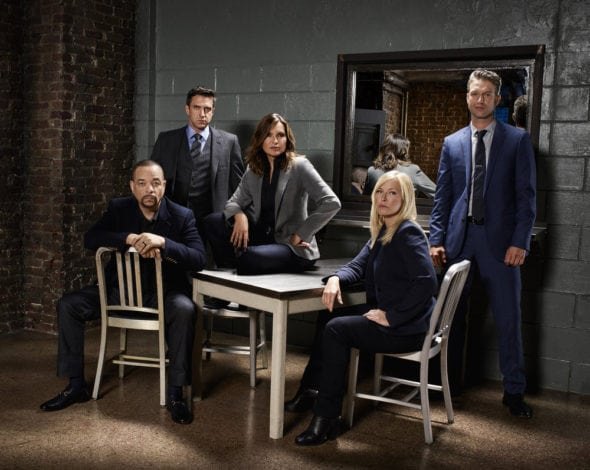 Running for two decades, the American police procedural and legal drama was created by Dick Wolf. Set in the busy metropolis of New York City, 'Law & Order' is structured as a two-part perspective of the crime. The first half-hour of the episode follows the investigation of a crime and apprehension of a suspect by New York City Police Department detectives and the second half follows the prosecution of the defendant by Manhattan District Attorney's Office. Based on real cases that made headlines, 'Law & Order' grew to be one of the favourites of the 90s.
Read More: Best TV Shows of the 70s
11. Twin Peaks (1990-1991)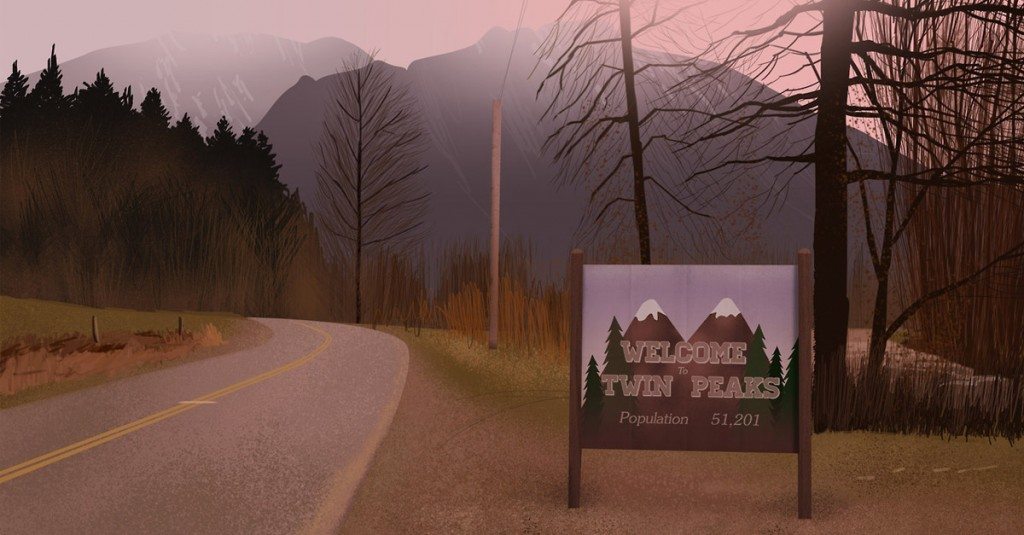 Created by Mark Frost and David Lynch, 'Twin Peaks' is a mystery horror drama about an investigation led by FBI Special Agent Dale Cooper, essayed by Kyle MacLachlan, into the murder of homecoming queen Laura Palmer, essayed by Sheryl Lee. Set in the fictional suburban town of Twin Peaks, Washington, 'Twin Peaks' is structured along the lines of the quintessential elements of a detective fiction, and its supernatural elements and campiness brings a distinctive taste of Lynch inspired work. The show, while being one of the most popular in 1990, fell in ratings and was cancelled. With a cult following since then, 'Twin Peaks' has returned after a hiatus of 25 years, releasing in May of 2017 as 'Twin Peaks: The Return'.
Read More: Best TV Shows About Lesbians
10. Beverly Hills, 90210 (1990-2000)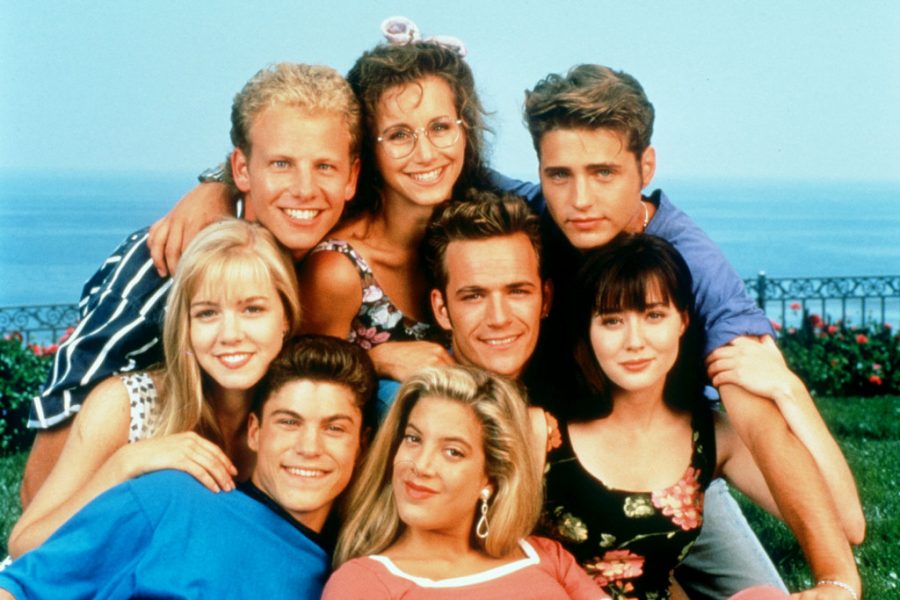 Kicking off the 'Beverly Hills, 90210 franchise' franchise, this decade-long show follows twins Brandon and Brenda Walsh and their strenuous yet eventful lives as they deal not only with being teens but also with the culture shock of being uprooted from their Minneapolis hometown to a very glamorous and swanky town in California. Breaking the pre-conceived stereotypical notions of sex, date rape, homophobia, animal rights, alcoholism, drug abuse, domestic violence, eating disorders, antisemitism, racism, teenage suicide, teenage pregnancy, and AIDS, the shoe is perhaps the most unabashed and brazen representation of the formative teenage years.
Read More: Best TV Shows of the 50s
9. Buffy the Vampire Slayer (1997-2003)
Premiering in the latter years of the decade, 'Buffy the Vampire Slayer' follows the titular Vampire Slayer Buffy, who while kicking the asses of evil forces, tries the arduous of dealing with high school life. A success in the critics' circles and darling of the audiences, Buffy the Vampire Slayer' bagged a Golden Globe nomination and 3 Emmys, and franchise popularly called the "Buffyverse".
Read More: Best TV Shows of the 60s
8. Batman: The Animated Series (1992-1995)
The only superhero animated show on this list, 'Batman: The Animated Series' is a testament to its talents. Releasing at a time when superhero animated shows were soaring in popularity, 'X-Men' (1992–1997) and 'Spider-Man' (1994–1998) being one of the most famous, this show dealt with the caped crusader with maturity and ripeness. Often seen as a precursor to the dark portrayal of Batman which Nolan effectively utilised, 'Batman: The Animated Series' still holds a special place in ardent superhero fans.
Read More: Best TV Shows About Zombies
7. Star Trek: The Next Generation (1987-1994)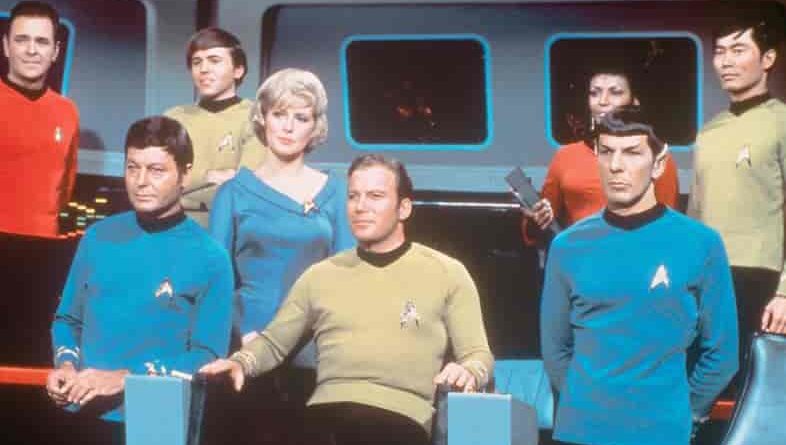 Led by veteran actor Patrick Stewart as Captain Jean-Luc Picard, 'Star Trek: The Next Generation' follows event set decades after Captain Kirk's, essayed by William Shatner, five-year mission, a new generation of Starfleet officers set off into a new Enterprise on their own mission to go where no one has gone before, thus the "next generation". Created by American screenwriter and producer Gene Roddenberry, this sci-fi television series inspired an entire generation of sci-fi fans and spawned off a rather underwhelming franchise.
Read More: Best TV Shows Based on Movies
6. The X-Files (1993-2002)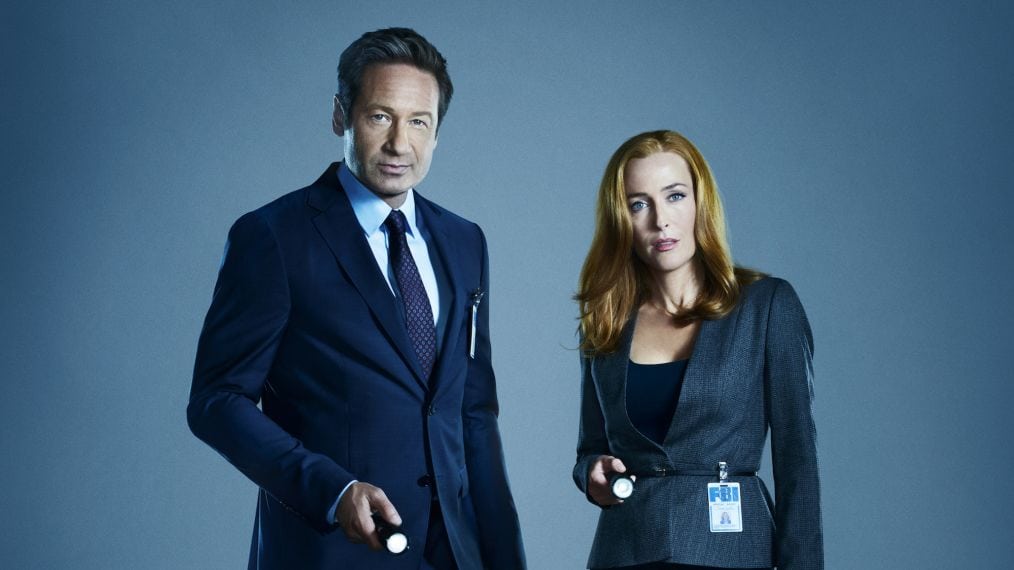 A science fiction drama, 'The X-Files' follows Federal Bureau of Investigation (FBI) special agents Fox Mulder, essayed by David Duchovny and Dana Scully, essayed by Gillian Anderson, who investigate the X-Files, which are unsolved cases involving paranormal phenomena. The show nicely layers the two detectives while incorporating humour and horror with dexterity. While the stretch of 11 seasons was criticised by many, 'The X-Files' managed to break all barriers and become one of the best shows of the 1990s.
Read More: Best TV Shows of 2017
5. Frasier (1993-2004)
David Angell, Peter Casey, and David Lee, 'Frasier' is an American sitcom is a spin-off Cheers and is a continuation of the titular Dr Frasier Crane, essayed by Kelsey Grammer, who moves back to his hometown of Seattle, where he lives with his father, and works as a radio psychiatrist. A recipient of thirty-seven Emmy Awards, 'Frasier' was one of the defining shows of the 90s and was a favourite among critics.
Read More: Best TV Shows to Binge Watch
4. The Fresh Prince of Bel-Air (1990-96)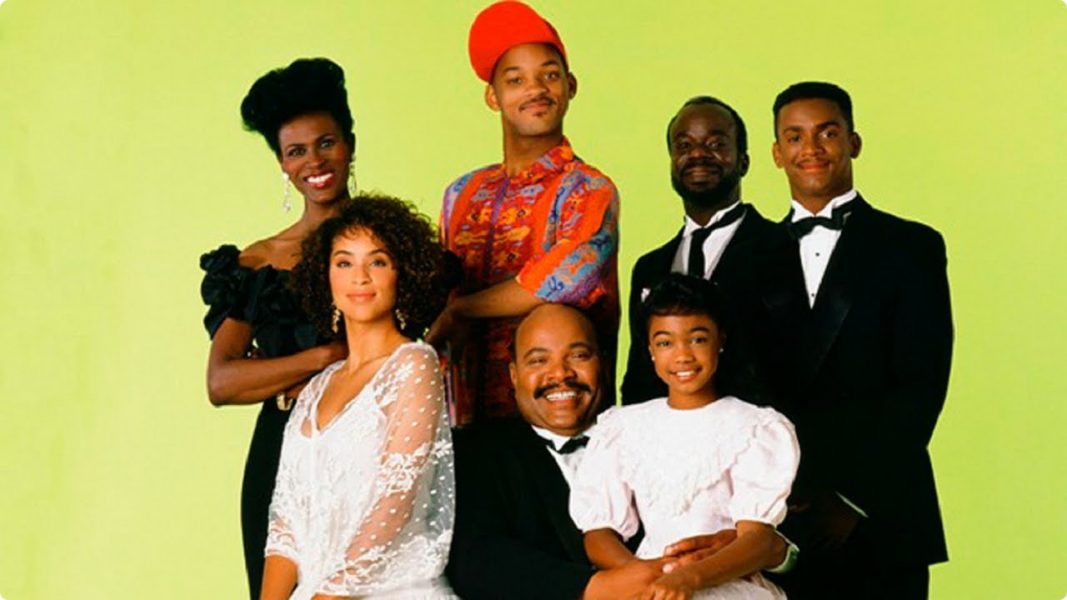 A precursor to Will Smith's point on comic sensibilities, 'The Fresh Prince of Bel-Air' catapulted Smith into stardom. Playing a fictionalized version of him, the show follows Smith as he is sent to live with his rich aunt and uncle in their mansion after getting into a fight. With Smith's slick lifestyle brought in parallel with the rich upper class of Bel-Air, the show was an instant hit among audiences and critics.
Read More: Best TV Shows Inspired From Movies
3. Friends (1994-2004)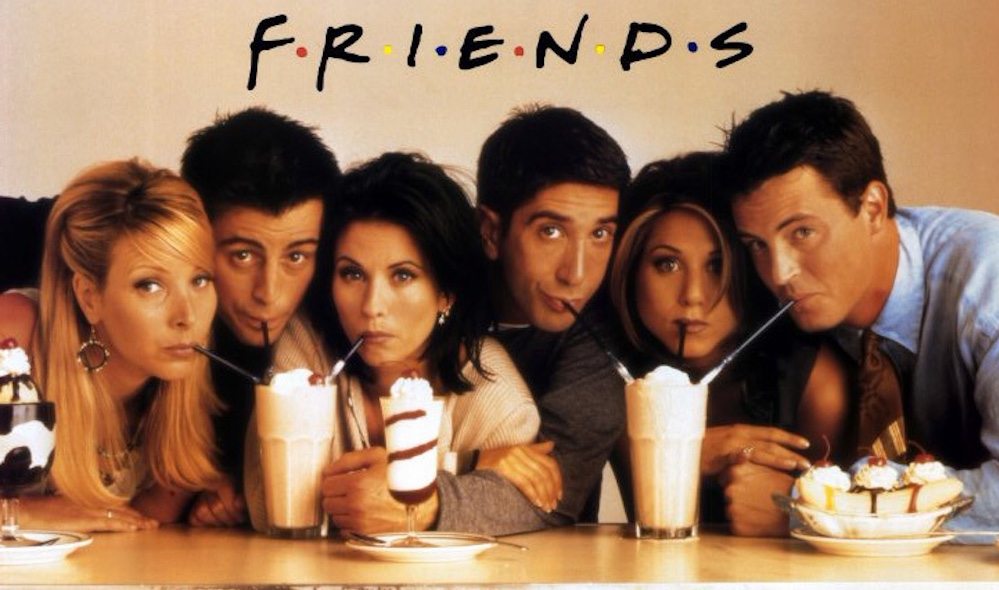 Debuting in the latter half of the 90s, 'Friends' has defined an entire generation. "Friends" revolves around a group of struggling people who to survive in New York while dealing with their personal and professional lives. Starring Jennifer Aniston, Courteney Cox, Lisa Kudrow, Matt LeBlanc, Matthew Perry and David Schwimmer as the "friends", this American sitcom went on to become one of the most popular and greatest television shows of the 90s.
Read More: Best TV Shows of 2016
2. The Simpsons (1989-)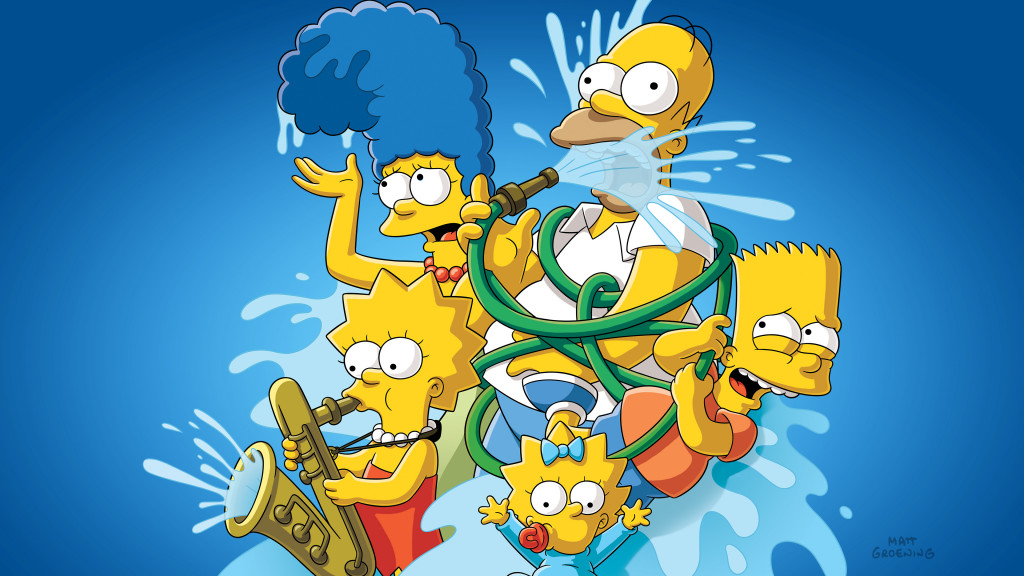 An American animated sitcom, 'The Simpsons' is a satire featuring the working-class family – the titular Simpsons. With a striking sense of satire and wit, the show structures the family with Homer, Marge, Bart, Lisa, and Maggie and comments upon American culture and society, television, and the human condition. A critically commended show of the 90s, 'The Simpsons' truly defined the 90s with brilliance.
Read More: Best TV Shows of the 21st Century
1. Seinfeld (1989-98)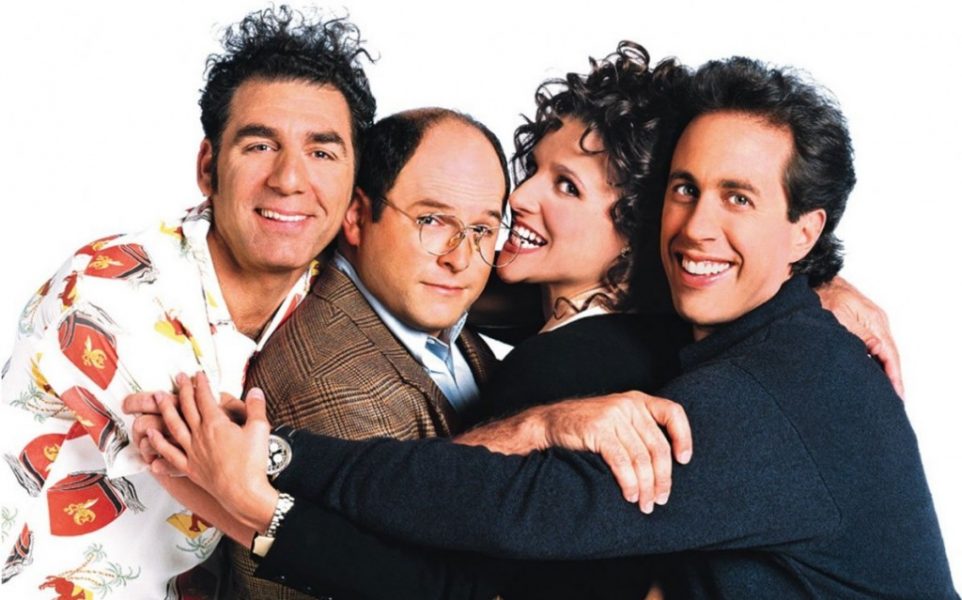 'Seinfeld' is frequently cited as the greatest sitcom of all time. And it certainly has done a lot right to deserve that tag. While subjectiveness in art makes that an arguable debate, the unparalleled quality, and originality of the show cannot be doubted. In fact, 'Friends' borrows a lot of ideas from the show, including some of its characters. 'Seinfeld', boldly declared as a show about nothing, is actually about nothing, and centers on the daily life of Jerry Seinfeld and his friends: George Constanza, a peculiar, over-invested middle-aged man; Elaine, a sensible editor, who is Jerry's ex; and the best of the lot, Kramer, Jerry's outlandish neighbor whose oddball personality and exuberance keep the friends entertained. With a bizarre sense of humour, the show brought in a new wave of comic writing. A critical success in the 90s, 'Seinfeld' set the standards for creativity and resourcefulness. If you want pure, unadulterated and misdirected comedy, 'Seinfeld' is the show for you.
Read More: Best 80s TV Shows