Directed by Sydney Sibilia, Netflix's 'Mixed By Erry' is an Italian comedy film about the rise and fall of the piracy empire built by three brothers from Forcella. With a talent for curating good music, Enrico "Erry" Frattasio runs the side hustle of making mixtapes for people around his neighborhood. As the demand for mixtapes by Erry grows, The Frattasio Brothers build a brand out of their bootleg cassette tapes. However, soon, the law comes knocking at their doors.
'Mixed By Erry' is fueled with a passion for music and depicts the story of three brothers with big influences and bigger dreams. Set in the 1990s Southern Italy, it features compelling performances by Luigi D'Oriano, Giuseppe Arena, and Emanuele Palumbo as the Frattasio Brothers, Enrico, Peppe, and Angelo, respectively, and presents a nuanced take on piracy and its cultural impact. Due to its depiction of the Frattasio Brothers' widespread phenomenon, many might be curious to learn about the film's connection to reality. As such, here is everything we know about the origin of 'Mixed By Erry.'
Is Mixed By Erry a True Story?
Yes, 'Mixed By Erry' is based on a true story. Co-written by Sydney Sibilia and Armando Festa, the film is based on the book 'Mixed by Erry. La Storia Dei Fratelli Frattasio' by Neapolitan author Simona Frasca. Both the film and the book detail the real-life story of the Frattasio Brothers on their journey toward building their musical empire that revolutionized the youth culture in Southern Italy during the 90s. "It's a thrilling, incredible but true story bursting with music and ambition, and first and foremost based on a true story," said writer-director Sibilia while discussing the film.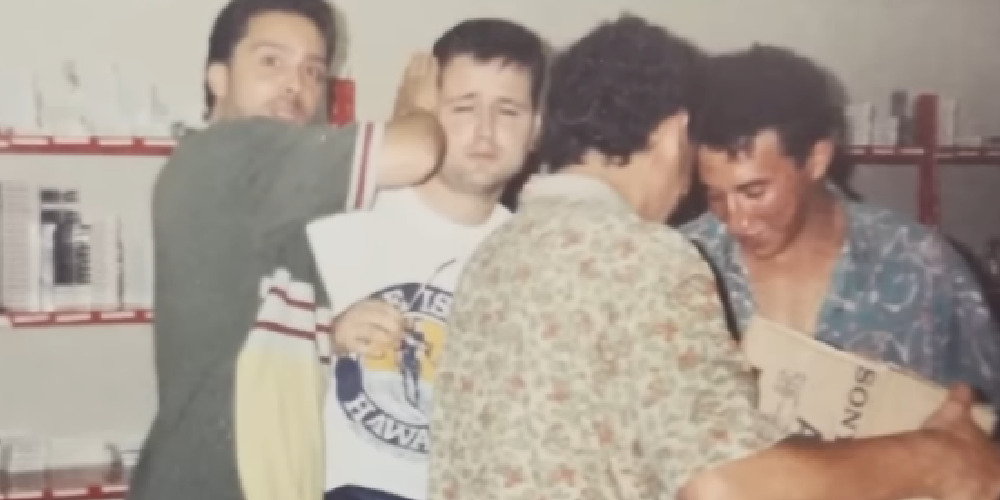 Sibilia added, "I'm delighted to finally be able to tell Erry and his brothers' story, one which I myself experienced first-hand as a boy and which always made me believe that talent and passion aren't nation-specific and can overcome all borders. And even Forcella can bring forth DJs." In the early 1980s, Enrico and his brothers started their pirated mixtapes business. With every pirated album, Erry added extra recommendations for his customers. As such, Enrico's passion for music set him and his counterfeit cassette tapes apart from others early on in his pirating days.
"I was the YouTube or Spotify of the 1980s. The money was not the point. I was building compilations," said Enrico Frattasio in an interview with The Guardian. "Each one took me a couple of days. I was doing a serious curator job." At the height of the Frattasio Brothers' music piracy empire, rules and regulations surrounding piracy were lax and unregulated in Southern Italy. The Frattasios business introduced music to the masses by providing a cheaper alternative for their customers. Similarly, they also played a significant role in the success of several musical artists during the 90s.
However, due to Erry's mixtapes, Italy also saw the highest piracy rates across all of Europe. As such, recording industries like BMG and Warner reportedly campaigned for strict piracy laws in Italy. Ultimately an investigation was launched against The Frattasios, and they were arrested in 1997. The film focuses on Enrico, Angelo, and Peppe's journey from their early days up until their imprisonment for fraud and forgery. When researching her book, author Frasca consulted several people involved in the original 90s piracy scandal, including Erry and his brothers.
As such, the film depicts the stories of the Frattasio Brothers authentically and accurately. Nevertheless, the film and book present 'Mixed By Erry' as a story about three brothers against the world. In real life, there is a fourth Frattasio Brother, Claudio Frattasio. However, due to familial differences, Claudio chose to exclude himself from the narrative in both Frasca's and Sibilia's stories. Still, Sibilia's 'Mixed By Erry' tells a compelling biographical tale and offers a cinematic account of a real-life incident as accurately as possible.
Due to the captivating execution, the film has a stamp of approval from real-life Enrico Frattasio, who participated in the film's premiere at Naples and DJ-ed at the event. The people involved in making this film have a noticeable appreciation and nostalgic love for the Frattasios' influence. As such, the characters and storylines portrayed by the narrative have a sense of realism and authenticity to it. Since music forms the epicenter of this larger-than-life tale, a vast majority of people will empathize and relate with the Frattasio brothers in 'Mixed By Erry.'
Read More: Where Was Netflix's Mixed by Erry Filmed?