Netflix's 'Queens on The Run' (originally titled 'Fuga de Reinas') is a Mexican ensemble comedy movie directed by Jorge Macaya. It stars Alejandra Ambrosi, Martha Higareda, Valeria Vera, and Paola Núñez as a friend group of four women that the narrative centers around. Famela, Marilú, Estrella, and Patty have been friends since high school and decide to take a spontaneous road trip to Cancun.
Through a series of unfortunate events, the ladies find themselves in the middle of an operation against the dangerous criminal, El GaGavilan. Due to the movie's grounded premise, and a band of relatable characters with genuine connections with one another, you might be wondering if there is any authenticity behind the film's story. If so, here is everything you need to know about 'Queens on The Run' and its roots in reality.
Is Queens on The Run a True Story?
No, 'Queens on The Run' is not based on a true story. The movie's original screenplay was written by Martha Higareda, who also stars in it as Patty. She has previously worked on several other films as a writer, including '3 Idiotas,' the Mexican remake of the Bollywood movie '3 Idiots.' With the impressive commercial success of '3 Idiotas,' it's safe to say Higareda seems to shine with group dynamics. She brings a similar endearing charm to the characters in 'Queens on The Run.' According to Higareda, she got the inspiration for this movie after a conversation with her mother and her friends. They had always wanted to go on a road trip that they never got to, which sparked the actress's interest.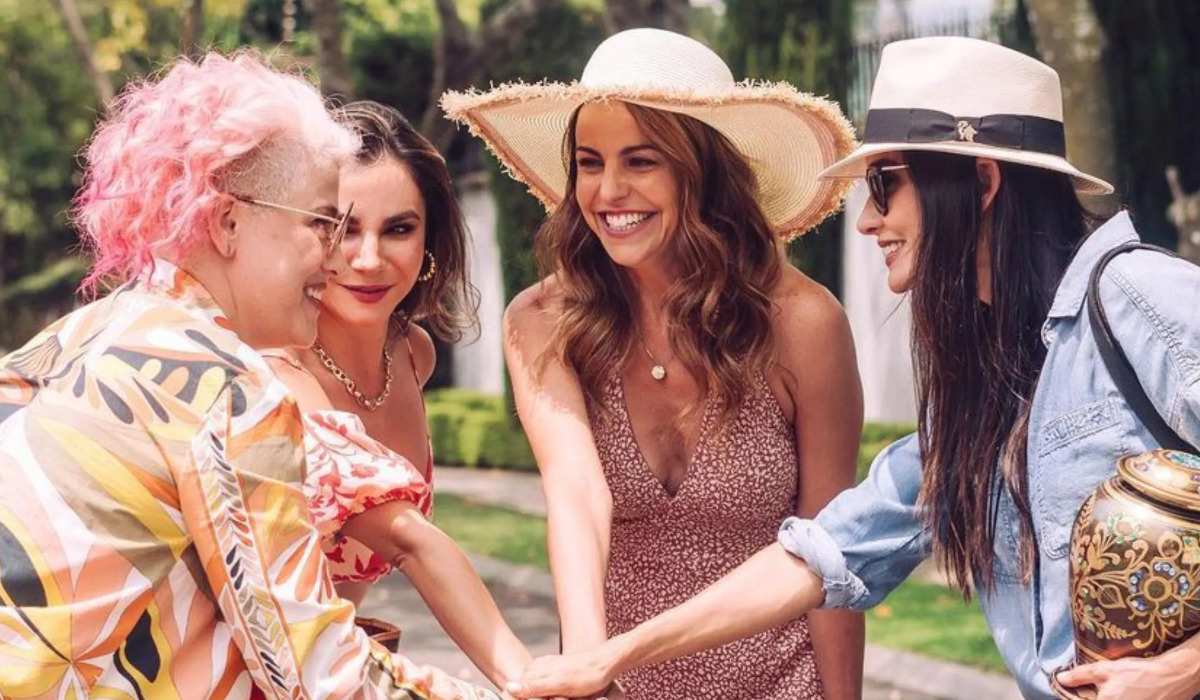 The story focuses on the lives of four women and explores different aspects of life as a woman through them. Marilú (Alejandra Ambrosi) is an underappreciated housewife who often thinks back to her high school relationship and wonders what path her life might have taken if things were different. This game of what-ifs is familiar to many people and helps her character feel more authentic and genuine. Likewise, her unfulfilled life with a neglectful husband resembles the reality for many people.
Similarly, Famela (Paola Núñez) is a workaholic with a deep connection to her now-deceased mother and has trouble with being romantic. Estrella (Valeria Vera) is a free spirit who likes to have casual romances and doesn't want to get tied down. All these different and diverse aspects of the female experience build distinct and realistic voices for each character. Hence, it further drives the story's overarching arc of identity and self-discovery.
With Higareda's character, Patty, the movie explores the more socially influenced part of womanhood. Patty is married to a self-absorbed politician who has constantly been unfaithful to her in their marriage. Yet, she forgives him every time and continues to try to put her best self forth for his benefit. She even goes as far as to get beauty surgery done on his insistence. Patty's experiences might be something many women can relate to on a certain level. The constant pressure she undergoes regarding her looks and image humanizes her character on a relatable level.
Ultimately, 'Queens on The Run' is not based on a true story. The character arcs and storylines explored exist in many people's everyday lives and provide everyday relatability to the plot. It also utilizes authentic writing and storylines that sometimes feel outlandish but not enough to be unbelievable. By doing so, it manages to tell a genuine feel-good story about friendship and life through a fun and engaging dynamic between well-fleshed-out female characters.
Read More: Queens on the Run Ending, Explained: Does El Gavilan Get Arrested?