While it is always fun to see new couples being formed on reality TV shows, it is also satisfying to see old pairs trying to give their love another shot. The journey of Kariselle Snow and Joey Sasso during their time on Netflix's 'Perfect Match' was no different. Through the dating series, the public not only got to know the details of their history together but also saw them trying to give their connection another chance. Naturally, people are eager to know if the two are still in a relationship, and we are here to answer the same!
Kariselle and Joey's Journey Together
When Joey Sasso saw just who the female cast members were in the initial phase of 'Perfect Match' season 1, he was thrown for a loop. He revealed that he had been intimate with both Francesca Farago and Kariselle Snow. While his connection with the former seemed to have fizzled out, 'The Circle' season 1 winner gravitated towards Kariselle, explaining that their history was quite complicated and long.
The first interaction between the two reality stars occurred after Joey was revealed to be a part of 'The Circle.' Apparently, Kariselle messaged him on Instagram, and Joey wasted no time in complimenting her beauty and setting up a meeting between them. Soon, the 'Sexy Beasts' star traveled to Los Angeles, California, and had an amazing night with Joey. While on the show, she shared how Joey had professed his love for her and stated that he would marry her one day. However, the two ended up not talking for several months after that.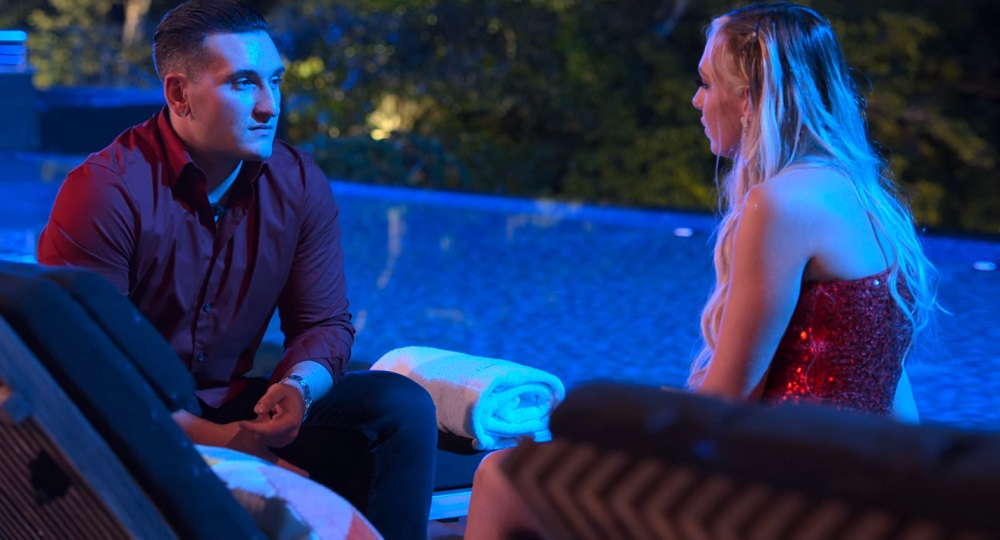 Despite the seemingly initial reluctance from Joey's side to be committed, Kariselle decided to give him a second chance. However, their second attempt at a relationship apparently also crashed and burned. While not ecstatic about Jeoy's presence in the Netflix series, Kariselle ended up spending much time with him as he stated that surely their presence on the show was a sign of fate. Ultimately, Kariselle and Joey decided to match up for the first night.
The happy spirits that Kariselle and Joey were in soon vanished during the first compatibility task. During the challenge, the latter revealed that he was apparently still not over his ex, from whom he had broken up about four years ago. This infuriated Kariselle as she did not understand why Joey would promise her a relationship if he had not let go of the past. Needless to say, when she was set up on a date with Chase DeMoor, she was more than happy to see how things would shape up.
Kariselle's date with Chase indeed went well, and they walked into the house hand in hand. While upset by the development, Joey did not intrude much on the two though he did see them kissing. This led to an argument between Joey and Kariselle as the latter could not help but wonder why her partner claimed to be okay to see her with someone. Despite the fight, Kariselle still ended up staying with Joey for the night. The bond between Kariselle and Joey remained a bit frosty, but they soon started making positive strides. The fact that they had both rated each a complete 10 during the kissing challenge certainly helped bolster their connection.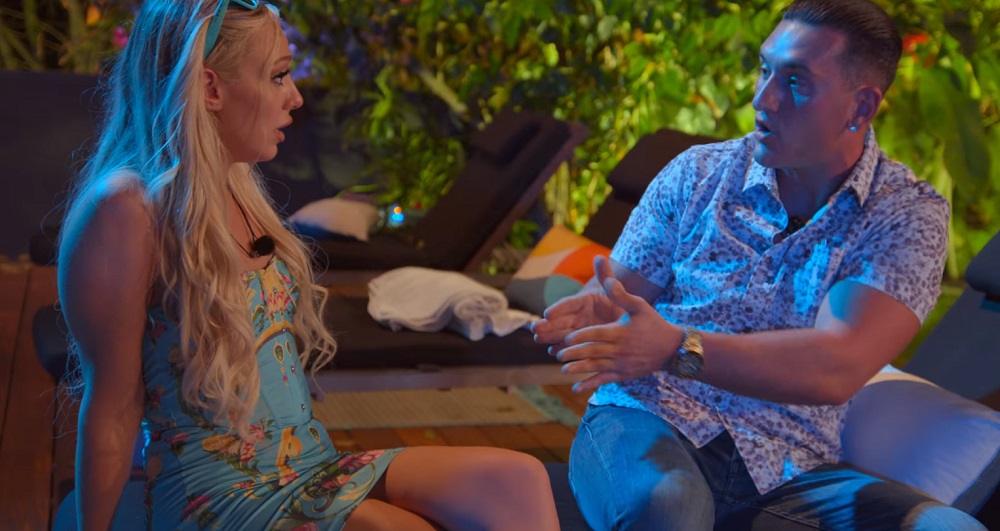 As the show continued, Kariselle and Joey's connection became even deeper. In fact, after winning one of the compatibility challenges and going on a date, 'The Circle' star ended up asking his partner to be his girlfriend. This was a surprise for Kariselle, who had never been happy with Joey's avoidance of commitment. The result was an extremely elated woman who was over the moon to be in a relationship with the man she held so much affection for. Sometime later, Kariselle also had a frank discussion with Joey about how much his comfort with her identity as a bisexual woman meant to her.
Kariselle and Joey did have a lot more discussions about their past, their plans for the future, as well as their intimacy level, but no one honestly expected the latter to soon get down on one knee. It was their last day and date on 'Perfect Match' when he took the opportunity of proposing to his love while on a tower in the middle of a jungle, making it as private as possible despite the rolling camera. "When I think about all the things that make me love you, it's such a long list I don't even know where to begin," the New York native calmly began as a hint of his genuine intentions.
Joey added, "Your smile, your personality is unlike anybody… In a good and bad way, which maybe says something about me because I love how crazy we both are. But I love that you always leave with your heart." He then got emotional while revealing the pull she has had over him from day one before conceding she is his best friend no matter what, and he wants to spend the rest of his life right alongside her. Kariselle did think he was joking at first, but then he pulled out the beautiful ring and asked the most important question of his life, to which she obviously said yes! And he did it after asking her dad's permission, so even though they didn't win the show, they walked away with the best prize; love.
Are Kariselle and Joey Still Together?
Continuing with Kariselle and Joey's proposal first, he recently revealed, "there was probably a week left of filming when I was like, I think I'm gonna ask this girl to marry me. Then once that thought was in my head, I'm like, I'm gonna ask this girl to marry me. This is happening. This is what my heart was telling me, and I really wanted to follow that and see where that leads me." For the ring itself, he ran to a mall in Panama just a day or two before filming was to conclude, where he rushed to "find the perfect ring and make it as good as" possible.
As for their current standing, Kariselle and Joey have not made any official announcements regarding their relationship as of writing. However, since their bond was unwaveringly strong throughout the show, it's highly likely they're still happily romantically involved with one another. The fact the former commented on one of her recent posts that she's not "confirming or denying anything- but if I'm trying to avoid spoilers wouldn't the first thing I do is not wear a ring?! 😂" is actually a clear clue of their continued connection.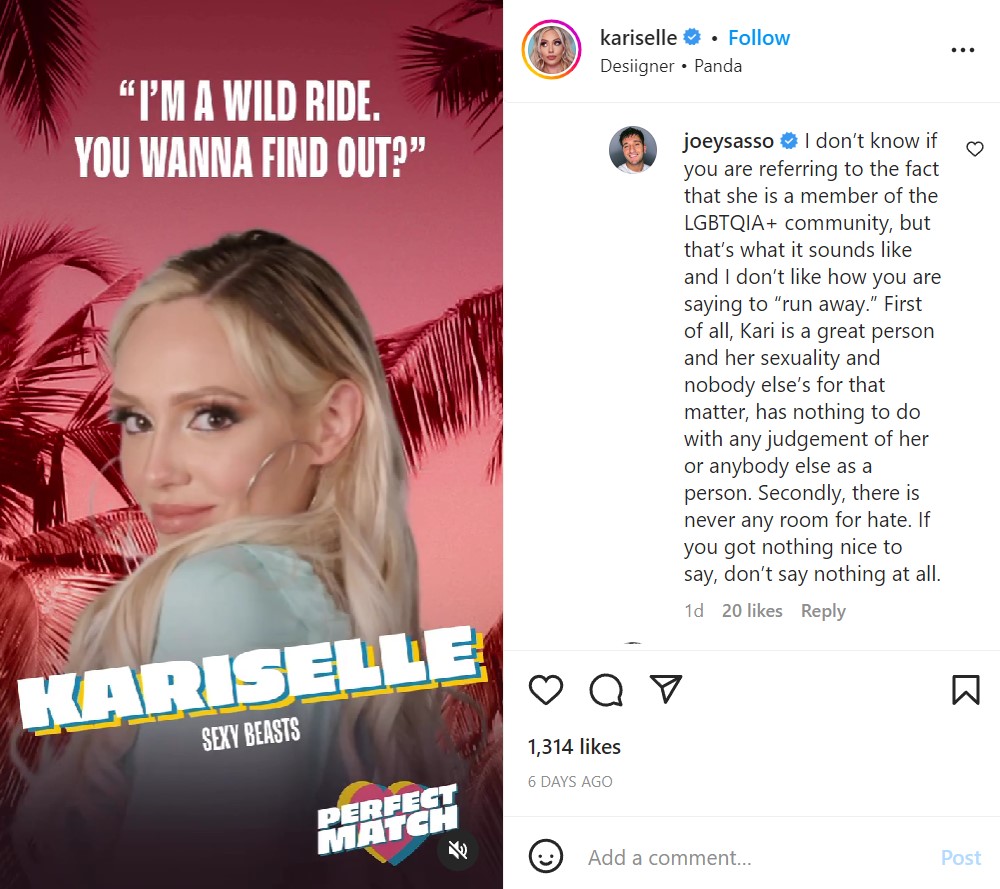 That's because Kariselle felt the need to clarify why she wasn't seen wearing a ring in any of her social media posts, but on the flip side, some of her stories do clearly show her with an accessory on the fourth finger of her left hand. Plus, even Joey publically gave us a hit by taking a stand for his partner when a person tried to be malicious regarding her being a part of the LGBTQ+ community (as seen above). We should also mention that apart from their romantic status, both reality TV stars seem to be thriving in their personal and professional lives at the moment.
Read More: Are LC and Nick From Perfect Match Still Together?