Netflix's 'Zombieverse' is a Korean reality show set in a world where zombies are authentic and will attack any living human being. Created by Park Jin-kyung, the series has received much love from viewers, who cannot help but enjoy how the cast tries to survive this unexpected and daunting challenge. One of the most exciting participants in this whole experience from the show's first season was Hong Seong Woo, who is more popularly known as Kkwachu Hyung. If you were impressed by his on-screen performance and are wondering where he is these days, worry not because we have your back!
Kkwachu Hyung's Zombieverse Journey
The first time we see Kkwachu Hyung in the apocalyptic world is when he is stuck in a room in a supermarket with several other survivors. The famous Urologist had come to the store to buy seaweed for his wife's birthday but soon realized that this was no ordinary day, and the world as he knew it had changed completely. Given his medical expertise, Hyung had learned to distinguish whether or not a person might have been infected, and he was the one who allowed Park Na-rae and DinDin into the safe area despite their close contact with the zombies previously.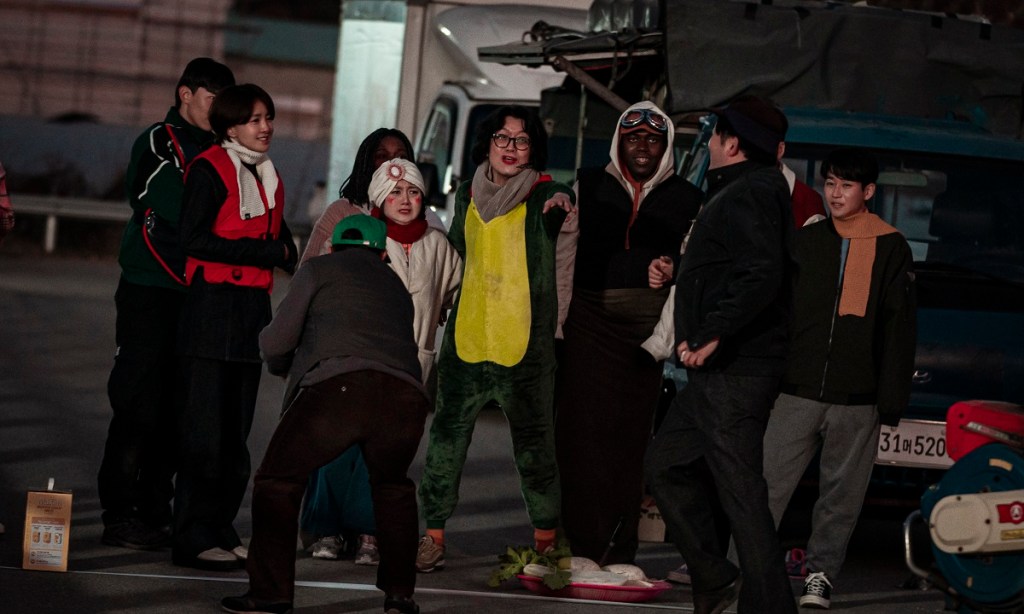 As the group of survivors made plans to gather supplies and wondered whom they should or shouldn't take with them, Hyung's approach towards Park's leg injury made many question his ethics, though he did become a part of the group, with his friendly attitude and eagerness to help others. When the group finally moved to the parking lot and had to keep a lookout for the zombies from their safe spot, he was always there to collect information and help make plans that would allow the group to get out of the situation.
However, when Park was in danger after having been abandoned by Ro Hong-chul during their mission to operate forklifts, Hyung jumped into the fray to save her from dying. As a result, they both ended up getting scratched, starting their inevitable transformation into zombies. That said, they also became a tremendous asset to the group as the zombies were not interested in attacking them anymore as they were already infected. This meant the two could use the forklift to remove obstacles from the truck's path that they would later use to escape.
As the group tried to reach the next step of their journey, Hyung and Park were given a wide berth as the others were unsure when or if they would turn into zombies. The attitude did not sit well with them, especially when, the next night, the non-infected asked the two to sleep in a different room, which did not have much heating. During the night, when two survivors went missing, and the cast was trapped in a room, they tried to take help from Hyung and Park but grew tired of their directions.
Meanwhile, Hyung and Park had already started to feel some effects of their transformation into the undead. The joints in their limbs seemed to lose functionality slowly, and their eyesight started diminishing. While neither of them was happy with the discussions others had while pondering whether they should keep the pair apart from the rest of the group, the infected duo tried to remain on good terms with them.
This meant that the two helped herd away the swarm of zombies in the amusement park and sat in the conductor's cabin while the survivors were locked in the cabins of the Ferris Wheel. Realizing that they were nearing their transformation and would likely not be allowed on the rescue boat, Park decided to have her revenge on Ro Hong-chul, while Hyung let the others go before he transformed completely.
Where is Kkwachu Hyung Now?
As of writing, Kkwachu Hyung is an accomplished Urologist who has also worked as an educator in the past (Assistant Professor of Medicine at Dankook University). His practice, Dr. JMJ (Jomulju) Urology Clinic, is on the 4th floor of the Dochung Building at 519 Gangnam-daero, Seoul, South Korea. Those interested in surgery must schedule an appointment before coming to the facility. The medical professional is seemingly happily married and does not share much about his personal life with the public.
Hyung's primary source of fame is his work on YouTube, where he has become quite a sensation. Many famous Korean YouTube languages have videos featuring the Urologist who always seems to be a good sport when working with different content creators.
Having trained at the College of Medicine at Ulsan University and Asan Medical Center, the reality TV star first appeared on YouTube in 2021 and decided to start his YouTube channel in 2022. However, he became involved in a legal conflict with his then-employer and resigned. We wish Kkwachu Hyung the best in life and hope he and his loved ones continue to prosper.
Read More: Fukutomi Tsuki: Where is Zombieverse Participant Now?