When Hunter S. Thompson released his novel 'Fear and Loathing in Las Vegas' in 1971, its was a psychedelic odyssey for reader. When director Terry Gilliam adapted the novel along with co-writer Tony Grisoni, Alex Cox and Tod Davies, the movie created fear and loathing among the critics after its premiere at the 1998 Cannes Film Festival. The movie follows Raoul Duke and Dr Gonzo, a journalist and a lawyer, as they go on a road trip to Las Vegas. While they call it "work," the trip unravels to be a journey fueled by drugs and psychedelics, which gradually transforms their life into a bizarre yet funny reality. The film stars Johnny Depp and Benicio del Toro, who completely immerse themselves in Gilliam's drug inflicted surreal world of weightlessness.
'Fear and Loathing in Las Vegas,' is shot by Italian cinematographer Nicola Pecorini, edited by British film editor Lesley Walker, and the music is scored by English composer and musician Ray Cooper. When the movie was nominated for the prestigious Palme d'Or at the Cannes Film Festival, critics panned it as a flaccid film. Upon theatrical release, the movie ended up with meager box office figures. 'Fear and Loathing in Las Vegas' was not even considered as a madly good piece of work. However, its perception improved over time and the film now has attained a cult status among cinema connoisseurs.
For this list, I have taken into account films which have a similar narrative and thematic structure. The selected names on this list primarily deal with multiple concepts while employing psychedelic aesthetics, plot structures and themes. In addition, I have not included projects directed by Terry Gilliam in order to have a more diverse selection. So, without further ado, here is the list of best movies similar to 'Fear and Loathing in Las Vegas' that are our recommendations. You can watch several of these movies like 'Fear and Loathing in Las Vegas' on Netflix, Hulu or Amazon Prime.
8. Altered States (1980)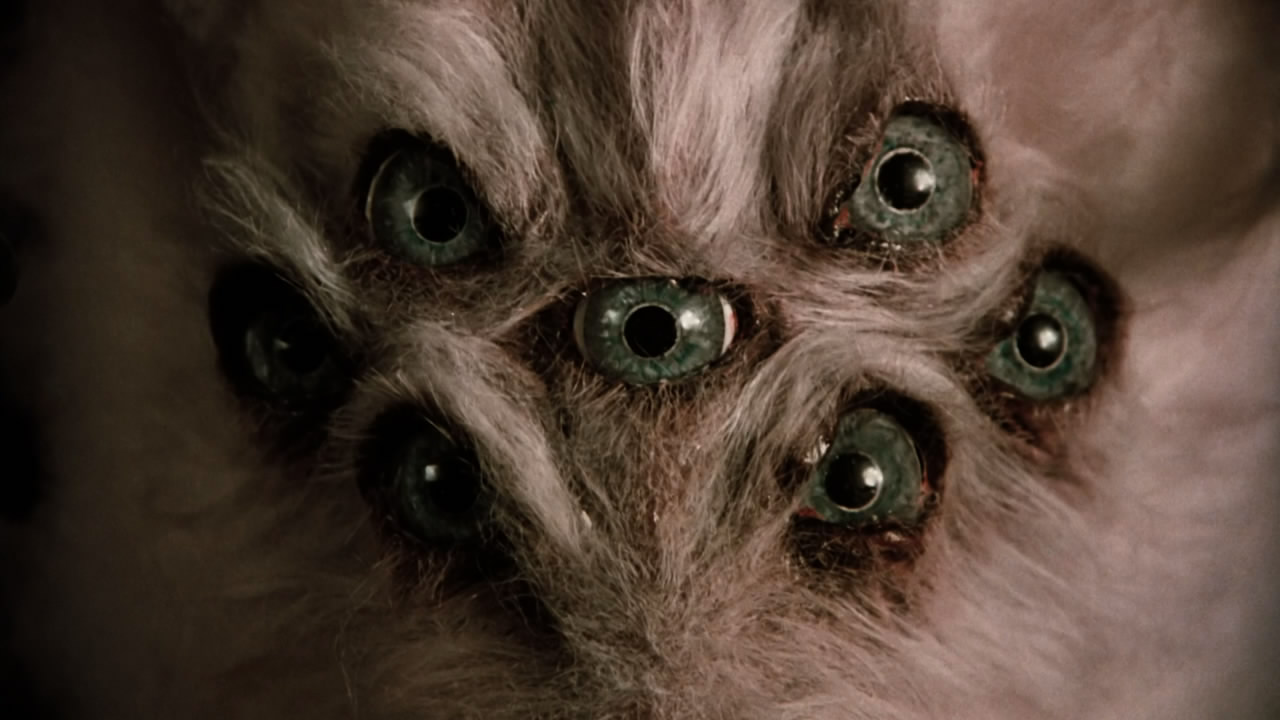 Based on American playwright and screenwriter Paddy Chayefsky's novel of the same name, 'Altered States' stars William Hurt as Dr Edward "Eddie" Jessup, a Harvard scientist who conducts experiments on himself under the influence of psychoactive drugs in an isolation chamber. What follows is the hellish nightmare which causes his whole life to degenerate. Directed by Ken Russell and written by Sidney Aaron, the science fiction horror film explores the glaring impact of the rising use of psychoactive drugs like mescaline, ketamine, and LSD. With a rating of 81% rating on Rotten Tomatoes, the movie is one of the most popular works from Russell.
Film critic Richard Corliss perhaps put the experience best in his review, "This one has everything: sex, violence, comedy, thrills, and tenderness. It's an anthology and apotheosis of American pop movies. It opens at fever pitch and then starts soaring—into genetic fantasy, into a precognitive dream of delirium and delight. Madness is its subject and substance, style and spirit. The film changes tone, even form, with its hero's every new mood and mutation. It expands and contracts with his mind until both almost crack. It keeps threatening to go bonkers, then makes good on its threat, and still remains as lucid as an aerialist on a high wire. It moves with the loping energy of a crafty psychopath, or of filmmakers gripped with the potential of blowing the moviegoer's mind out through his eyes and ears. Ladies and gentlemen, welcome to Altered States."
7. Dead Man (1995)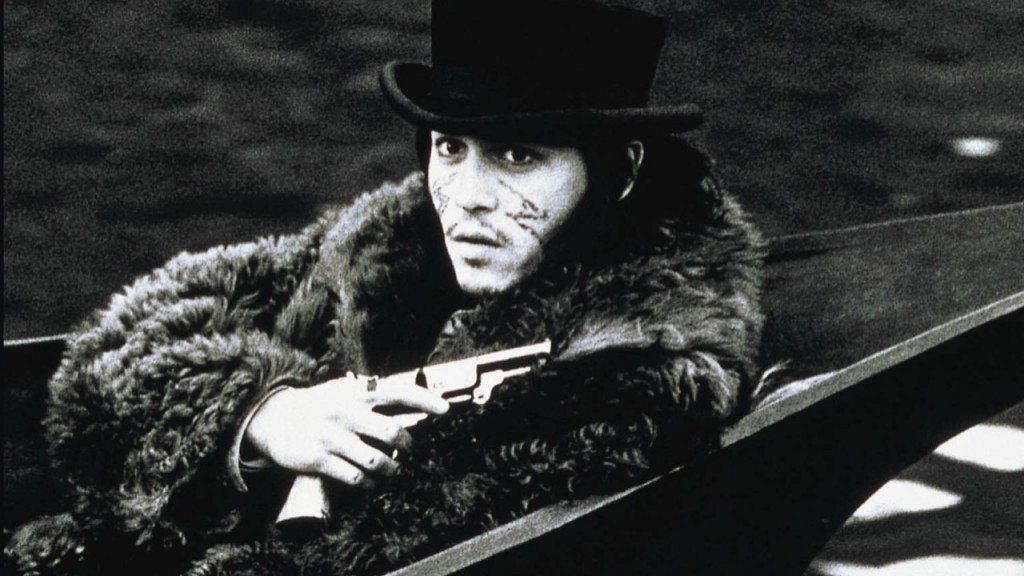 A "psychedelic Western," as proclaimed by the director himself, 'Dead Man' follows an accountant named William Blake, essayed by Johnny Depp, who after murdering a man, encounters a bizarre Native American man named "Nobody." Blake's new friend claims that he can prepare him for his journey into the spiritual world. Both Blake and Nobody embark on a uncertain journey into the Wild Wild West, seeing "wanted" posters with an ever-increasing bounty for Blake's head! Written and directed by Jim Jarmusch, 'Dead Man' is teeming with intoxicating imagery. The movie premiered at the Cannes Film Festival and received positive reviews. While its commercial prospects were not very bright at its time of release, the reception has improved over the years and is now often considered as a cult classic.
Read More: Movies Like Now You See Me
6. Climax (2018)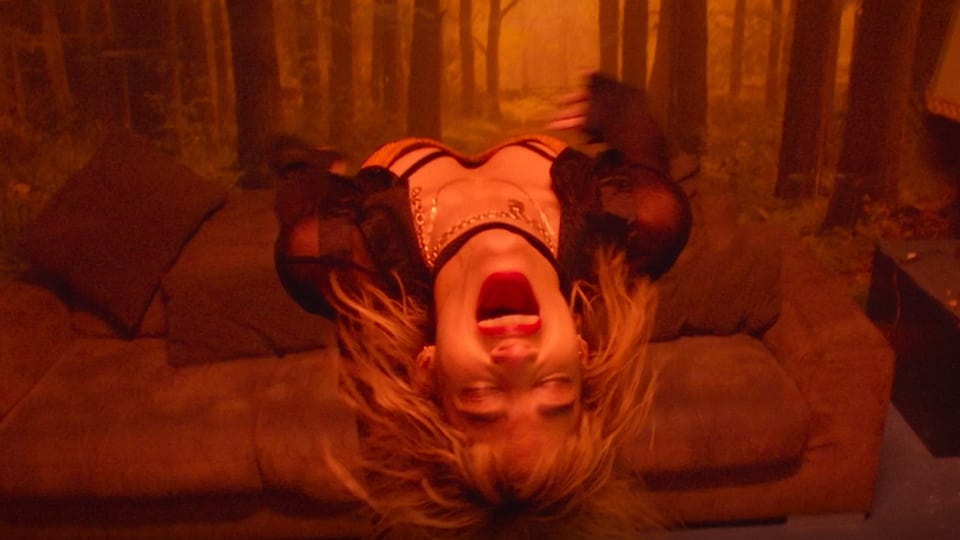 Gaspar Noé's cinematic worlds are kaleidoscopic and the filmmaker has created a niche with his psychedelic filmmaking. 'Climax' is his latest project to venture into such hallucinogenic stylistics. Billed as a dance horror film, 'Climax' chronicles a whole LSD filled night of a group of French dancers who celebrate in a remote empty school building. With an expressionistic aesthetics and great performances by the lead actors, the flick is pure mayhem. In addition, the lack of a solid narrative progression provides a sense of absurdity. 'Climax' premiered at the Cannes Film Festival and received praise for Noé's direction, Benoît Debie's cinematography and the soundtrack, but, like an archetypal Noé film, was panned for its explicit violence and lack of coherence.
Read More: Movies Like Irreversible
5. Requiem for a Dream (2000)
A psychological drama, 'Requiem for a Dream' explores the lives of four people who are infected by drug addiction. The film explores how drugs completely ruin peoples' lives by showcasing the characters' nightmarish alternate reality. Directed by the eccentric Darren Aronofsky, who also co-wrote the screenplay with Hubert Selby Jr., 'Requiem for a Dream' premiered at the Cannes Film Festival and received positive reviews. The piece of work is unflinching in its portrayal of drug addiction. Aronofsky's idiosyncratic direction, coupled with the commendable performances by Ellen Burstyn, Jared Leto, Jennifer Connelly and Marlon Wayans, make the film a challenging but engaging watch.
Read More: Movies Like Requiem For A Dream
4. Mandy (2018)
Directed by Greek-Canadian filmmaker Panos Cosmatos, and co-written by Aaron Stewart-Ahn and Cosmatos, 'Mandy' is the story of the Millers – essayed by Nicolas Cage and Andrea Riseborough – a couple lives in a secluded forest. They are brutally traumatized by a nightmarish hippie cult and their demon-biker henchmen. What follows is the husband's seething urge for vengeance and a chain of horrible reactions. 'Mandy' premiered at the Sundance Film Festival and met with positive reviews. On Rotten Tomatoes, it holds a rating of 91%, and on Metacritic, it has an average score of 81 out of 100. The psychedelic drama action horror is an archetypal Cage film. The expressionistic tone coupled with the wonderfully over the top performances makes the movie a must watch.
3. Daisies (1966)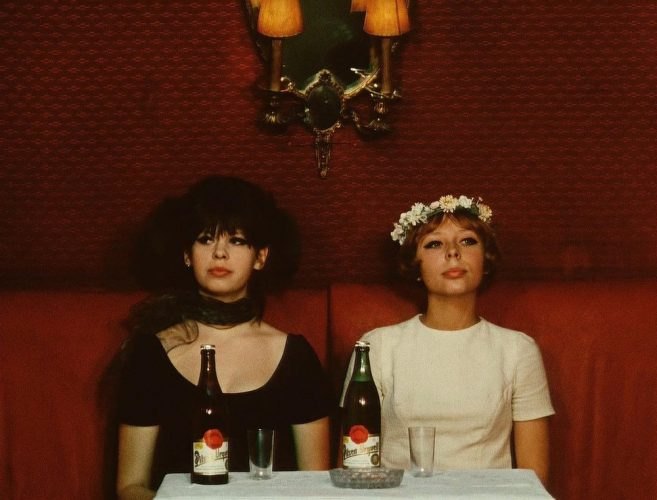 A comedy-drama, 'Daisies' chronicles a series of strange pranks carried out by two teenage girls named Marie I and Marie II, essayed by Jitka Cerhová and Ivana Karbanová respectively. The flick boasts of a strong color palette which gives it a hallucinatory feel. Directed by Věra Chytilová and co-written by Ester Krumbachová, Pavel Juráček and Chytilová, 'Daisies' faced a number of challenges after its completion. The release of the film delayed for almost two years. However, upon its theatrical release, the film received immensely positive reviews and went on to win the Grand Prix of the Belgian Film Critics Association. In addition, through the passage of time, 'Daises' has seasoned to be considered as a classic, with many even citing it as the best Czech film ever made.
Read More: Movies Like Eyes Wide Shut
2. Trainspotting (1996)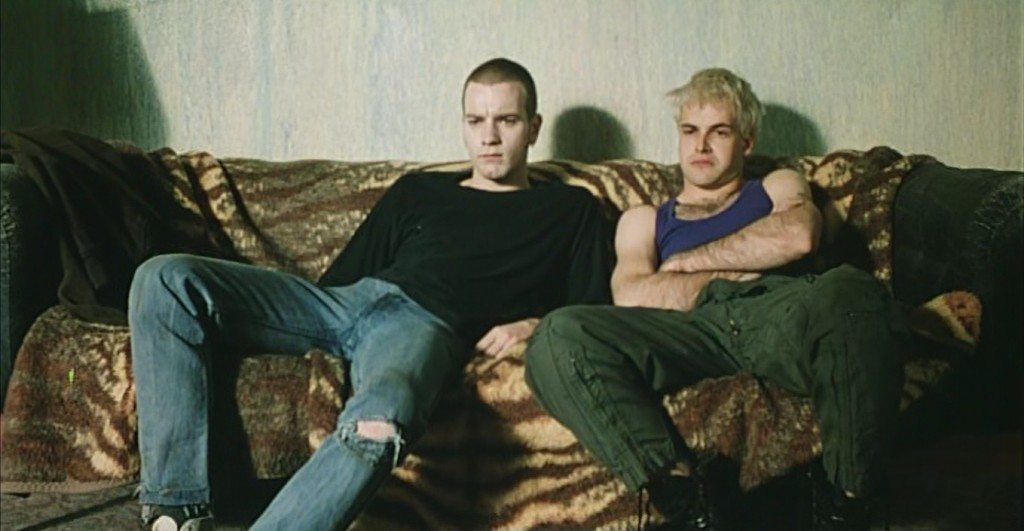 Directed by Danny Boyle, 'Trainspotting' stars Ewan McGregor as Renton, a young man who struggles to free himself from the tentacles of the drug mafia in Edinburgh after being enmeshed in the drug world. Based on the 1993 novel of the same name by Irvine Welsh, the film is adapted into the big screen by screenwriter John Hodge. While the narrative takes a comical approach while depicting drugs and addiction, the flick provides an intrinsic perspective of cultural, social and personal layers of drug craving. 'Trainspotting' received immensely positive reviews and Hodge, in particular, was met with widespread critical acclaim. With an Academy Award for Best Adapted Screenplay and a 90% rating on Rotten Tomatoes, 'Trainspotting' is Boyle's best work and one of the finest comedies ever made in world cinema.
1. Suspiria (1977)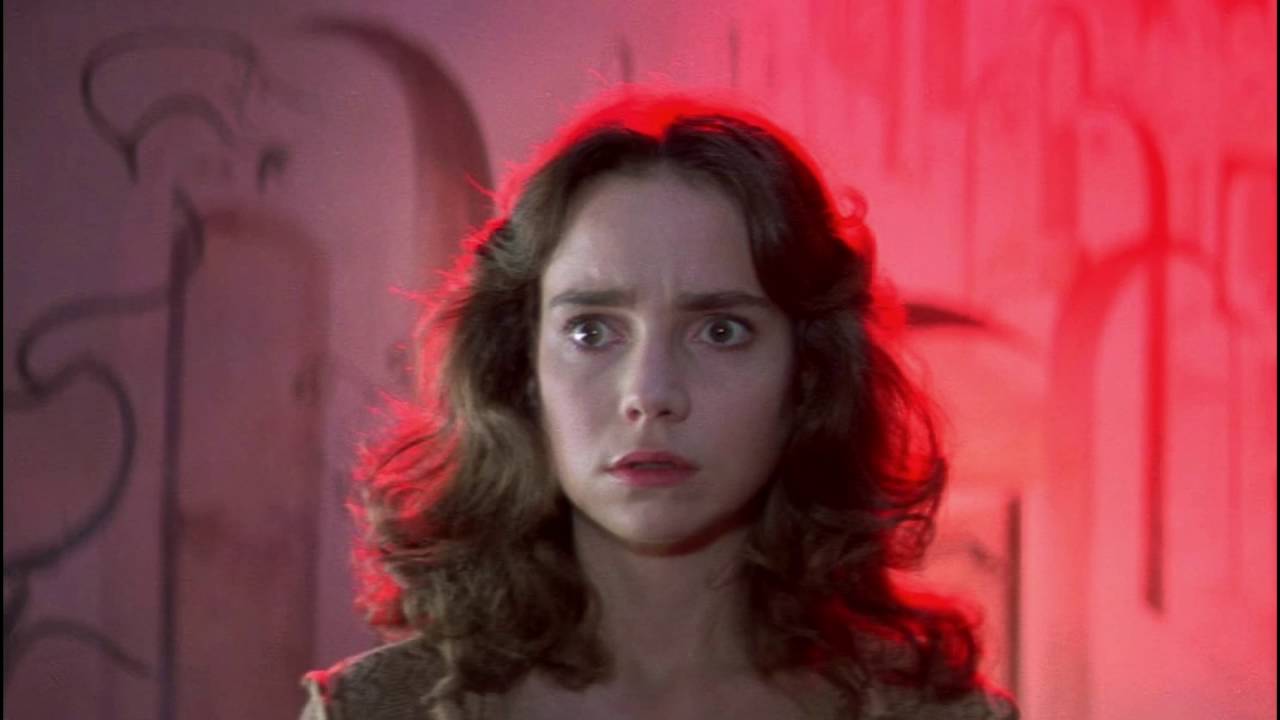 Adapted from English essayist Thomas De Quincey's essay 'Suspiria de Profundis,' published in 1845, 'Suspiria' follows Suzy Bannion, a young American gifted ballet student who finds herself at odds with unknown supernatural forces. She starts developing the experiences after being transferred to a prestigious dance academy in Germany where several students are brutally murdered. Directed by the "Master of Horror" in Italian cinema, Dario Argento, and co-written by Daria Nicolodi and Argento, 'Suspiria' blends elements of psychedelic and Gothic horror, which makes the film a completely terrifying experience. With the expressionistic use of color, the movie will horrify the viewers, but will definitely keep the eyes glued on to the screen. 'Suspiria', since its release, has been a pioneering piece of work. It has established the subgenre of psychedelic horror within the horror flicks, which has been emulated by many more films to come in the later years.
Read More: Movies Like Memories of Murder