Darren Aronofsky is, in a way or another, a genius of cinematic storytelling. He chooses his themes and characters with care and delicacy, only to throw them into disturbing, dark and controversial situations to provoke the audience's psychological. In "Requiem For A Dream", he analyses the nature and extent of obsession and dependency, and through a couple and a lonely mother who drown their fears and disappointments into drugs, he gives the world an incredibly unique psychological drama never seen before.
The fast short cut montages, the split-screens, the long tracking shots and the intense close-ups contribute to the concrete style of this film which enhances the chaos, hallucination and isolation of the character's lives. If you have the guts to dive into this complicated world, here's a list of movies similar to Requiem For A Dream that are our recommendations. You can watch some of these movies like Requiem For A Dream on Netflix, Hulu, or Amazon Prime.
12. The Butterfly Effect (2004)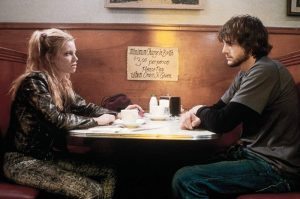 This movie is an interesting and intriguing psychological thriller that takes a little science-fiction into its story to make the imaginary become possible. It tell us that to change the past, one must sacrifice aspects of it, and that with every action comes a consequence. Evan Treborn (Ashton Kutcher) has suffered from various traumas during his childhood that have made him frequently black out during the years. At 20 years of age, he discovers the ability to travel back in time through his teenage diaries and decides to attempt giving himself and his friends a better present, by changing the events of the past. However, he soon realises that the alternate futures are simply burying everybody into worse situations.
Read More: Movies Like The Color Purple
11. Thirteen (2003)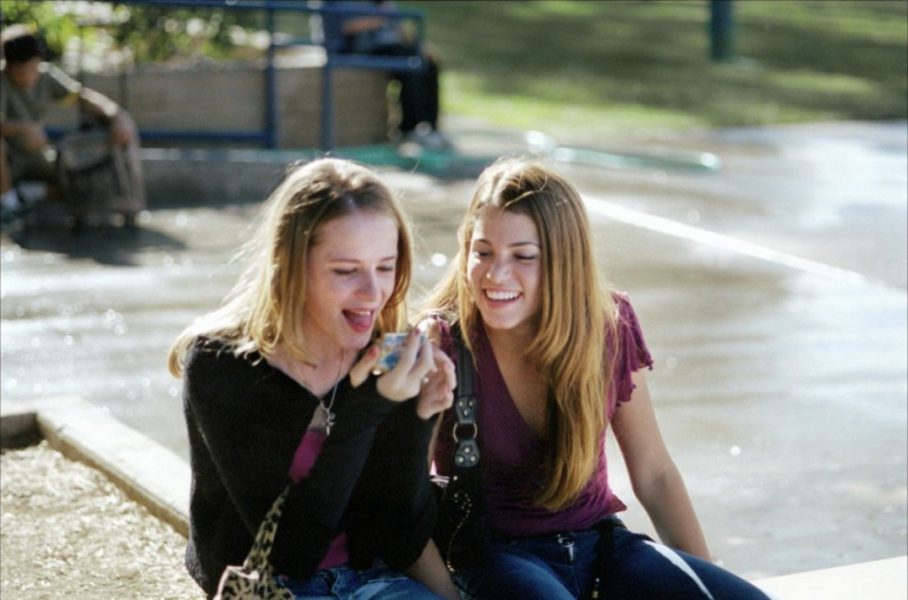 This coming-of-age drama depicts the rebellious outbursts of adolescence in a raw, violent and exposing way. The danger of being a teenage girl wanting to grow up too fast and belong to a certain type of reputation is taken as a central subject in this story, written in 6 days by the director Catherine Hardwicke and Nikki Reed, who would become the character of Evie Zamora. Based on the events of her teenage hood (which she was still in, considering she was 14/15 during the shooting), it narrates the story of 13-year-old Tracy Freeland (Evan Rachel Wood) who decides to abandon being a smart and behaved student to a life of being best friends with the popular girl and a world of drugs, misconduct, sex and self-harm.
Read More: Movies Like Now You See Me
10. Kids (1995)
When the worst comes out of rebellious teenage hood, you've got a movie like "Kids", directed by Larry Clark and starring a bunch of young actors in their film debut. It created controversy, mixed opinions coming from critics and a whole lot of debate at its release. However, after all that, here it is tall and strong, alerting the world on the serious dangers these kids are facing, not only because of the drugs and inappropriate behaviour, but especially because of the risks and consequences of HIV. Set in New York, it follows a group of teens skating around the streets of the city, drinking, smoking and recklessly engaging in unprotected sex.
Read More: Movies Like The Prestige
9. Girl, Interrupted (1999)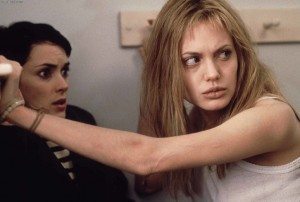 One of Angelina Jolie's top performances so far is found in this incredible film, directed by James Mangold. For it, she received an Academy Award, a Golden Globe and a Screen Actors Guild Award for Best Supporting Actress. It stars Winona Ryder in the lead role (which she performs with utter excellence) alongside Brittany Murphy, Whoopi Goldberg, Elisabeth Moss and others. "Girl, Interrupted" tells the story of 18-year-old Susanna Kaysen and her stay at a psychiatric hospital after having supposedly tried to commit suicide upon a nervous breakdown. Living in between these new four walls, she meets a handful of mentally ill women who change her perception of things when she discovers the beauty and misery behind each character's stories. Based on the memoir of real Susanna Kaysen, it will leave you speechless and in awe for its excellent execution and touching subject.
Read More: Movies Like Mirror Mirror
8. Eternal Sunshine of The Spotless Mind (2004)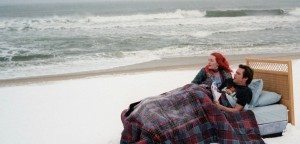 In order to explore the memory and the intricate complexity of love, "Eternal Sunshine of The Spotless Mind" was created and has become a cinematic masterpiece of the century. Starring Jim Carey and Kate Winslet in the leading roles, it takes a look at the ups and downs of a relationship, the poetic intimacy and human distancing in it. Beautifully written and flawlessly executed, it's a story where love seems to be like a drug that can heal you or kill you. Although a romance and science-fiction, this drama also adds to its category components of psychological thrillers and through its unconventional structure and use of nonlinear narrative, becomes a movie that one can find hard to define. It follows the story of Joel and Clementine, two contrasting personalities, who after a 2-year-long relationship, erase one another from their memories, only to find each other as strangers once more.
Read More: Movies Like Flipped
7. Clean (2004)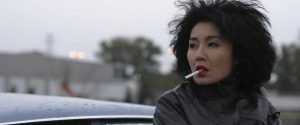 While some of the drug-addicted characters in "Requiem For A Dream" realise how far down they've sunken, they simply aren't able to reach the surface again and remain further away from independency than Emily Wang, this movie's main character. Nevertheless, she too suffers from drug addiction that ruins her life and that catapults her into a broken state. Starring Maggie Cheung, we're given a film about a woman living in a tumultuous unhealthy relationship with a musician, with whom she has a son. After the father abruptly dies of overdose, she finds herself imprisoned for drug possession and sees her son disappearing into the care of her parents-in-law. In order to get her life back, she must get clean.
Read More: Must See Movies Similar to 'Shutter Island'
6. The Basketball Diaries (1995)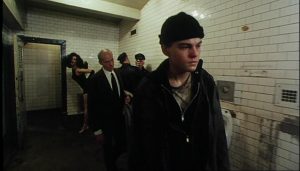 A 21-year-old Leonardo DiCaprio takes centre stage in this coming-of-age drama where dreams and expectations are crushed into thin air by the dark world of drug addiction. Like the characters in Arofonsky's masterpiece, the protagonist present in this film sees his life being transported away by the uncontrollable turn of events that change the course of his future, ending up in a position where everything can be sacrificed for the sake of satisfying his addiction. Adapted from Jim Carroll's autobiography, it's him who becomes the main character of this story, a high school basketball player who discovers an appetite for heroin.
Read More: Movies Like Pitch Perfect
5. Amores Perros (2000)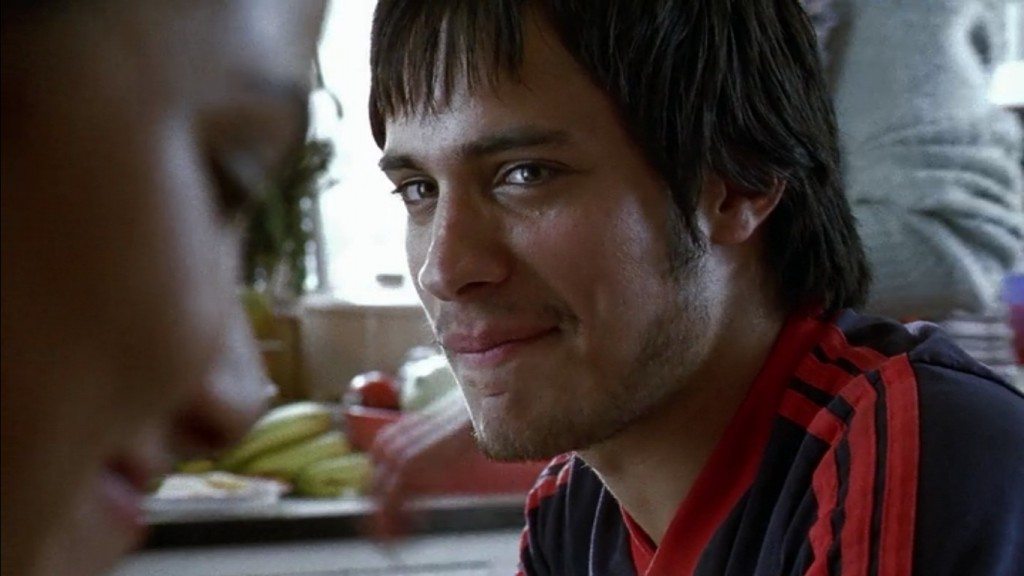 Alejandro Gonzalez Iñárritu is a fabulous director with an ingenious way of making cinema. In his "Trilogy of Death", "Amores Perros" is the first film opening the way to a collection of anthology films where "21 Grams" and "Babel" are next on the list. Starring amongst others the incredible Gael García Bernal, it relates three different stories connected through the event of a car accident in Mexico City. First, we have an impoverished teenager involved in violent dogfighting, then there's a model who injures her leg in an accident and finally, a hitman on a mission. A modern tale about violence, inhumanity, inequality and dirty, miserable love.
Read More: Movies Like Blue is the Warmest Color
4. Trainspotting (1996)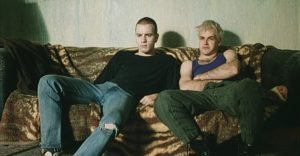 "Trainspotting", the one and only film about characters struggling with drugs that has marked its era and influenced a variety of filmmakers, artist and cinema-lovers. The gritty and stylised look, imaginative visuals and overall wild feel, depicts the lifestyle of a group of addicts and the dirty environment they wake up and fall asleep in perfectly, as does the soundtrack selection that'll never leave one's ears after having been heard for the first time. Let's also mention the incredible performance of Ewan McGregor and his pals, especially Robert Carlyle in his eccentric one-of-a-kind role. If you haven't watched it, stop what you're doing and press start on Danny Boyle's black comedy about a handful of Edinburgh heroin addicts.
Read More: Movies Like Signs
3. The Panic In Needle Park (1971)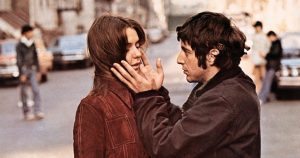 Directed by Jerry Schatzberg, "The Panic In Needle Park" is a romantic drama starring Al Pacino in his second film appearance and Kitty Winn, who came to win Best Actress in the Cannes Film Festival of the same year. It depicts the love story between Bobby and Helen and the way their drug addiction leads them downhill in their relationship towards each other, the world and themselves. Focusing intensely on the characters and their developments, the film relays its delicate strength on a realistic visual style, observing their movements and sounds as they are rather than imposing outside forces on their story.
Read More: Movies Like Sicario
2. Enter The Void (2009)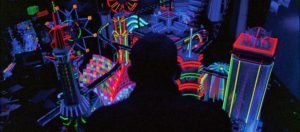 One can only expect peculiar, intense and innovative material coming from French director Gaspar Noé. He doesn't take the conventional route and through his controversial and shocking themes, he creates a world of raw and introspective characters, who suffer from a terrible situation that has left them changed. Having that said, "Enter The Void" is another one of those amazing productions that, this time, takes the colourful highway of "psychedelic melodrama". With neon-lights and first-person viewpoints, it relates the story of Oscar, a drug dealer killed by the Tokyo police who discovers a continuation of events through an "out-of-body" experience.
Read More: Movies Like The DUFF
1. Pi (1998)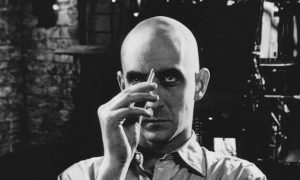 Darren Aronofsky, known for his ability to master this fascinating world of intense cinematic experiences, started off on the right foot with this psychological thriller as his directorial debut. Bizarre yet tremendously compelling, it's an ingenious film that honours the powerful depths of the thriller genre. It tells the story of Max Cohen, a number theorist living in a dull apartment in New York City. Numbers and more numbers is his only activity, as apart from suffering from hallucinations, his social skills are also deeply affected by his obsession, leaving him only with a couple of individuals to interact with. When a specific number is printed out from his computer, his paranoia increases and leaves him falling down the rabbit hole.
Read More: Movies Like 'Maid in Manhattan'