Fans of adventure movies must have heard of and loved "National Treasure". In this film, Benjamin Franklin Gates (Nicolas Cage) descends from a family of treasure-hunters who have been obsessed with finding a war chest hidden by the Founding Fathers after the Revolutionary War. Now that he has some clues about its whereabouts, he must race to find it before a team of mercenaries does.
If you are into fast-paced adventure movies with epic stories and good performances, you came to the right place. Here is the list of movies similar to "National Treasure" that are our recommendations. You can watch some of these movies like National Treasure on Netflix or Hulu or Amazon Prime.
14. The Sorcerer's Apprentice (2010)
"The Sorcerer's Apprentice" delves into the world of magic and the descendants of wizard Merlin. We follow Nicolas Cage as sorcerer Balthazar Blake who must find and train Merlin's descendant to defeat evil enchantress Morgana. This is a great family film with a nice story and good acting by Nicolas Cage and Jay Baruchel. "The Sorcerer's Apprentice" is an entertaining family movie with an epic fantasy story for fans of adventure movies.
Read More: Movies Like A Quiet Place
13. Young Sherlock Holmes (1985)
In this adaptation of the famous books by Arthur Conan Doyle, we follow a young Sherlock that decides to investigate a series of inexplicable delusions that several assorted people start having. With his amazing deductive ability and the help of his friend Dr. Watson, Sherlock must try to prevent the murders of those businessmen. Although not the most famous Sherlock Holmes movie, "Young Sherlock Holmes" is a well-executed and enjoyable movie. Starring Nicholas Rowe and Alan Cox, this drama stands the test of time due to a fine script an incredible physical production that perfectly recreates London in the 19th century.
Read More: Movies Like The Vow
12. Fool's Gold (2008)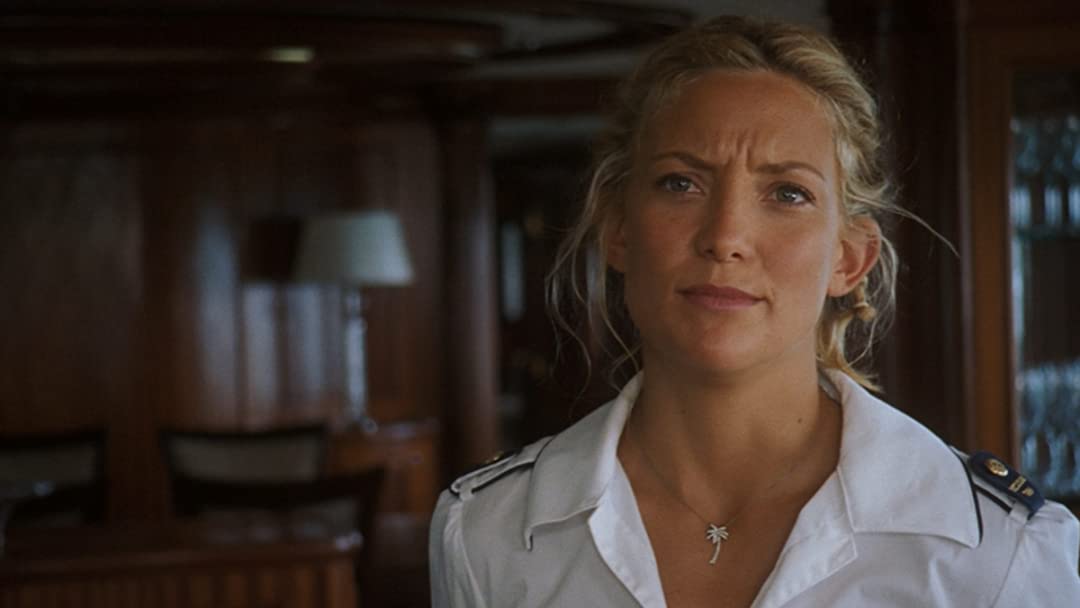 Benjamin Finnegan is a deep-sea treasure hunter that has a new clue to the whereabouts of a lost treasure. Despite recently divorced, he teams up with his ex-wife to find a Spanish treasure hidden for centuries. Although the plot is not very original, "Fool's Gold" is an entertaining adventure with great performances by both the leads and supporting cast. If you want silly humor, romance and a bit of action, you cannot miss this one.
Read More: Movies Like V For Vendetta
11. Lara Croft: Tomb Raider (2001)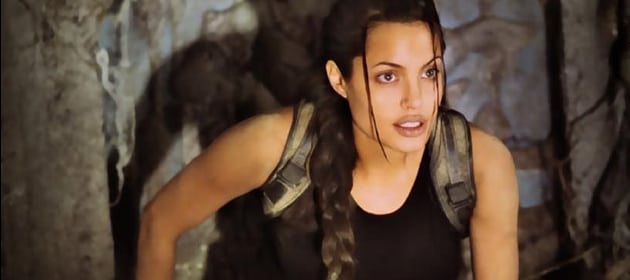 The famous video game character comes to life in "Lara Croft: Tomb Raider". Angelina Jolie is Lara Croft, a "tomb raider" who enjoys collecting ancient artifacts from ruins of temples and lost cities. We follow her adventures as she races against time and villains. Even if you do not know the video game, you should watch "Lara Croft". It is the perfect movie for fans of action, and it is one of the first adventure movies featuring a female protagonist. If you would like to escape from your daily life for a few hours, this is a great choice.
Read More: Best Movies Similar to 'Shutter Island'
10. Sahara (2005)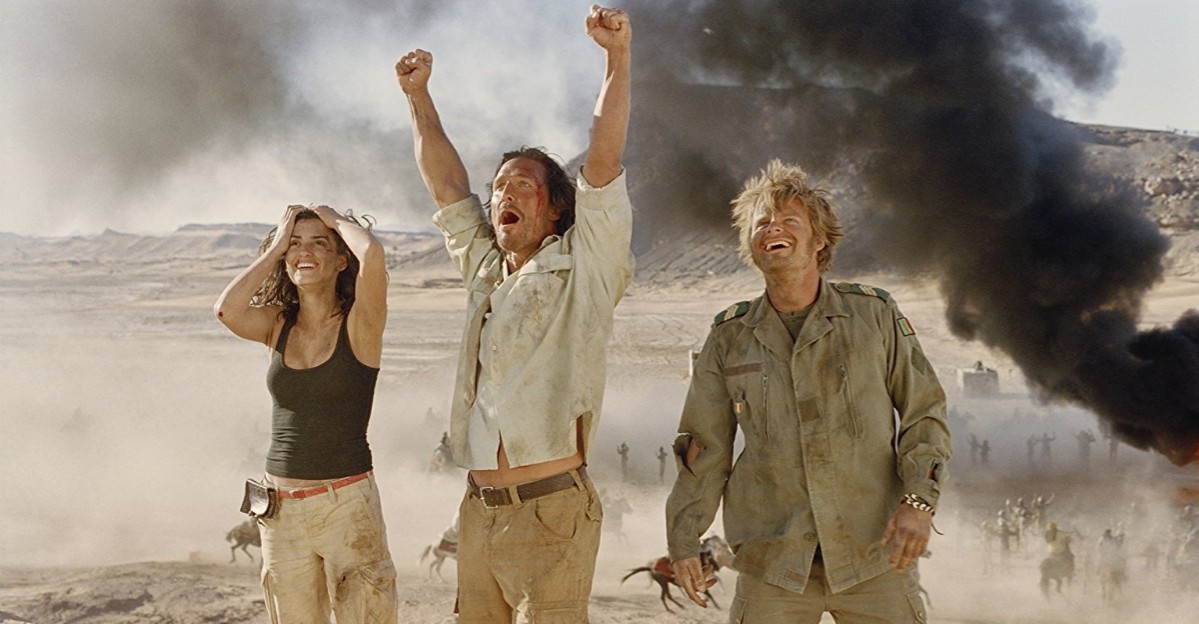 Dirk Pitt is a master explorer and a former US Navy Seal. He goes on a memorable adventure to search for a lost Civil War battleship known as the "Ship of Death" in the deserts of West Africa. While doing that, he must help a brilliant U.N. scientist that is being harassed by a ruthless dictator. Any "National Treasure" fan should watch "Sahara" since they have so much in common. "Sahara" is an adventure movie all about a lifetime adventure to find a lost treasure. Hence, it is a perfect Saturday afternoon movie to laugh and relax.
Read More: Movies Like Braveheart
9. The Jewel of the Nile (1985)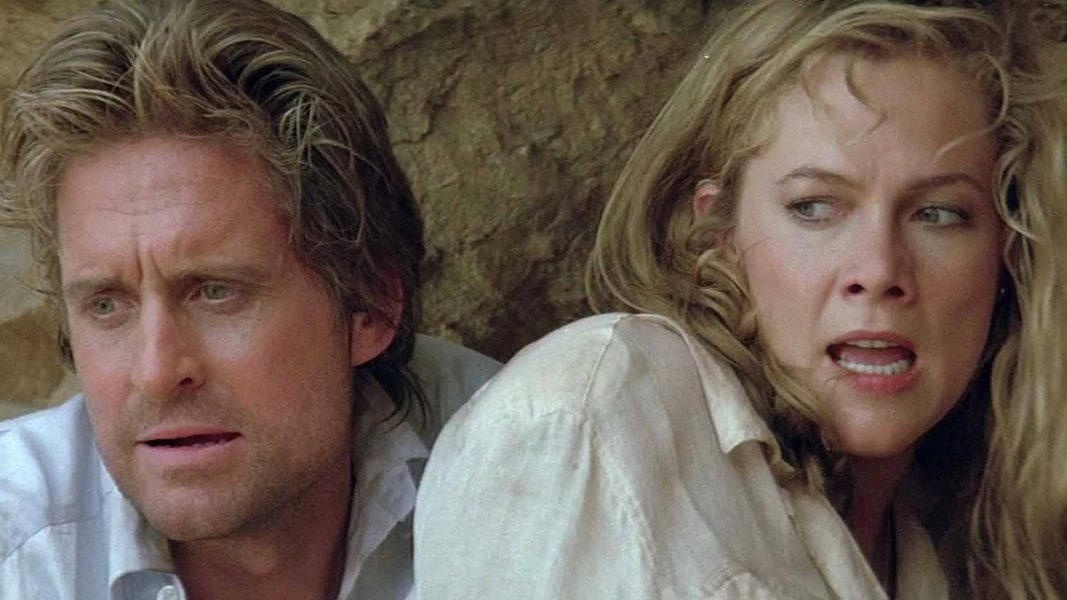 "The Jewel of the Nile" is the worthy sequel to the adventure movie "Romancing the Stone". In this new chapter, Joan Wilder is abducted when she is on a trip in the Nile. Her boyfriend, Jack Colton, and their friend Ralph quickly come to her rescue and retrieve a fabled jewel. Despite not reaching the high quality and entertainment of the first film, "The Jewel of the Nile" is still a fun ride that deserves your attention. Besides being an adventure movie, this film can mix action, romance, and comedy in an engrossing way. Therefore, a must watch for fans of "National Treasure".
Read More: Movies Like The Princess Bride
8. The Da Vinci Code (2006)
Based on the bestseller by Dan Brown, "The Da Vinci Code" follows American religious symbology expert professor Robert Langdon after he is summoned to The Louvre museum. A murder has occurred, and Langdon is the only one capable of finding out what happened. "The Da Vinci Code" is a thrilling and chilling adventure/mystery kind of movie with a phenomenal cast and good direction. Besides that, it has an interesting and engrossing adventure story that will hold your attention firmly. All of this, paired with fast-paced action, makes this one an amazing film to watch.
Read More: Movies Like Moonlight
7. Night at the Museum (2006)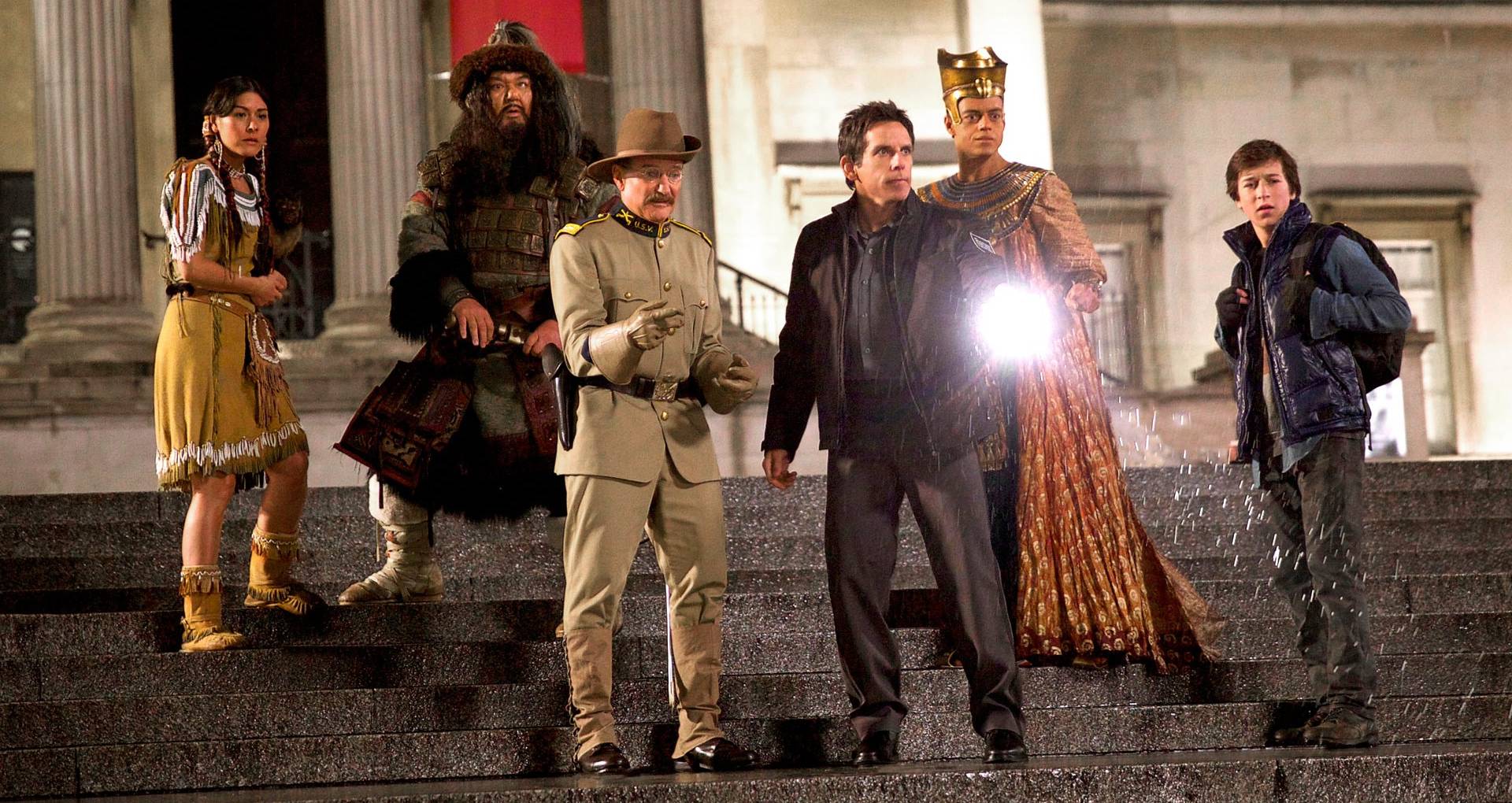 Larry Daley is the new security guard at the Museum of Natural History in New York. Little does he know that an ancient curse makes all the exhibits come to life at night. "Night at the Museum" not only has an interesting story but also is fast-paced, not being afraid of jumping into action. Above all, it has an incredible cast composed by Ben Stiller, Robin Williams, Dick Van Dyke, and many other excellent actors. Similarly to "National Treasure", it is an epic family film that will entertain children, teenagers, and adults.
Read More: Movies Like Eyes Wide Shut
6. Angels and Demons (2009)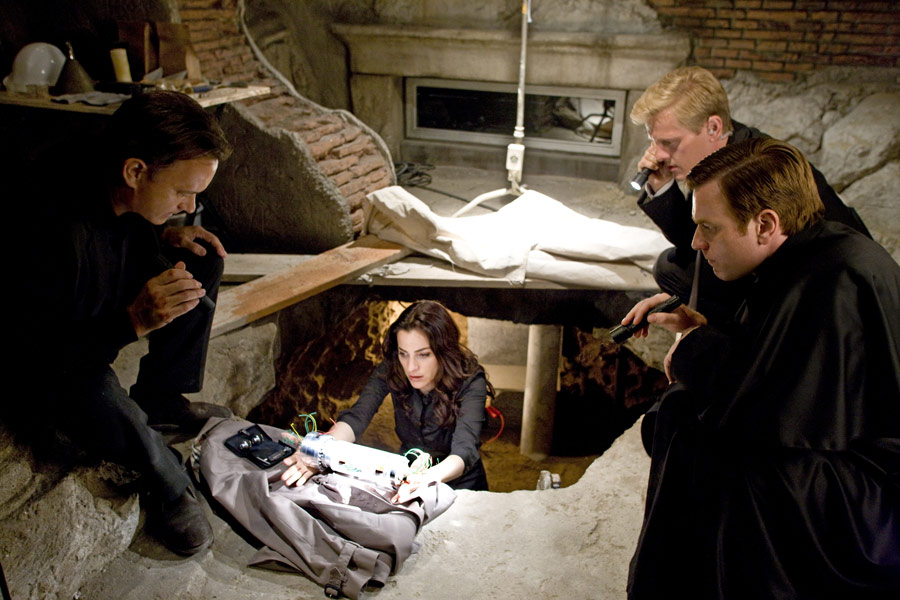 Following the murder of a physicist, Harvard symbolist Robert Langdon is called to solve the murder alongside a nuclear physicist. Additionally, they must prevent a terrorist act against the Vatican. Once again, the bestsellers by Dan Brown prove to be excellent adventure/mystery movies. Tom Hanks continues to play the role of Langdon, a very interesting and well-developed character. Furthermore, "Angels and Demons" explores fascinating themes surrounding the Vatican and the city of Rome, which is extremely exciting and engaging.
Read More: Best Movies Similar to Forrest Gump
5. The Goonies (1985)
Mikey Walsh and Brandon Walsh are brothers about to move to another house due to money problems. So, they team up with their friends and set out to find a pirate's old treasure. "The Goonies" is a classic family movie that has inspired many movies and TV shows over the years. Richard Donner's direction is well-executed and fast-paced, the young actors' performances are superb, and the senior cast is very good. In sum, it is an engrossing adventure that kids, teenagers, and adults will love.
Read More: Movies Like Train to Busan
4. Indiana Jones and the Temple of Doom (1984)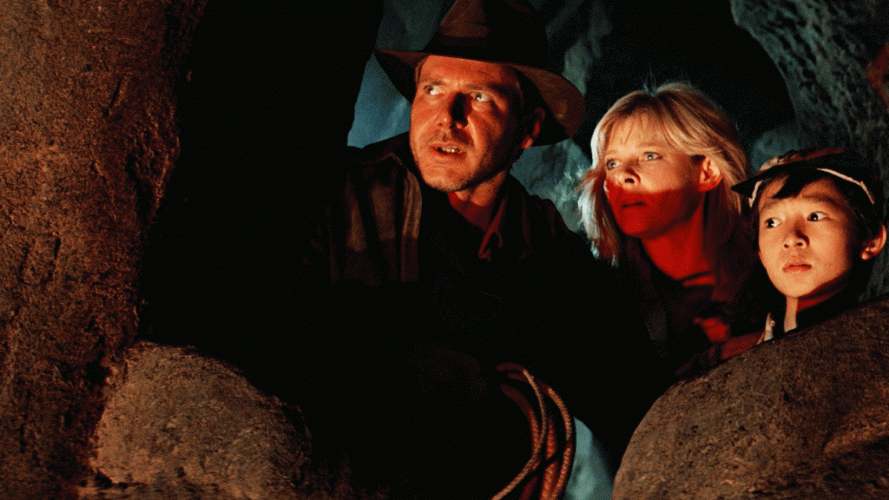 Adventure lovers cannot miss the iconic Indiana Jones. In this sequel, Indiana Jones finds himself in India and is asked by a desperate village to find a mystical stone. This leads to a great adventure as he stumbles upon a secret cult plotting a terrible plan in an ancient palace. Winner of the Academy Award for Best Visual Effects, "Indiana Jones and the Temple of Doom" is an entertaining and brilliant experience. Spielberg's masterful direction skills created a movie with interesting characters, great action sequences and memorable moments. If you are a fan of "National Treasure", you should definitely watch this one.
Read More: Movies Like Spirited Away
3. The Mummy (1999)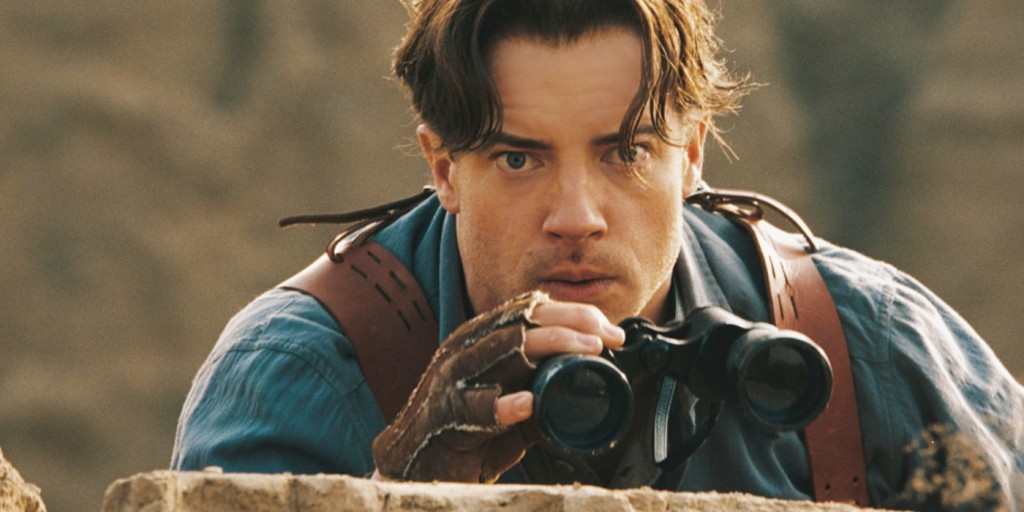 English librarian Evelyn Carnahan and her brother become interested in starting an archaeological excavation at the ancient city of Hamunaptra. What they don't know is that another group of explorers are interested and that they accidentally unleash a curse laid on the dead High Priest Imhotep. "The Mummy" is an excellent adventure movie that focuses on ancient Egypt. Besides having some brilliant visuals, its script is funny and captivating which makes it a lot of fun to watch. Starring Brendan Fraser, Rachel Weisz, John Hannah and many more talented actors, it will certainly become a favorite if you loved "National Treasure".
Read More: Movies Like Sherlock Holmes
2. Raiders of the Lost Ark (1981)
The first Indiana Jones' movie completely redefined the adventure/action genre. Its epic story set in 1936 about an adventurous archeology professor quickly gained a legion of fans. And it was not by chance. The combination of an engrossing script, amazing action scenes, memorable soundtrack and good performances turned "Raiders of the Lost Ark" a movie classic. As we follow Indiana Jones in his journey to find the Ark of the Covenant before the Nazis, we can stop laughing and to sustain our breath. It won four Academy Awards.
Read More: Movies Like Ex Machina
1. Romancing the Stone (1984)
Joan Wilder, a romance writer, receives a treasure map in the mail from her recently murdered brother-in-law. However, Joan is forced to travel to Colombia to exchange the map for her kidnapped sister. She soon finds herself in the mid of a dangerous journey. "Romancing the Stone" is a comedy adventure from the mid 80's starring Michael Douglas, Kathleen Turner, and Danny De Vito. All of them give great performances and have good chemistry together. This movie quickly became a timeless gem mainly due to a great script that is brought to life perfectly by Robert Zemeckis. Additionally, his unique direction made the movie a fast-paced comedy with a touch of romance that is very difficult to achieve.
Read More: Best Movies Similar to 'Arrival'