'Jungle Book'. A tale of a human child raised by a pack of wolves and is now haunted by the terror of jungle's king Shere Khan. This is a story we've been reading and watching in animated features since childhood. But with advancement in technology, the studios have started adapting live-action features of such films with embedded CGI and VFX imagery, adding up more excitement to these films. Here is a list of such movies similar to 'The Jungle Book' (2016) that are our recommendations and deserves a watch for their awesome work in the field of special effects. You can watch some of these movies like The Jungle Book on Netflix, Hulu or Amazon Prime.
12. Oz: The Great and Powerful (2013)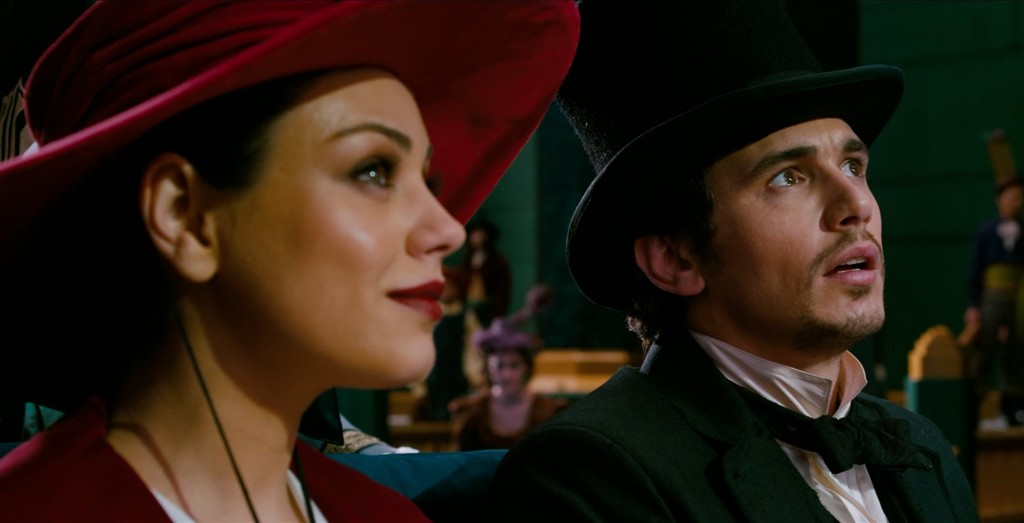 Oscar Diggs, a deceptive magician lands in the Land of Oz, where he is unwillingly enlisted to restore order in the place as per an ancient prophecy. He encounters three witches Glinda, Evanora, and Theodora along the way and is trapped in the conflict between the three.
The film is a spiritual sequel to 'The Wizard of Oz' (1939), which was in turn based on L. Frank Baum's Oz novels. The film is filled with many CGI and animated characters and it also has several mentions regarding the original 1939 film, but of course, it doesn't live up to that mark. The film's best part is of Mila Kunis who delivers a fairer performance than any of her co-actors. However, the extensive use of graphical imagery doesn't strengthen the plot-line. The film stars James Franco as Diggs, while Michelle Williams, Mila Kunis and Rachel Weisz in lead roles. The film was a moderate success at the box office and grossed $493 million at the box-office.
Read More: Movies Like Manchester by the Sea
11. Journey To The Center Of The Earth (2008)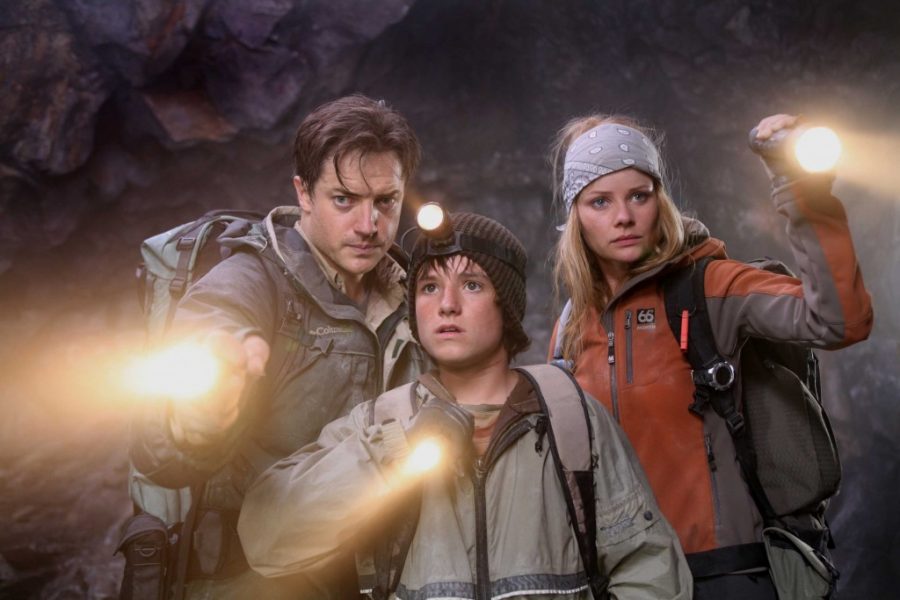 Trevor Anderson goes to Iceland to investigate his brother's disappearance Max, along with Max's son Sean, as he believes his brother was exploring Jules Verne's novel in real life and has been stuck there for years. Based on the book of the same name by Jules Verne, the film dramatizes the events of the book existing in the real world and develops a story-arc around it. 'The Mummy' fame Brendan Fraser stars in his best commercial success since his 1999 film while he's joined by a young Josh Hutcherson. The film's visual effects are the real treat of the film and Fraser's experience in 'The Mummy' comes handy as he's familiar with acting on virtual sets. Also, Josh Hutcherson plays a vital role in film's success, which later helped him rise to prominence. The film also stars Anita Briem as the female lead.
The film grossed $242 million against a $60 million budget and even spawned a direct sequel to the film title 'Journey 2: The Mysterious Island' in 2015. A third film was hinted in 'Journey 2', no official announcement has been made.
Read More: Movies Like Oldboy
10. Pete's Dragon (2016)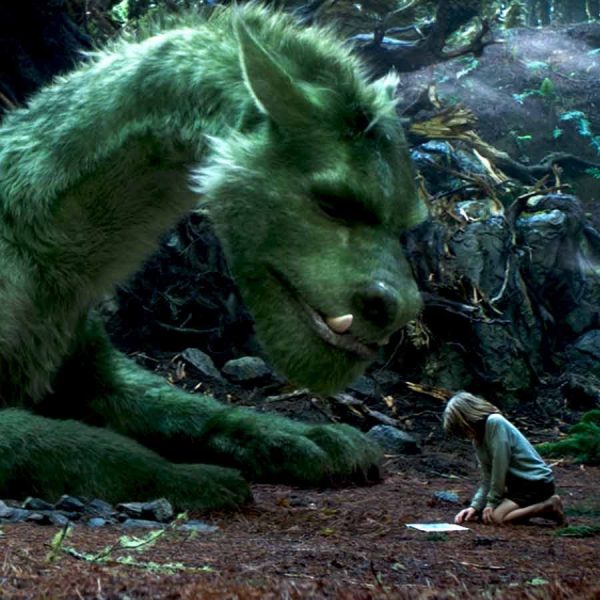 A tale of an orphaned boy Pete and his best friend Elliot, a kind an warm-hearted dragon. When people of the town starts digging in the creature, Pete goes on to protect his friend from the outer world.
Based on a 1977 musical of the same name, 'Pete's Dragon' is another soulful and charming tale of friendship and another exhibit of the pleasant relationship between man and animal. The film's best thing is Pete, played by Oakes Fegely (then 11-yrs old) who, with his innocence makes an honest effort to not only entertain but hold on to the audience and creates a magical scenery that we can take to our hearts. The film grossed $143 Million against a $65 million budget, thus registering as a hit at the box-office. Despite a no-show at the award ceremonies, the film holds an 87% rating on review aggregator Rotten Tomatoes and is still loved by critics and audiences alike.
Read More: Movies Like Her
9. The Legends of Tarzan (2016)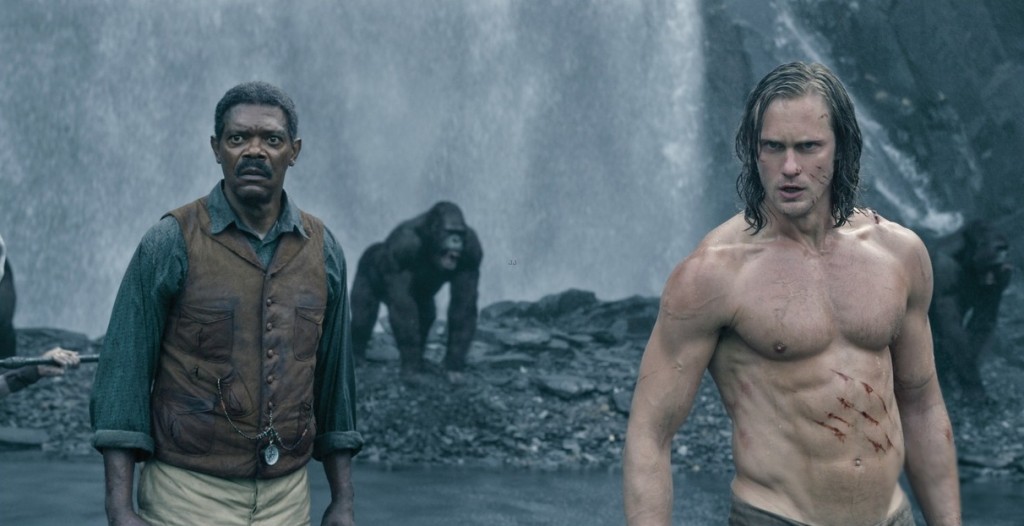 Tarzan has left the jungle and his ape family behind and is settled in England with his wife Jane, and now carries his original name, John Clayton III. His destiny leads him back to his past when he is invited by King Leopold II to Congo Free State, a country ruled by Leopold as his own personal union. Based on the works of Edgar Rice Burroughs, the film is a beautiful update of the original tale of Tarzan. 'The Legend of Tarzan' is a historically contextualized version of the source.The characters of Captain Lèon Rom (played by Christoph Waltz) and George Washington Williams (played by Samuel L. Jackson) are fictionalized versions of real-life figures. Alexander Skarsgård's king-style version of the character mesmerizes as well as the show-stealing villain, Waltz. On the top of all that, Margot Robbie portrays Jane, filled with courage and faith rather than the previous panicky and agitated portrayals.
Despite mixed reviews from critics, 'The Legend of Tarzan', the film made around $126 Million in North America and another $230 Million in other territories. Though against a $180 Million budget, the film wasn't that profitable and a sequel is in shadows. But, it'll be a lovely treat to see Skarsgård back as our beloved man-ape.
Read More: Movies Like American Pie
8. The BFG (2016)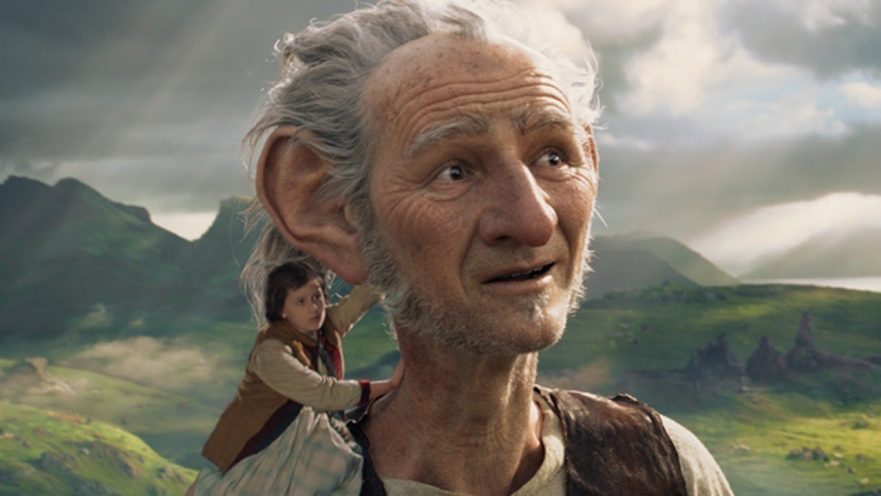 An orphan human girl befriends a kind and benevolent giant and travels with him to Giant Land in order to stop the man-eating giants, who are invading the human world. One of the best films of the ongoing decade, this tale of friendship and humanity is a must watch feature for people of all ages, and is filled with captivating performances, awe-inspiring visuals and motion-capture and innocence of the newcomer Ruby Barnhill. Barnhill's comeliness and her sequences during her character's insomniac episodes are worth every praise. The next "big" thing about the film is Mark Rylance's titular character. Short for "big friendly giant", Rylance stars as BFG. This dazzling adventure from director Steven Spielberg reminds you of his 'E.T.' and makes the viewer experience a new sense of wonder.
A debut of Spielberg for Walt Disney Pictures, 'The BFG' (based on Roald Dahl's 1982 novel) wasn't a commercial success, grossing only $183 million against a $140 million budget. But the positive critical response has earned it a post-release following. If not for acting, the film can prove to be a worthy inclusion in technical categories at Oscars this year.
Read More: Movies Like Black Panther
7. Maleficent (2014)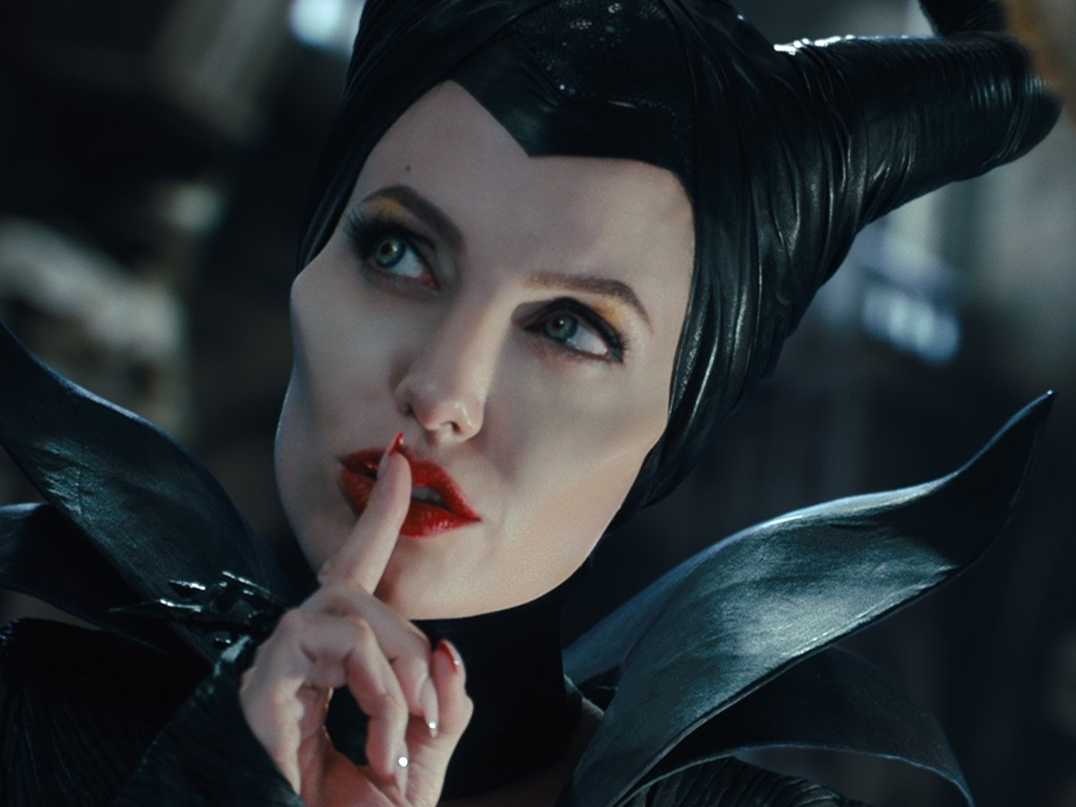 A beautiful and kind-hearted fairy turns dark and evil when betrayed by her lover. Years later, she curses her lover's daughter which makes her fell into a never-ending sleep. The feature film adaptation of Disney's 'Sleeping Beauty', 'Maleficent' showcases the story of the sleeping princess through the perspective of the antagonist, and depicts her past and the events that led her to become the evil she is. The film was Angelina Jolie's first feature as an actor after 2010 film 'The Tourist'. Despite the hiatus, Jolie remained flawless throughout the film and proved to be the cynosure of the film. The second line of defense for the film was Elle Fanning's Princess Aurora. Elle delivered a compelling and pleasant performance and was nominated for a Saturn Award for her portrayal in Best Young Actor category.
The film itself became a commercial success and made $758.6 million on box-office and also received an Academy Award nomination for Best Costume Design. A sequel to the film is currently in development stage.
Read More: Movies Like Die Hard
6. Into The Woods (2014)
A Baker and his wife remain childless due to a curse put on the family by a witch. In order to get the curse lifted, they begin a journey to retrieve four items for the witch and make their lives better and happier.
An adaptation of the Broadway musical of the same name, the film takes inspiration from the fairy tales of Cinderella, Rapunzel, Little Red Riding Hood and Jack and the Beanstalk and combine their stories to create this fantasy feature. Starring an ensemble cast, it's Meryl Streep as the witch who runs the show. The film also received critical appreciation for its darker approach to the source material while reducing the violent content from the film making it, as The New York Times quoted "a film for children of all ages". Emily Blunt and Anna Kendrick were also praised for their respective performances. Grossing more than $200 million, the film also received three Academy Award nominations including Best Supporting Actress for Streep and won a Satellite Award for Best Ensemble.
Read More: Movies Like Jack Reacher
5. Alice In Wonderland (2005)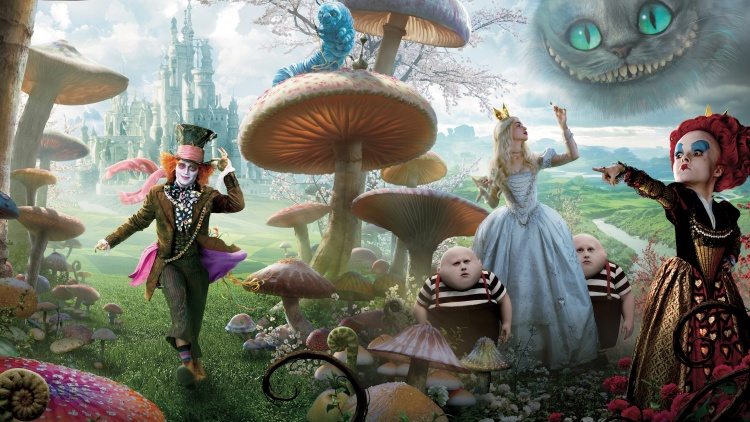 A modest and humble, 19-yr old Alice falls down a mysterious rabbit hole and finds herself in 'Underland', a place filled with the entities from her childhood nightmares. The story unfolds as she accepts her current crisis and helps restore the White Queen to her throne and save the Underland from Red Queen's never-ending terror.
Based on the popular novel 'Alice's Adventure in Wonderland' by Lewis Carroll, director Tim Burton developed a new illustration of the original story, without taking the book as the source material. Despite mixed reviews from critics, in my opinion, Tim Burton's direction of the film gives a delightful treat filed with amazing visual effects and digital make-up, all summing up to a lovely tale of friendship and righteousness. Although Mia Wasikowska's casting was met with mixed responses, her charm and adorability, with the support of Johnny Depp's Mad Hatter (Depp's another role where he's completely unrecognizable), did the job well.
The film was met with an amazing response from audiences. The film grossed over $1 Billion in its ticket sale and became the fifth-highest grossing film of all time during its theatrical run. However its CGI overuse was criticized, it won two Academy Awards for Best Art Direction and Best Costume Design. A sequel to the film 'Alice Through The Looking Glass' was released in 2016 but failed critically and commercially on box-office.
Read More: Movies Like Nightcrawler
4. Beauty And The Beast (2017)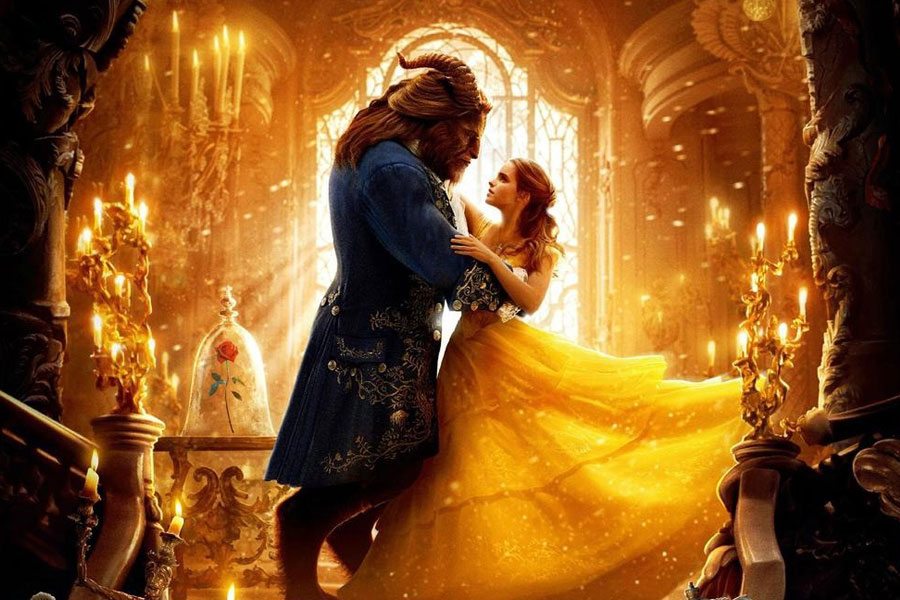 A young prince imprisoned in a castle due to a curse which turns him into a monstrous beast finds his opportunity to lift the curse when Belle, a beautiful young lady arrives at the castle, unbeknownst to what lies inside for her. Based on Disney's animated feature of the same name, 'Beauty and the Beast' is a faithful adaptation of the original, filled with an appealing cast, beautiful songs, attractive visuals and modish costumes. The film's success is hugely due to its production design and direction as well as the timing and crafting of the songs. Dan Stevens was good as the Beast, but Emma Watson's casting was not at all praised. However her expressions did a beautiful job, her voice and thick English accent became a point of criticism as her character was French, which Emma couldn't, adapt to perfection.
Still, despite the flaws and ups and downs, the film made $1.2 billion and became the highest grossing film of the year and 10th highest grossing film of all time. The film though missed out on Golden Globes, it is still in the race for Oscars and is a front-runner in Best Costume and Production Design category.
Read More: Movies Like Tangled
3. Jumanji (1995)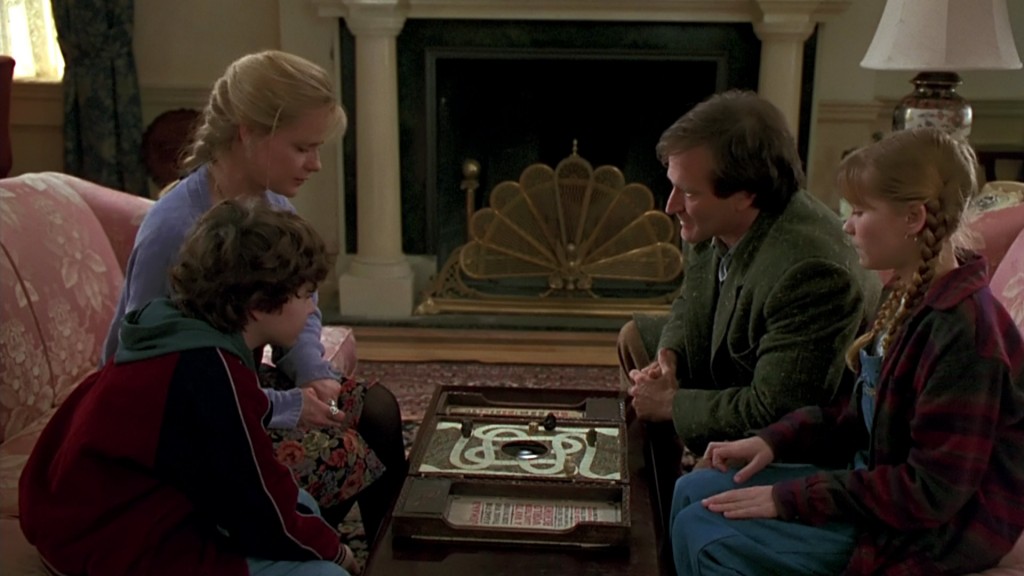 A kid, Alan Parish gets trapped in a board game in 1969, while playing it with his friend Sarah. 26-years later, siblings Judy and Peter continues the game and releases a grown-up Alan, but not without also releasing the horrors of the game, Alan has survived all those years. Based on a 1981 children's book by Chris Van Allsburg, Jumanji is one of the best comedy-adventure films made in cinematic history. The film's interpretation of the chaos level that the script offers is enjoyable in every way, which achieves perfection with the help of a chuckle-some performance by Robin Williams, and equally witty show by Bonnie Hunt and the kids Kristen Dunst and Bradley Pierce. Jonathan Hyde's cunning but humorous villain adds up to the entertainment.
The film's theatrical run earned $263 million against a $65 million budget, despite the mixed response from critics. A spiritual sequel, 'Zathura: A Space Adventure' was released in 2005 and a standalone sequel 'Jumanji: Welcome to the Jungle' was released in 2017, both of which were based on works of Allsburg.
Read More: Movies Like Boyhood
2. The Adventures Of Tintin: The Secret of Unicorn (2011)
"Billions of bilious blues blistering barnacles in a thundering typhoon". The Real3D animation picture by Steven Spielberg is a wonderful treat bringing back all our childhood memories of Tintin. In this film, our famous Belgian reporter goes on to discover the truth about a long-hidden treasure and try to take out the bad guys with the help of the drunkard Captain Haddock and the smart and fearless Snowy.
Inspired by three of the Tintin books by Hergé, the idea to bring Tintin on screen first hit Spielberg when a review for his 1981 film 'Raider of the Lost Ark' compared Indiana Jones with Tintin. They acquired the rights to Hergé's works in 1983, shortly after his death. After years of failed attempts and technical lags, Spielberg decided to film it in motion capture. After Peter Jackson joined the project, Andy Serkis was cast as Haddock and project picked up speed.
The film received highly positive reviews, with praise especially towards Jamie Bell's and Andy Serkis' performances. Bell's impressions of Tintin perfectly matched what the book fans hoped for and same can be said for Serkis' stupid but smart Haddock. The film was also praised for Snowy's characterization. Not to much surprise, the film went on to gross approximately $374 Million worldwide and won the Best Animated Feature Film Award at the Golden Globes ceremony. A sequel to the film is still in shadows and no script has been finalized, but I do hope to go on another Tintin adventure again very soon.
Read More: Movies Like Mission Impossible
1. Charlie And The Chocolate Factory (2005)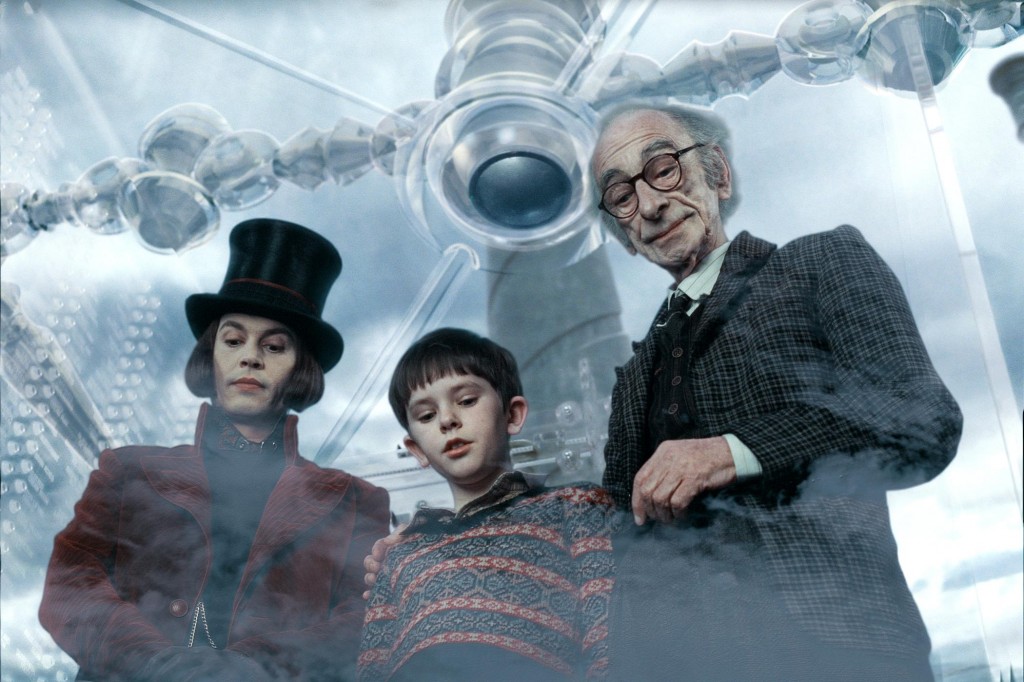 A financially poor kid, Charlie Bucket wins a lucky contest and is invited along with four other winners, by chocolatier Willy Wonka to visit his most magnificent chocolate factory in the world. What follows is a series of hilarious and also 'delicious' events leading to a year's warming end.
Based on 1964 novel of the same name by Roald Dahl, the film was in subsequent development hell since 1990, due to Dahl's disapproval of a previous film adaptation. However, Warner Bros. managed to convince Dahl's widow and got the rights in 1998. But it was just the beginning. Warner Bros. failed to hire a director for quite long and their talks with multiple actors to play Wonka didn't work. It was in 2003, that Tim Burton joined in as director. His research and study of novel's original source material led him to cast Johnny Depp in the lead. It was Depp that suggested Burton cast Freddie Highmore (who had worked with Depp before the film) as Charlie Bucket.
The film opened with highly positive reviews from critics and an overwhelming response from audiences. It was highly applauded and was loved by kids all around the globe. The film grossed $475 million during its theatrical run and topped various critic rating and review charts. However the film was a no-show at that years' award ceremonies, it still remains in all hearts (including mine), and it is still cherishing to watch this adorable tale.
Read More: Movies Like Nerve