It doesn't matter how many drug cartel documentaries or shows you have previously seen; even knowing all about the world's history with narcotics will not make a difference, because if you have not seen 'Narcos', then you're not just missing out on a "drug show" but also one of the best TV series ever made in recent times. 'Narcos' is not entirely historically accurate because for the purpose of drama, many names and places have been changed. But the incredible soundtrack, setting, flawless writing, breathtaking cinematography and extraordinary acting elevate the show to a whole different level. The impact 'Narcos' has on television audience cannot be overstated. It has been one of the most loved and appreciated shows of this decade.
The main focus of the show is on Pablo Escobar, which is definitely not an unknown name in the real world unless you have been living under a rock all this while. The Colombian drug lord is hunt down by two DEA agents who in the end realize that if they cut a snake's head, another one will emerge right around the corner to take its place. That's exactly what happens here and when after Escobar is taken down, the drug trafficking business of the 80s continues to thrive. It's just a never-ending cycle that can be slowed down but never broken.
It is quite obvious that a show about a Columbian drug cartel has to be violent and graphic. The violent part blends well but it's the sex scenes that seem forced at times and don't even add any overall value to the plot. The gut-wrenching murders that take place throughout the show are so brutal they just overshadow the sex scenes and in the end, make them look like a cheap way of alluring a bigger audience. But we are not complaining because the show already has some messed up stuff going on, so a few sex scenes here and there just make things a little better. In fact, it even adds some realism to the overall story. So, here's the list of top steamy scenes from 'Narcos'.
8. Sex in the Dark (SE01 EP02)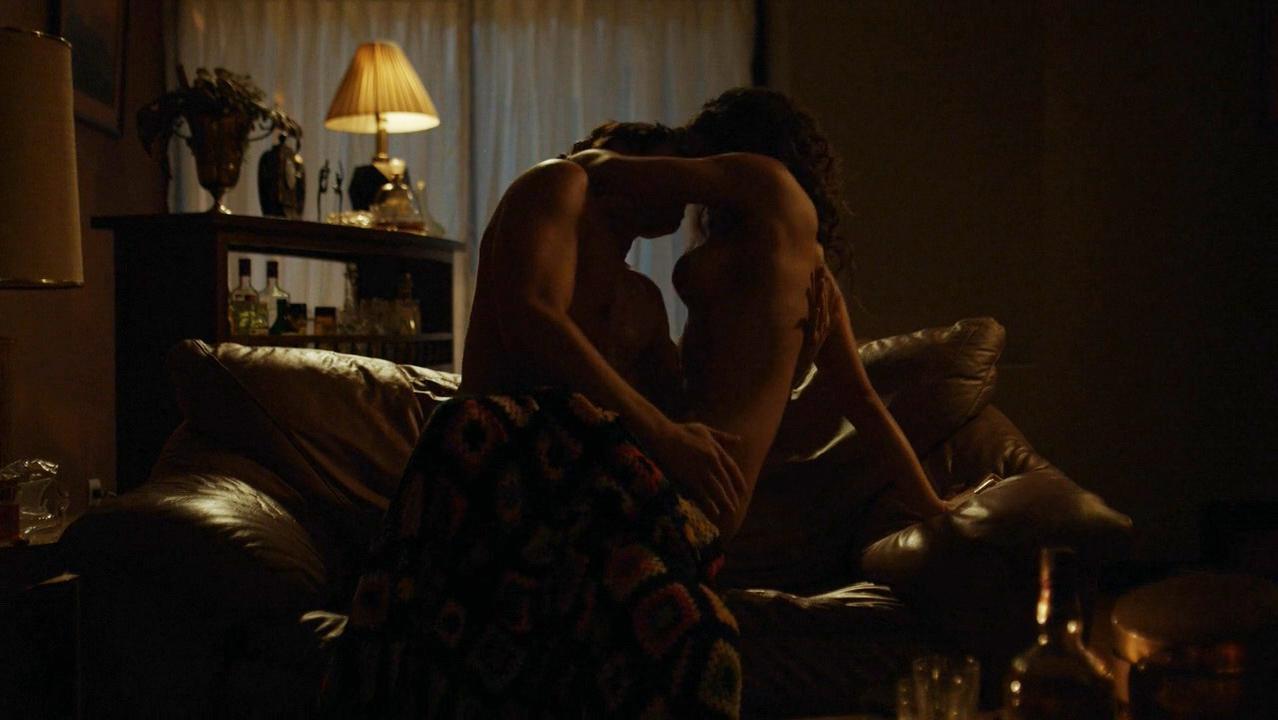 Wagner Moura and Adria Arjona make out in a dark room and the raw sexual tension in the scene begins to escalate. All we can see as of now are silhouettes of their half nude frontals. But that's all the nudity you get to see in this scene. Soon, the whole thing starts to go down and the two have sex standing up. That's when she asks him if he has "standing sex" with his wife as well. This pisses him off and he looks at her in the eyes with rage, announcing, "Don't insult Tata!". To make up for this, she asks him to take her from behind now and that's how they solve their little misunderstanding. This is how he simply ends up accepting the apology Adria's character asks for. There isn't too much nudity in the scene and all you can see is their faces while they have sex. In fact, Adria even has a dress on during the scene but it's clear that all of this is nothing but a random hook-up to fulfill their desires.
7. Bathtub (SE01 EP09)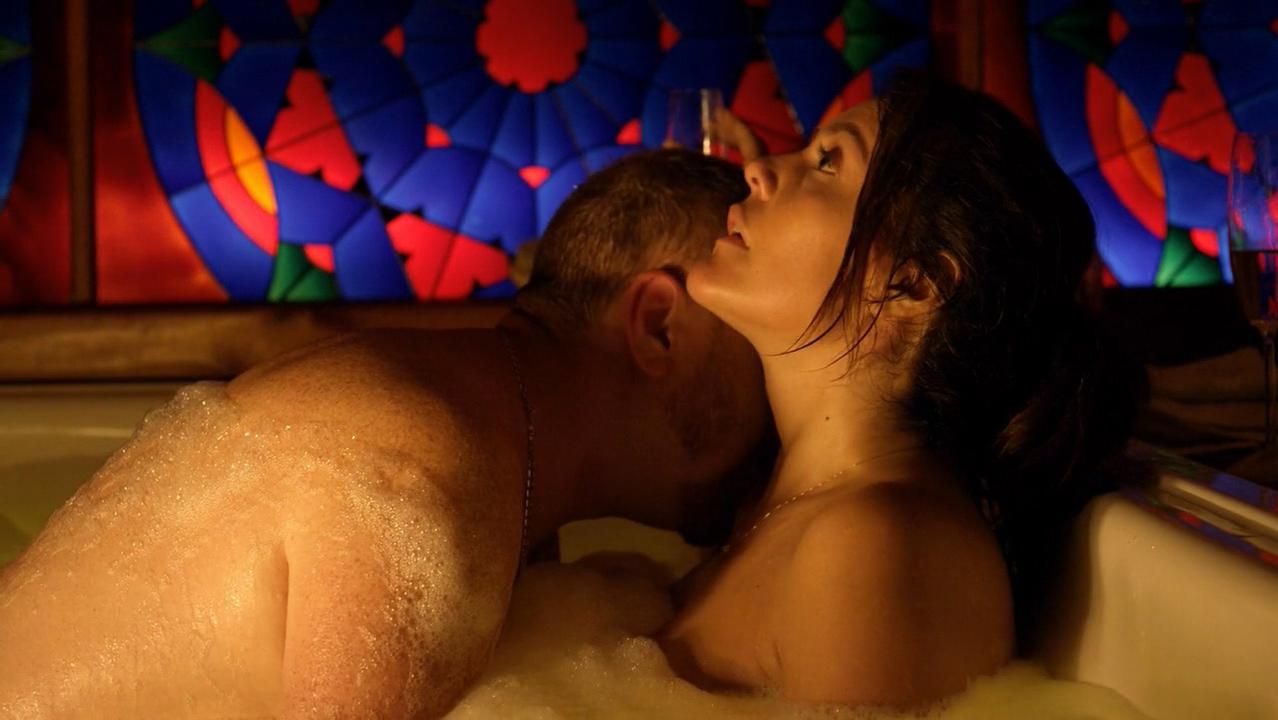 Cristina Umana sits in a bubbly bathtub in this scene with her man but having sex is the least of her concerns right now. Her guy offers her money and a house she has had her eyes on since ages, just to lure her into having sex but she seems too distracted by the fact that Pablo somehow is not willing to come into peace with Cali. In a steamy bubble bath where her man is trying to seduce her by kissing her all over her neck, all she has to think about is Pablo's war tax on them. What started off as a potential sex scene soon turns into a cocaine-snorting business meeting in a bathtub.
6. Promise Me (SE2 EP01)

Paulina Gaitan plays the role of Tata Escobar, the long-suffering wife of Pablo and the only woman he truly loved. Now don't go around googling Tata Escobar because you won't find much about her. Her real name has not been revealed here for obvious reasons. In this scene, Pablo and Tata make some sweet love and their chemistry as a couple clearly reflects on screen. Pablo corners Tata to the wall and starts groping her tenderly while they slowly kiss. Pablo then lifts her up in his arms and the two make out passionately. There is no nudity in this scene and all you get to see is Paulina Gaitan with the top of her gown unbuttoned. But even then, this scene is somehow sexier than the other ones because of the bond between the two characters. They're clearly making love and not doing it just for the sake of it. The "implied" nudity here just gets you in ways most other bold nude scenes don't and that's how this qualifies to be part of the list.
5. The Prostitute (SE02 EP01)
You might not remember Angela Forero's character much even if you have seen season 2 of 'Narcos'. She briefly appears as a prostitute who is shown having sex with Pablo for only a few moments. But this scene is still memorable because of its atmosphere and raw emotions. Angela Forero will soon be forgotten and so will this scene because of its length, but it sure is something you can look forward to the next time you're watching the first episode of season 2. When it comes to the overall nudity side of it, you do get to see an almost entirely nude backside of Angela's character as she mounts Pablo and moans while riding him.
4. We Get Better Each Time (SE01 EP02)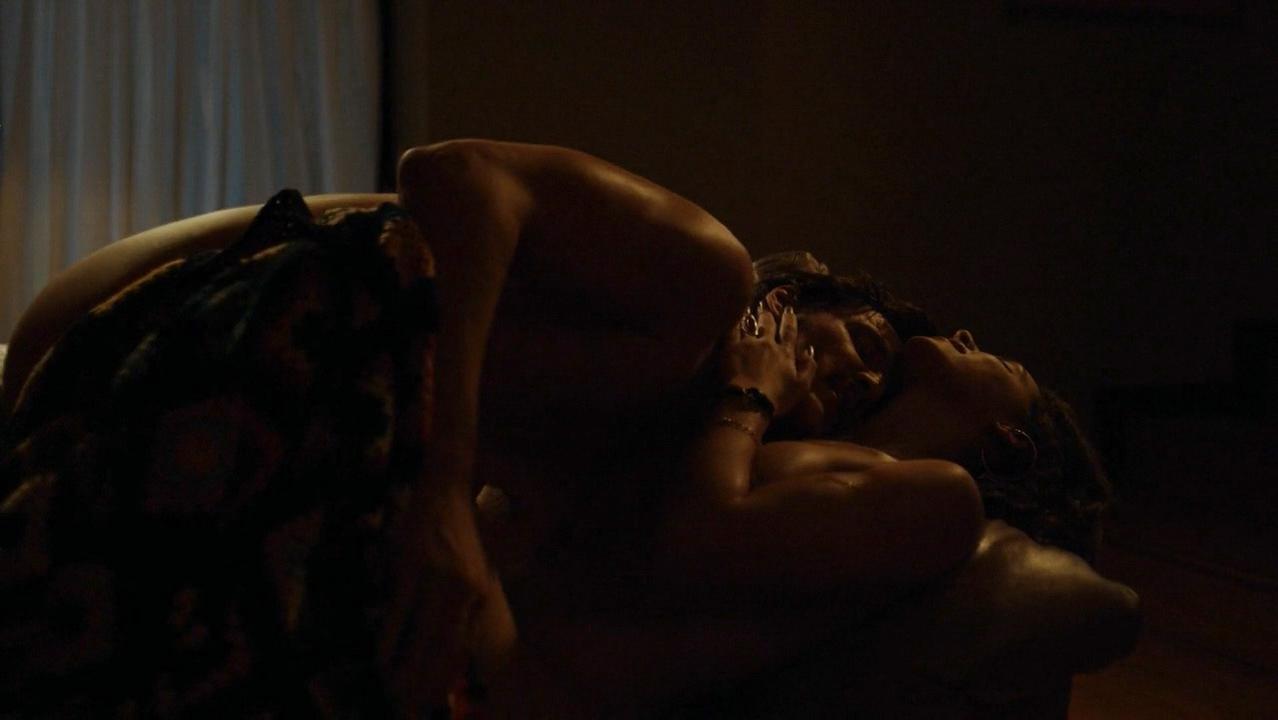 Joanna Christie plays the role of Connie Murphy in 'Narcos'. In this intense and passionate scene, she makes love to Javi (Pedro Pascal). Both of them are clearly stark naked in this scene and the only thing that "censors" them is a flowery blanket. Connie lays there on her back against the surface of a couch while her guy rests on top of her. The two kiss passionately and make love only for a few seconds but this scene is graphic enough to be one of the most memorable sex scenes in the show. Joanna Christie clearly does not shy away from her sexuality and demonstrates an almost full nude side-view of her body.
Once they're done, the couple kiss for the last time and Javi then sighs with pleasure and says, "We get better each time" to which Connie replies, "You're amazing Javi!" For some reason, however, he feels threatened and asks her to not go too overboard with all of this. Christie's vulnerabilities start to pour out soon after this and she starts talking about how Javi could use a woman's touch in his home. Javi just somehow dodges the whole thing and manages to downplay their sexual encounter. But he too eventually surrenders in the heat of the moment and lands a peck on Connie's lips. Just before she leaves his house, Javi says that he must find a new girl now, but knowing that he is joking about it, Connie just ignores his statement and walks away.
3. I Missed You So Much (SE1 EP08)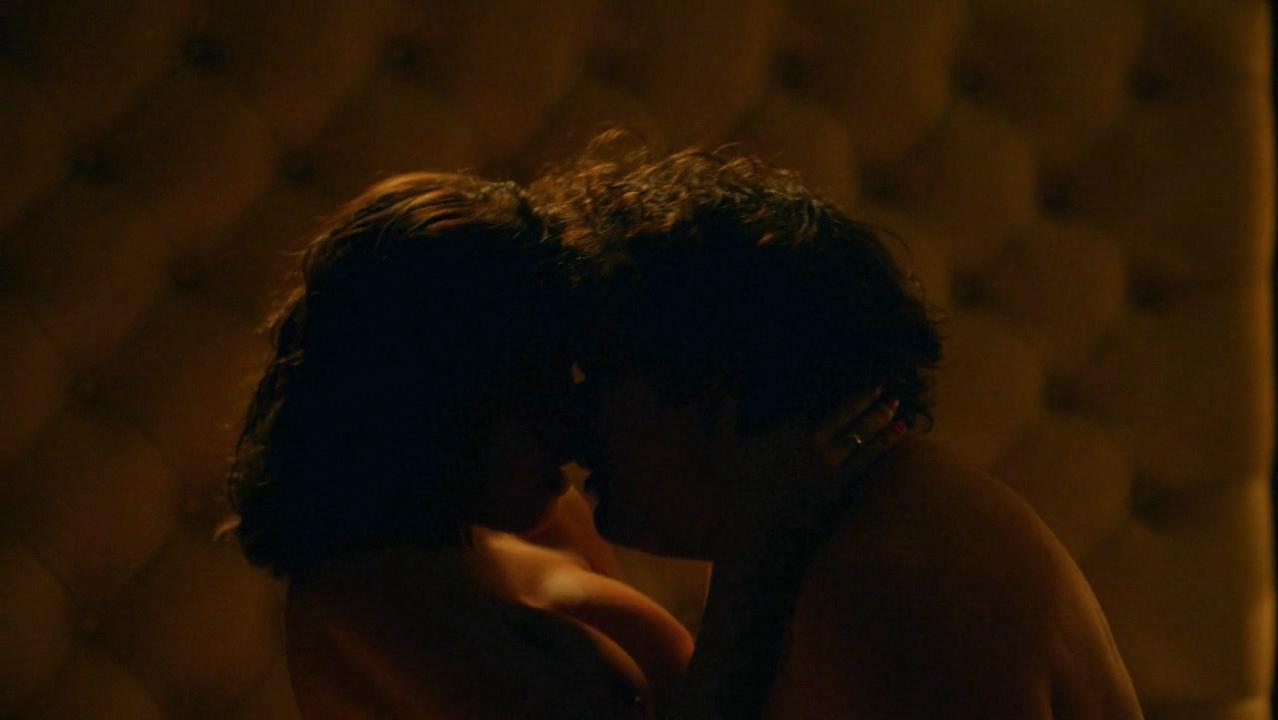 Compared to the last time, Paulina Gaitan shows a lot more nudity here and the love between her and Pablo still seems to be intact. The two make love in a dimly lit bedroom and she tells him that she missed him a lot. To this, he nods and replies that he missed her too. They look at each other for a brief moment and then start kissing again. I'm starting to sound like a broken stereo on repeat here, but there's no denying the fact that the sex scenes involving Pablo and Tata are actually the best ones. This is because their love for each other just pours right out in every scene and it gives you a different flavor of intimacy compared to all other random sex scenes present in the show.
In the introduction, I mentioned that a lot of sex scenes in the show seem bland and unnecessary and most of them don't even add any value to the characters or the story. But an exception to this is definitely the moments shared between Tata and Pablo. The scenes involving them may not be very graphic or showy; they're just a couple, deeply in love, feeling each other's warmth.
Read More: Best House of Cards Sex Scenes
2. Trying to Forget (SE02 EP03)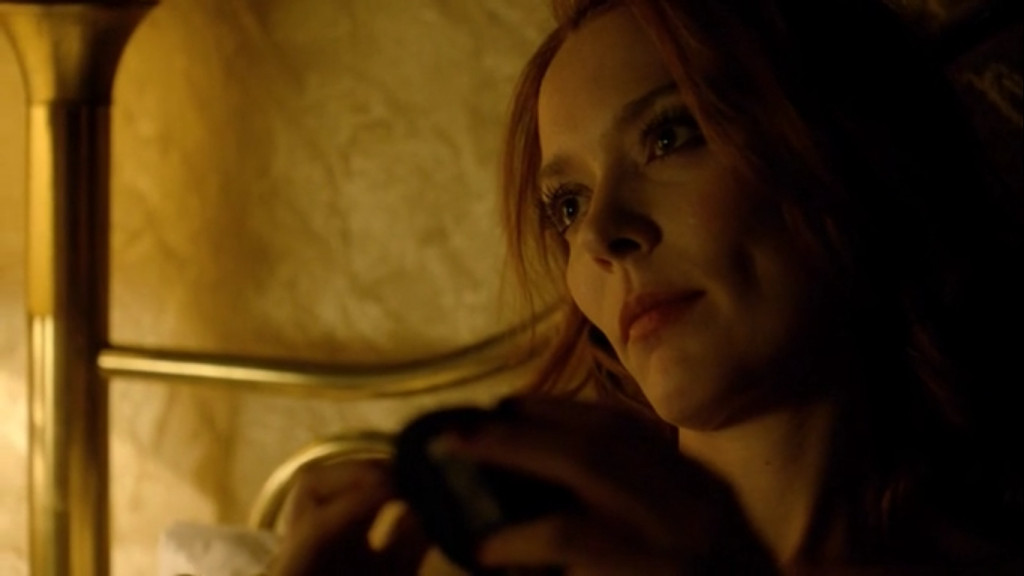 Carolina Acevedo plays the role of Gabriela in the show. In this scene from season 2, she sits naked, lost in deep thought, on the bed in Javi's room. That's when Javi comes in and asks her what is it that she's trying to forget. To this, she just lets out a forced smile and the next thing we know is Javi is boning her from behind as they have some intense bed-rattling sex. By the time they're done, a genuine smile is back on Gabriela's face and it looks like she has forgotten whatever that was bothering her earlier, at least for now.
All the sex scenes are set in a very similar dimly lit background. This is not done to censor any of it because if that was the intention, then there are just better ways of doing it. This dull background suggests that just like their normal day-to-day lives, even sex is no less dark. The sex scenes overall are very normal and there's nothing too freaky about them but the darkness in the color pallet mirrors the grim perspectives of the characters and shows that even in moments of pleasure and temporary happiness, the darkness in their souls does not leave them.
Read More: Best Outlander Sex Scenes
1. Kill Her (SE01 EP06)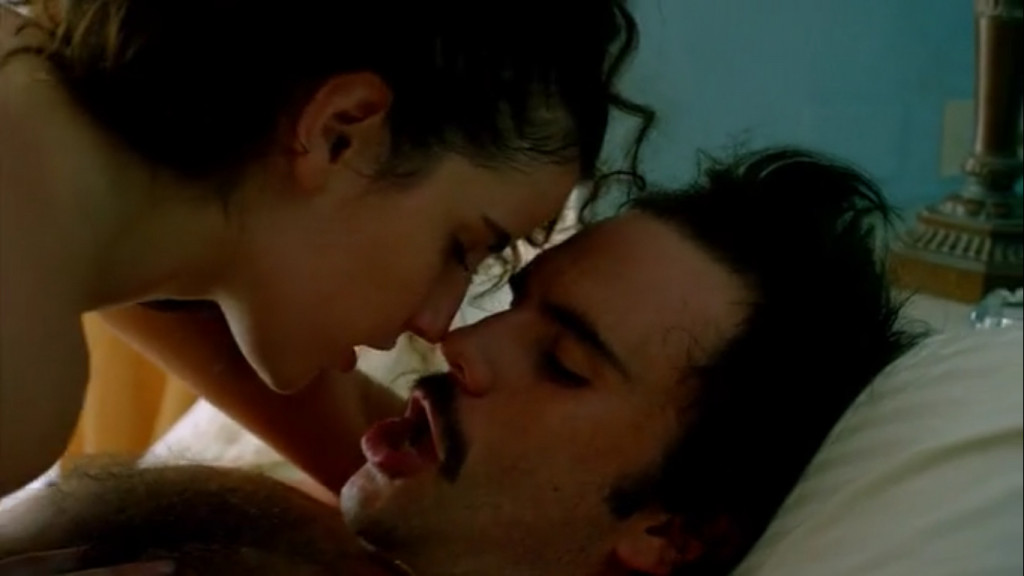 Laura Perico plays the role of Marina Ochoa, who is the younger sister of the Ochoa brothers and the mistress of Pablo's cousin, Gustavo Gaviria (Juan Pablo Raba). The two keep their relationship hidden for a long time but later, out of desperation, Marina suggests that they can have Pablo kill his (Gaviria's) wife so that they don't have to keep their relationship a secret. The weird part is that they have this conversation while having sex and all Gustavo has to say to is this — "You….are an evil little girl." What a great way of turning a serious conversation into dirty talking. Once they're done, she brings it up again but Gustavo ignores it because he is not willing to give up everything for their relationship just yet.
You must be wondering why the list has no sex scenes from the third season of the series. Well, that's because the sexual content is suddenly downplayed in the last season and there is barely any nudity. Maybe the taste of the producers changed over time or maybe they realized that 'Narcos' has gained enough of the "cheap" popularity. It's pretty much like 'Game of Thrones'. The initial seasons have way too much sex and nudity compared to the latest ones. Once the show gets popular, there is no time to "screw around" with unnecessary obscenity.
Read More: Best Westworld Sex Scenes