Only a few would be familiar with the 70s science fiction flick 'Westworld' but the TV show adaptation of the same is something many people know about. 'Westworld' is no doubt a very ambitious TV show that has a very meticulously calculated narrative. It entirely immerses you into the world of sci-fi madness that brings life to its characters in the most compelling ways possible. The story is not confined to certain objects or people and goes as far as your imagination can take you. Apart from the amazing storyline, the actors Thandie Newton, Evan Racheal Wood, James Marsden, Ed Harris, Anthony Hopkins, and Jeffery Wright give performances that are beyond fantastic. All of them play their dynamic roles in the best possible ways and never cease to impress.
Some shows get mixed reviews because they offer something that may not exactly be enjoyable for everyone but that is not the case with 'Westworld'. It is equally enjoyed by most people and it's so good that it almost worries people if they themselves would be able to keep up with the standard they've set or not. So if you haven't started watching this one yet, then now would be the best time to give it a shot. We can assure you that you will not regret it. Those who have already seen the show will be familiar with the constant nudity and sex scenes that surprise us.
Sex in TV shows and movies these days is no big deal because pretty much every show and movie has them but some just go beyond the boundaries that were previously set by the others. Remember the hype around 'Game of Thrones' when it had first come out? Look at the show now! It's more popular than any other series out there. It's true that sex scenes are often publicity stunts to lure audience to the show but it's also necessary to understand that only when these sex scenes are executed and placed properly in the show, they are able to achieve the desired outcome. 'Westworld' manages to do exactly that and is for sure getting a lot of hype for the new boundaries that it's setting. So in case, you blinked while you were watching the show and missed out on some of the most crucial nudity and sex scenes, then we have you covered. Here's the list of best Westworld nude scenes in all its episodes.
12. Jackie Moore Foursome (Season 1, Episode 2)
It's been a long time since the first season of 'Westworld' came out and we're pretty sure most of you remember absolutely nothing from this season of the show. But let's not forget that apart from the amazing storyline and concept, the show has offered us some great sex scenes because of which we were drawn to it in the first place. So in the first episode, 'Westworld' establishes some basic rules about the world where the hosts (Robots) cannot hurt human guests but the humans are allowed to do whatever they want to do. The park workers are busy maintaining the place and keeping everything up and running while the others design and write new characters and stories for the area.
This sex scene comes out of nowhere and is more like an introductory scene for a few characters. It involves four characters of the show together in a steamy foursome where one of the characters is played by Jackie Moore who is this hot blonde riding another man. The other woman in this foursome then just comes out of nowhere and slaps the man Jackie Moore is riding. He at first flinches at this but then seems to have enjoyed the rough treatment. As far as the scene is considered, it is quite normal with mild nudity and for television standards these days, it's not much of a big deal. But it catches you by surprise and this is when you start feeling the sexual tone of the entire show.
11. Katja Herbers (Season 2, Episode 3)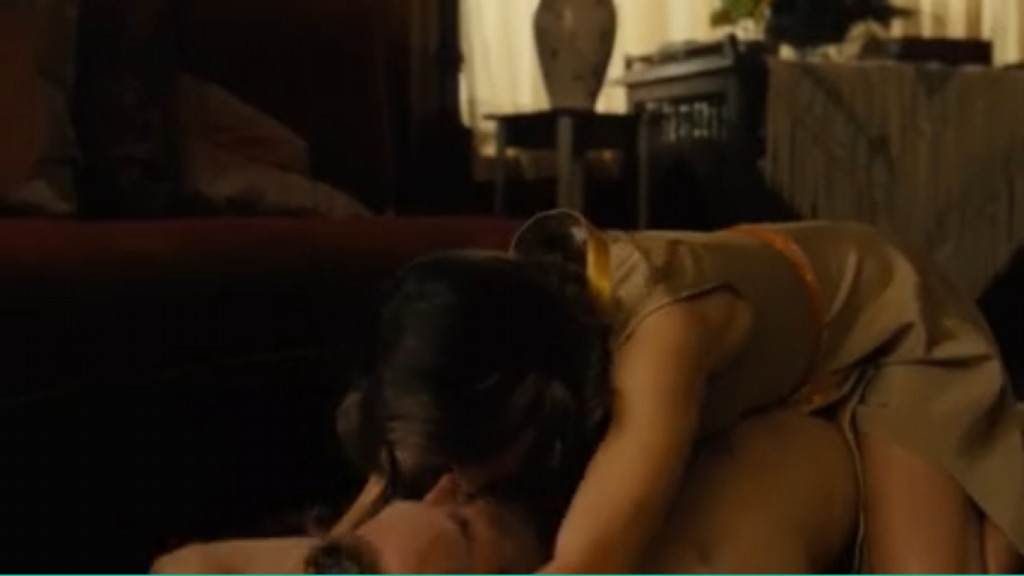 Season 1 of 'Westworld' did leave us a little bummed out but it still managed to set up high hopes and expectations for the show. By the end of the first season, we were praying that if not better than the first, the second season should at least be as good as the first one. But the second season came out as a surprise and offered fresh themes and ideas. The fluid structure and easy-to-comprehend twists made us feel smarter as viewers. And even though a lot of questions were still left unanswered in the show, this one felt less like a puzzle compared to the first one. Even the sex scenes in this season were substantially low if you compare it with the first one and that's probably because the first season itself had managed to get enough attention from the freaky ones that it had offered.
The scene is a little subtle compared to the other entries on the list but it is still sexier than most nude scenes out there. Katja Herbers, the Dutch bombshell, is dressed up in a tight gown and clearly, she is wearing nothing underneath it. She slowly walks towards her man and then sits down on his pelvis. She leans down giving him a seductive smile and good god she is stunning! She bends down and starts kissing him. The two make out for a while and the scene then just fades into another. Reading about it may not make it sound all that steamy but those who have seen it will know that it's no less than the others.
10. Evan Racheal Wood (Season 1, Episode 5)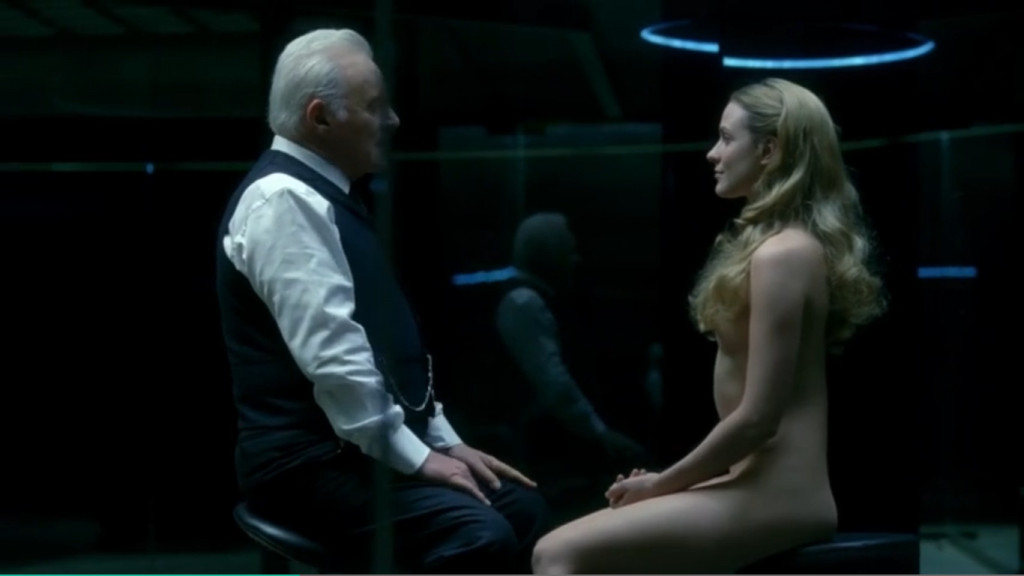 Evan Racheal Wood who plays the role of Dolores in this show is by far one of the most attractive characters. Now like we mentioned earlier, apart from the great plot build-up, the first season has a whole lot of nudity and sex compared to any other season. So it should come as no surprise that a lot of entries on this list will be from the first season itself. Getting back to Evan Racheal Wood, this is the part where we get a first glimpse at how amazingly beautiful and attractive she is. Why was she sitting naked in the room where she was being counseled is still a little confusing but we are not complaining here.
Dolores sits with her back upright as the camera gives us a view of the voluptuous curves from behind. It then shifts to a side view where she faces Dr. Robert (Anthony Hopkins) who does not seem to care at all about how naked she is. Now the whole idea behind this scene is surely not something that should turn you on. But it does get a little, okay maybe more than a little, distracting by just seeing Evan Racheal Wood sit there like that. God knows what the makers had in mind when they decided to film it this way!
9. Ingrid Bolso Berdal (Season 1, Episode 10)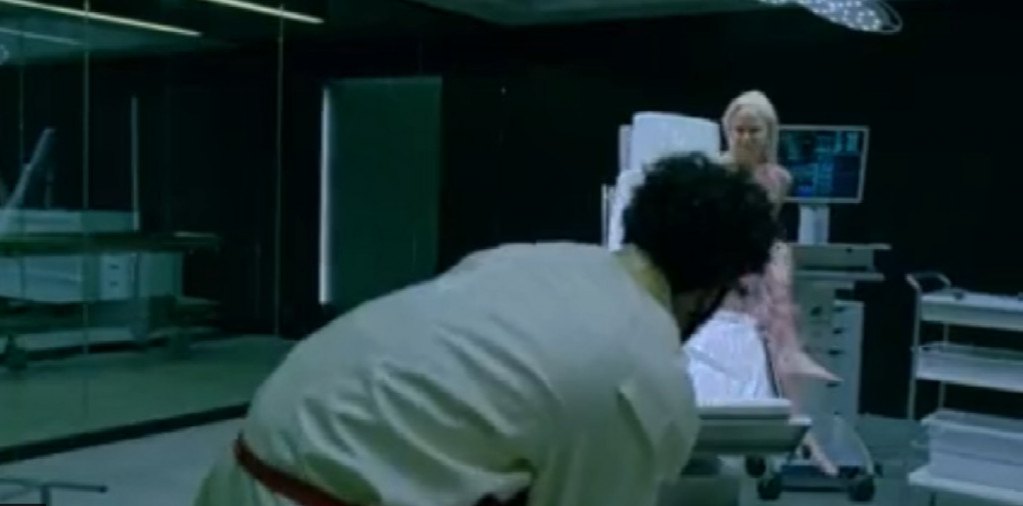 The first season starts to get really intense by the end of it and a lot of plot twists and mysteries are revealed in the last episode. All sorts of hell break loose in this episode, which takes the viewers by storm and gets us all fired up for the next season. A lot of plot threads are left hanging in this one even after all the revelations and as viewers, we are left with what would be a semi-cliffhanger. All of this together adds up to quite a satisfying season 1 that somehow manages to untangle all the narratives and open the mystery box in the best way possible.
The first season also gave us a good share of nudity and sex. This episode did not feature too much of that but gave us a final goodbye with a scene where we get to see the Norwegian hotshot Ingrid Bolso Berdal in some full frontal nudity shots. Who knew robots could also be so damn attractive! The scene does not end on a very good note (we won't give spoilers) but the whole nudity just makes it easier to bear the negativity of this scene. And of course, there is no doubt that Ingrid who plays the role of Armistice is one sexy Robot.
8. Jackie Moore Again in a Foursome (Season 1, Episode 1)

This is another great scene that has been forgotten by most because it came out in the first episode of the first season which almost feels like a decade ago now. Jackie Moore broke into her acting career with some really small roles in movies like 'Fugly', 'Chlorine' and also shows like 'The Mindy Project'. But she's now finally getting some recognition for her role in 'Westworld'. Maybe it's because of all the nude scenes she's involved in or maybe it's just her performance in these shows. There is no doubt that she is a good actor and holds a lot of potential for the future but apart from that, we can't help but appreciate how beautiful she naturally is. Her gorgeous face and attractive figure make us want more of her on screen and the show 'Westworld' gives us exactly that.
In this scene, you can see Jackie's character getting up and walking towards the bed and her bare front body shimmers under natural light as she slowly walks. She then sits down and snuggles with a black woman on the bed. Well, this was a brief moment but it sure had our hearts racing like hell.
7. Jackie Moore in Slo-mo (Season 1, Episode 1)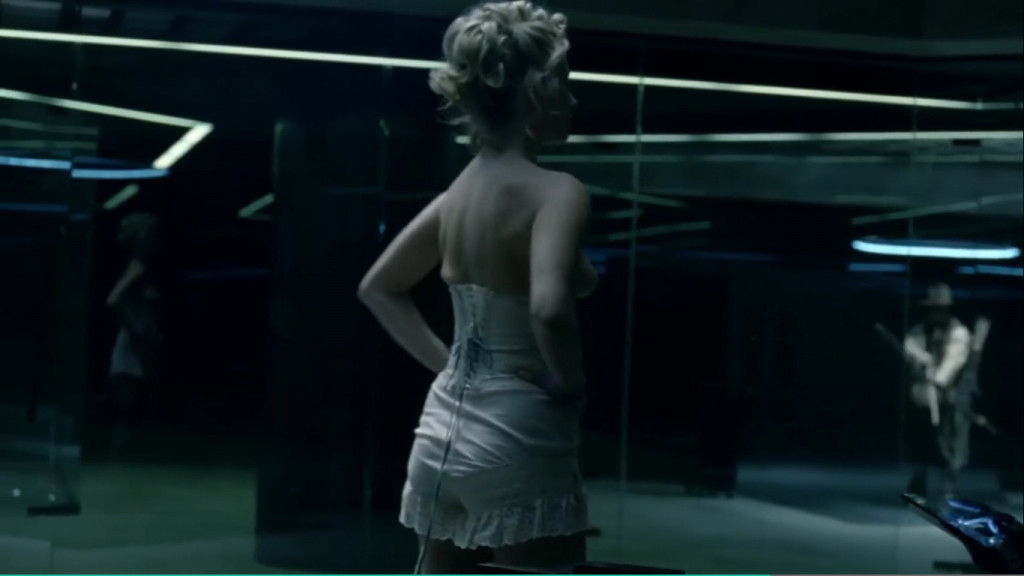 Again, we don't really understand the point of nudity in this scene here but it's Jackie Moore, so why grumble about it? Jackie is such a tease and in this scene, she's wearing what looks like a corset that fails to cover her entire upper body and she looks hotter than ever. This one here is frontal nudity at its best and the fact that it's in slow motion makes it even better. The first season of 'Westworld' sure has a lot of unnecessary but surely not unwanted nudity throughout and the first episode just baits you into watching more of it. It surely does its job well and also gives Jackie Moore some much-needed attention. We would never even have known about her or her acting talent if it wasn't for this show.
6. Julia Jones (Season 2, Episode 8)
The eighth episode of the second season takes a break from the tone of the second season where Dolores goes around slaughtering people and brings in something fresh and different. For once, this season of 'Westworld' starts focusing on the small scale individual storylines of the characters and this results in making this episode one of the most memorable ones in the entire series. The humans and the hosts suffer from an existential crisis in this one and it proves to be more interesting than the gory robot rebellion.
There is a brief moment here wherein there is a lot of nudity. The focus goes to Julia Jones who stands stark naked but all around her, you can see many other naked men and women. This scene kind of adds to the artsy approach of this episode because even though it is a nude scene, it is unlike most other scenes portrayed in the show. Most other scenes are for creating an erotic response in the minds of the viewers but this one comes off as something that adds value and emotions behind to it. It is surely one of the most beautifully shot episodes ever.
5. Thandie Newton (Season 1, Episode 6)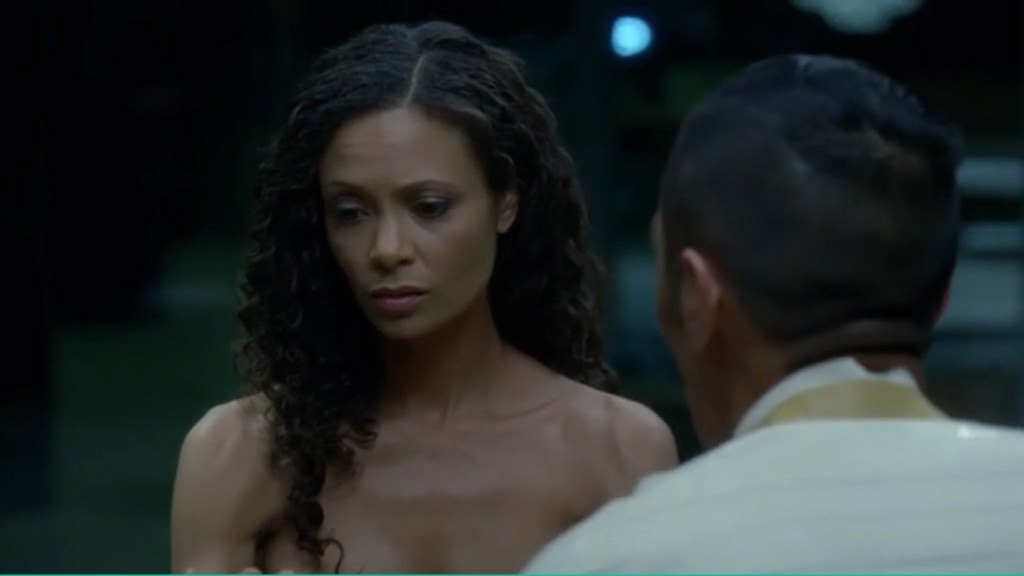 In this episode, Thandie Newton's character Maeve goes through her great awakening when she learns from Luts that everything she does or thinks has already been pre-programmed in her and none of it is truly under her control. This really pisses her off and she decides to threaten a programmer with a knife and forces him to amp up her stats so that she can control all her thoughts and actions without being pre-programmed to do so.
In this scene, we see a frozen and very naked Thandie Newton sitting on a lab's bed and the programmer trying to amp up her stats to make her a complete badass. All over again, you can't help but wonder why is she even naked here but then I believe that's where they're trying to normalize the robots by showing them in their natural nude form. She even faces all the harsh realities of being a robot and gets to know almost all their lives, as hosts are ruled by humans. She stays naked almost for 20 minutes in the episode but what the episode tries to portray is far from what one would call sexy. The nudity can be a little distracting but it also keeps you in the moment of the show and reminds you how she and other hosts are different from the humans.
4. Ingrid Bolso Berdal (Season 1 Episode 4)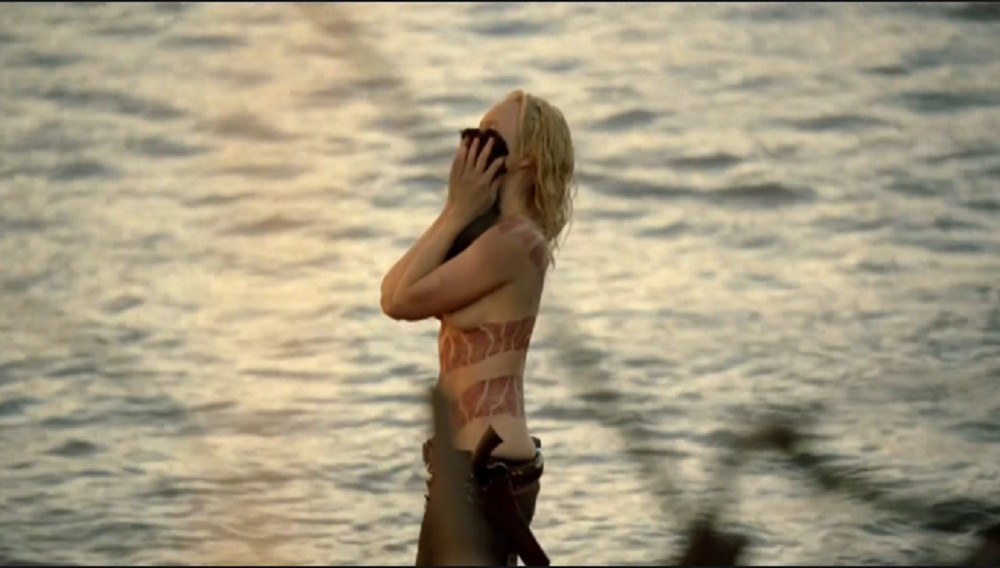 In this episode of the first season, Dolores goes on an adventure with William and his stupid friend, Logan. Logan decides to betray their guide through an outlaw narrative and this leads to a big fight between the two. As viewers, we also get an insight into The Men in Black from this incident. With the help of Lawrence, whom he has kept as a prisoner, he starts hunting the maze he has been looking for and that's when he runs into Armistice (Ingrid Bolso Berdal) who can be seen taking a bath in the river wearing nothing but a pair of pants. This is not only distracting for us as viewers but even the badass characters of the show get all carried away when they see her like that. And there's no doubt that this Norwegian beauty, who is a robot in the show, has the figure of a goddess. In a moment so intense, Ingrid Bolso again somehow manages to get all the attention to herself for a few moments. We do snap out of it right after this but in those few seconds she is on screen, you can't help but appreciate what a beauty she is.
Read More: Best 'Orange is the New Black' Sex Scenes
3. Thandie Newton and Rodrigo Santoro (Season 1, Episode 9)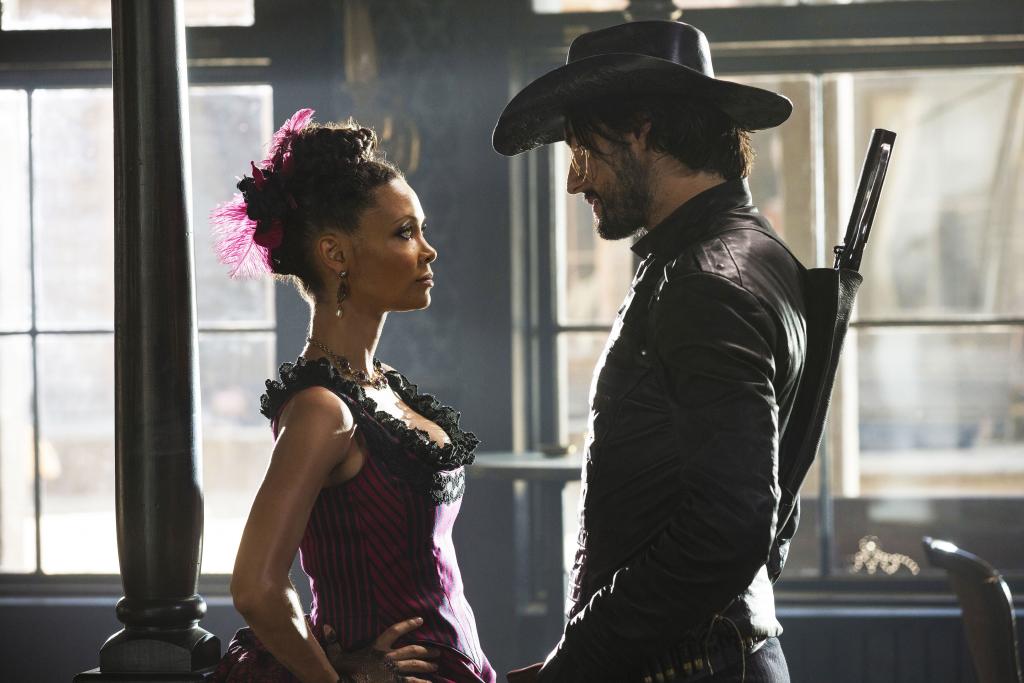 Objectively, this sex scene deserves to be on top of this list and is surely too hot to handle. The scene starts with Westworld madam Maeve played by Thandie Newton who attempts to wake up her fellow host Hector (Rodrigo Santoro) from deep sleep into their artificial reality. And while she does this, she sets their brothel room on fire. Hector wakes up and instead of worrying about their room that is ablaze, the two start screwing each other without even caring once about their surroundings. This is what we love about 'Westworld' sex scenes — all the characters seem so guilt free about sex in this futuristic park, which is probably because most of them are robots. Even the overall nudity is just so cold and clinical and we do find that a lot of times, these characters who play the role of hosts are just sitting naked as they are diagnosed by the humans in their labs and tweaked by the park's technicians. But this scene brings the hosts to life and gives their existence a whole new meaning through the passion with which Maeve and Hector make love to each other. The scene proves that the hosts are a lot more alive than we think. If by any chance you missed out on this scene while watching 'Westworld', then you have surely missed out on one big important chunk of the story.
2. Evan Rachael Wood and James Marsden (Season 2, Episode 5)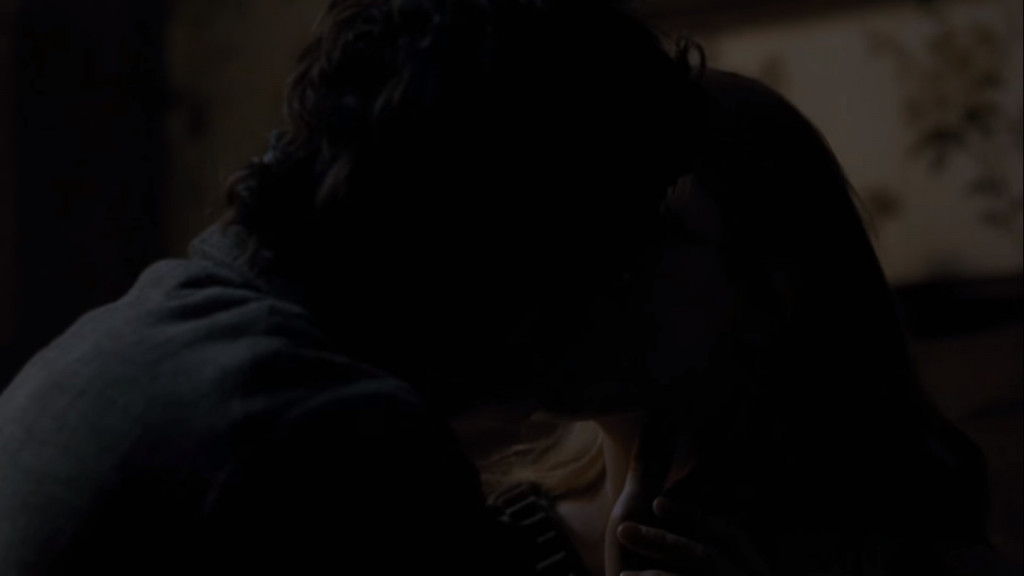 Teddy (James Marsden) looks deep into Dolores's eyes and says "Let's run away and actually live out our dreams while we can." To this, she replies: "My Dad burned a bunch of cows alive…I'll take what you said into consideration though." This scene initially makes you wonder if Dolores is actually being serious about considering Teddy's thought or she is just being nice to him at the moment. But as the two slowly move to a bedroom and start making love, you can actually see it in her eyes that she meant what she had said and would really love to consider the idea of leaving everything behind and starting a new life with him. But if only it was that easy to leave all the mess behind them. Out of all the guilt-free emotionless sex scenes of the show that we admire, this one stands out because it is one of those few scenes that can actually be titled as "making love". Ted and Dolores display amazing chemistry on screen and the passion with which they make love is just incredible.
Read More: Best Game of Thrones Sex Scenes
1. The Orgy That Broke the Internet (Season 1, Episode 5)
In the fifth episode of the first season of 'Westworld', we get to experience something we did not expect at all from the show — an orgy. And this is not just any orgy, it lasts for almost 4 minutes! The way this scene happened may have surprised people, but it was extremely well planned. The scene can be perceived through Dolores's eyes, which portrays the sensitivity and fragility of the character to the world around her. However, there is very little to be offended about the scene because it has its own purpose in the story. Though it might have been awkward for a lot of viewers to see something like this in a 9 pm HBO show, it does not even come close to what some other series like 'Game of Thrones' have portrayed. So c'mon, stop complaining!
Read More: Best House of Cards Sex Scenes