Forget the steamy sex on screen and for once let's talk about some embarrassing sex scenes that make you roll on the floor and laugh. And when it comes to ridiculous sexual atrocities no other film comes even close to the 'American Pie' movies. The first of these films came out in the year 1999 with a small budget of $11 million but it returned as an international blockbuster with a gross of almost a quarter billion dollars. The sex comedy genre is now fading away though and often, any new films that come out in this genre are dismissed as sexist. Think about it, even films like 'Superbad' are not exactly inclined towards sex and are more towards coming of age embarrassment. Or even films like 'The Hangover' that portray the sexual escalades that revolve around drunk adventures in a bigger picture. So clearly, the evergreen 'American Pie' films are already of a bygone era.
So, we decided to make a list of the egregious sexual and comedic triumphs of the 'American Pie' series, a lot of which have been brilliantly choreographed with unique grossness of their own. Let's get down to our very own personal tribute to a dash of youth and awkward coming-of-age moments that this movie series has offered and scenes that cannot be done in a better way. So, here we rank the top nude scenes from 'American Pie' movies.
20. When Mom Walks In (American Pie)
This is where it all began. The opening scene of the first 'American Pie' is where Jim's mother walks in on him as he wanks to scattered pornography. Kids from the 90s will know the struggle of scattered porn, compared to the times now when porn can be accessed anywhere or anytime on the go. Back then, getting your hands on any of that stuff when you had your parents at home was almost like going on a mission to the moon all by yourself. But the struggle was worth it, wasn't it? This scene not only reminds us of the universal experience of moms walking in when you're taking a jerk but also of the fact that Jim's Dad Mr. Levenstien was one gem of a father. From the first scene itself, we fall in love with his calm and subtle ways of dealing with the most embarrassing situations and don't get me started on the relationship advice he gives every time. The scene may not be much of a big deal compared to Jim's other embarrassing endeavors, but it sure did give us a good start to the classic comedy series.
19. BDSM Gone Terribly Wrong (American Reunion)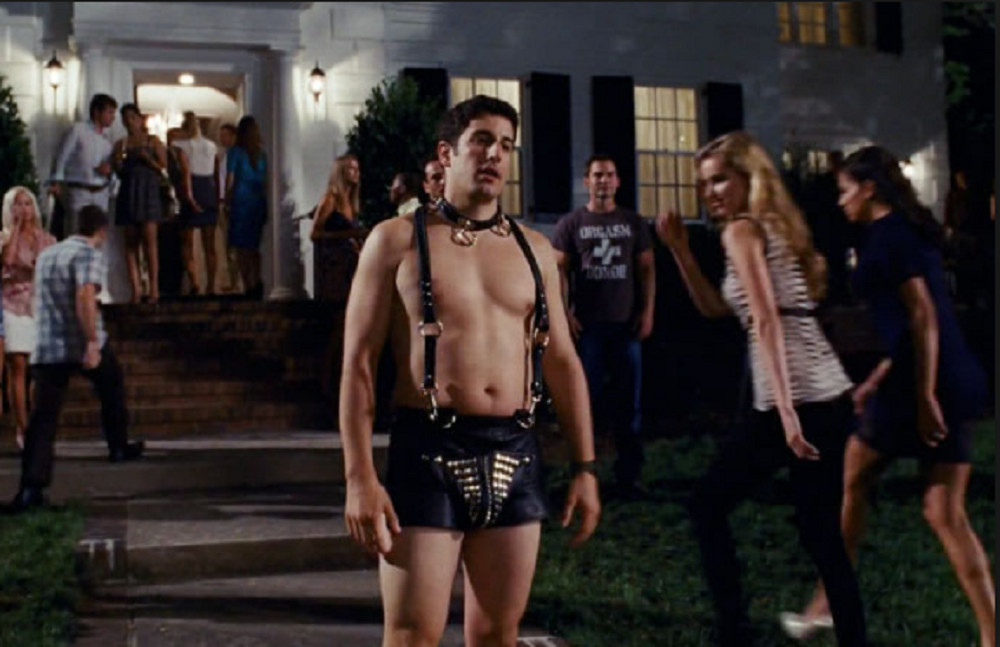 After struggling with maintaining a monotonous marriage, Jim and Michelle try to spice up their sex life by engaging in some BDSM. The two dress up in some weird latex costumes without having the slightest idea about what they should do next. One thing leads to another and Jim ends up in the lawn of a party wearing nothing but latex underpants with suspenders. To make things worse, cops show up at the place and poor Jim finds himself in the middle of an embarrassing shitstorm all over again.
18. Kevin Does the Tornado (American Pie)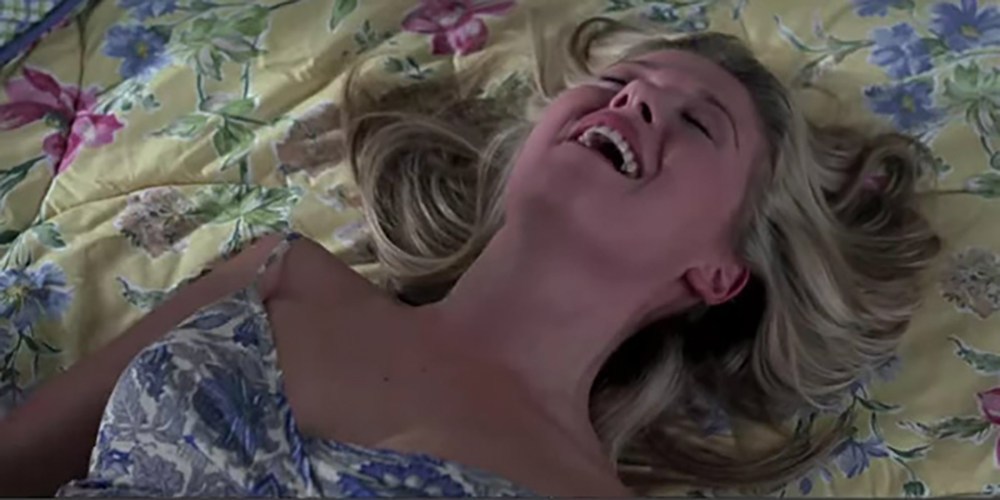 Kevin Myers pisses off his girlfriend and promises to make up for it by using a trick that he got off the sex cheat sheet called "the tongue tornado". While Kevin pleasures his girlfriend in her bedroom her dad almost walks in on them right in the middle of this act. They almost dodge a bullet there but Kevin manages to get his girlfriend back, all thanks to the book of love and of course, the man who introduced the gang to it — Mr. Levenstein.
17. Premature Jim (American Pie)
Jim Finally convinces his crush Nadia to study with him at his home and he even sets up a camera in his room so that he can watch her record the study session and also watch her change into new clothes (Stalker Alert!). But while she is changing, she just happens to come across Jim's porn and to everyone's surprise, she starts masturbating in Jim's room. Being the early days of email and the internet, somehow the whole school gets access to Jim's webcam and everyone is now watching this live. He rushes back to his room to get a glimpse of Nadia but it leads to a lot of embarrassment where Jim is asked to strip and in the process, when he finally gets a chance to sleep with Nadia, he prematurely ejaculates. He does this not just once but twice, and ends up being the laughing stock of the entire school.
Times surely have changed now and what was considered to be sexy and funny back then would raise a lot of debate today. A scene like this would be perceived as a sexist crime in the present world which is also fair enough. But then, this is just a movie and there's a reason why some of these scenes are just evergreen because they were acceptable in a way back then and cannot be repeated in the present times.
16. The Proposal (American Wedding)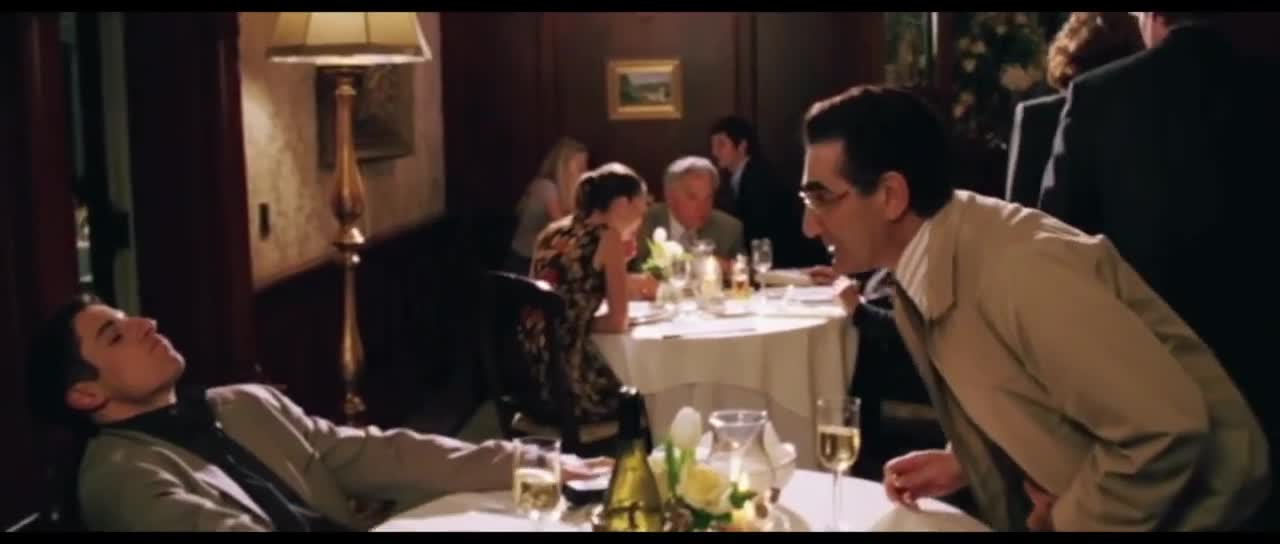 The 'American Pie' series has given us a fair share of cringey sex scenes. Speaking of cringey, the proposal scene from 'American Wedding' surely tops the list. Jim finally decides to pop the question and to make it a good sweet gesture, he takes Michelle out to a lavish restaurant. Touched by Jim's sweet gesture, Michelle decides to do something very, very bold and I don't think anyone would ever do something even remotely close to this in real life. She gets under the table to give Jim a blowjob. Everything seems fine until Jim's father shows up at the restaurant only to help because Jim had forgotten his wedding ring at home. But poor Mr. Levenstein, instead of helping Jim ends up embarrassing him in public when unintentionally Jim flashes in front of everyone at the restaurant. And poor innocent Michelle has to suffer the consequences of her bold move by being slut-shamed in front of a ruthless crowd.
Oh, wait, you thought it ended there? Not at all! Jim further makes a fool out of himself by going ahead with the proposal anyway. He bravely announces that he is the happiest man in the world, and that's when his pants fall off. This is arguably one of the most cringe-worthy nude scenes in the entire history of cinema.
15. Super Glue Should Be Banned (American Pie 2)
The boys have all grown up and they decide to get together for a summer reunion. They rent a grand house by the lake and are determined to make this summer break the best one yet. Everything seems to be going fine apart from a few awkward Stiffler moments that are usually inevitable. However, their summer break soon takes a wicked turn when Jim decides to have some private time off all for himself. He shuts his door and starts watching one of the porn DVDs Stiffler had given him earlier. But instead of using a lubricant, he accidentally ends up using super glue, the worst mistake ever. And to make things worse, with one hand stuck down there and the other one to a porn DVD he even manages to call the cops while he is stranded on the roof of his house.
What makes the ending of this scene epic is when the cop asks Jim to put both of his hands in the air when one of them is actually stuck down there. Jim somehow manages to attract trouble all the time when it comes to sex, but in this scene, things just went way too far and it is too damn painful to watch someone have their hand stuck down to the groin.
14. Caught in the Act (American Reunion)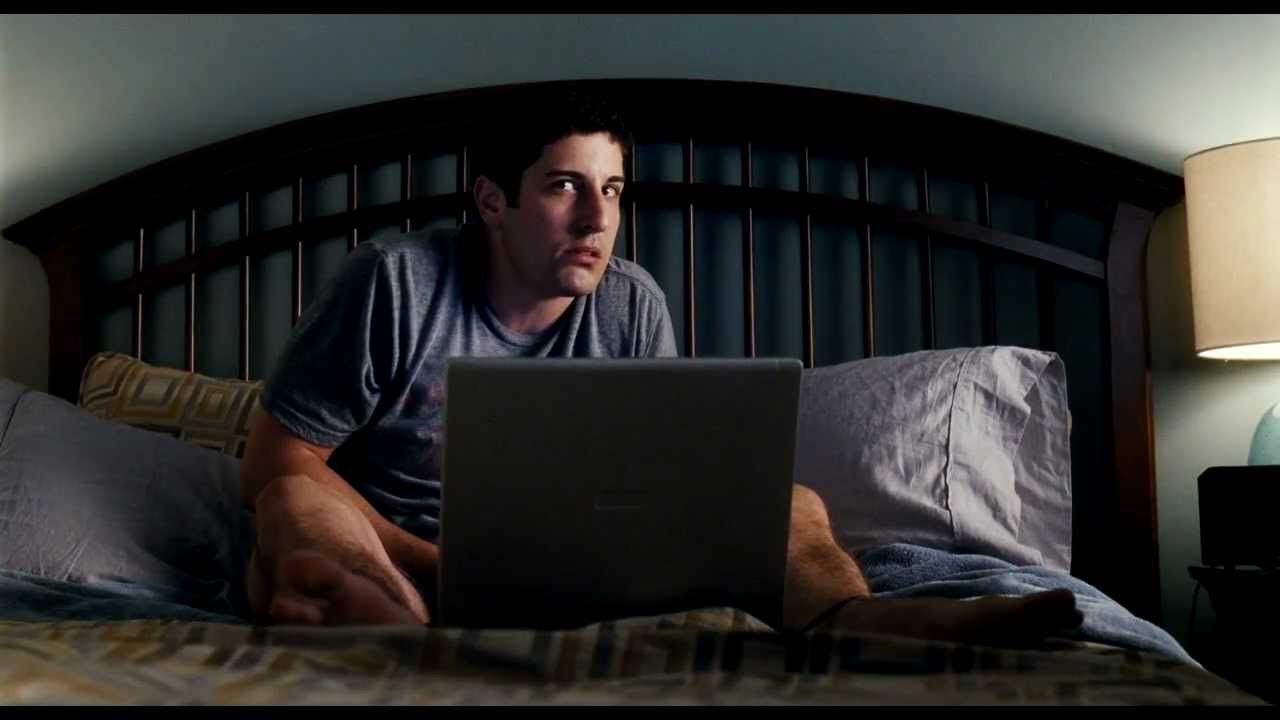 The motive behind this scene has always confused me. Why is it a sin to walk in on your partner while they are masturbating? 'American Reunion' portrays something similar to that in this one. While Michelle goes to the bathroom for a quick shower, Jim decides to take a wank while she's in there. As he attempts to jack off to some porn on his laptop, his little son walks in on him and being the typical goofball that he is, he ends up smashing his dick as he abruptly shuts his laptop (Ouch!). He rushes to the bathroom to get some first aid for his little guy and that's when he finds Michelle in the bathtub, taking care of her own business with a shower-head. The two get offended by this maybe because they assume that the golden days of their relationship are fading away. This scene was sure as hell very painful to watch but it was equally hilarious.
13. Dorm Room Awkwardness (American Pie 2)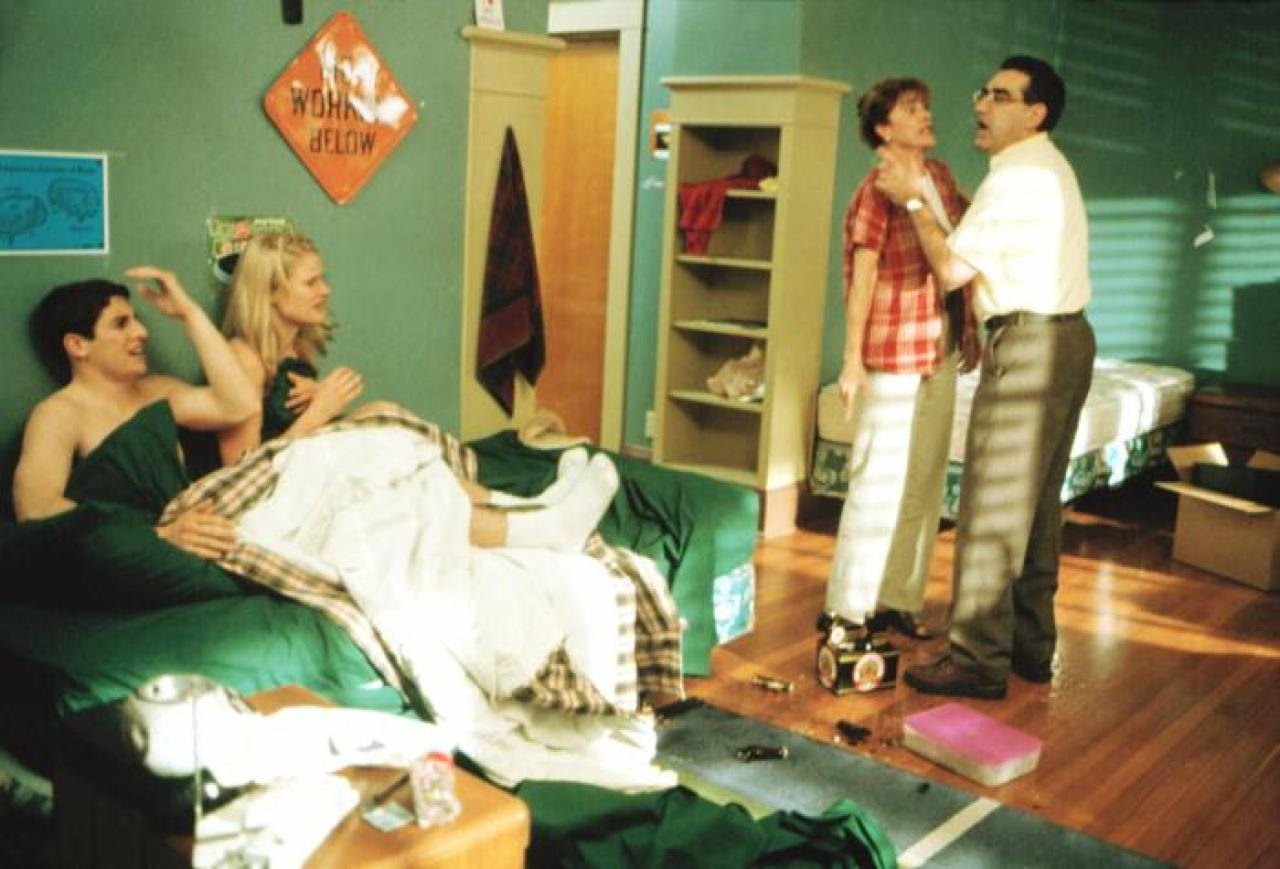 Almost all American Pie movies start off on the same note: an embarrassing sexual escapade for Jim. Jim seems to have come really far from his disastrous encounters of the first film. In this scene, he hooks up with a random girl from his college like everyone else and that's when his Dad walks right in. Jim asks him to leave them alone, but poor Mr. Levenstein, in an attempt to make things less awkward, tries to explain it to them that "it's human nature at its best." Finally, when he is about to leave after making the situation worse, Jim's mom walks in and starts panicking. What happens next is a little far-fetched, but well it does happen. The girl's parents walk right in and Jim's dad offers them beer. Real subtle move there, Mr. Levenstein!
12. Naked in the Kitchen Part 1 (American Pie)
God only knows what Jim was thinking here but that's what American Pie is all about, isn't it? Home alone Jim looks for a way to satisfy himself and that's when a warm freshly prepared apple pie comes into his view. He gently digs his fingers deep into the pie and for some weird reason, he gets turned on. The next thing you know Jim is over the kitchen counter humping the apple pie while Mr. Levenstein makes his way back home. He enters the kitchen and is obviously shocked by what he sees. This scene surely gives a whole new meaning to "food porn" and of course, even "American Pie". It sure is a sin to ruin a perfect apple pie like that, but Jim's father being the cool dad that he is, just dismisses Jim's act of "doing the pie" by saying: "Well we'll just tell your mother we ate it all."
11. Tit for Tat (American Pie 2)
While the five boys paint and decorate the house of two young women, Stiffler seems convinced that the two women are lesbians and breaks into their home to prove it. He finds a dildo somewhere in the house when the two women are not around and being the typical jerk he is, he howls all around the place holding his rubber trophy in one hand as if it's some big achievement. Paul and Jim rush inside to get him out before the owners come back but the girls are back before they even have time to hide somewhere. Much to their surprise, even after catching them red-handed spying on them, the girls offer them a chance to watch them strip and make out, but they have a condition: the boys will have to do the same. Heroically, Jim and Stiffler step up to the challenge and give the girls quite a show.
10. Doggy Style (American Wedding)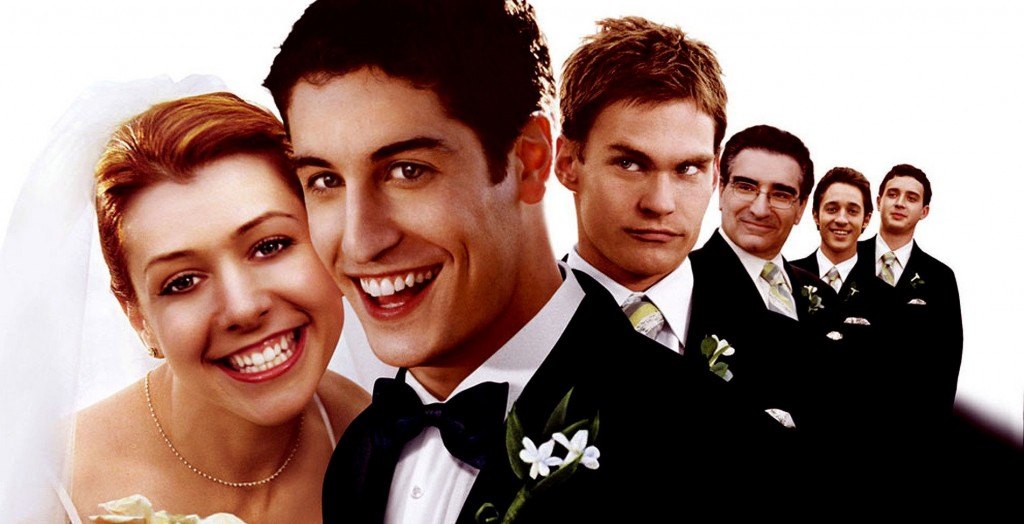 Stifler tries to defile Jim's and Michelle's wedding cake and all of this leads to one of the most bizarre tableaus in the history of cinema. Jim's in-laws who are meeting Jim for the first time walk in on him while he is trying to get Stifler under control but it looks more like he and Stiffler are trying to have a gangbang with their dog. That's probably the world first impression any in-laws can ever get.
9. Jim's Daad and Stiffler's Mom (American Pie Reunion)
Jim's dad finally gets to go on a date with Stiffler's mom. They go for a movie together and things escalate real quick here when Stiffler's Milfy mom goes down and dirty on Mr. Levenstein in public. You can't really forget how the tub of popcorn in Mr. Levenstein's hand was resting on her head, while she is giving head and how Mr. Levenstein's bushy eyebrows just crumble together with joy and happiness. They do manage to get the attention of pretty much everyone in the theatre but it surely was worth it, at least for Jim's dad.
8. Vicky Goes Down (American Pie)
Stiffler finally manages to get back to his room and it's almost his time to shine now, but let's rewind a little. Before Stiffler walks into the room with his girl, Kevin was in there getting some oral action from Vicky and he climaxes in a beer cup. Right before it's Stiffler's turn for some good times to start rolling, he accidentally takes a sip from the same beer cup and instantly regrets it. At times like these, you really start feeling terrible for Stiffler even though he's a douche throughout.
7. History Repeats (American Reunion)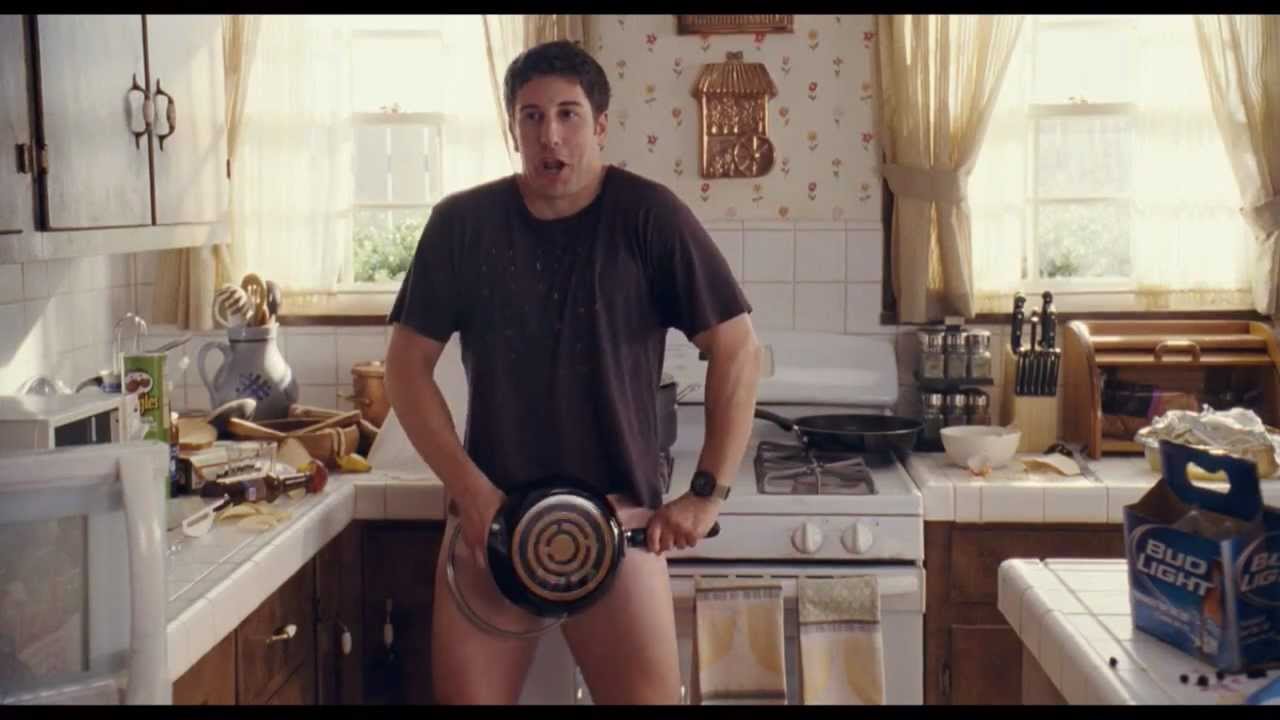 Remember how the whole series had started off with Jim humping a pie in the kitchen and getting caught by his father? Well, history repeats itself in 'American Reunion' when Jim wakes up half-naked in the kitchen after a whole night of partying with his friends. But this time he is caught naked by his wife and a girl they knew from band camp. Poor Jim panics and tries to hide his man parts using a utensil lid but it turns out that the lid is transparent and what can be seen is a squished up version of his dong.
6. Stiffler Gets Revenge (American Reunion)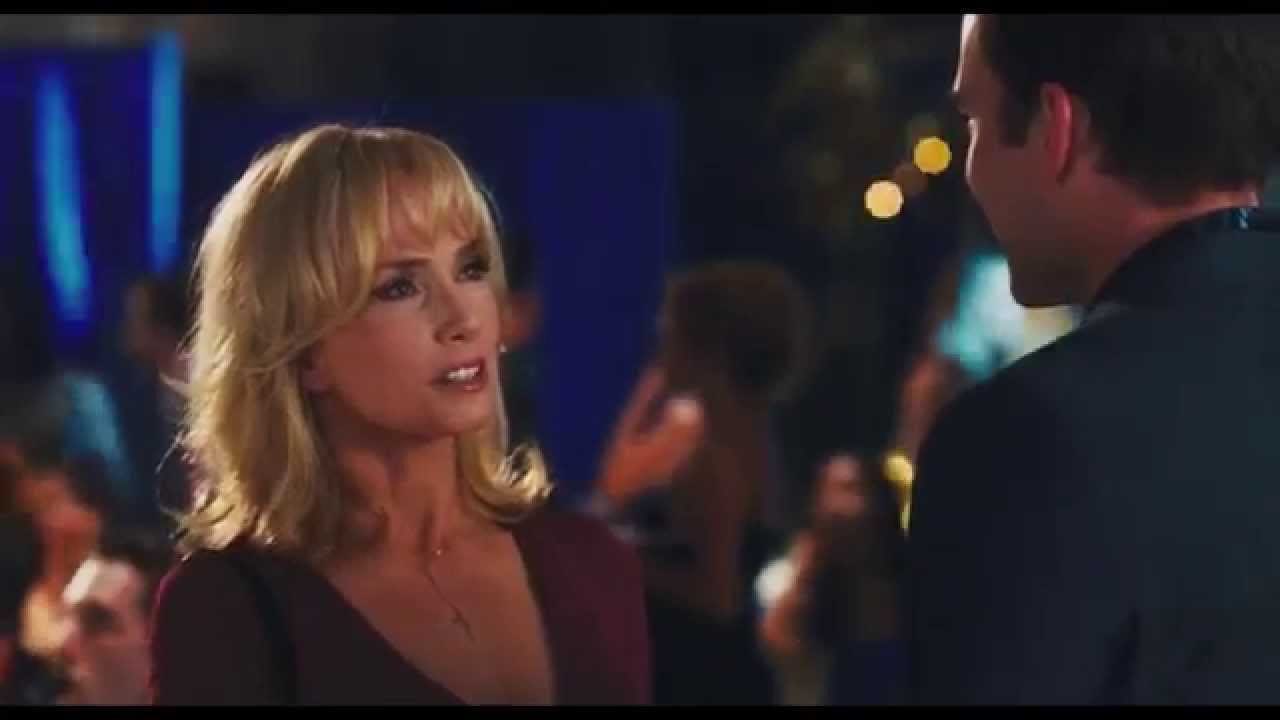 Like the end of every other 'American Pie' movie, everyone's getting laid except for Stiffler. But things soon change for him when he finally gets to meet Finch's mom who is hotter than Stiffler had ever imagined. Stiffler and Finch's mom start talking over wine and the next thing you know, they're having sex in the middle of a lacrosse field. Now that escalated quickly! But the good part is that Stiffler finally gets some action and also brutal revenge from Finch who had slept with his mom earlier.
Read More: Best Nude Scenes in Movies
5. Busted (American Reunion)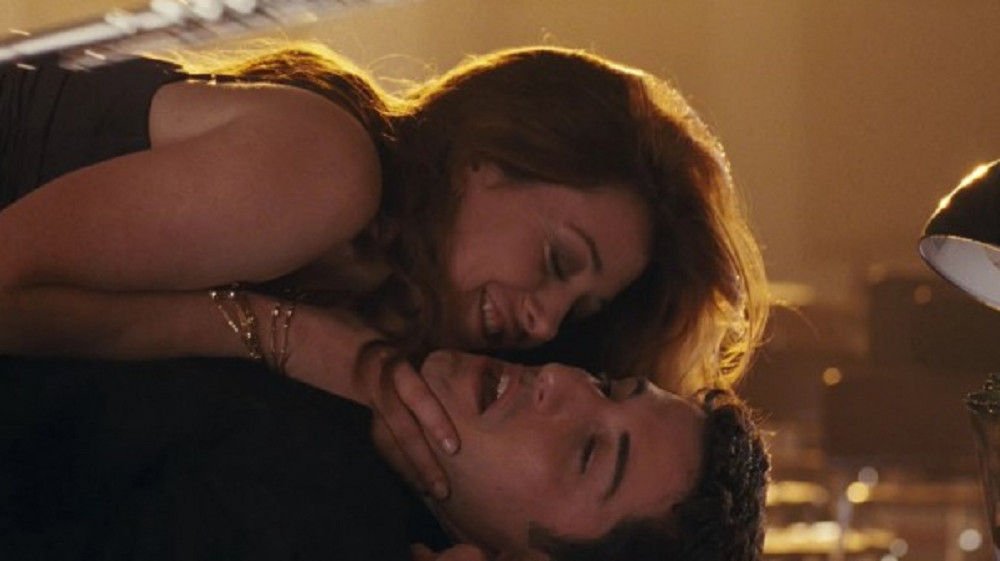 'American Reunion' might have been a failed attempt to rekindle the youth to the classic series of the early 2000s but it sure lived up to its status with all the sex scenes that it had. And out of all these scenes of all our very own beloved characters, the most prominent one was between Jim and his wife when their sudden love for each other explodes with animalistic instincts as their past memories of band camp return. The two parents go wild as memories of the past come flushing in and make love on top of a table. But their thrilling romance comes to an end when Jim's high school crush Nadia walks in and interrupts them. Jim and Michelle always start off so good but they do eventually run out of luck every single time.
Read More: Movies With Most Nudity
4. Phone Sex (American Pie 2)
Only the ones who have been in a long distance relationship will understand the sentiments behind this one. Oz and Heather physically split ways for college but decide to keep their relationship going. To spice things up and to somehow fulfill their sexual needs, Heather initiates phone sex. Phone sex is no piece of cake and they soon start realizing that when their call gets interrupted. Somehow they manage to get in the flow but are interrupted again and this time by Stifler who completely turns them off. This is the reason why we believe Stifler deserves everything that happens to him.
3. Once a Babysitter, Always a Babysitter (American Reunion)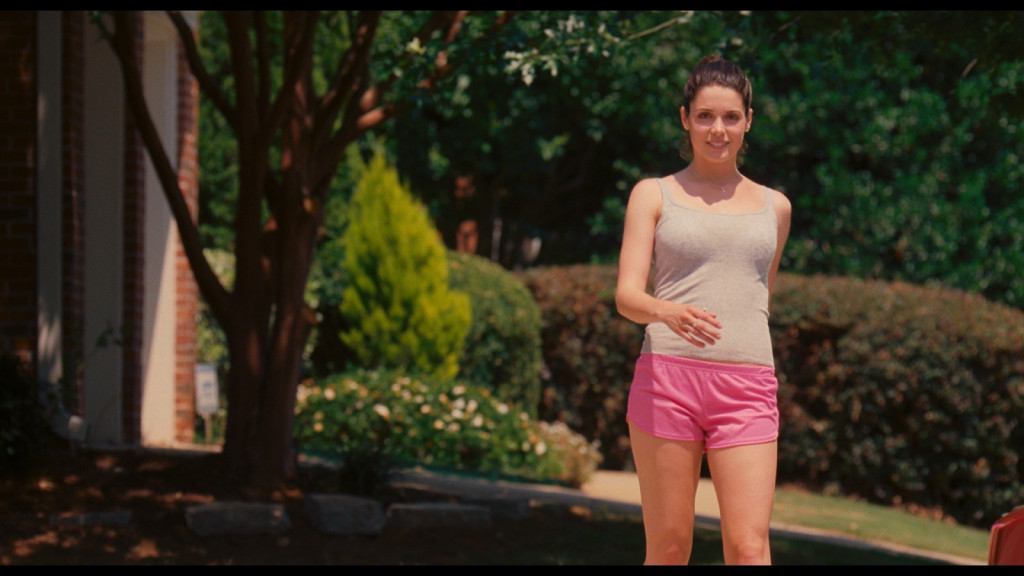 In the fourth film of the series 'American Reunion', Jim meets the girl he used to babysit back in the day but now she is all grown up and very, very hot. She also has a thing for Jim's dad which becomes evident when Jim tries to responsibly drive Kara home after she gets really drunk at a party. Respect to Jim for resisting Kara's attempt to seduce him by stripping off everything in the car and coming on to him. Jim sure has come a long way from his desperate pubescent pie humping days. He proves to be a loyal husband and also a responsible babysitter as he carries Kara back home in his arms without making a scene.
Read More: Lesbian Sex Scenes in Movies
2. Bachelor's Party (American Wedding)
With Stiffler around, it's pretty obvious that Jim's bachelor's party is going to be happening and also extremely disastrous. Jim, the soon-to-be groom accidentally brings home Michelle's parents in the midst of a wild ongoing bachelor's party. He tries to suppress the roleplay theme of the surprise party by disguising everything as something that is actually happening. But what follows turns out to be something very disastrous and the disguise that Jim tries to build does not go too smoothly. Again, it's poor Jim who has to pay for the sins of others. Even after this, I wonder how Michell's parents were okay with her getting married to him.
1. Band Camp Training (American Pie 2)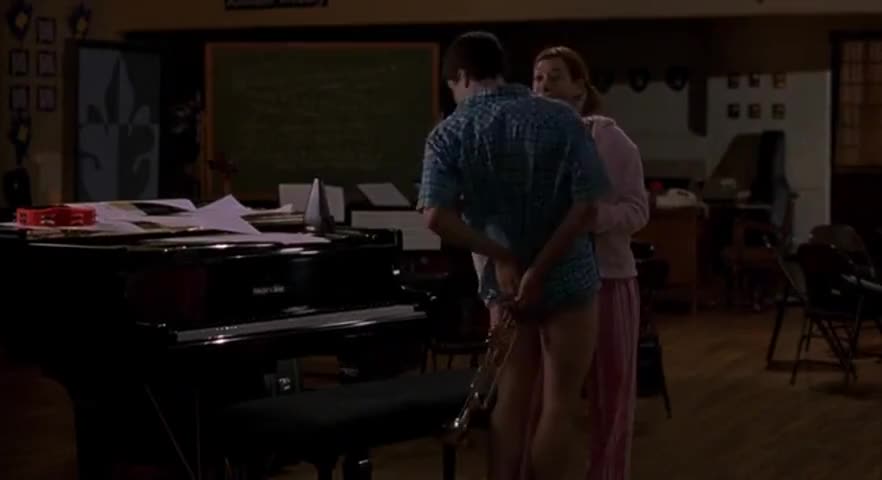 Jim, who is eager to meet Nadia again, and this time determined to prove that he, too, can be good in bed decides to take the help of an old friend from band camp. Michelle helps him explore his sexuality by shoving a trumpet inside him and we have no clue how that is going to help him. But this does initiate a slight romance between Michelle and Jim, who later go on to become the only couple that stays together all the way till the end of the series. And it's also funny that their band coach later tries to play the same trumpet (Ew!). This scene may not have been the best nude scene out there, but it sure did have a lot of significance of its own.
Read More: Most Sexually Explicit Movies