Hulu's 'Only Murders in the Building' is a mystery comedy-drama series created by Steve Martin and John Hoffman. The third season revolves around the murder of Ben Glenroy while Charles, Mabel, and Oliver each deal with their personal lives. Season 3 sees Charles facing rough terrains in his relationship with Joy despite the couple sharing a seemingly perfect bond. The fifth episode takes a major turn in their romance as Charles and Oliver have a major fight. If you are wondering whether Charles and Joy break up and whether they will get back together in 'Only Murders in the Building,' here is everything you need to know! SPOILERS AHEAD!
Do Charles and Joy Break Up?
Charles-Haden Savage (Steve Martin) starts dating Joy (Andrea Martin of 'Evil'), his longtime makeup artist, after reuniting on the 'Brazzos' reboot sets. Charles and Joy worked together for nearly three decades but never had a romantic interest in each other. However, Charles asks Joy out in the season 2 finale, and she agrees. Joy is also present at the theater on the opening night of Oliver's new stage play starring Charles and Ben Glenroy. In the third season, Joy movies in with Charles with starts freaking out the latter. Eventually, Charles tries to break up with Joy but accidentally proposes after blanking out.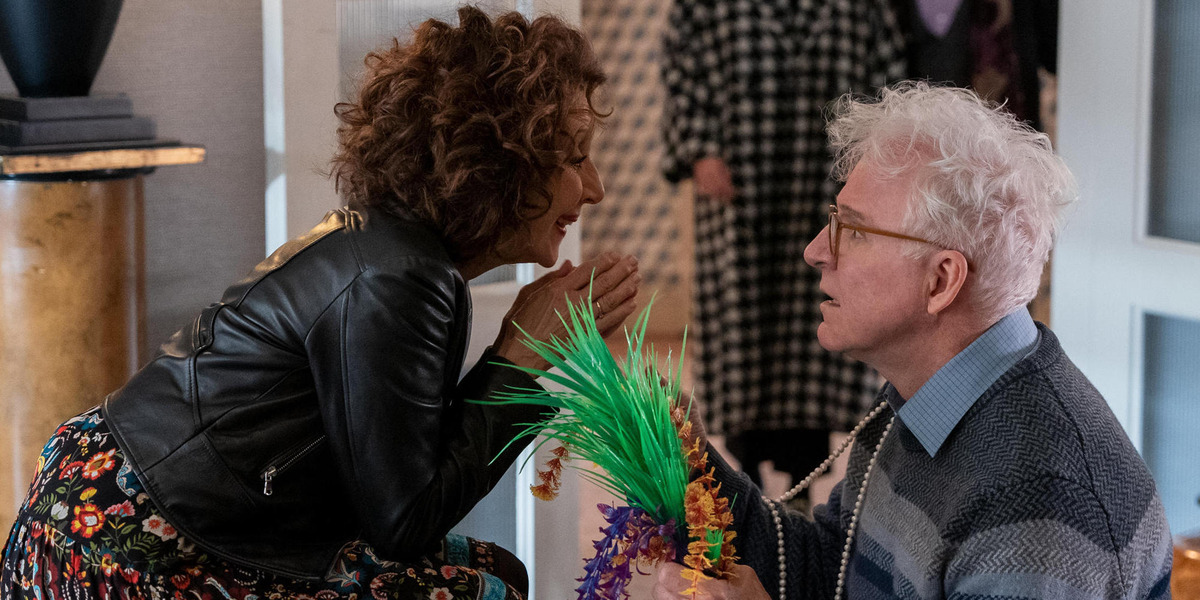 In the fifth episode of season 3, titled 'Ah, Love!' Charles and Joy fight after Charles confronts Joy about her lipstick being found in Ben's dressing room. As a result, Joy storms out of the apartment, leaving Charles with Sazz Pataki, Charles' stunt double. Sazz helps Charles realize Joy's value and encourages him to overcome his commitment issues. Ultimately, Charles apologizes to Joy for accusing her of being involved in Ben's death. Joy reveals she was backstage on the opening night to help Ben cover up a face injury caused by Charles. Although Charles tries to win over Joy by showing a willingness to change, Joy is appalled by Charles' behavior since he discussed suspecting her of killing Ben with Oliver and Mabel before having an open conversation with her. Therefore, she calls off the engagement and leaves the apartment.
Will Charles and Joy Get Back Together?
The ending of the fifth episode implies that Charles and Joy have broken up for good. In the third season, Charles and Joy are in a steady relationship, but Charles secretly has reservations about taking it further. Charles appears excited about Joy moving in with him but fears the changes that come with a serious relationship. Charles deeply hurts Joy after he suspects her of killing Ben and avoids having an open conversation with her about his doubts. Thus, she decides to call off the engagement as Charles' unwillingness to be open with her about his feelings dents their relationship.
On the other hand, Charles realizes that he loves Joy and wants her around, making the breakup complicated. Given the nature of Charles and Joy's breakup, they will likely patch things up. Although Charles proposes to Joy by accident, he becomes more committed to the idea by the end of episode 5. Therefore, it is likely that Charles will end up trying to win back Joy's affection. However, Charles' commitment to finding Ben's killer could lead him to discover some uncomfortable truths. As a result, the future of his relationship with Joy could be further jeopardized. Nontheless, it is evident that Charles and Joy are ideal for each other and share genuine love. Hence, it could only be a matter of time before they end up patching things and get back together.
Read More: OMITB: Why Was Cinda Canning Canceled? Will Mabel Work For Cinda?