If on a lookout for a feel-good rom-com to make your day, look nowhere further than Netflix. Its love for the genre has been made clear by the sheer number of romcoms it has released over the years. In just the past couple of months, it has produced films like 'The Perfect Date', 'Someone Great', 'Isn't It Romantic' and 'The Last Summer'. In the defence of this increased investment in the genre, the audience has gobbled up stuff like 'To All the Boys I've Loved Before', 'Alex Strangelove' and 'The Kissing Booth'.
In 'Always Be My Maybe', the streaming service offers a perfect excuse for its audience to stick to their couch with loads of popcorn (or whatever your poison is) handy. The film follows the story of a Chinese girl and a Korean boy who fall in love and deal with their feelings fifteen years later (talk about complacency!). It stars Ali Wong, who has proved to be one of the best contemporary comedians, and Randall Park, who is nothing short of fun in any role he has ever donned. It is directed by Nahnatchka Khan. The trio has previously collaborated on 'Fresh Off the Boat', a comedy that you shouldn't miss at any cost. The film also stars Daniel Dae Kim ('Lost', 'Hawaii Five-O'), Vivian Bang ('Memoirs of a Geisha'), Karan Soni (Dopinder from 'Deadpool') and Michelle Buteau (who has also appeared in 'Isn't It Romantic', 'Someone Great' and 'Russian Doll'). 'Always Be My Maybe' also features a cameo from Keanu Reeves, which should be enough to draw you into watching this film.
Summary of the Plot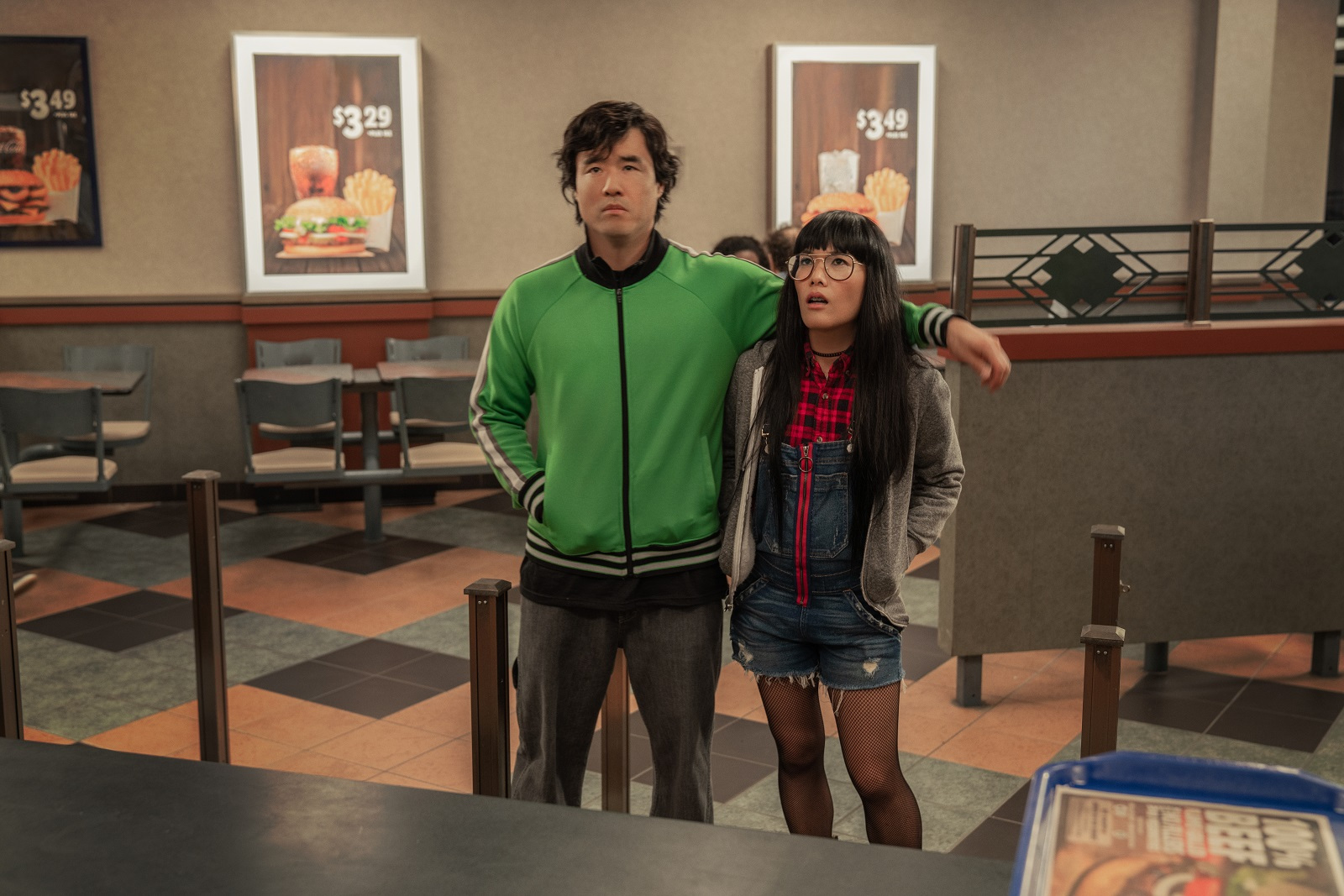 Sasha Tran and Marcus Kim had been best friends. They spent all of their childhood together, growing up to like each other. However, after a fallout, they lose contact. Sasha finds her way out of the town to become a celebrity chef, showered with money, fame, reputation and whatnot. Marcus, on the other hand, still lives with his father, with whom he also runs the business. He has also succeeded in keeping his high-school band alive and they are doing great, in their block. When her fiancée asks her to take a hiatus from their relationship before getting married, Sasha returns to her hometown to re-evaluate her life. A not so chance encounter brings her back to Marcus. Old feelings are stirred; however, a gap of fifteen years has changed them both. The question they need answering now is who should give up what to make it work?
How Good Is It?
The premise of best friends falling in love and the reigniting of old flames isn't new for the rom-com genre. The summary of 'Always Be My Maybe' sends the same vibe. However, once you've watched the film, you know that it is miles away from being a cliché. Starting from the Asian-American characters in the lead to providing a more relevant and contemporary take on the "career vs love" dilemma of characters, there are a lot of places where you'll see the film taking the road of realistic decisions rather than sticking to the fantastical tale where the idea of love trumps everything else.
Further, the chemistry of the lead actors allows a firm ground to the film. The dialogues are witty- funny enough to warrant a laugh from the viewer without falling prey to the cheesiness of romance and comedy. This is further elevated by the comic timing of its brilliant actors, especially Park whose expressions are the best thing about the film. He portrays an awkward teenager just as effortlessly as he plays a man who doesn't have many hopes from life. From being intimated by his childhood friend to trying hard to act like his girlfriend is a great cook, Park displays his emotions better through his contorted face and awkward glances than his dialogues. Wong owns the character of a successful woman who knows her priorities, is sure of herself yet occasionally plagued by insecurities. The supporting characters provide further strength to the film, with the actors bringing their best version on the table. Keanu Reeves, the second-best thing about the film, is as terrific as ever.
Final Verdict
'Always Be My Maybe' is a perfect summer rom-com. It is hilarious and refreshing. Does it counter the predictability factor of romantic comedies? Not really. But then, without its trademarks, how would the film maintain the reputation of the genre? There are a couple of other flaws that keep it from being perfect, though. A certain subplot of the storyline could have been explored better or rather not touched upon at all. It felt like it would mean something in the long run. However, by the end, everything about it, including its conclusion felt forced.
'Always Be My Maybe' film is mostly enjoyable. The fans of the genre will hardly have anything to complain about. From hearty laughs to endearing "aww" moments, this is a dreamy tale without being too far-fetched. And if I haven't already said it enough, Randall Park is the best thing about this film. If for nothing else, watch it for him, and for the catchy tunes that'll stick in your head.
Rating: 3.5/5