Cinema has always been blessed with great actors. From James Stewart and Marlon Brando in the early days to Jack Nicholson and Daniel Day-Lewis in recent times, great actors have always thrived. But a distinctive trait common to almost all great actors is that they have all excelled in lead roles. We have always looked for heroes in our movies and almost all great actors have played into it. But what about the little man standing beside the hero? Nobody gives a damn about him and his story. He is the underdog; the sidekick who is always towered by the leading man. It is the story of these men; these men who always balk in the side-lines, that the late great Philip Seymour Hoffman managed to perfect.
An actor who fearlessly explored the misery of the hurt, the exiled and the misunderstood, with his trademark signature of honesty, humor and empathy; Philip Seymour Hoffman was a voice for the millions of people who forever remained unrepresented in the movies. Hoffman always brought a human touch to all the roles he played, slowly transforming into each of his characters, imbibing their physical and emotional nuances; internalizing it and using everything at his disposal to make them real people, with real emotions. With his chubby face and childlike physique, he was always perennially ordinary, one of us; telling the story of our lives and our mundane existence.
Undoubtedly one of the finest actors of all time, Hoffman's tragic death in 2014 sent shock waves around the film world; and his death created a void that might remain unfilled forever. Already one of the finest actors of his generation; what he could have achieved had been alive is beyond our comprehension. However, all we can do today is celebrate the man and the magic behind his craft; and that is exactly what we are intending to do, by listing our top 5 movies of Philip Seymour Hoffman. While choosing the best Philip Seymour Hoffman movies from his oeuvre was no mean feat, we have finally been able to put it together.
So, join us in this journey as we rediscover the magic of Philip Seymour Hoffman and his craft. Here is the list of top 5 movies of Philip Seymour Hoffman. You can watch some of these best Philip Seymour Hoffman movies on Netflix, Hulu or Amazon Prime.
5. Doubt (2008)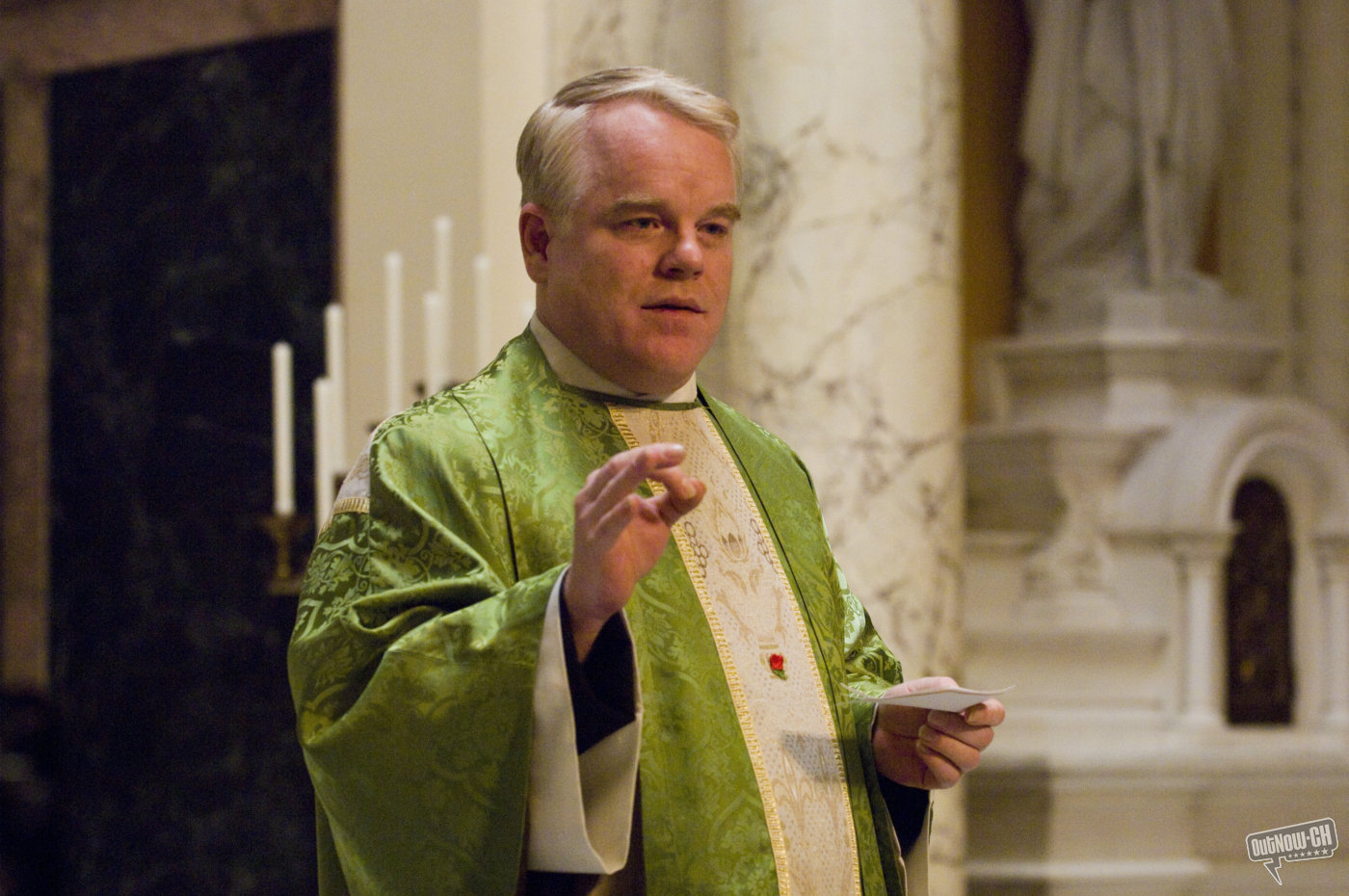 Set in the 1960s in a Catholic church in New York, 'Doubt' has Hoffman playing a charming priest who is accused of pedophilia. Based on a Pulitzer Prize winning stage play, 'Doubt' features some extraordinary acting by some of the finest actors of our generation, including Meryl Streep and Amy Adams. But it is Hoffman who steals the show with his brutally honest and emotional portrayal of a flawed human being. Hoffman manages to bring out various traits of his character with incredible depth; he is compassionate yet has a past that continues to haunt him. Ultimately, Hoffman delivers a performance draped in ambiguity, and in the company of some great actors, takes us on an emotionally charged roller-coaster ride; leaving us in doubt, wondering whether he is indeed guilty of the charges against him. One of the underrated Philip Seymour Hoffman movies.
Read More: Best Paul Rudd Movies
4. Boogie Nights (1997)
Another masterclass from the oeuvre of P T Anderson, this was Hoffman's breakout film, the one which finally launched his career as an actor after years in oblivion. A movie chronicling the rise and fall of porn-star Dirk Diggler during the golden age of pornography in the 70s and the 80s, it has Hoffman playing the supporting role of Scotty J, a professional sound mixer secretly in love with Diggler. But what Hoffman does to this minor character is beyond words; he gives emotional depth to an unabashed loser, making us connect with his tragic plight. Hoffman uses everything at his disposal, from his childlike innocence to his obese physique to great effect, and manages to shine through in every frame he is in. A sequence where Scotty awkwardly confesses his love for Diggler and attempts to kiss him, is executed with absolute perfection. In portraying a hopelessly vulnerable man tormented by his love and sexuality, Hoffman displays his incredible range and versatility as an actor.
Read More: Best Jennifer Lopez Movies​
3. The Master (2012)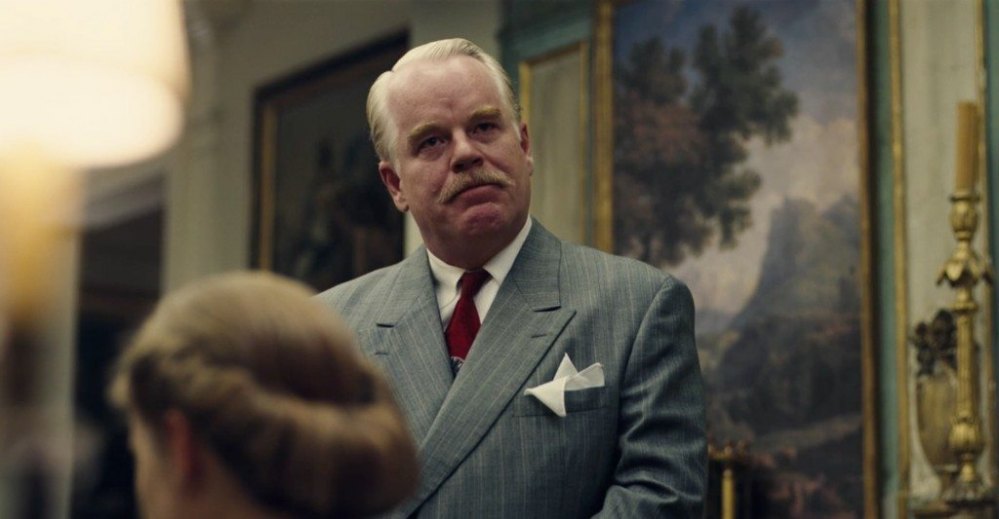 P T Anderson is the kind of filmmaker whose movies take time to grow on you, thanks mostly to his character driven cinematic approach rather than being plot driven. And that is why his films have given some of the finest performances we have ever seen; and 'The Master' is no different. The tale of an alcoholic World War II veteran's relationship with the charismatic leader of a Scientology type movement, 'The Master' has Hoffman facing off with another acting genius, Joaquin Phoenix (as Freddie Quell). As an enigmatic philosophical leader who is enamored by a self-destructive maniac, Hoffman brings an earnestness to the character that makes him believable. A calm, controlled man from the outside, Lancaster Dodd has a darker, more vicious side to himself which his sees in Freddie. A layered performance with uncharacteristic brilliance, Hoffman creates a fascinating man who incidentally believes in his own absurdities.
Read More: Best Vijay Movies
2. Capote (2005)
With his first performance in a leading role, 'Capote' finally established Hoffman as one of the finest actors of his generation. A biopic on the famous American author Truman Capote, 'Capote' has Hoffman playing the author in the years leading up to the publication of his true crime novel In Cold Blood. In chronicling the emotional journey of a man obsessed with his work, Hoffman literally transforms into Capote, perfectly portraying the subtle eccentricities that made the man an enigmatic figure. With his high-pitched voice and odd mannerisms, Capote is not your usual guy-next-door, and Hoffman brings out these physical characteristics of his, while slowing slipping into the mind of the man. As we see Capote's work slowly taking its toll on his personal and professional life, we see him unraveling; revealing an emotionally fragile interior behind the cool exterior. Hoffman's sumptuous portrayal of Capote is crafted with absolute perfection, and won him global acclaim and an Academy Award for Best Actor.
Read More: Best Drew Barrymore Movies
1. Synecdoche, New York (2008)
The directorial debut of the legendary screenwriter Charlie Kaufman, 'Synecdoche, New York' is one of those movies that comes only once in a lifetime. The story of Caden Cotard, a paranoid, insufferable theatre director struggling to come to terms with his own mortality; it is one of the saddest and most depressing films ever made; also probably the most poignant. A play on the idea of time and perceptive reality, the movie elegantly shifts from gritty realism to dreamlike surrealism as Caden struggles with his loneliness and neediness. While, the movie is perfect in its screenplay and other technicalities, it could have all gone in vain had it not been for Hoffman. In portraying the life of a middle-aged idiosyncratic man all the way to his death, Hoffman turns in a performance that one can only call "miraculous". He brings all of Kaufman's complex metaphysical and philosophical ideas to life, while playing a character that could well be any of us. Caden is paranoid about his death, he is lonely and he misses his family, and he loathes his existence. Hoffman manages to bring out all the emotional turmoil and horrors of his character with such sensitivity, it will blow you away. His sad eyes and melancholic face beautifully conveys not only the pain and fears deep within Caden, it is also opens a door into our own fears and insecurities as individuals, and in turn question our existence. 'Synecdoche, New York' is undoubtedly one of the finest cinematic experiences of the century and Hoffman's performance is one of the ages; something which probably would never be reprised again.
Read More: Ridley Scott Movies