Set in a fictional Californian small town, 'Virgin River,' created by Sue Tenney, is a romance drama show depicting the journey of various townsfolk in a close-knit community. Melinda "Mel" Monroe leaves her life in LA behind for a fresh start in Virgin River as a nurse practitioner at local physician Vernon "Doc" Mullins' clinic. As she tries to move on from the death of her husband, Mark, Mel crosses paths with a charming bar owner, Jack Sheridan, leading to a second chance at romance. Likewise, Jack, a former marine still dealing with his PTSD, finds the woman of his dreams in Mel, with whom he wants to share a life.
Throughout the course of the show, Jack and Mel face more than their fair share of turbulence and end up at a prized stability within their relationship by the end of season 4. With the couple engaged and the confirmation that Jack is indeed the father of Mel's unborn child, the pair pick up this season with high hopes and dreams. Therefore, given the significance of this pregnancy and Mel's past medical complications, viewers must be curious about where this storyline leads the couple. Let's find out! SPOILERS AHEAD!
Do Mel And Jack Have a Baby?
Mel and Jack have always been a likable couple worth rooting for, given their open, honest communication and endless devotion to each other's well-being and happiness. Therefore, it's incredibly gratifying to see the couple arrive at a steady place where they can be with each other without any uncontrollable factors affecting their relationship. The couple picks up this season, with Mel quitting her job and shifting her entire focus to her pregnancy.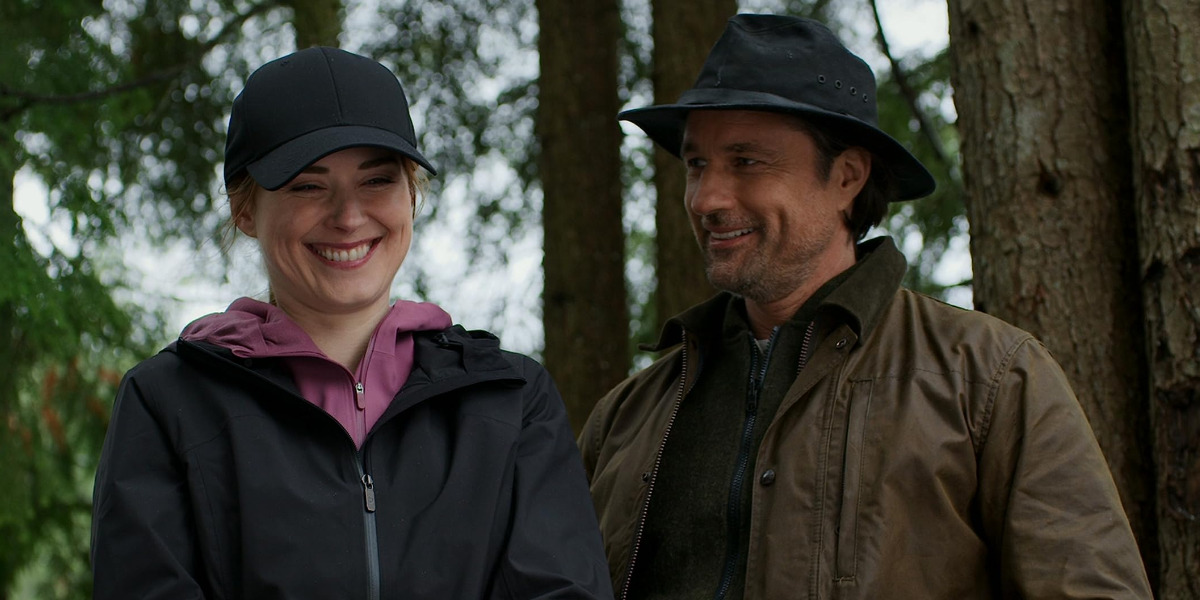 In the past, Mel had trouble conceiving a child with her husband, Mark. The pair underwent IVF treatments but ultimately ended up losing their kid after a stillborn birth. As a result, Mel knows the precarious miracle of her second pregnancy all too well and is determined to see a brighter future. She goes on healthy runs through the woods and joins the town sewing circle, planning to handmake clothes for her future baby girl, just as Mel's mother did for her.
In that regard, the pregnancy is also a way for Mel to connect with her mother, who died when she was young. By undergoing motherhood herself, Mel finds a way to honor her mother and keep her memory alive. Similarly, Jack finds immense meaning and significance in the pregnancy as well. Although Jack was not sure about fathering a child with Mel in previous seasons, he has since come a long way and cannot wait to start a family with her, starting with their firstborn girl.
Furthermore, since last season, Jack has realized that his former lover, Charmaine, lied about his paternity to her babies. Even though Charmaine's unplanned pregnancy never aligned with Jack's plans or wants, he had become invested in his potential future kids' lives. As a result, he started looking forward to being their father. Therefore, Jack takes the news of Charmaine's deception with a heavy heart.
As such, the tragedy of Mel's miscarriage is that much more draining on both characters, individually and as a couple. Amidst a dangerous wildfire near town, Mel discovers she has miscarried her baby. Consequently, despite her best efforts, the experience sends her down a dark pit as she tries to avoid the problem by constantly distracting herself. During this time, Jack is immensely supportive and caring. Yet, he lets slip his desire to try for a baby again.
However, Mel isn't sure her body or mind can undergo another pregnancy when she has already sustained so much trauma from two failed ones. Mel has given up hope and no longer wants to try for a baby. Since she has always dreamed of having her own child, someone in whom she can see reflections of her own parents, she turns down Jack's idea of adoption.
Nonetheless, Jack is able to pull her out of that dark space and help her realize that even when her dreams fall through, she should never give up hope for a better future. Even though adoption would present a different future than the one Mel always imagined, it will still help make her dreams come true. Ultimately, Mel and Jack do not have a baby this season due to the miscarriage. Still, they decide they will have children through alternative means and start a family together as they always dreamt of.
Read More: Who is the Father of Charmaine's Babies?