Apple TV+'s 'Truth Be Told' is a mystery drama series that follows Poppy Parnell (Octavia Spencer), an investigative reporter turned podcaster who investigates grueling crimes through her true crime podcast. The series is based on Kathleen Barber's novel 'Are You Sleeping' and was created for television by Nichelle Tramble Spellman. Although it follows an anthology format, the show explores Poppy's personal life and relationship with her loved ones.
The first two seasons detail Poppy's relationship with her husband, Ingram Rhoades (Michael Beach). However, Ingram is absent from the show's third season premiere, leaving viewers to wonder about the character's fate. If you are looking for answers about Ingram's whereabouts and actor Michael Beach's future in 'Truth Be Told,' here is everything you need to know! SPOILERS AHEAD!
What Happened to Ingram?
Ingram Rhoades is introduced in the series premiere episode of 'Truth be Told, titled 'Monster.' He is the husband of the series protagonist Poppy Parnell. Ingram loves Poppy, and the two share a healthy married life. Later, it is revealed that Ingram went against his family's wishes to marry Poppy. However, when Poppy turns away from investigative reporting and starts her own true crime podcast, the couple's relationship slowly changes. Nonetheless, Ingram remains positive and wholeheartedly supports Poppy in her new endeavor. Ingram is also close to Poppy's sisters Desiree and Cydie.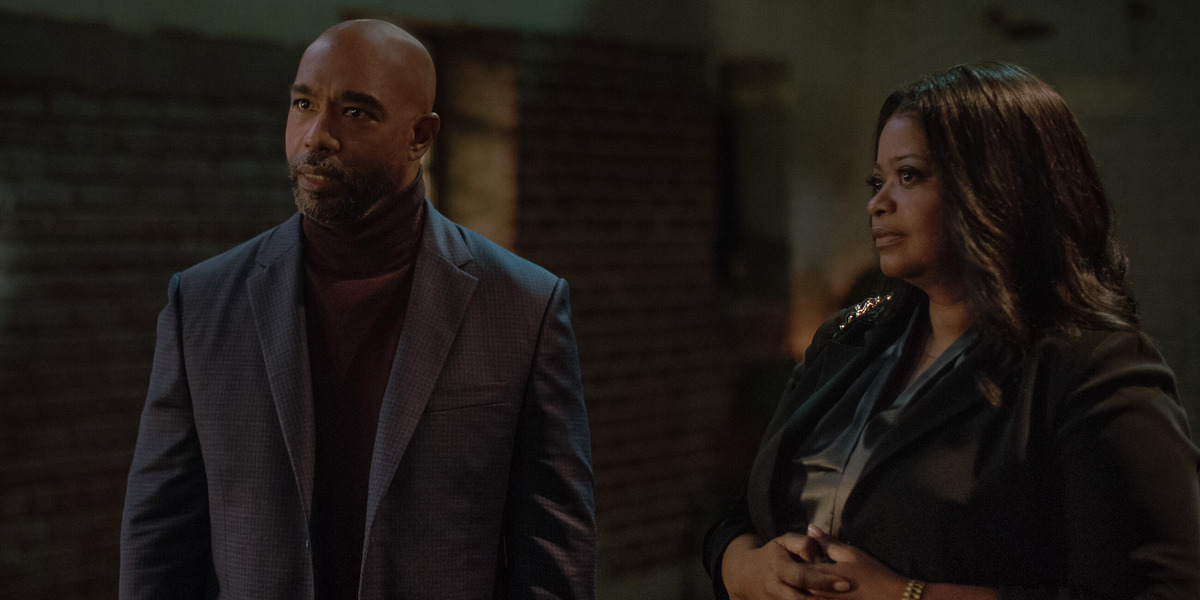 In the second season, Poppy and Ingram attend a dinner party where they meet Poppy's childhood friend, Micah (Kate Hudson). However, after the party, Micah's husband and son are brutally murdered, and she becomes a suspect in the murder case. Poppy investigates the case to clear her friend's name. However, her discoveries lead to a morally grey zone where she no longer knows if Micah can be trusted. The case also strains Poppy's relationship with Ingram, who fails to understand why the case is important to Poppy. Eventually, the case causes an irreconcilable rift between the couple, and they decide to part ways.
Did Michael Beach Leave Truth be Told?
In the series, actor Michael Beach plays the role of Ingram Rhoades. Beach is a graduate of Juilliard School and made his acting debut in 1986. He rose to prominence with his recurring role as Al Boulet in the medical drama series 'ER' during the 1990s. Beach gained wider recognition for playing Taddarius Orwell 'TO' Cross in the AMC crime drama 'Sons of Anarchy.' Some viewers might recognize the actor as Leroy Henderson in the action drama 'SWAT' and Percy West in the sitcom 'The Rookie.'
Beach is credited as a series regular for the first two seasons of 'Truth be Told.' However, the actor does not reprise his role in the show's third season. Ingram's separation from Poppy concludes his character arc on the show. As a result, the character no longer serves a purpose in the story. Therefore, it is likely that Beach was not asked to reprise his role in the show's third season. Although the actor has not officially announced his exit from the series, he has clearly moved on to other projects.
Beach plays the recurring role of Captain Moore in 'Mayor of Kingstown.' He also appears as Mark Mitchell in 'Tulsa King,' and Detective Dennis Murphy in 'Dahmer – Monster: The Jeffrey Dahmer Story.' He is credited as a main cast member in 'Kingdom Business.' Therefore, it is safe to say that Beach has exited from Truth be Told.' The second season finale, titled 'Last Exit…Oakland' marks Beach's last appearance on the show. The actor is active on social media and regularly updates fans about his upcoming projects there. On the other hand 'Truth be Told' drops new episodes of its third season on AppleTV+.
Read More: Is Truth Be Told Based on a True Story?