HBO's 'Succession' is a comedy-drama series about the race for control of Waystar RoyCo, a media conglomerate owned by Logan Roy. The fourth and final season of the show promises a devastating conclusion to the power struggle between the family members. However, several characters outside the family also seem to have a stake in the matter. One of these characters is Kerry, Logan's personal assistant, and confidant. However, the fourth season also seems to confirm that Logan and Kerry's relationship is beyond simply professional. If you are looking for details about Kerry and her relationship with Logan Roy in 'Succession' season 4, here is everything you need to know! SPOILERS AHEAD!
Who Is Kerry?
Kerry Castellabate first appears in the seventh episode of 'Succession' season 2, titled 'Return.' In the series, actress Zoe Winters plays the role of Kerry, starting in the second season. Winter made her screen debut in 2007, appearing in a minor role in an episode of the hit teen drama series 'Gossip Girl.' Her credits include shows such as 'The Good Fight,' 'Madam Secretary,' and 'Elementary.' However, viewers will likely recognize Winters from her performance as Congresswoman Elizabeth Handelman in the Nazi-hunting comedy-drama series 'Hunters.' Winters appears in two episodes of 'Succession'season 2 before taking a prominent role in the show's third and fourth seasons.
In season 2, Kerry is the personal assistant of Waystar RoyCo owner Logan Roy (Brian Cox). However, as time passes, she grows close to Logan and becomes his strategist, advising the Roy family patriarch on several business matters. In the third season, Kerry's role is defined as an Executive Assistant at Waystar RoyCo. However, she is almost exclusively loyal to Logan and works only on his orders. In season 3, when Logan decides to sell his company to Lukas Matsson (Alexander Skarsgård), Kerry helps him make arrangements. When Logan's children, Kendall, Shiv, and Roman, learn of the sale, Kerry uses her resourcefulness to interfere with their attempts to scupper the deal. Therefore, Kerry appears to have Logan's ear and is a part of his inner circle.
Are Kerry and Logan Together?
In the fourth season premiere, titled 'The Munsters,' Kerry is present with Logan during his birthday party in New York City. Kerry organizes the party for Logan and also tries to contact his children on his behalf. However, Roman and Shiv make some unsavory remarks about Kerry sleeping with their father when she calls them. Meanwhile, Logan is not in a good mood, but Kerry tries to keep him involved with the festivities. Nonetheless, Logan only cares about getting his acquisition of Pierce Media Group (PMG) across the line. As a result, Logan and Kerry's relationship seems very professional, and she appears to be nothing more than an assistant. However, the third season confirms that Logan and Kerry are sleeping together. Logan is estranged from his wife, Marcia Roy (Hiam Abbass) after he cheated on her with Rhea (Holly Hunter).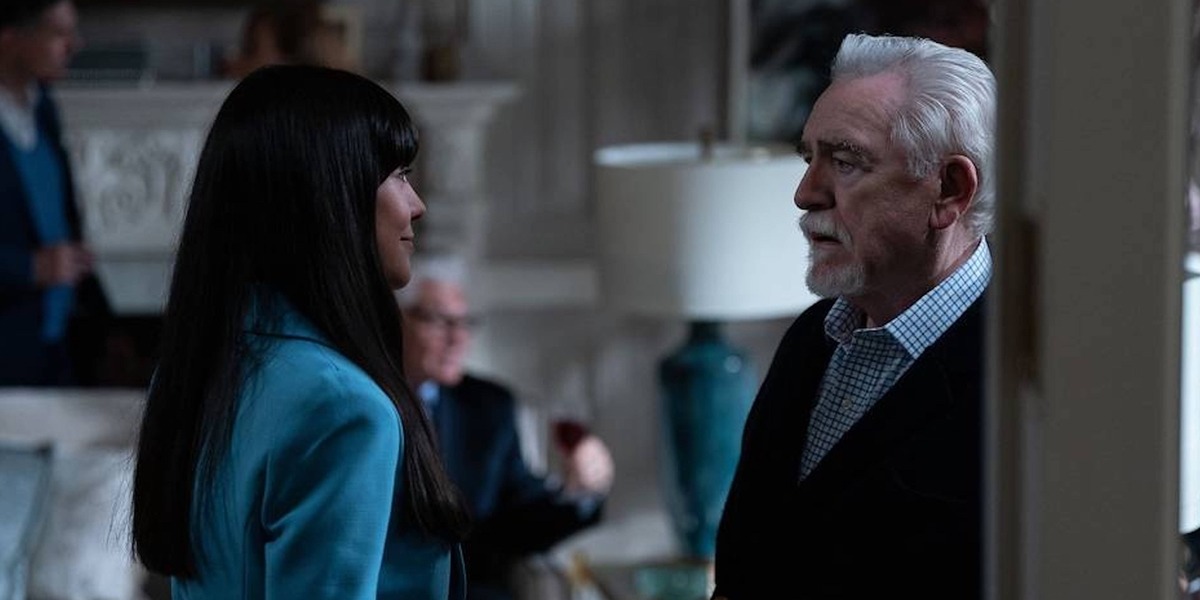 Sometime after Marcia leaves Logan, he starts sleeping with Kerry. As a result, it would explain why Logan shows an uncanny level of trust in Kerry and seems to value her opinions and insights. Moreover, towards the end of the third season, Logan's children learn that Logan is improving his virility as he wants to have a child with Kerry, despite their massive age gap. Therefore, it is safe to say that there is a romantic angle between Kerry and Logan. However, their relationship is non-existent in the public eye at present. It seems like Kerry is happy to be with Logan and continue their romance privately in exchange for influence and power. Thus, due to Logan's affection for her, Kerry's presence threatens the likes of Shiv and other Roy children. Therefore, if Logan and Kerry have a child together, they will inevitably have to make their relationship official.
Read More: Who Is Nan Pierce in Succession? Why Does She Want to Sell PMG?