Created by Zoya Akhtar and Reema Kagti, 'Made in Heaven' is the story of Tara and Karan, two young and ambitious wedding planners trying to get their business off the ground in Delhi. With some of the most powerful and wealthiest families in India as their clients, they encounter many challenges. As the romantic drama series progresses, they also have to deal with their own personal issues, including Karan's secret affair and Tara's troubled relationship. With a talented ensemble cast of Sobhita Dhulipala, Arjun Mathur, Jim Sarbh, and more, the audience gets a unique blend of humor, drama, and unabashed honesty.
The Amazon Prime original production provides a stylish and insightful look at the ins and outs of the world of weddings in India. The show's first season premiered in 2019 and instantly became a fan favorite, thanks to how it captivated the relationships and societal nuances. Season 2 takes this one step further, fearlessly addressing the issues of societal biases and boasting a plethora of celebrity cameos. If you enjoyed watching this tale of love, ambition, and self-discovery, set in the backdrop of lavish Indian weddings, you will love watching this compilation. You can watch several of these shows, like 'Made in Heaven' on Netflix, Hulu, or Amazon Prime.
8. Happily Ever After (2020)

'Happily Ever After' follows the marriage journey of Roneet and Avani and the challenges they face while trying to plan their dream wedding. As they navigate this unpredictable terrain, they learn the importance of love, compromise, and communication. The writer and director of the show, Navjot Gulati, brings a heartfelt narrative to the screen that showcases the essence of love and the societal expectations of weddings in India. Just like 'Made in Heaven', this series also captures the intricacies of relationships while infusing realism and humor. It is an emotional and entertaining exploration of the modern couple's experiences that showcases the imperfections that make relationships special.
7. Party Down (2009-)

'Party Down' comes from the collective minds of John Enbom, Rob Thomas, Dan Etheridge, and Paul Rudd and follows the story of aspiring Hollywood actors who take up the job as caterers while pursuing their dreams. In each episode, the characters take up a different catering ring, while grappling with their dreams, dilemmas, and the harsh realities of Hollywood. Both 'Party Down' and 'Made in Heaven' are shows about aspirations and challenges. They delve into the personal and professional lives of their characters and offer a behind-the-scenes glimpse into their respective industries.
6. Indian Matchmaking (2020-)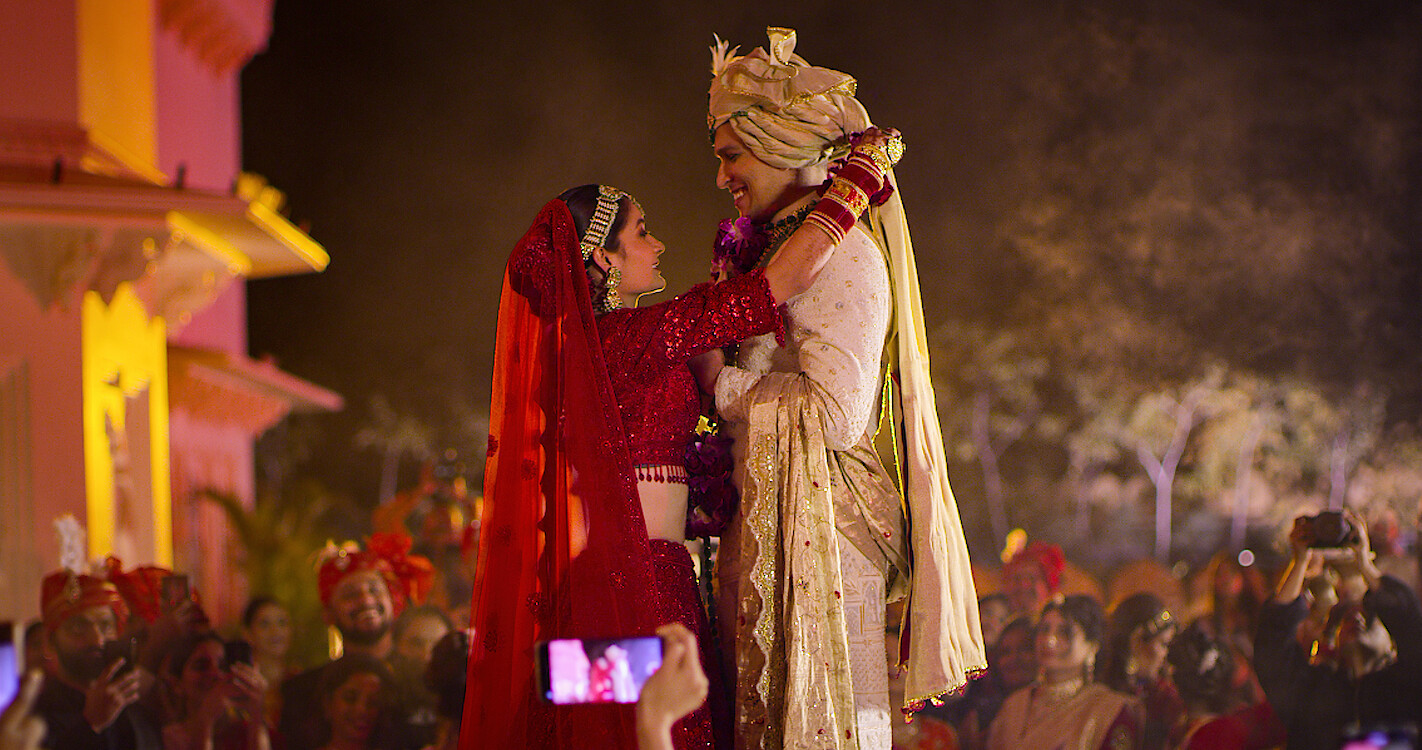 'Indian Matchmaking' is a reality TV show from the creative genius of Smriti Mundhra that takes the audience into the world of arranged marriages. Matchmaker Sima Taparia, the seasoned matchmaker, traverses societal expectations and cultural divides to help individuals find their right partners. As the audience, we delve into the dilemmas, desires, and dreams of the participants and learn the delicate balance between personal preferences and cultural norms. Like 'Made in Heaven', 'Indian Matchmaking' also looks into Indian weddings and the clash between traditional and modernity. This show is a must-watch for those intrigued by the societal dynamics in India.
5. Masaba Masaba (2020-)

'Masaba Masaba' begins with the titular character Masaba struggling to accept her divorce while also dealing with the pressure of running her own fashion label. But, with support from her mother, Neena, and her friends, she can eventually find the balance between her personal and professional life. Written and directed by Sonam Nair, this is a funny, relatable, and heartwarming series that gives insights into a modern woman's life.
Like 'Made in Heaven', 'Masaba Masaba' also explores the struggle of balancing one's personal and professional life while giving viewers an authentic glimpse into the life of a public figure. Both shows expose the aspirations and vulnerabilities of their protagonists, perfect for those who enjoy watching behind-the-scenes narratives.
4. The Married Woman (2021-)

'The Married Woman' follows the story of Astha Kapoor, a married woman and a mother who falls in love with Peeplika, a passionate and free-spirited artist. Astha is a strong and independent woman who is unafraid to follow her heart. Every episode reveals the challenges she faces while balancing her responsibilities as a dutiful housewife and mother with her love for Peeplika.
By showcasing the challenges in the life of the protagonist, the show's director, Sahir Raza, has provided a sensitive and nuanced portrayal of a love story while examining the social stigma attached to same-sex relationships. Much like 'Made in Heaven', this series addresses societal taboos and personal liberation. Both shows take the viewers through the complexities of love that don't fall under conventional norms. For those who appreciate thought-provoking narratives, this will be an intriguing watch.
3. Four More Shots Please! (2019-)

'Four More Shots Please!' introduces you to the stories of four modern women: Damini, Anjana, Umang, and Siddhi, each with their own unique dreams and quirks. It portrays their shared experiences and moments of vulnerability as they try to navigate the maze of their life. Creator Rangita Nandy has done a brilliant job of providing the audience with a perfect blend of tears, laughter, and bonding. In a manner similar to 'Made in Heaven,' the Amazon Prime original sheds light on the challenges of being a modern woman in a humorous and heartfelt manner. With its focus on female friendships and personal growth, it's the perfect series to watch with your girlfriends.
2. Little Fires Everywhere (2020)

Based on the eponymous novel by Celeste Ng and developed for the screen by Liz Tigelaar, 'Little Fires Everywhere' centers around the lives of two families, the Warrens and the Richardsons. When the Richardson house catches fire, it unravels into a complex web of secrets and social dynamics. The show delves into the issues related to motherhood, race, and class while providing a compelling narrative.
Just as 'Made in Heaven' tackles societal issues, 'Little Fires Everywhere' explores complex themes in a thought-provoking way. If you love a good drama and enjoy watching shows that deal with the complexities of human dynamics, this show, starring Reese Witherspoon and Kerry Washington, needs to be on your to-be-watched list.
1. A Suitable Boy (2020)

Transport yourself to post-independence India with Mira Nair's 'A Suitable Boy', the story of Lata's journey to finding love. This show deals with the clash between personal yearnings and societal expectations while offering a view into the changing nation and political unrest. It is a beautifully shot and well-acted epic story that explores the themes of love, identity, family, and tradition and will surely stay with you long after you finish watching it. Both 'Made in Heaven' and 'A Suitable Boy' explore the intersection of personal choices and traditions. With the latter, you get the chance to see a different era with challenges that are prevalent even today.
Read More: Is Made in Heaven Based on a True Story?