Since its premiere in 2019, Peacock's 'Love Island USA' has become a fan favorite of people, given its frankly entertaining set of cast members. Each episode of the dating reality series, based on the hit British show of the same name, has the possibility of completely changing your perception of the participants given the unpredictable set of circumstances. After all, very few saw the possibility of a relationship between Destiny Zammarra/Destiny Davis and Kyle Darden in season 5. However, that has not stopped the audience from wondering if the two are still together. Luckily, we are here to explore the same!
Destiny and Kyle's Love Island USA Journey
For Destiny Davis, the path to finding love on the Peacock show was far from easy. On Day 1, she coupled with Marco Donatelli, but that connection quickly fell apart after the entrance of Hannah Wright. Now single, she was more than happy to see what the future held, and she did not seem disappointed in the fact that Harrison Luna chose her to be his partner during the first recoupling ceremony. While the viewers adored the chemistry between the two at first, this particular romance also fizzled out, and Harrison soon became involved with Emily Chavez.
However, that did not mean that Destiny lacked any options, as she, too, had been picked up as a partner by Jonah Allman. That said, this pairing also came to an end, with both agreeing that they would prefer to be open and soon found themselves gravitating towards other people. In fact, Destiny's interest in Mike Stark seemed that this particular connection might last for a long time, but before anything concrete could be established between them, Destiny and the other girls moved to Casa Amor.
During their time apart, Destiny did connect with Isiah "Zay" Harayda but did not indulge much in physical intimacy, even when the two were chosen to be the ones to be sent to the Hideaway. However, after she came back to the villa with Zay, Destiny was upset that Mike had formed quite a deep connection with Hannah Ortega. This led to multiple arguments between the two, ending with a final goodbye between Destiny and Mike.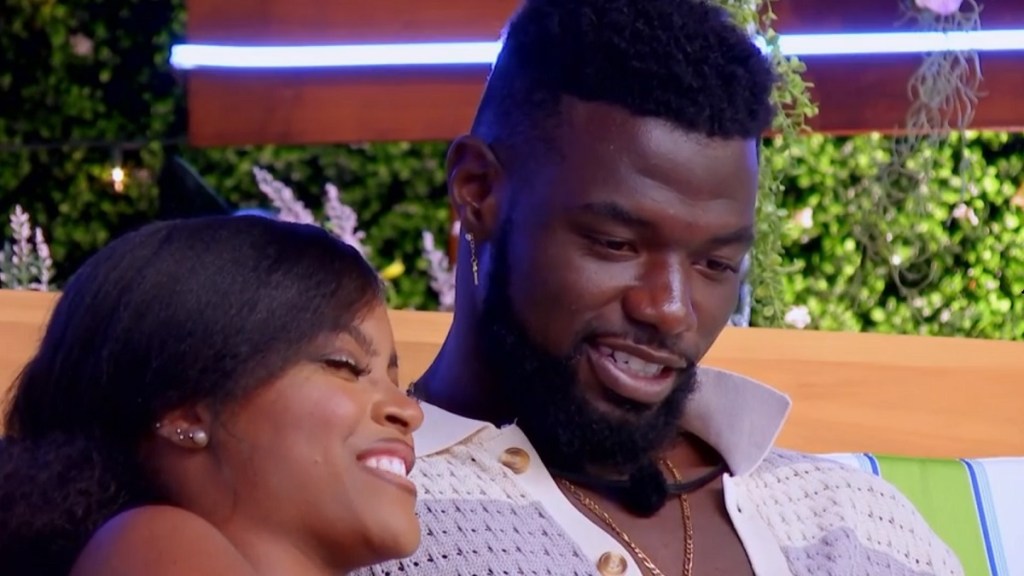 Just before the last recoupling, tensions between Destiny and Zay started to climb up, with the latter ultimately and firmly stating that he wanted to be open and explore other possible connections. Destiny herself seemed to agree with the sentiment and started to get to know Kyle Darden. Realizing the potential between them, Destiny chose Kyle as her final partner, shocking many but still retaining the love of the masses. There was indeed a tense moment in their brief on-screen relationship when Kyle's moment did not seem very impressed with his choice of partner. However, their easy connection was still not enough for the two to land a position in the finals, and they were eliminated just before that on Day 30.
Are Destiny and Kyle Still Together?
As of writing, Destiny and Kyle have not shared any concrete information regarding their relationship status. The two seem to still be on good terms, with Destiny recently posting an Instagram story of herself and Kyle together at the airport in Los Angeles, California. However, they have yet to put a label on their bond but do seem to be taking delight in their growing closeness. Whether or not they will make it long-term remains to be seen, though given the lack of time that they had together while on the show, it is no wonder that many fans are unsure about their dating life.
Speaking about public reception, Destiny has been quite happy with the amount of support shown to her fans. "My Love Island journey is complete, and to my surprise, I stepped out into the world with a lot of controversy about myself. I hear that my supporters went to war for me while I was away, and I'd just like to say thank you for controlling the narrative while I was away. You all fought for me, so I'll make you real proud to represent me," she expressed in an Instagram post after exiting the show.
Read More: Are Hannah and Marco From Love Island USA Still Together?