1995 was truly a year of action and thrillers. 1995 was also the year two landmark films — both films would go on to become cult favorites. Which two films we are talking about. Well, check this list of top movies of 1995 and see for yourself what occupies the top two position.
15. Judge Dredd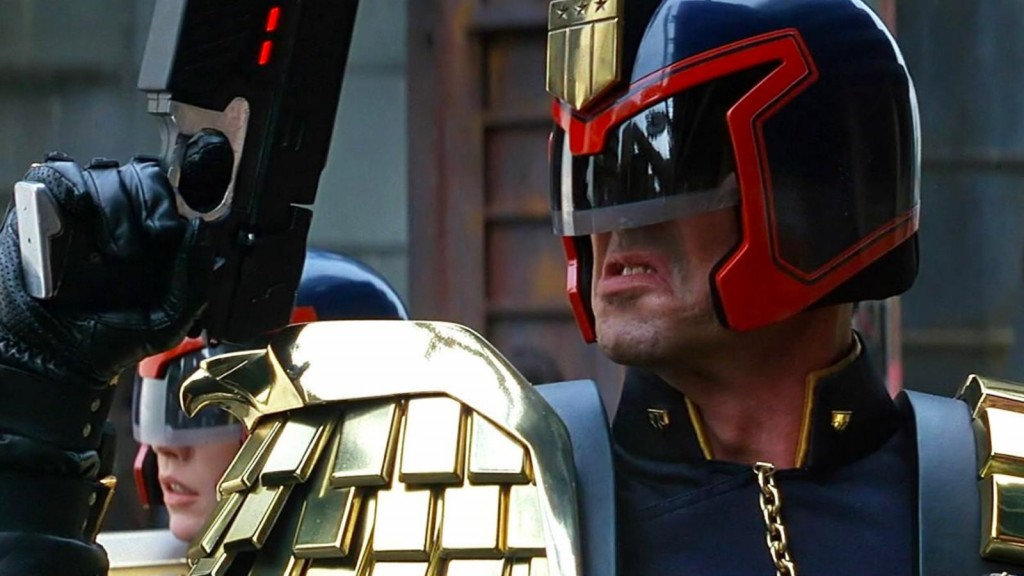 Set in dystopian post-apocalyptic future, the film follows Dredd, a combatant against crime, and a member of a crime control unit of "Judges", who is framed in a murder of a news reporter.
Based on comic books by John Wagner and Carlos Ezquerra, 'Judge Dredd' is a film with excessive but fine use of visual effects and stunts making it a watchable action-superhero flick, but lacks script and good acting. With Sylvester Stallone leading the cast, it definitely attracts the viewer towards itself, but what the actor has done in films like 'Rocky' and 'Rambo', this one doesn't make its way to the top. Still, because of its visual stylization and action sequences, 'Judge Dredd' is a pass-time adventure.
'Judge Dredd' was rebooted in 2012 as 'Dredd' and starred Karl Urban in the lead. The film was a bigger critical success than this one and Karl Urban was heavily praised for his role.
Read More: Best Movies of 1992
14. Jumanji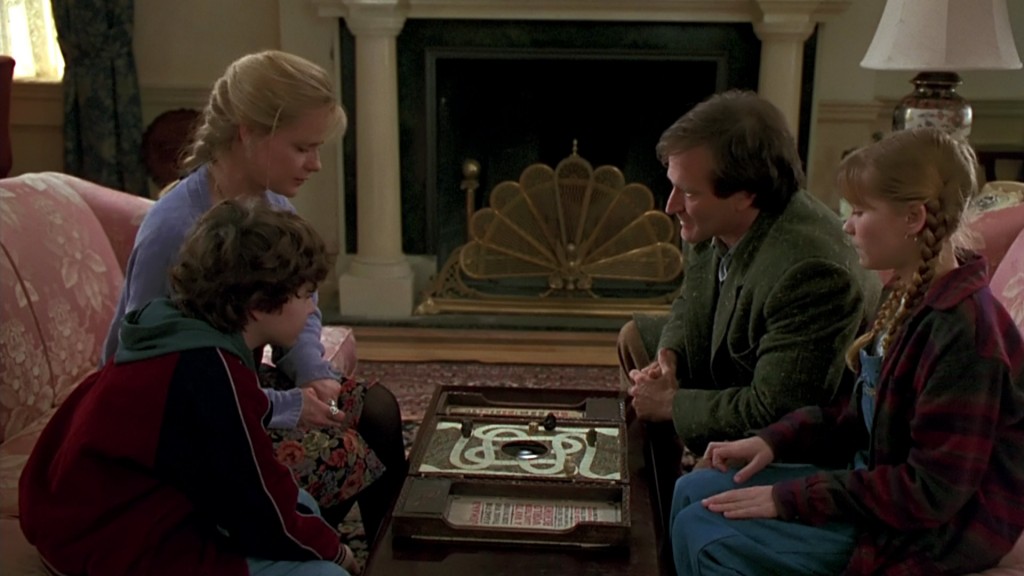 A board game mysteriously sucks in Alan Parrish, a 13-yr old kid inside its horrific world. When siblings Judy and Peter continues the game after 26 years, they unwillingly release all the worst entities of the game but also frees Alan who is all grown-up now.
A comedy-adventure, 'Jumanji' is a chaotic run for life kinda film filled with humorous elements and events of stupidity which successfully holds the viewer for the whole of its running time. Amusing performances from Robin Williams and equally waggish roles of Bonnie Hunt and the children Kirsten and Bradley make the movie a replayable entertainer.
Over the years, the film, which was based on a book by Chris Van Allsburg, has spawned standalone sequels 'Zathura: A Space Adventure' (2005) and highly successful 'Jumanji: Welcome to the Jungle' (2017), both based on works by Allsburg.
Read More: Best Movies of 1985
13. Bad Boys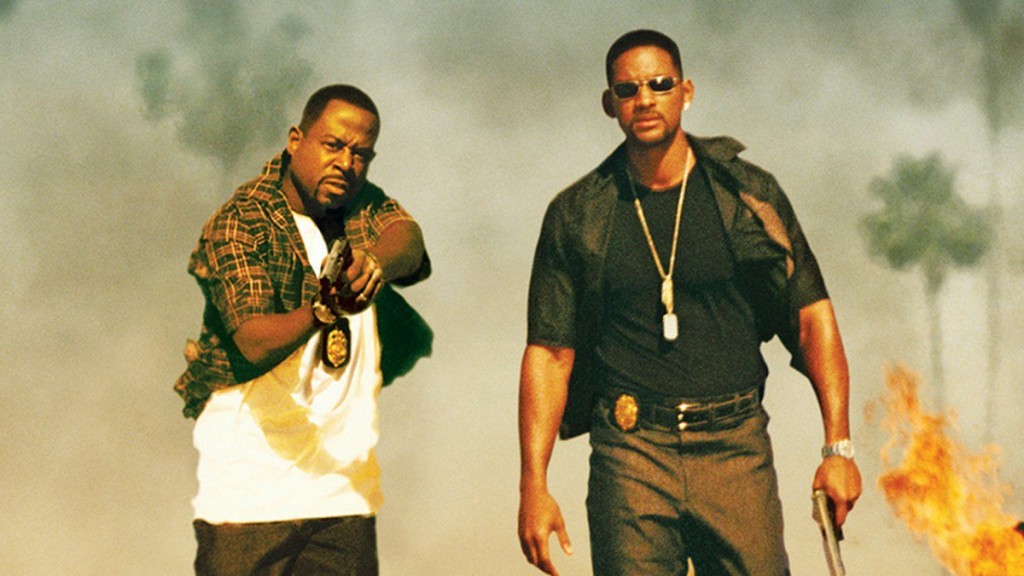 Two narcotics detectives indulge in some side-splitting action and gunfights while investigating a case of stolen heroin from their evidence room at the police precinct.
'Bad Boys' is the first of many action-packed dramas from director Michael Bay, and stars then new faces Martin Freeman and Will Smith. A typical 90's plot, where two officers fight the bad guys and try to save a girl, the film did a great job back then when such action with guns and explosives were considered some crazy stuff. Nonetheless, if you haven't watched it yet, you're probably in for some fine work of comedy-action from Smith.
'Bad Boys' even spawned a sequel in 2003 titled 'Bad Boys II'. Both Lawrence and Smith as well as director Michael Bay returned for the sequel which turned out to be a bigger success than the first one.
Read More: Best Movies of 1998
12. Clueless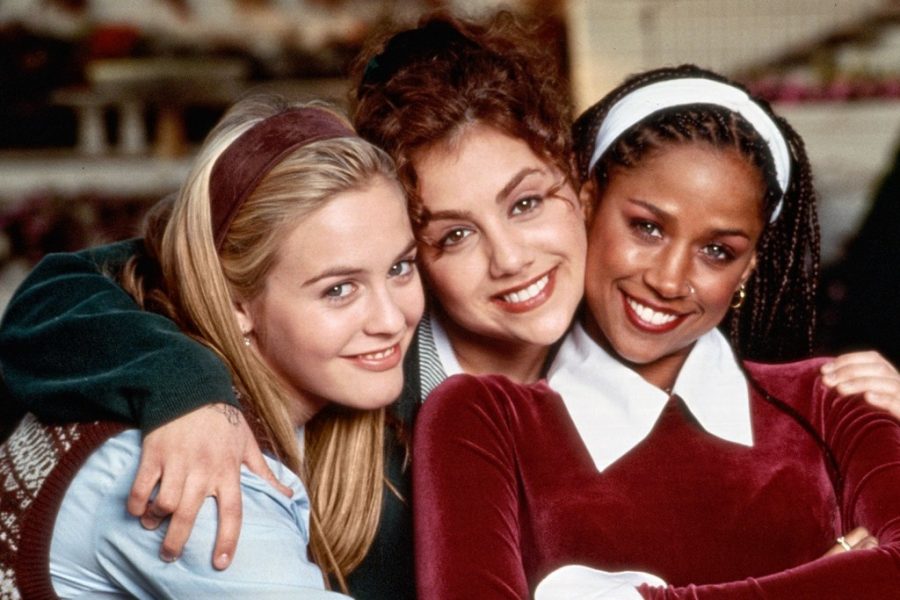 A film ahead of its time, 'Clueless' is a coming-of-age comedy chick-flick, focusing on the age of adolescence of a teenage girl, and how she deals with all the pros and cons of her on-going life.
Loosely adapted from Jane Austen's 1815 novel "Emma", 'Clueless' brings Alicia Silverstone as Cheryl in her most recognizable role as Cheryl, the film's protagonist. Director Amy Heckerling, who directed another chick-flick 'Fast Times at Ridgemont High' (1982), makes this one a bit breezy and takes it on a lighter node getting more realistic at the same time. Maybe not one of its kind, 'Clueless' definitely is the first one in the line of 'Mean Girls' and 'Pitch Perfect' kinda films.
The film generated a cult-following after its release and was praised by the critics. It also stars Brittany Murphy, Stacy Dash, and Paul Rudd.
Read More: Best Movies of 1981
11. 12 Monkeys
Set in 2035, the film follows a prisoner sent back in time to locate a deadly virus which wiped out a majority of humans in 1996.
The film stars Bruce Willis in lead role and is supported by a young Brad Pitt. Both actors profoundly co-ordinate in their sequences and Terry Gilliam's neo-noir direction makes this dark-themed thriller more enjoyable. The film is one of the best in terms of visual effects of that time and Pitt's award-winning role is something this is worth for.
The film led Pitt to grab Best Actor In Supporting Role- Motion Picture and earned him an Oscar nomination for the same.
Read More: Best Movies of 1993
10. Toy Story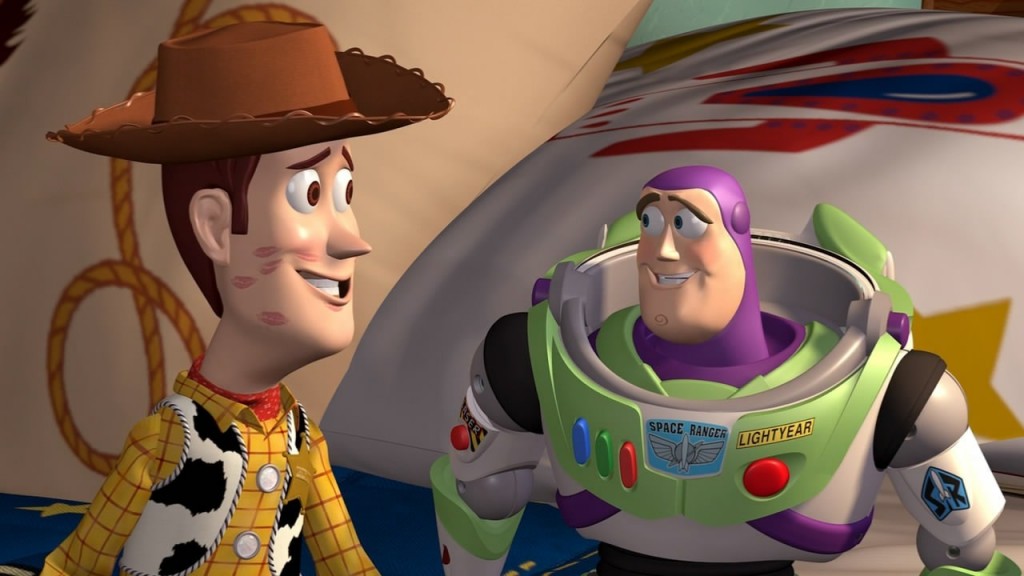 An animated comedy-drama, Toy Story takes place in a world where toy-figures aren't actually lifeless and focuses on two of them, a cowboy doll Woody and space-action figure Buzz, while they try to evolve from their rivalry and try to reunite with their owner Andy.
The first ever computer-animated feature film, 'Toy Story' is also first in the line of many Pixar Animation productions which have been continuously entertaining us with their emotional and hilarious cartoonist ventures. The directorial debut of John Lasseter, the movie also explores the theme of friendship and love that has been the virtual "up" for the studio till date.
The highest-grossing film of 1995, 'Toy Story' was followed by two more sequels while a fourth film is slated to release in 2019.
Read More: Best Movies of 1980
9. Goldeneye
A sci-fi, spy thriller, 'Goldeneye' was the return of our favorite, Agent 007-James Bond on screen after a six-year hiatus. The film followed an original story where James Bond tries to protect London from a financial meltdown, preventing a rogue MI-6 agent from taking control of everything.
The new Bond film also introduced Pierce Brosnan as 007, bringing in a new James Bond. Brosnan played a more unemotional and non-innocent kind of Bond, who loves girls and cars. His detective-like persona made him the most loved Bond of all times and played the character in 3 more Bond films.
The film also starred Sean Bean and Famke Jensen and was a major commercial success changing Bond from a detective to a stylized youth icon. Brosnan reprised his role in 'Die Another Day', 'The World Is Not Enough' and 'Tomorrow Never Dies'.
Read More: Best Movies of 1989
8. Heat
A three-hour complex crime-thriller, starring an ensemble star cast and made under the directives of legendary Michael Mann, 'Heat' is a package of violence, arrogance, thrill, adrenaline, guns, mischief and awesomeness. A realistic version of the cop and thief game, 'Heat' is that high-spirited and energetic film, which you will love for more than just one reason.
The plot follows an LAPD detective Lt. Vincent trying to knock down a professional thief and his crew. Nothing sounds interesting? Let's make it.
The film stars Al Pacino as Vincent while the thief Neil is played by Robert De Niro. Mann finally managed to get Al Pacino and De Niro together on-screen together in 'Heat' and then teamed them up with Val Kilmer and Jon Voight. All four of them perfectly co-ordinate taking out the sense of competition to give some mind-blowing sequences. Mann also spices up things by adding significant material to every character in supporting which includes the likes of William Fichtner, Ashley Judd, Tom Sizemore and Hank Azaria. And then comes Natalie Portman, fresh from her charismatic debut in 'Leon' a year before.
With that cast, it's hardly possible for any movie to fail. As for the performances, I believe the names says a lot. A major critical success, I still feel bad for not getting any big nomination. Not even Best Ensemble ones. Damn!!
Read More: Best Movies of 1987
7. Batman Forever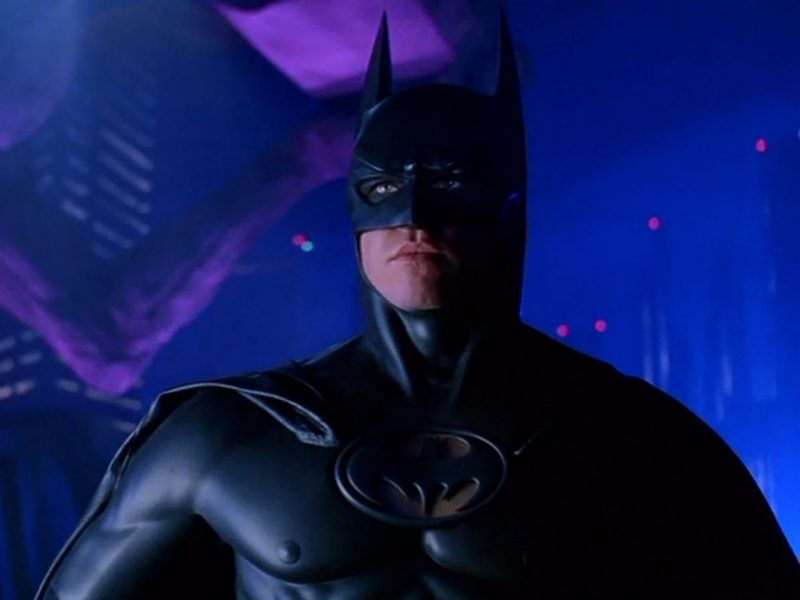 With a new face and introducing an entirely new character on-screen, 'Batman Forever' made every DC fan cheering in theaters when the film opened back in 1995. In the third installment of Tim Burton's 'Batman' series, the film teamed up Batman with Robin for the first time on-screen and put them against the villainous duo of The Riddler and Two-Face.
With Michael Keaton out of the series, the studio had earlier faced a lot of trouble to get a new actor to wear the cape. Director Joel Schumacher hand-picked Val Kilmer for the role. Also, after defeating Leonardo DiCaprio, Ewan Mcgregor, Jude Law, and Matt Damon, actor Chris O'Donnell was cast as Robin. Surprisingly, the team made an unexpected fan following and the film benefitted heavily due to the presence of Jim Carrey and Tommy Lee Jones as the villains. What proved to be a bonus for the film was seductive Dr. Chase played by Nicole Kidman.
The film was a huge commercial success and hopes of a long-lasting feature film series took a hike in the entertainment media. However, Kilmer dropped from the sequel and George Clooney was cast in 'Batman & Robin' which not only was the worst Batman film but also was the blunder which destroyed every hope for a future film.
The series was rebooted by Christopher Nolan in 2005 with 'Batman Begins' as Christian Bale as Batman. The character's story arc was followed in DCEU's 'Batman v Superman: Dawn of Justice' (2016) and Justice League (2017), with Ben Affleck in lead, Affleck is also expected to reprise his role in future DCEU films including a stand-alone Batman movie.
Read More: Best Movies of 1984
6. Leaving Las Vegas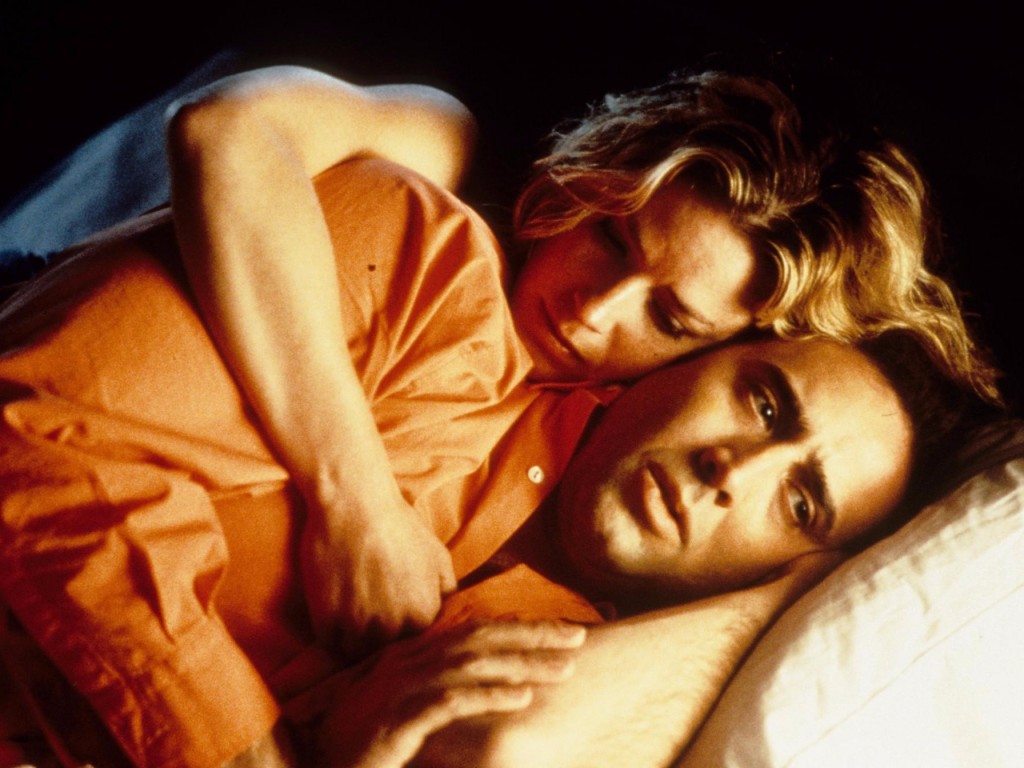 Nicholas Cage has been inactive in the industry for quite a while now. But in the 90s and early 2000s, Cage rose to his highest prominence and one of his best gifts to his fans was 'Leaving Las Vegas'.
Cage starred as an alcoholic screenwriter and shared the screen with Elisabeth Shue, the 'Back to the Future' fame. Based on John O' Brien's semi-autobiography, 'Leaving Las Vegas' has Nicholas Cage to give all thanks to. His riveting appearance, his voice, his walking style, all is just perfection. Both Shue and Cage act remarkably well as two people buried in the painful depth of their lives and their companionship is a glance which you won't want to miss. A story of pain and loneliness, turning into the story of redemption and embracement, 'Leaving Las Vegas' is a sad tale you'd wish to cry on again and again.
For his role as Ben, Nicholas Cage won an Academy Award for Best Actor while Shue was nominated for Best Actress. The film also gained attention due to the shocking death of John O' Brien, who killed himself two weeks later after he learned his novel is to be made into a feature film.
Read More: Best Movies of 1988
5. The Usual Suspects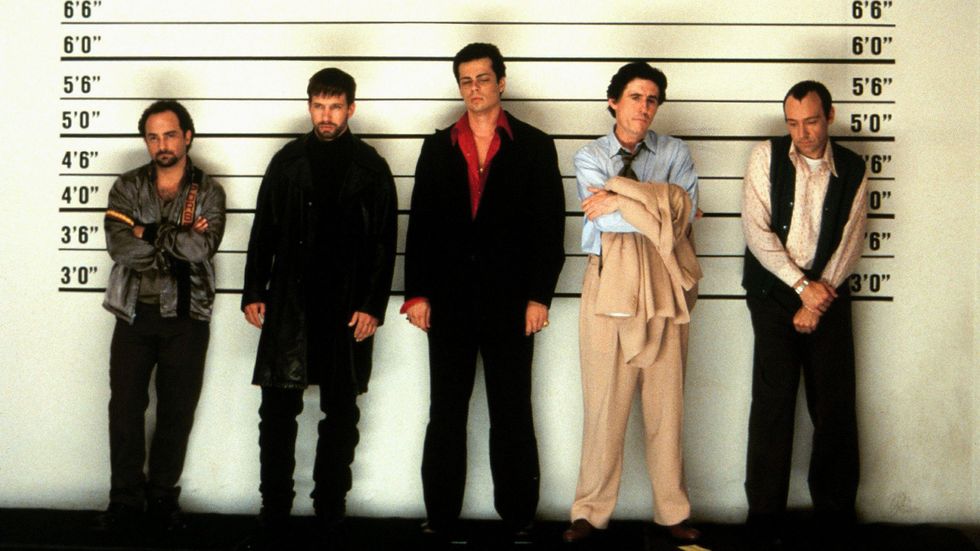 The directorial debut of 'X-Men' director Bryan Singer, 'The Usual Suspects' is a low-budget thriller with all the ingredients of a major commercial entertainer, The film's plot follows an interrogation talk forming the entire series of events in the film through flashbacks.
Though not some blockbuster hit, 'The Usual Suspect' is a surprise entry in Hollywood, which unexpectedly amaze the viewer, with its suspense and storytelling. 'The Usual Suspects' stars an unusual cast, not seen in every other film. Gabriel Byrne plays an ex-con while Stephen Baldwin stars in his first commercial role. The shocking revelation of the cast is Benicio Del Toro. In a role with least significance in the film, he steals the show from all of his co-stars. While Kevin Pollak is at top-notch in his second dramatic role (after 'A Few Good Men'), Kevin Spacey is mysterious and funny at the same time.
The film hit a big-time jackpot at U.S. box-office and won two Academy Awards including Best Original Screenplay and Best Supporting Actor for Spacey.
Read More: Best Movies of 1986
4. Braveheart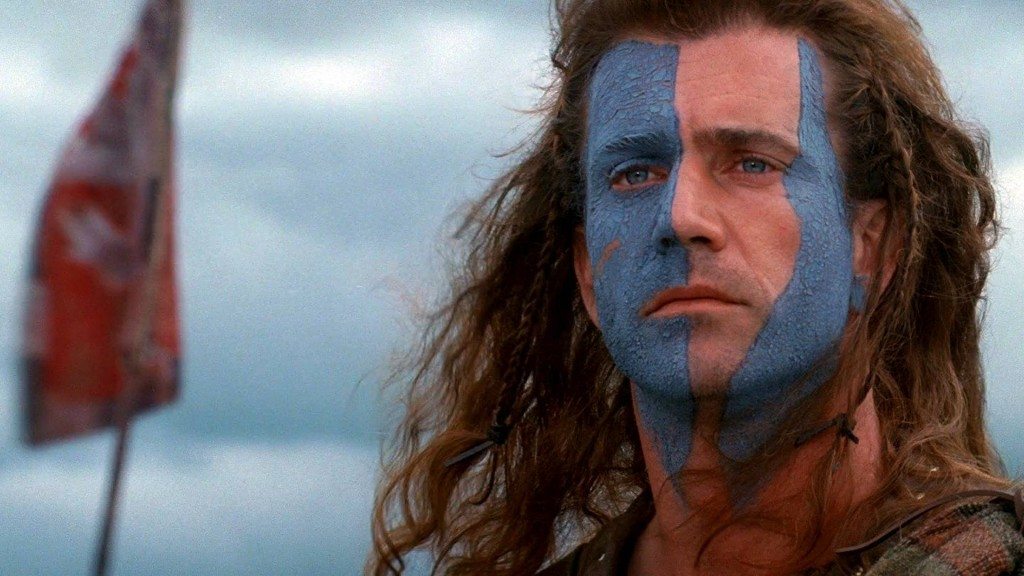 Based on an epic poem about William Wallace, a 13th-century Scottish rebel warrior, 'Braveheart' is considered the worst best picture in cinematic history. Why? Best for its amazing war sequences, direction, and cinematography. Worst for its acting (yeah that was bad), and a blunder of historical inaccuracies for which the film was heavily criticized.
Directed by Mel Gibson, who also starred in it, 'Braveheart' was able to maintain the positive image of Holywood war epics, once established by 'Ben-Hur' (1959) and must be commended for picturization of the battle sequences and the use of make-up to make it look shinier. The film also plays an important role in glorifying Scottish valor and courage and their fight for their freedom.
Despite being in the race with contenders like 'The Usual Suspects' and 'Apollo 13', 'Braveheart' won five Academy Awards out of 10 nominations including Best Picture and Best Director for Gibson. Gibson also received a Golden Globe for Best Director.
Read More: Best Movies of 1996
3. Apollo 13
After NASA successfully landed Neil Armstrong on the moon, it decided to expand the mission and sent multiple teams on the moon in next 7 years. However, Apollo 13 was a voyage that took an ugly turn en-route. The film focuses on the voyage's technical failure and the subsequent space-rescue of the men aboard.
Based on the successful failure of the NASA authorized space mission, the film is a dignified depiction of the infamous incident and is stirringly put on screen by director Ron Howard. Known for his research and in-depth detailing, Howard used actual zero-gravity aircraft modules to shoot space sequences and shot in real weightlessness. His creative and improvisational efforts are vital in making this heroic tale coming to life.
As for the cast, Tom Hanks makes another foremost acting showcase while Kevin Bacon and Bill Paxton prove their mantle in one of the finest roles and one of the best films of their respective careers. Gary Sinise, at one point, actually steals the show and looks really compelling when he steps in the situation as the savior and the stranded astronauts' last hope. Ed Harris once again plays an important and efficacious supporting character and as always is at his best.
'Apollo 13' was nominated for nine Academy Awards including Best Picture and won two. The film is still considered the most accurate science films of all times.
Read More: Best Movies of 1983
2. Before Sunrise
Another stylized direction from 'Before Sunrise' is a story of two strangers, walking down the streets of Venice, discussing and embracing life, while they get to know about one another.
Starring Ethan Hawke (who became Linklater's frequent collaborator) and Julie Delpy as Jesse and Celine. Coming from two different parts of the world, they both discuss their lives and establish a sense of satisfaction and actualization. Written by Linklater and Kimi Krizan, the film distinguishes itself from others by creating the story on-screen using conversational dialogues rather than focusing on a climax-oriented plot. While both the actors do a terrific job, its Linklater's command which increases the worth of this film. The film's within surroundings makes a significant impact on character's consciousness, which can be noticed well in the film.
The film's amazing and unexpected response led Linklater to spawn two direct sequels, 'Before Sunset' (2004) and 'Before Midnight' (2013), which were co-written by Hawke and Delpy and received Academy Award nominations for Best Original Screenplay for both films.
Read More: Best Movies of 1982
1. Se7en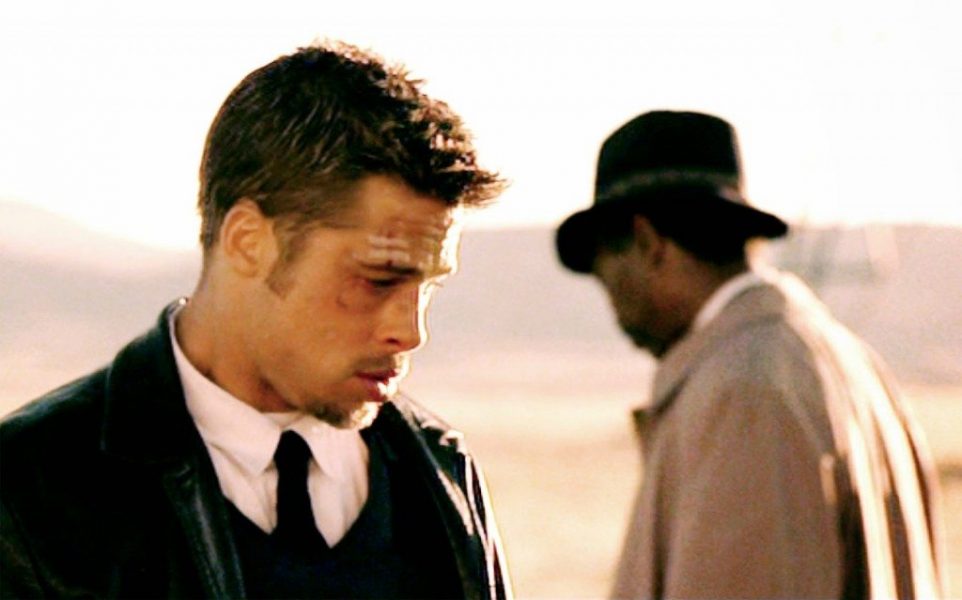 Pride, Lust, Greed, Envy, Gluttony, Wrath and Sloth. Seven deadly sins. Seven victims. One murderer. Director David Fincher's second film revolves around two detectives investigating a series of murders, all representing the seven sins of Christian teachings.
The film stars Brad Pitt in his first acclaimed role, supported by Morgan Freeman. The film has all the elements to deliver an amazing mystery thriller. A dangerous hunt for a serial killer, 'Se7en' is a clever, well constructed and dark & scary movie, which is one of the best of the 90s. 'Se7en' makes itself a masterpiece in its last 15 mins when it gives the most horrifying climax of all time, leaving the viewer heartbroken and fearful. So, if you're looking for some relaxing entertainer, this not for you.
'Se7en' was highly successful and grossed $327 million and was also nominated for an Academy Award for Best Editing, but lost to 'Apollo 13'. Last thing. Don't google about the film, you'll ruin it.
Read More: Best Movies of 1990