Princess Movies are movies that either sink or swim when it comes to the silver screen, based upon the merits of their story and the characters that exist to propel the fantasy past the absurd and into the tangibly real. Princess stories are the stuff of legend. Whether it be the royalty, the glamour, the regal behavior, or the beautiful dresses, princess movies have something for everyone. For decades, princess movies have enthralled audiences worldwide, with tales of beautiful ladies and the handsome princes who fall in love with them. With that said, here's the list of top best Princess movies ever (most of them are Disney princess movies). You can watch best princess movies on Netflix, Hulu, or Amazon Prime.
12. Tangled (2010)
It's the best Disney animation, and a natural counterpoint to the contemporary comic style that has come to dominate the industry. This is your basic, and very enjoyable, princess musical, an empowerment tale to teach bright, dreamy girls how to grow to maturity and outgrow the adults in charge. In the movie "The magically long-haired Rapunzel has spent her entire life in a tower, but now that a runaway thief has stumbled upon her, she is about to discover the world for the first time, and who she really is."
Read More: Best Polish Movies of All Time
11. Maleficent (2014)
'Maleficent' is a 2014 American dark fantasy film directed by Robert Stromberg. Maleficent takes no time at all to charm you with its glossy good looks, but it takes a little longer to draw you in on an emotional level, but thanks to Angelina Jolie's ability to convincingly be both the villain and the hero, it gets there. This movie teaches you the true backstory of sleeping beauty with lots of twists and awesome effects. Watching it in 3D is perfect.
Read More: Best Foreign Action Movies of All Time
10. Brave (2012)
Pixar Animation Studio's 'Brave' is a mish mash of several different film concepts rolled up into one, but the end result was pretty great. Brave focuses on Princess Merida, who lives in the Scottish Highlands with her parents and three younger brothers. Brave has an uplifting message about improving communication between mothers and daughters, although transforming your mom into a bear is a rather extreme first step.
Read More: Best Kung Fu Movies of All Time
9. Enchanted (2007)
'Enchanted' is surprisingly great, fun modernized Cinderella tale, including 3 show-stopping musical numbers where the test audience applauded after each song. In the movie "A young maiden in a land called Andalasia, who is prepared to be wed, is sent away to New York City by an evil queen, where she falls in love with a lawyer." You fall in love with the characters right away and it's quite simply a return to the greatness that Disney can deliver. Watching it is great fun, and very funny, definitely a must watch film.
Read More: Best Free Movies and TV Shows Apps
8. Moana (2016)
'Moana' is a return to the classic Disney formula, the visuals in this movie are breathtaking, and so gorgeous! But, besides the visuals there is such a heart and imagination and creativity to this movie. Moana is such a likable, smart, and relatable person. the voice work for Moana is so sweet and so good. The chemistry between Moana and Maui is so great and so natural. 'Moana' is everything an animated Disney film sets out to be. Become a master way-finder and set sail.
Read More: Best Women Empowerment Movies of All Time
7. A Little Princess (1995)
An astonishing work of studio artifice, 'A Little Princess' is that rarest of creations, a children's film that plays equally well to kids and adults. In the movie "A young girl is relegated to servitude at a boarding school when her father goes missing and is presumed dead." This film reminds you what life's all about.
Read More: Kids Movies on Netflix
6. Jodhaa Akbar (2008)
'Jodhaa Akbar' is an Indian historical romance film based on the story of Rajput princess 'Jodhaa' from Amer and the mughal emperor 'Akbar'. There's great chemistry between superstars Hrithik Roshan and Aishwarya Rai Bachchan. Their solid performances bring home Jodhaa Akbar's saga of star-crossed lovers. This is epic on every scale, each frame dripping with beauty.
Read More: Best Cricket Movies of All Time
5. The Secret of Moonacre (2008)
The Secret of Moonacre' is a fantasy film based on the novel 'The Little White Horse' by Elizabeth Goudge. The film looks absolutely exquisite, with those gorgeous costumes and the lovely sets with the huge menacing moon. The characters Miss Heliotrope and The Chef have played awesome role in the movie, they made laugh so hard. Excellent Cinematography and Screenplay, it is just fantastic!
Read More: Best Dance Scenes in Movies
4. Cinderella (1950)
The story of 'Cinderella' is one of the more beloved tales of the Disney universe, becoming such a pop culture sensation for it's time! It helms one of the most basic story-line of it's kind, but it has one of the best executions onto the screen. Cinderella is based on the classic fairy tale; it's hard to not feel a swell of excitement when Cinderella's rags are turned into her dream gown after all the abuse she's dealt with. It gives hope that good people will ultimately be rewarded.
Read More: Best Spanish Movies of All Time
3. Snow White and the Seven Dwarfs (1937)
'Snow White and the Seven Dwarfs' is an American animated musical film, released in 1937, that established Walt Disney as one of the world's most innovative and creative movie-makers. Along with 'Pinocchio' (1940), it is widely considered to be Disney's greatest film achievement. In the movie "Snow White (Princess) was exiled into the dangerous forest by her wicked stepmother where seven dwarf miners rescued her and made her part of their household."
Read More: Best Mother Daughter Movies of All Time
2. Frozen (2013)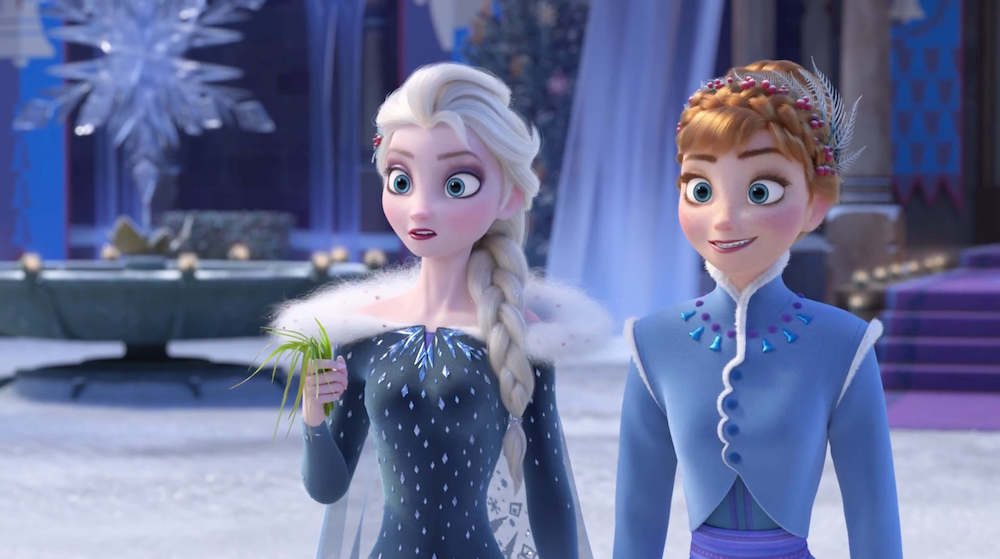 It is startling and stunning, beautifully envisioned, emotionally powerful and relevant. Gorgeous visuals, stunning backdrops and intricacies like you have never seen before. In the movie "When the newly-crowned Queen Elsa accidentally uses her power to turn things into ice to curse her home in infinite winter, her sister Anna teams up with a mountain man, his playful reindeer, and a snowman to change the weather condition." Frozen reminds you how many animated films rely more on inside jokes. It's modern without being hip, earnest with being sappy.
Read More: Best Virtual Reality Movies of All Time
1. Beauty and the Beast (1991)
'Beauty and the Beast' is without a doubt one of Disney's finest classics. It has unbelievably terrific animation, a beautiful story, lovable characters, and is just over all a perfect movie. It's a timeless classic that is just perfect and reached a new level of great animation. In the movie "A young woman whose father has been imprisoned by a terrifying beast offers herself in his place, unaware that her captor is actually a prince, physically altered by a magic spell."
Read More: Fairy Tale Movies