Co-written and directed by Kenya Barris ('Black-ish'), 'You People' is a romantic comedy film streaming on Netflix. It follows Ezra Cohen, a white Jewish man, and Amira Mohammed, a black Muslim woman, as they meet and fall in love. However, their drastically different families and cultural backgrounds influence the couple's plans to get married. Therefore, viewers must be wondering if and how Ezra and Amira overcome the obstacles in their path. If you wish to learn whether Ezra and Amira get married in 'You People,' here is everything you need to know! SPOILERS AHEAD!
What Happens Between Ezra and Amira?
Ezra Cohen (Jonah Hill) is a finance worker who runs a podcast about the hood culture in Los Angeles with his best friend. However, Ezra is dissatisfied with his love life and seeks an interesting woman to date. One day, Ezra accidentally meets Amira Mohammed (Lauren London), an African-American woman whom he mistakes for his Uber driver. After clearing the misunderstanding, Ezra helps Amira find her way around Century City, Los Angeles. The interaction leads to a date, and Ezra and Amira start a romantic relationship.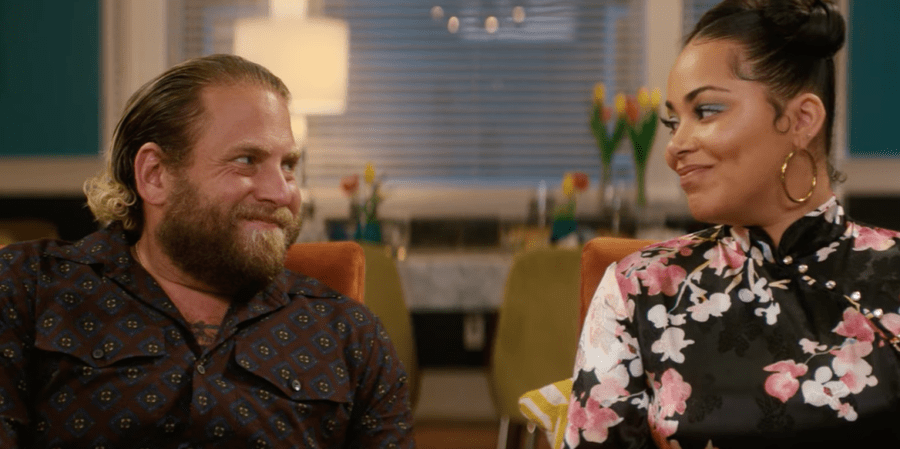 Eventually, Ezra decides to take his relationship with Amira to the next stage. Therefore, he invites Amira to his house and introduces his girlfriend to his family. Ezra's parents, Shelley (Julia Louis-Dreyfus) and Arnold Cohen (David Duchovny), appear welcoming toward Amira but make several inappropriate remarks. Similarly, Ezra's meeting with Amira's parents, Akbar Mohammed (Eddie Murphy) and Fatima Mohammed (Nia Long), is a disaster as they are appalled by Ezra's culturally insensitive behavior. Nonetheless, Ezra proposes to Amira, and the couple becomes engaged.
Before tying the knot, Ezra and Amira give their families time to understand each other's culture and grow closer. However, every time Ezra tries to get close to Akbar, it leads to a misunderstanding. Similarly, Amira's attempts to connect with Shelly result in the latter making tone-deaf remarks about Amira's appearance. Ezra also quits his job to pursue a full-time career as a podcast host. However, Ezra's decision is met with dismay from Akbar. Soon, Ezra and Amira realize that the cultural differences between their family will get in the way of their union.
Do Ezra and Amira Get Married?
Ezra and Amira decide to go ahead with their wedding despite having a disastrous bachelor's event. During the rehearsal dinner, everyone gathered for the wedding expresses their affection for the to-be-wed couple. However, Ezra worries that Akbar will tell Amira about him doing cocaine during the trip to Las Vegas. Akbar does not tell Amira about Ezra's drug-addled activities. When Ezra tries to thank Akbar for keeping his secret, Akbar insults Ezra and insists that he is not the right match for Amira.
On the other hand, Shelly tries to compliment Amira on her hair to show her knowledge of the latter's culture. However, Amira becomes fed up with Shelly's tone-deaf remarks. Therefore, she gives Shelly an earful about her inappropriate remarks. Meanwhile, Ezra also lashes out at Akbar for giving him a hard time about not being a black person or understanding their struggles. Eventually, Ezra and Amira realize that their families are sucking the joy of their relationship. As a result, the bride and the groom call off the wedding.
A few weeks after they couple part ways, Ezra releases an episode of his podcast where he talks about how white people and black people will never be able to see eye-to-eye. Ezra admits that he was naive to believe that love and perseverance could unify his and Amira's family, leading to a beautiful married life for them. Ezra's podcast helps Shelly and Akbar understand that they were getting in the way of their children's happiness.
Ultimately, Akbar and Shelly bring Ezra and Amira to a meeting where they apologize for their behavior. The parents encourage Ezra and Amira to resume their relationship and give their blessing. Moreover, Akbar and Shelly have already planned a wedding for Ezra and Amira, indicating the newfound unification between the two families. As a result, the film ends with a heartwarming union between Era and Amira as they finally get married. Although the debate about the cultural differences between white and black people is likely to continue for generations, Ezra and Amira's relationship proves that love is the only solution to resolving these differences.
Read More: You People Soundtrack: Where to Listen to Its Songs?