While reality television is already quite entertaining, Fox's 'Farmer Wants a Wife' definitely ups the ante with its unique format. A spin-off of the eponymous British show and a reboot of the 2008 one that aired on The CW, the debut season of the dating series features four dashing farmers mingling with a group of 32 gorgeous single ladies. Through heartwarming dates and fun challenges set against a rural backdrop, the eligible bachelors aim to find the woman of their dreams to spend a lifetime with.
Naturally, such a setup leads to lots of drama, conflict, and romantic moments as the women vie for the attention of the farmers and decide whether life on the farm is what they are looking for. Nevertheless, all the events of the inaugural iteration came to a head in the season finale when the four farmers and their remaining love interests chose to walk on the road to happily ever after or say their goodbyes. With the cameras now turned away, you must be eager to know which of the final pairs have still sustained off-screen. In that case, here are the answers you're looking for!
Where Are Landon Heaton and Ashley Larea Now?
35-year-old Oklahoma native Landon Heaton came on the show hoping to find a suitable life partner but took his sweet time connecting with the ladies. On the other hand, 27-year-old Ashley Larea, an Executive Coordinator from Dallas, Texas, immediately took a liking to him from the beginning. While Landon gradually expressed interest in her, he was continuously conflicted about his feelings for Ashley Rader. Eventually, the farmer from Oklahoma chose to exit the show holding Ashley Larea's hand, and she was equally excited about their journey ahead. Despite the couple's limited updates about themselves in the public domain, we are happy to report that they are seemingly still going strong.
My sister in law captured this sweet picture of @heatoncattle and I when we first saw each other. Weeks had passed but felt like no time at all 🤍 #FarmerWantsAWife pic.twitter.com/SjdWPsHnYM

— Ashley Larea (@ashleylarea) May 11, 2023
While they have not shared much regarding their recent activities on social media, Ashley shared a sweet picture of her and Landon in May 2023 on Twitter. Besides, the two were spotted attending a watch party in Florida for the season finale with their other castmates in Florida. As per reports, Landon and Ashley happily interacted with one another and their fans, indicating that all is well between them. On top of it, the former even shared a heartwarming video of his cherished moments with his lady love on Instagram. Given this unofficial declaration of love, we can only hope that the couple survives all odds in real life as successfully as they did on the show!
Where Are Ryan Black and Haley Ramirez Now?
Hailing from Shelby, North Carolina, Ryan Black was 32 when he entered the show, hoping to win over a beautiful lady with his chivalry. He soon connected with Haley Ramirez, a 28-year-old New Yorker who works as a Recruiter and Content Creator. But as the two began getting to know each other better, Ryan felt that she was apparently too emotional for his preference and chose to eliminate her mid-season. Yet once Haley left, he realized his mistake and that maybe he had made an impulsive decision. Hence, Ryan visited her in New York and asked her for a coffee date to make amends.
Unfortunately, despite Ryan's constant efforts to woo Haley back, she seemed too heartbroken to let go of what happened. Choosing not to settle for less, she rejected his proposal in the season finale, and they went their separate ways amicably. Since then, Ryan and Haley have been busy with their individual lives and are focused on building their careers. While the New Yorker is supposedly back to her job as a Recruiter and lives a single life, Ryan enjoyed his stint on reality TV and looks forward to more such opportunities. That said, both have expressed gratitude for their experience on the show and the things it taught them.
Where Are Allen Foster and Khelsi Stone Now?
While Khelsi Stone, a 29-year-old teacher from Forston, Georgia, was enamored with 32-year-old Allen Foster since before the show commenced, the Tennessee-based cattle rancher took his sweet time to settle upon her. Still overcoming his divorce, he was cautious about choosing a partner and wanted to be with someone willing to be more than just a temporary girlfriend. That said, Khelsi showed constant dedication to Allen throughout the season and even became his first kiss. However, this was followed by him kissing Cassidy Jo and going on a date with her, causing significant tensions between him and the Georgia native.
Regardless of their conflict and impending troubles, Allen chose Khelsi over others in the debut season's finale, and the couple walked out as one in the end. But sadly, they are not together anymore, and their trust issues seem to have caught up with them. Though Allen was the first to announce on Instagram that he and Khelsi have split up, she has largely remained mum on the issue. Nevertheless, she officially confirmed the breakup while interacting with fans on her Instagram posts. Replying to a fan's comment about them being a couple or not, Khelsi stated, "No, ma'am, we are not, I was trying to be respectful of the time we did share and tell our story a little later…"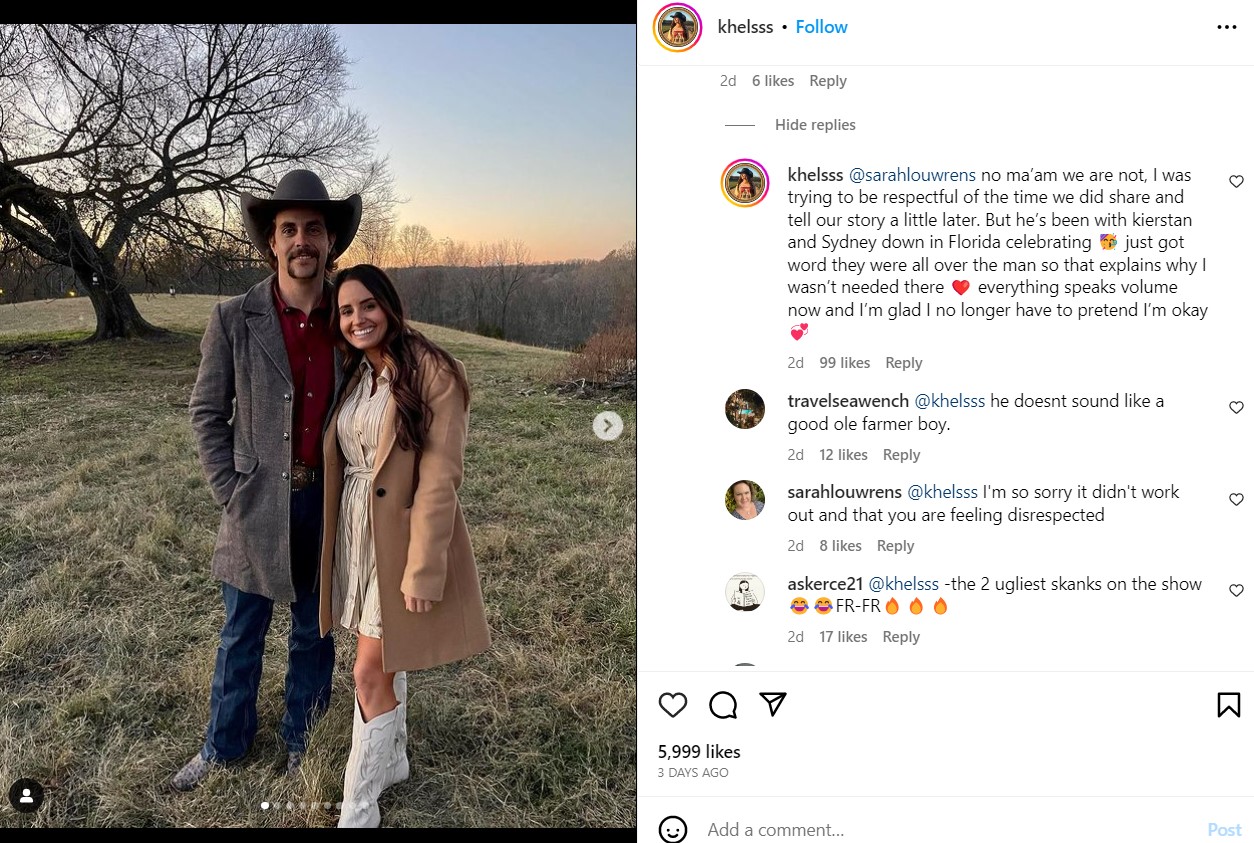 Khelsi further shared that Allen is reportedly in Florida spending time with castmates Kierstan and Sydney and has even claimed in comments on another Instagram post that she felt used by him. While she has made her bitterness toward him clear, she is focused on herself now and excited about her upcoming podcast 'Off the Farm with Cass and Khelsss' with castmate Cassidy Jo. Furthermore, Khelsi hopes to find the love of her life soon and has requested her fans for some time before she opens up about her fallout with Allen. Though he has gone under the radar for the moment, it is yet to be seen how things transpire between the former couple.
Where Are Hunter Grayson and Meghan Baker Now?
31-year-old Hunter Grayson and 23-year-old Meghan Baker from Midland, Texas, took time to open up to one another, but once they clicked, their connection lasted throughout the debut season. Sadly, they faced a big challenge when Meghan had to leave midway through the show after her grandfather passed away. Though Hunter began losing hope of seeing her again, she surprised him by returning for the finale, and he chose her over Sydney, proving their commitment to one another. Readers shall be delighted to know that Hunter and Meghan are still happily together and enjoying every moment in each other's company!
In fact, in a May 2023 interview with Southern Living, the couple shared how hard it was for them to keep their relationship secret since filming ended in November 2022 up until the finale was aired. Moreover, Hunter divulged that they struggled to maintain a long-distance relationship at first, as they lived 16 hours away from each other. Thankfully, they managed to surpass all odds, and Meghan has even moved back home to Tennessee to be nearer to him. "That was tough. It really was. Because you're trying to start that new relationship together and build that bond, and it's hard… There's a lot of distance there. But we've made it work, and I think I can say that we're better now than we've truly ever been," said Hunter.
The Georgia native also expressed relief at freely going out on dates now that the show has ended. Meghan elaborated on this in another interview with Distractify, revealing, "I'm glad it's over… Because it's been six months since we left the farm that [we haven't] been able to go out in public. We haven't been able to go and have a nice dinner together. So now that it's over, I hope he has a nice date night planned." For now, the pair is excited to explore their relationship at their own pace, and we wish them all the best!
Read More: Is Farmer Wants a Wife Scripted or Real?