Swedish development studio MAG Interactive took the mobile gaming world by storm with the launch of Ruzzle, an overnight success that was published in the Apple App Store in 2012. The game was heavily inspired by some of our favorite board games like Boggle and Scrabble and it's one of the best ways to kill some time while you're on your way to work or want to take a break. Today we'll take a look at some of the other hidden gems that you can check out if you love games similar to Ruzzle. You can play these open world games like Russle for PS4, Xbox 360, Xbox One, iPhone, mac or even online.
16. Crossword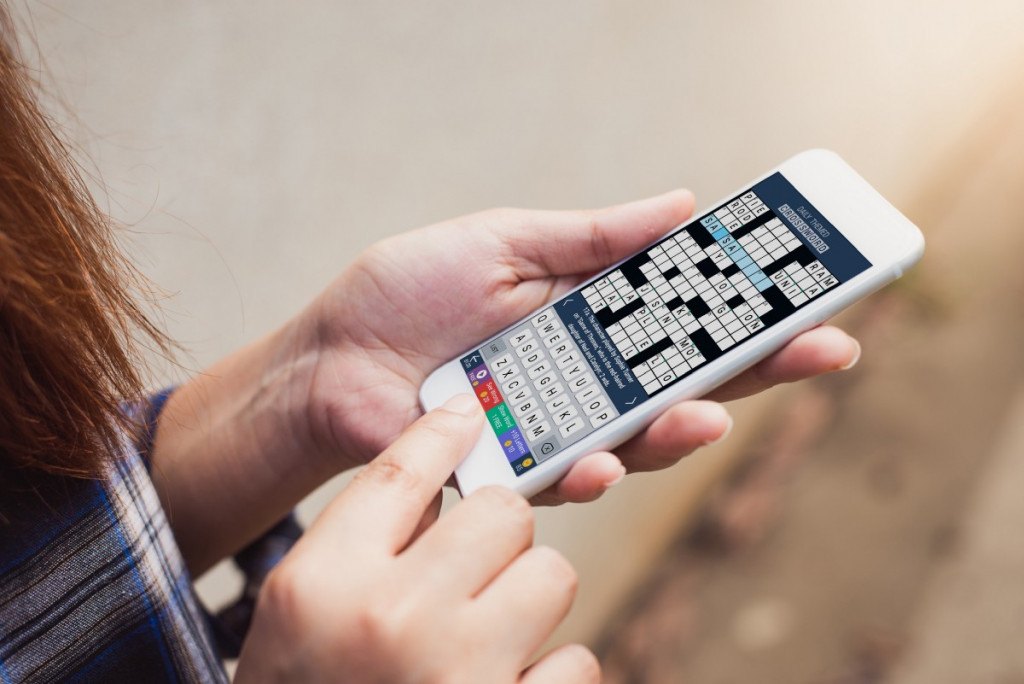 Nothing beats good old crossword puzzles if you're looking for word games. It is one of the most popular word games in existence and the game has been around long before smartphones were even a thing. While very few of us still might be interested in solving them in the daily newspapers, you can always have fun with a round of crosswords on the go. Crossword is available on Android and iOS and there are multiple difficulty levels to choose from. There's an ad-supported free version as well as a paid version that you can try out.
15. Hangman Free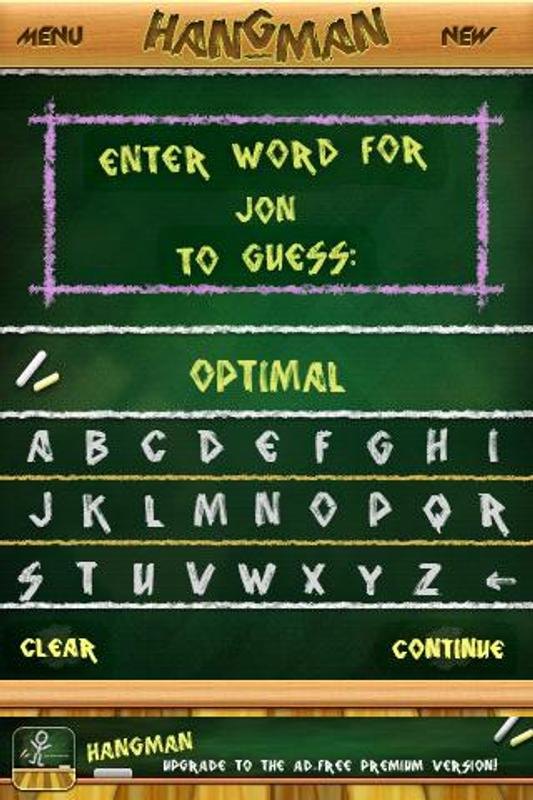 Hangman Free is yet another classic word game that many of us played during our childhood. Despite it being such a simple game, things can get really tense when you have just one letter left and just one leg away from losing the round. It's up to you to save the virtual stickman on your smartphone from drowning! There are various difficulty settings that you can tinker around with and a number of word categories to choose from. It is also a great way to spend time with friends as it offers a two-player mode where you and your friends can guess the right words and compete with each other to score the most points.
14. Words with Friends Classic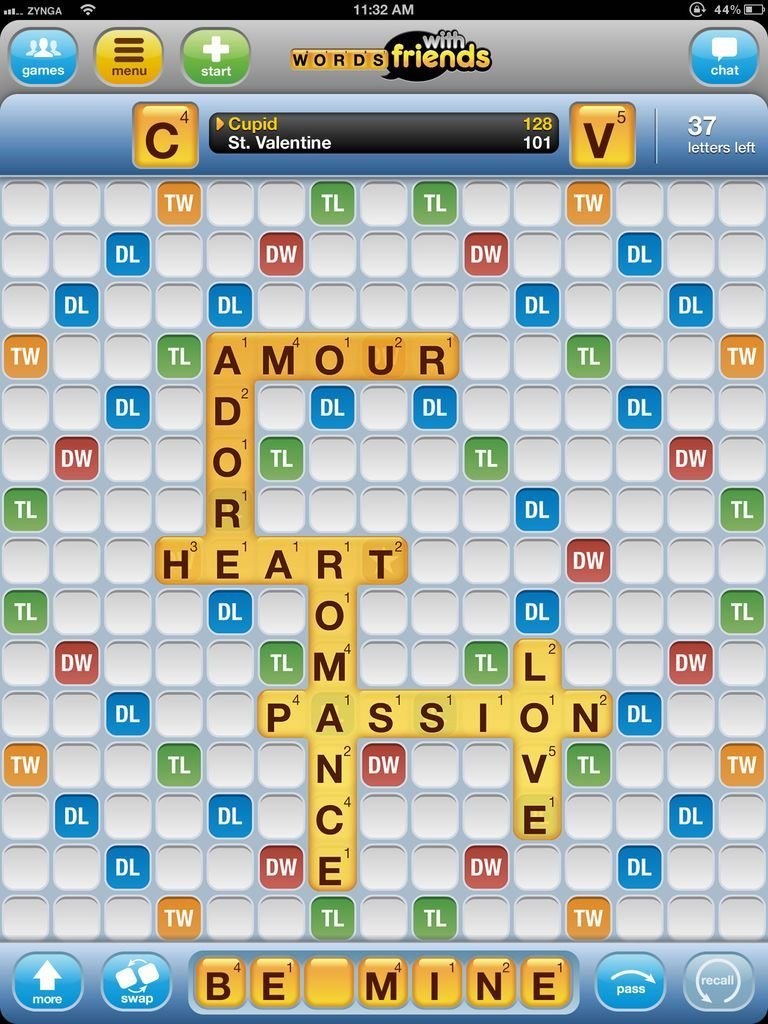 Words with Friends was one of the most popular word game until games like Fortnite, Hearthstone, and PUBG came alone. While modern-day smartphones are much more capable and run games that are graphically demanding if you want to take a step back and want to relax with friends simple games like these are far more fun. The game is very similar to scrabble, and you can compete with friends to see who can rack up the most points by special tiles and racking up points. WWF Classic allows you to play with anyone you want regardless of their platform.
13. Word Connect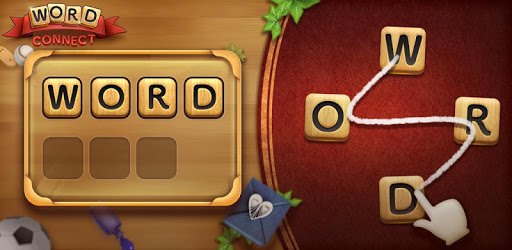 Word Connect is a puzzle game that involves creating as many words as possible using a few given letters. As you progress through the levels, the game keeps getting more challenging. It is a great way to improve your vocabulary while having fun. Once you finish a chapter, you get access to coins that you can use to buy hints. It is a very relaxing game as there are no time limits and you can play at your own pace. The game is supported by ads but they never get in the way of your gameplay experience. You can also buy bonus coins if you are stuck to get extra hints but it makes the whole ordeal far less challenging.
12. Four Letters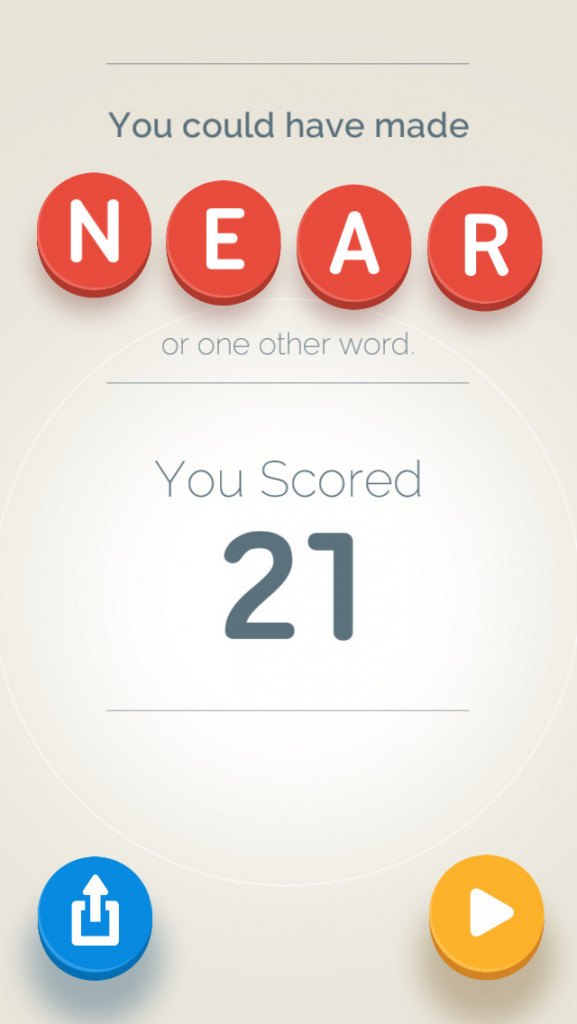 While the premise of Four Letters might make it look like a simple game, it is not. It happens to be one of the most intense word games out there despite the rules being so simple. You need to create words using four letters and every time you are successful you need to do it again. With a limited amount of time available to clear each puzzle, you need to finish them as quickly as possible. The game has nearly 2,500 words that you can complete. There is also an achievement system built in to keep players engrossed and work towards completing the challenges.
11. Wordmint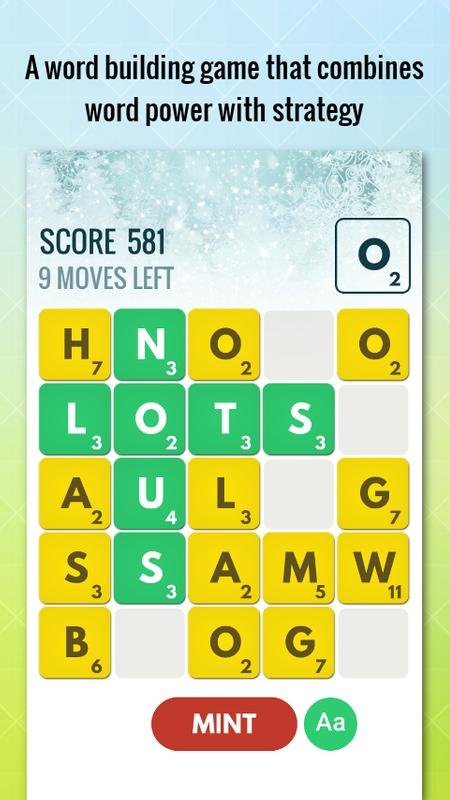 Wordmint is another fast-paced puzzle game that you should check out if you like Ruzzle. A number of random letters are presented on-screen, and you need to move the tiles around to form words. It is essentially Scrabble, but you also get to cross words with each other to earn bonus points. You can either play at your own pace or a movie-based game mode which is much more challenging. If you are looking for something that is intense and helps you kill time, Wordmint is the right choice for you.
10. WordBrain
Unlike many other games on this list that require you to play with friends, WordBrain is the perfect game to play alone. There are no complicated rules involved, and all you need to do is swipe through blocks of letters to form words. However, despite its simplicity, it can get very challenging at higher levels. There are various themes to choose from so you can play with words you are more comfortable with. One of the coolest features of WordBrain is that you can create your own puzzles and share it with friends. When it comes to monetization, it's an ad-supported free game, but the ads are not intrusive enough to affect the gameplay experience.
9. Wordscapes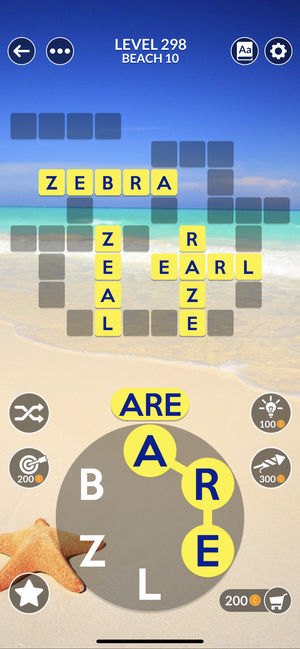 Wordscapes offers fill-in crossword puzzles but in a far more intuitive fashion. Instead of having to enter each letter using your keyword manually, all you need to do is swipe the letters that appear on-screen to form words. You can also get bonuses for finding words that are not part of the puzzle to get extra coins.
8. Word Search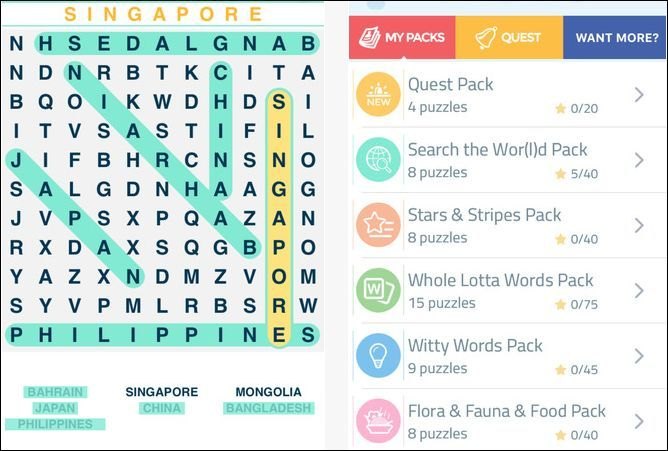 Word Search is a very simple game that allows you to cross out words from a grid of letters. Just like many other word games, you can earn coins for getting hints throughout the game. These hints are very useful if you are stuck and want an easy way out. The game also throws in some hints if you are unable to figure out solutions which makes the games far more accessible to beginners. The game gets more complex over time as taking too much time will cause some letters to disappear. The game is monetized using ads but they appear only between puzzles and are not obtrusive.
7. Word Cookies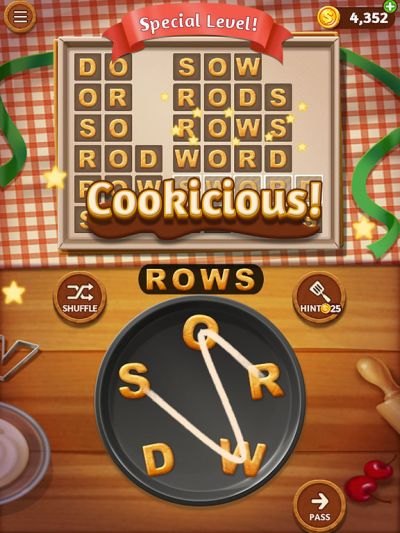 If you are looking for a word game like Ruzzle, Word Cookies is a great option for you to try out. It is a single player game with highly intuitive controls. You can simply swipe your finger around all the letters on screen and you will be able to form words. Each time you beat a level, you get to unlock more words which makes the game offer a sense of progression. Word Cookies receives updates frequently to add even more words to the game to keep things fresh for the players. The game has an ad-supported free version as well as the option to remove ads for a one-time payment.
6. Alphabear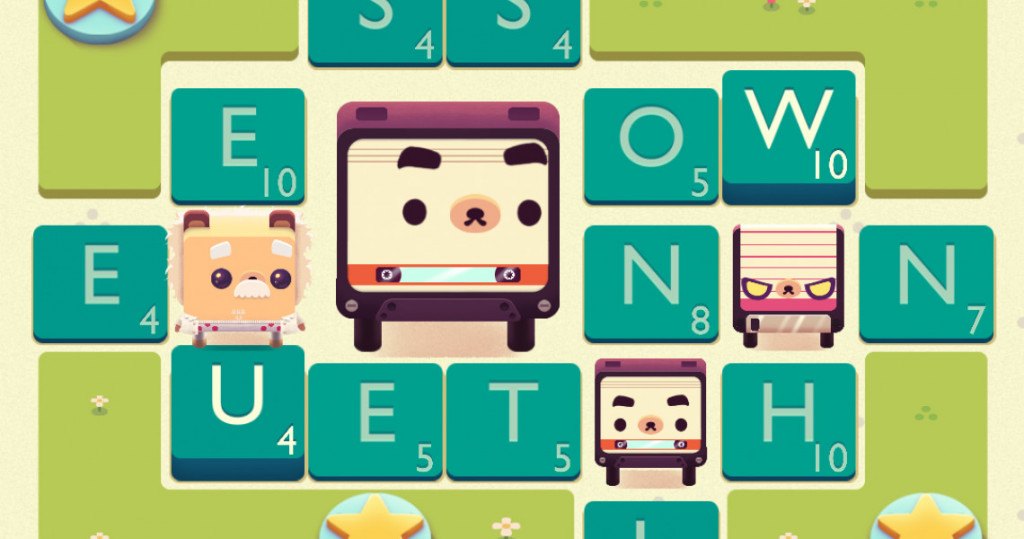 Alphabear starts you off with tiny bears that will grow as you keep clearing the game. You will get access to grids of letters that you need to rearrange and score as many points as possible. The game as point system similar to what we see in scrabble but there's a catch. You will have access to a limited number of turns until the letters expire so you need to be creative and quick if you want to score the most points. If you don't use some letters, your bear will be unable to grow and get blocked. Alphabear also offers a co-op game mode where you can play against your friends and compare scores. The game makes use of its own dictionary that is constantly growing with new words.
5. God of Word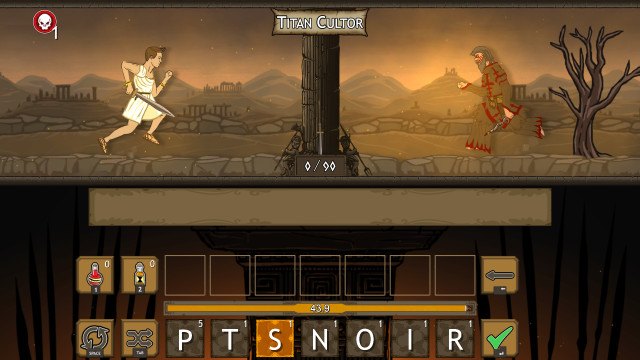 God of Word offers a unique take on how classic typing and word games are played. There game mixes classic games with Greek mythology to offer a unique gameplay experience. God of Word is available for PC and Mac Users and it puts you in charge of impressing the Gods of Olympus themselves. It is up to you as the Apprentice of Hermes to re-enact some of the biggest events in Greek mythology. There are some boss battles as well, which are essentially much tougher levels that will require a fair bit of typing skills and vocabulary to crack. You also progress through levels to unlock achievements and skills that you can use in-game. One of the best things about God of Word is that you are not limited to English. You can choose from a number of languages that you might be comfortable with, which is great for non-English speaking users.
Read More: Games Like Ark
4. Highrise Heroes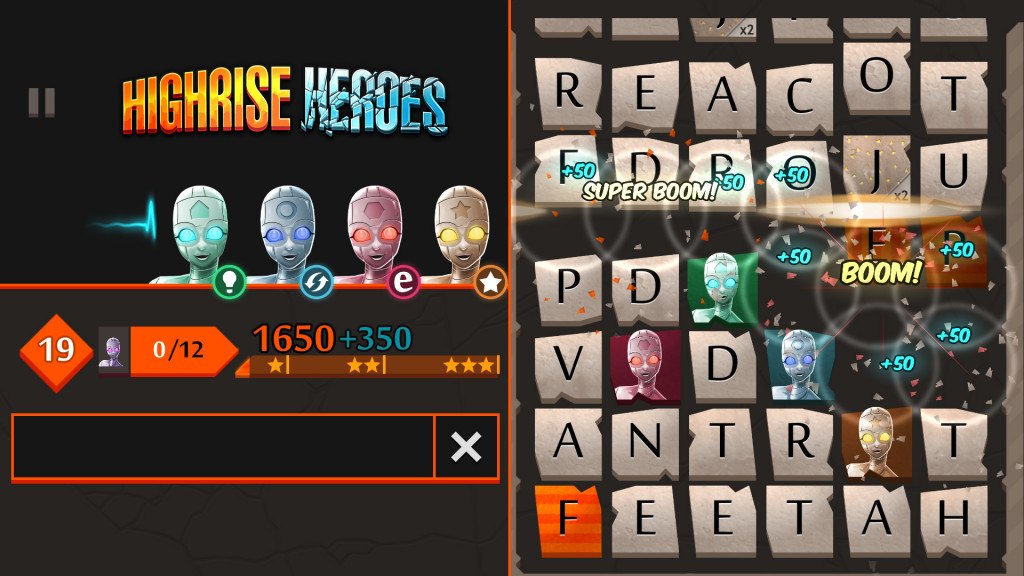 Highrise Heroes is a towering word game that is available on both mobile and PC. From the developers of the Quell puzzle trilogy, Highrise heroes is an intriguing word game that offers over 90 engaging levels. All of the levels take place in a crashing skyscraper, and it's your job to identify the right words to rescue everyone in the building. Unlike other words that allow you to identify any word you want, you need to be more strategic with your approach when playing Highrise Heroes as missing a single move might mean that you fail to save someone. The more people you manage to save the higher your score is to compete against other players globally.
Read More: Games Like Tetris
3. sWORD Master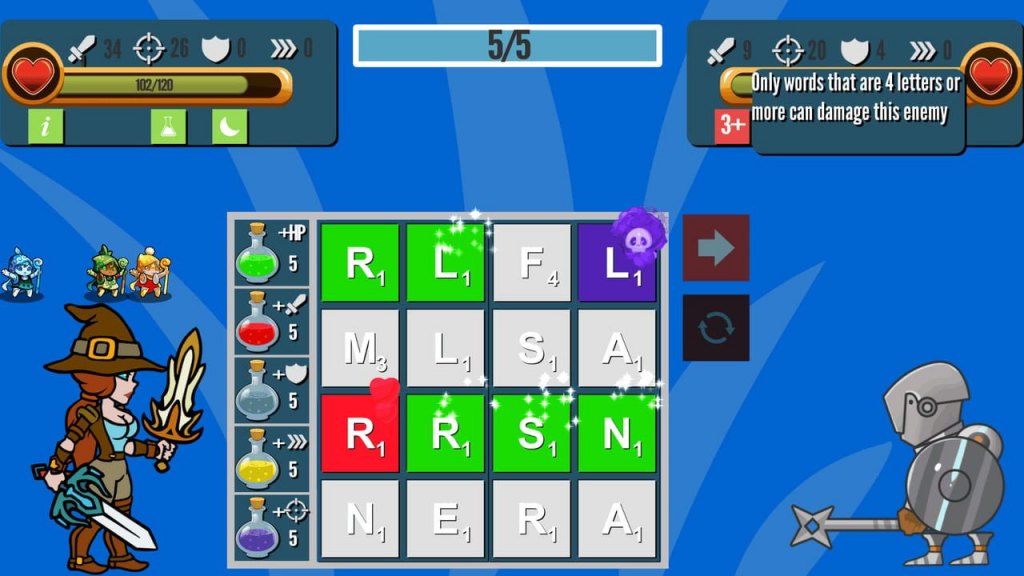 sWORD master is a spelling game that offers multiple unique game modes for you to try out. The adventure mode is something you can explore at your leisure with a number of unique levels presenting new challenges to you. You can also go back to older levels in case you did not clear them perfectly, so you have a better shot at later levels. You get a nice difficulty spike as you keep progressing through the levels, so you are definitely going to be up for a challenge. For every 5th level that you unlock, you will get a fairy to accompany you on your journey and offer in-game items to help you in case you get stuck. You can also level the fairies up twice to boost their capabilities. Even though the game is fairly simple at its core, the developers did a good job of mixing things up into a story and making a simple game full off RPG-like mechanics that you will love exploring.
Read More: Games Like Counter Strike
2. Word Wonders: The Tower of Babel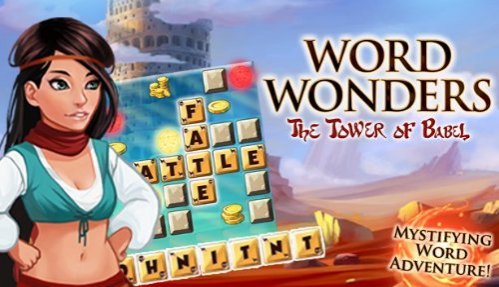 You are thrown into a world where the art of speech has been lost, and it is up to you to rediscover it by uncovering various mysteries. There are fifty unique stages to explore that you can clear using word puzzles and each level has unique and challenging monsters. The story is set in the universe of 1001 Arabian nights, and there are some lore elements from the universe as well. You have access to special magical items that you can combine using the alchemy menu to create even more powerful items. The game has three unique difficulty modes that not only make things harder or easier but also offer exclusive gameplay rules to shake things up for you.
Read More: Games Like Rust
1. Scribblenauts Unlimited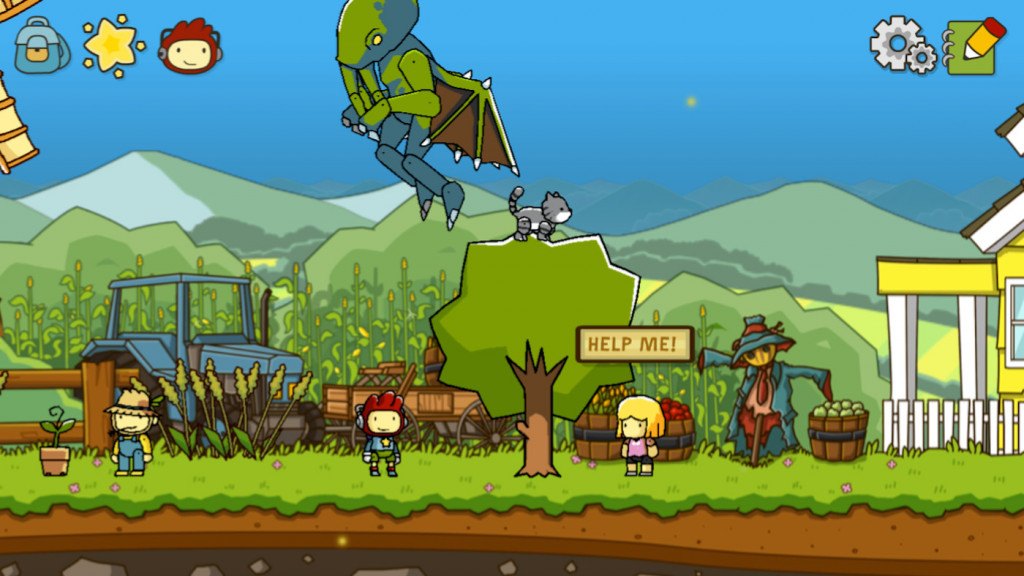 When it comes to word games, nothing beats Scribblenauts Remix. The original Scribblenauts made word games seem like the most fun thing to do for millions of players and its sequel is no different. Admittedly, the game does borrow a lot of the gimmicks from the original game but there is a lot more polish and the puzzles feel much more balanced. There are hundreds of word puzzles for you to crack this time around and the gameplay feels very refreshing. Even if you skipped the first game you will feel right at home and the sheer amount of content that the game throws at you will keep you hooked for dozens of hours. You have to solve every mission using on-screen clues and it is up to you to jot down the right words to keep progressing through the game. It is a title that mixes mystery solving elements and word games into a brilliant package. The game is available on a wide range of platforms including PS4, Xbox One, PC, 3DS, Wii U, Android and iOS.
Read More: Games Like Limbo