Cheerleading is immediately connected to the American high-school typical life we see in the movies, which makes sense as that's exactly where it comes from and where it will always stay. The drama and competition between the colourful-outfitted girls waving their pompoms never ceases to entertain and makes the accomplishment of a winning contest simply the better. However cheerleading isn't just about this balance between fun and excitement and stress and concentration, as movies often involve darker themes into this light-hearted subject (we'll soon see that this is not only found in the fictional world of film).
So, although cheerleading movies are often portrayed by typical, cliché storylines with stereotypical teenage characters, we still have a chance at finding the individuality these films bring to the list, by having a look at these top cheerleader movies ever made. You can watch some of these best cheerleading movies on Netflix or Hulu or Amazon Prime.
12. Gotta Kick It Up! (2002)
A great boost of entertainment for the younger generation perhaps, or simply for a very cliché evening with the family. "Gotta Kick It Up!" is a Disney Channel original movie and contains pretty much the typical story of teenagers battling to find themselves and give their best at the cheerleading competition. These Latina cheerleaders are coached by their new Biology teacher who makes them believe in themselves and change for the better. It's fun and entertaining, maybe not for every audience, but for whoever's looking for a Disney-like very easy and innocent watch that includes inoffensive cheerleading, this might be the one.
Read More: Best Robot Movies of All Time
11. Cheerleader Camp (1988)
This comedy horror takes a twist in the high-school cheerleading competition and turns it into a murderous massacre where the characters are hunted down by an unknown killer. It all starts when a group of cheerleaders drive to a cheerleading camp for a contest. Although not very much thought-out and lacking some quality elements in all its departments, it is still a fun film to watch for its older generation of cheerleading themed-genre. Originally called "Bloody Pom Poms", it's silly and overseen however it doesn't stop you from following it with tension and suspense, as the thriller aspect works quite well.
Read More: Best Rainy Days Movies of All Time
10. The Cheerleaders (1973)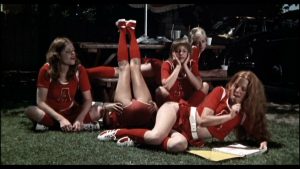 "The Cheerleaders" is the oldest film on this list and funnily enough, perhaps also the most controversial or at least daring one. It could be seen as an older version of the American Pie style of films as its central ongoing theme of sex is used in a comedic way, that ends up being nothing more than an innocent, light-hearted comedy. It follows a group of high-school cheerleaders who decide to sleep with the opponent football team in order to suck out all their energy the night before the big game. Pretty original idea, let's see how that went down!
Read More: Best Religious Cult Movies of All Time
9. Ready? OK (2008)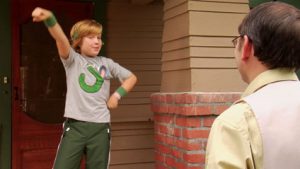 "Ready?OK" takes on another perspective on the cheerleading theme. Here, it's not the typical teenage girl who dreams of becoming part of the high school's squad but instead this film talks about a 10-year-old boy named Joshua who's aspiration is to be part of the cheerleading team, instead of the school's wrestling group. His difference and uncommon interests become struggles for his single mother who tries to accept him the way he is. This low-budget film is a great watch for some innocent comedic laughs created by a great script and even greater performances by the actors.
Read More: Best Nuclear War Movies of All Time
8. Fab Five: The Texas Cheerleader Scandal (2008)
Based on real life events, this film follows a squad of five cheerleaders who become notorious for their inadequate and disrespectful behaviour within the school's premises. Accustomed to get what they want and get away with every indecency they commit, these girls have the world under they're spell up until the moment a new cheerleading coach arrives at the school and decides to set them up straight. A very entertaining film with great actresses playing characters you'll hate. Think of it as Mean Girls levelled up to another extent.
Read More: Best Movies About Alcoholism of All Time
7. Bring It On: All or Nothing (2006)
After the success of the classic cheerleading film "Bring It On", this one was followed by numerous sequels in which different actors play different characters, however always in the same high-school cheerleading setting. This 2006 film is the original's third sequel and takes on the same style in the world of competitive cheerleading. However, the story is a little different as it follows how Britney Allen (played by Hayden Panettiere), the popular cheerleading captain of Pacific Vista High School is forced to move schools into a neighbourhood where all she is, is the "white girl". However after proving her skills at the cheerleading try-outs, she's accepted in the new team and must now compete against her old school's squad. Fun and exciting, it includes the performances of Solange Knowles and Rihanna.
Read More: Best Haunted House Movies of All Time
6. The Positively True Adventures of the Alleged Texas Cheerleader-Murdering Mom (1993)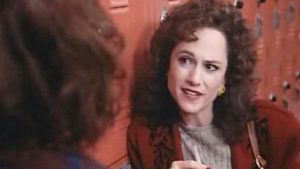 Well, cheerleading has never been so dangerous as it is in this very-long-titled film. It tells the story of a Texas-residing woman who projects her stolen dream of becoming a cheerleader as a teen onto her young daughter Shanna. However after long and hard trainings, the poor teenager keeps failing at the cheerleading try-outs as opposed to her friend and neighbour, so the mother decides to hire a hitman to kill both rivalling mother and daughter, thinking this would raise the chances of her own child to be successful. The craziness in this story though, is that it's based on an actual real-life story. Pretty creepy, yes, however this is a comedy so don't be afraid to jump right into this HBO production.
Read More: Best Adolf Hitler Movies of All Time
5. Sugar & Spice (2001)
"Sugar and Spice" is a really entertaining watch that mixes crime and theft with high-school drama and cheerleading (of course). After one of a 5-girl-cheerleading squad becomes pregnant from her boyfriend and desperately needs money to support her new life, the group decides to plan a bank robbery with rehearsing and preparation. You've got a great bunch of actresses which include the legendary blonde of American Beauty Mena Suvari and the hilarious James Marsden and Marley Shelton. Fun, creative and simple it's all you need for an easy-going, enjoyable cheerleading comedy.
Read More: Best Airplane Hijack Movies of All Time
4. Fired Up! (2009)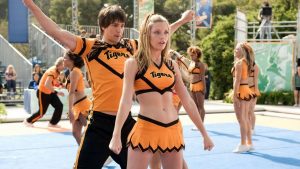 Get ready for a girl-stacked film, literally. When two popular high school guys decide to ditch football and join a cheerleading camp for the summer, girls are all they will see in front of them day and night, and not just a few but around 300 cheerleading females training for competition. However one of them might find himself entangled in feelings he didn't see coming. An easy and light-hearted comedy enjoyable to all. It doesn't miss a few pretty hilarious moments worth watching.
Read More: Best DreamWorks Movies of All Time
3. Death of A Cheerleader (1994)
It's strange how many of the films on this list have been based on real life events. Although supposedly cheerful, positive and energetic, cheerleading's competition and jealousy often overcomes the entertainment and does bring the worst out of people. "Death of A Cheerleader" is inspired by the murder of Kirsten Costas, as it follows the life of Angela, a quiet sophomore who dreams to become popular and naturally, a cheerleader. This will lead her to an uncontrollable jealousy over the exact girl she wishes to become : Stacey Lockwood. And as has been revealed, this jealousy will unfortunately turn to murder. Although containing a story that we've repeatedly heard and seen before, it approaches the subject delicately through a subtle and very well-crafted character development. Not to mention the talented Kellie Martin in her great lead role performance.
Read More: Best Sci-Fi Horror Movies of All Time
2. American Cheerleader (2014)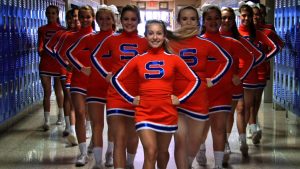 "American Cheerleader" is a documentary that follows two different and opposing cheerleading teams training and preparing for the National High School Cheerleading Championship title. It tells the story of the dedication and full commitment these girls put into the sport and brings the audience at centre stage of these highly competitive American contests. Really interesting for its subject already, this documentary takes on an approach that leaves the audience entertained and empathic towards the cheerleaders. A great watch to get right into the core of what cheerleading is all about.
Read More: Best Black Comedy Movies of All Time
1. Bring It On (2000)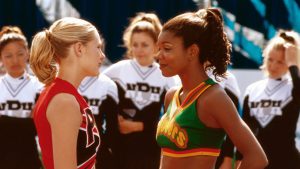 Naturally, one couldn't forget the classic of the classics when talking about "cheerleading movies". This one has got it all, from the teenage high-school conflict and flourishing romance, to the energised dance moves and colourful outfits. With Kirsten Dunst and Gabrielle Union as two rivaling cheerleading captains, both looking to win the National Championship, "Bring It On" is fun, eventful and full of comedy to please its watchers. Just like many of the financially successful teenage films, this one also went to become a predecessor for 4 other sequels that follow the same style, yet bring new characters and stories into the game.