DreamWorks Studios was founded in 1994 by Steven Spielberg, Jeffery Katzenberg and David Geffen (together SKG), of which they owned 72%, in association with Universal Pictures. The studio since then has produced or co-produced several blockbuster movies, most of them made under the directorial command of co-founder Steven Spielberg. The studio also ventured into animation genre until they spun-off DreamWorks Animation Studios in 2004. Majority of films produced by DreamWorks have been a major critical and commercial success and won numerous accolades. 12 of the studio's films have either won or been nominated for an Academy Award for Best Picture. The studio has partnered with Universal Pictures, Paramount Pictures, Reliance Entertainment and is currently in association with Amblin Pictures.
Here is a list of top movies produced by DreamWorks, which have left their mark in the industry and continues to stay in our hearts and minds for their amazing story, cast and characters. You can also watch some of these best DreamWorks movies on Netflix or Hulu or Amazon Prime.
1. Saving Private Ryan (1998)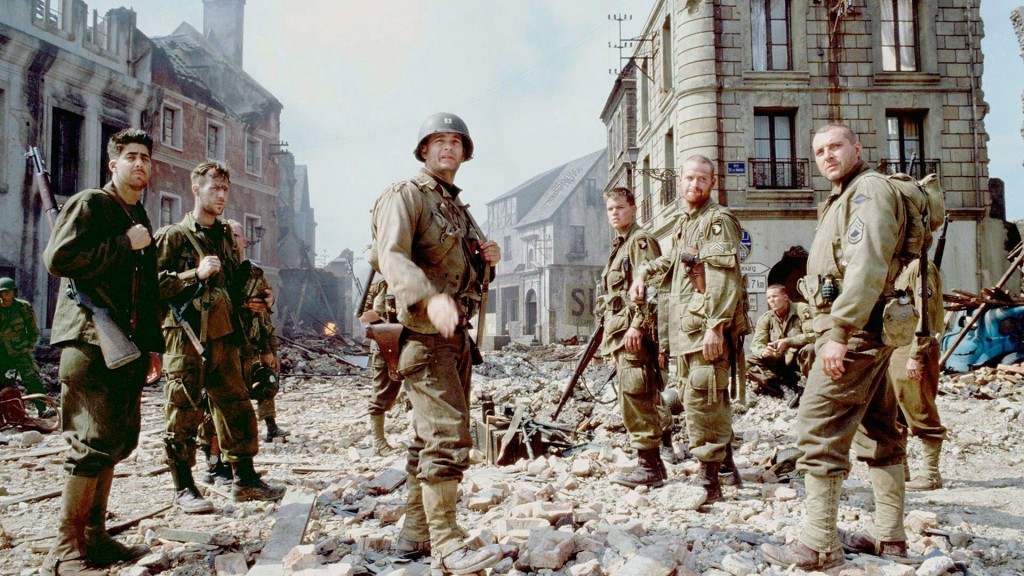 Set amidst the Normandy Invasion during WWII, 'Saving Private Ryan' follows a squad of US Army Rangers, led by Capt. John H. Miller, who search for a paratrooper Pvt. James Ryan, who the Chief Of Staff Office wants to send back home safely after his three brothers are killed in action.
Directed by DreamWorks co-founder Steven Spielberg, the movie was widely praised for its intense depiction of war-zone situations, realistic battle sequences and its epic, opening 27 minutes that depicted the massacre of U.S. Forces at Omaha Beach landings. Backed by an extremely impressive performance by Tom Hanks as Miller, the film redefines the war genre in a breathtaking manner which led to its preservation by National Film Registry, who deemed it "culturally, historically and aesthetically significant". Winner of 4 Academy Awards (out of 11 nominations), 'Saving Private Ryan' also starred Tom Sizemore, Barry Pepper, Giovanni Ribisi, Vin Diesel and Matt Damon (as Pvt. Ryan) in supporting roles.
Read More: Best Action Thriller Movies of All Time
2. American Beauty (1999)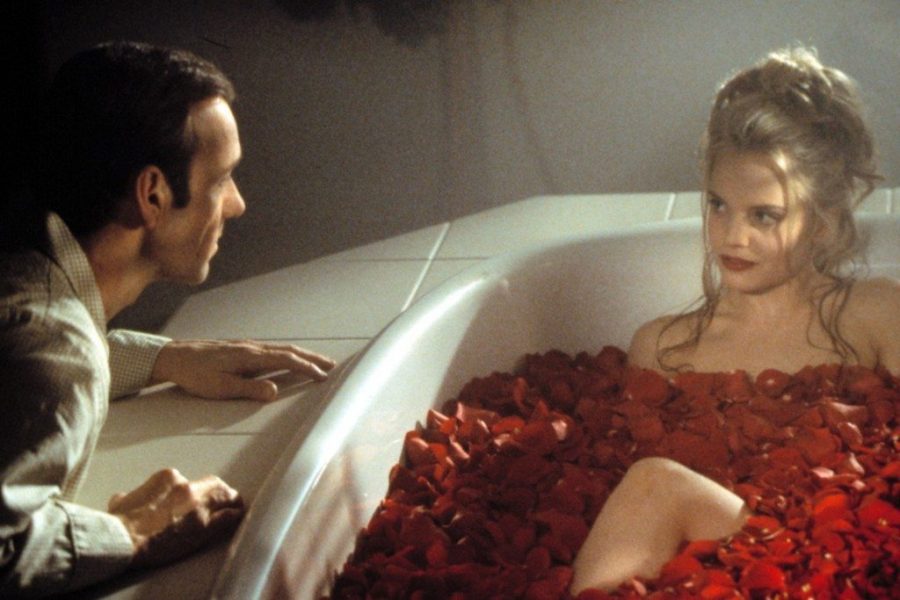 In 1999, DreamWorks produced and released 6 movies including Sam Mendes directed drama film, 'American Beauty'; a story penned by Alan Ball, about a 42-year old Lester Burnham (played by Kevin Spacey), who gets infatuated with his daughter's teenage friend Angela. The film, initially released only in North America, went on to achieve universal acclaim and became a major box-office hit. The film was majorly praised for Alan's script and Spacey's staggering performance. Critics also praised for the film's depiction of its characters through their sexuality and also the use of music for the narration of Lester's fantasies.
Studio expanded the film's release after its success in North America and it grossed $353 million worldwide against a $15 million budget. DreamWorks expensive campaign for 'American Beauty's' Oscars-run resulted in 5 Academy Award wins including Best Picture and Best Actor for Spacey. The film also stars Annette Bening (as Carolyn Burnham), Thora Birch (as daughter Jane) and Mena Suvari (as Angela) in leading roles.
Read More: Best Movies About Mermaids
3. Gladiator (2000)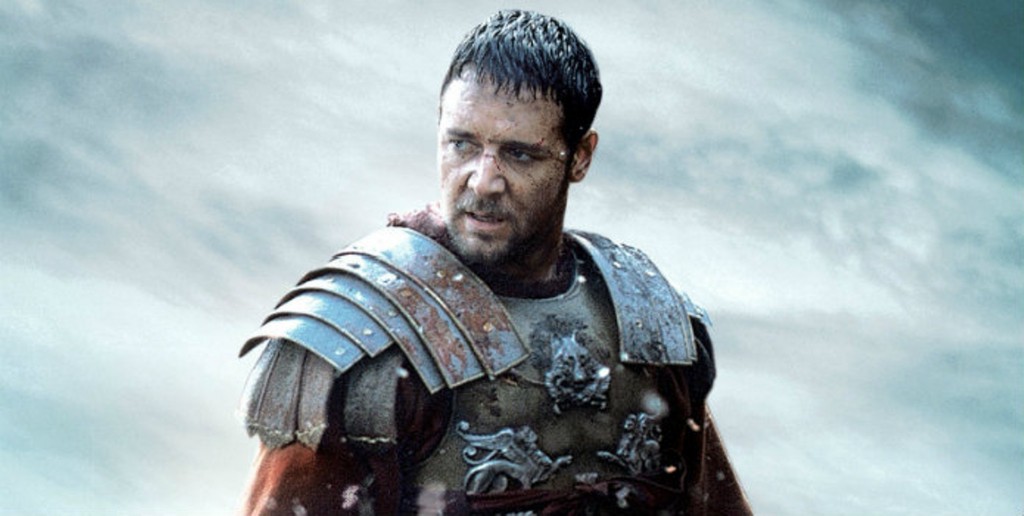 DreamWorks' first success in the year 2000 came with Ridley Scott's historical drama 'Gladiator'. The film follows a Roman general Maximus Decimus Meridius, who is betrayed by his emperor's son, Commodus, who seizes the throne after murdering his father. From the recreation of ancient Rome, the magnificent sets, and gladiatorial atmosphere to Ridley Scott's professionalism, splendid acting performances, and captivating storyline, there's nothing about the film that can be criticized even at a minimalist level. The film's amazing fight sequences, especially the opening battle sequence, where Maximus's true valor is displayed, is worth every praise.
The film was a universal success, both critically and commercially and was praised for its direction, screenplay, and acting. The film starred Russel Crowe as Maximus and Joaquin Phoenix as Commodus, while Connie Nielson, Djimon Hounsou and Oliver Reed (in his final role) starred in supporting roles. The movie went on to win 5 Oscars, including Best Picture and Best Actor for Crowe, however, Joaquin Phoenix's dazzling performance was snubbed.
Read More: Best Musician Movies of All Time
4. A Beautiful Mind (2001)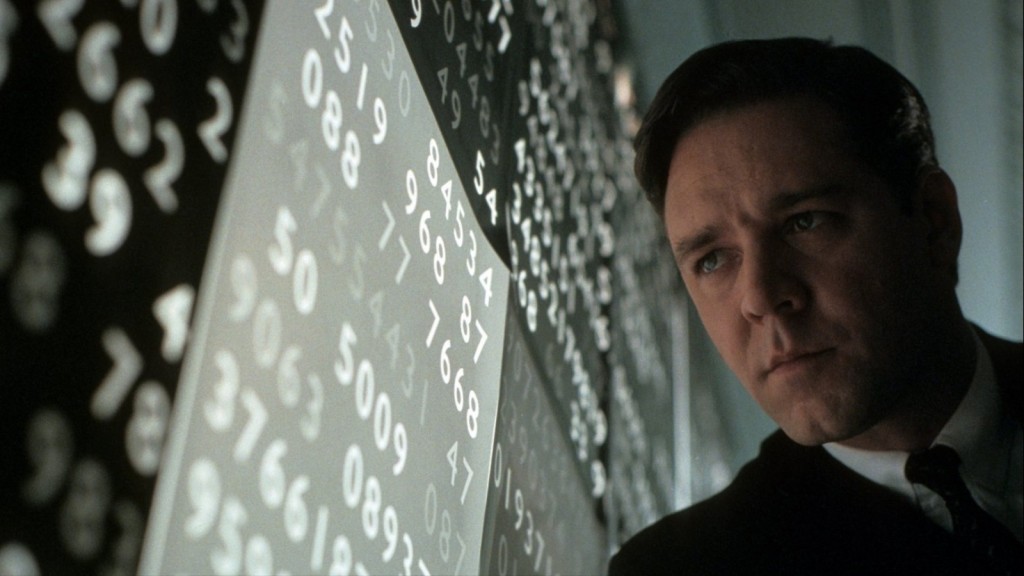 Co-produced with Universal Pictures, DreamWorks' 'A Beautiful Mind' was a biographical drama, based on the life of Nobel Laureate Sir John Nash. Covering Sir Nash's life from his earlier days at Harvard as a doctorate student to his Nobel Prize win, the film starred Russell Crowe (his second collaboration with the studio) as Sir Nash and was directed by Ron Howard (then famous for his fantasy features). The film also starred Jennifer Connelly as Alicia Nash along with Paul Bettany and Ed Harris in supporting roles.
The film was highly applauded for its compelling screenplay and direction, which perfectly penned the protagonist life and Crowe was praised for his elegant and exquisite portrayal. However, it was also criticized for altering Nash's story from the literal telling. But, still, the film was a commercial success and was nominated for 8 Oscars that year. The film won Best Picture, a hat-trick for DreamWorks (after previously winning for 'American Beauty' and 'Gladiator') and also won Best Supporting Actress for Connelly, Best Director for Howard and Best Adapted Screenplay.
Read More: Best Army Movies of All Time
5. AI: Artificial Intelligence (2001)
'AI' was the second film from DreamWorks, that were made under the directorial vision and command of the studio's co-founder Steven Spielberg. 'AI' was original to be developed in the 1970s by legendary producer-director Stanley Kubrick. However, Kubrick dropped the idea after realizing the lack of CGI technology back then and passed the project to Spielberg in 1995, which Spielberg himself paced only after Kubrick's death in 1999.
Based on a short story, "Supertoys Last All Summer Long", 'AI' is the story of David, a child android bot, who search for the mysterious"tooth fairy" who he believes can turn him into a human child. 'AI' is a lovely and amorous tale, that expresses a child's love for its mother, and the extent the character goes to get that love in the film shows how eloquent that love can be. The film was highly applauded by critics and was specially commended by Kubrick's widow, Christiane. The film also became a fair commercial success and earned 2 Academy Award nominations that year.
The film's success was a result of some splendid performances, especially by Haley Joel Osment, who continued to leave his mark as an actor following his amazing stint in 'The Sixth Man'. Osment was supported by Jude Law, and both paired perfectly to give Hollywood and fans this remarkable cinematic piece.
Read More: Best Cave Movies of All Time
6. Shrek (2001)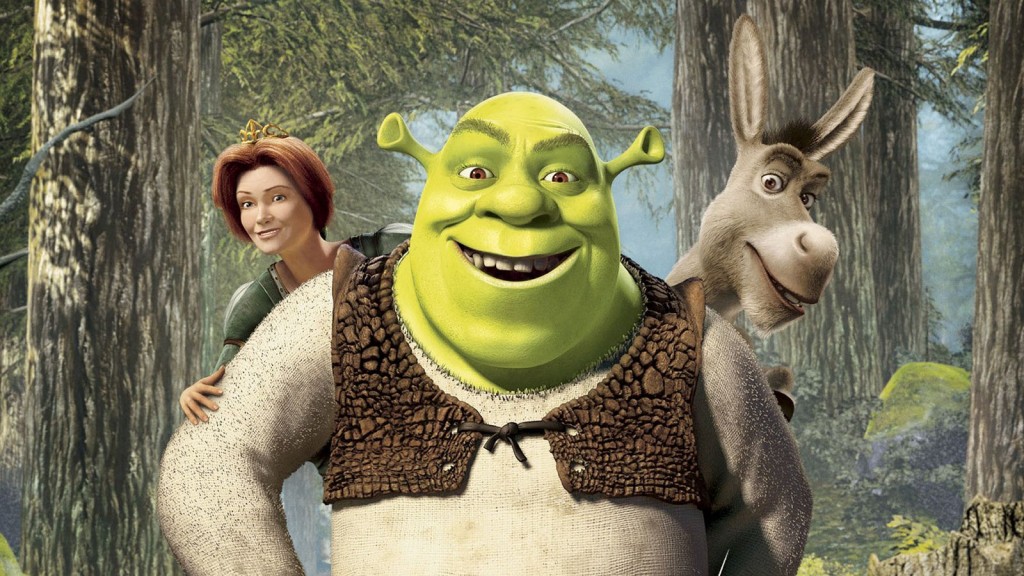 Based on William Steig's fairytale book, 'Shrek' was DreamWorks' first animated feature and was directed by then debutants Andrew Adamson and Vicky Jensen. 'Shrek' focuses on an ogre named Shrek, who finds his swamp overrun by various creatures. He makes a deal with Lord Farquaad to get him Princess Fiona and get his swamp back. Shrek voice starred Mike Myres, Eddie Murphy, Cameron Diaz and John Lithgow in leading roles.
The movie is well-known for its smooth and clean inclusion of fairy tales creatures and various cultural references, especially about Disney, and also a heart-warming message for the viewers at the end. Eddie Murphy was highly appreciated for his role as the Donkey and earned a BAFTA nomination for Best Supporting Actor. A real charmer, 'Shrek' successfully made its mark among Oscars jury and became the first ever film to win the Academy Award for Best Animated Feature.
Read More: Best Surfing Movies of All Time
7. Catch Me If You Can (2002)
Released in 2002, 'Catch Me If You Can' was based on the life of Frank Abignale Jr., a conman who committed financial crimes worth millions of dollars before he was ultimately arrested by FBI. However, his experience in cheque-fraud led FBI to hire him as an external help to catch forgers like him. For this enthralling cat & mouse chase, DreamWorks brought back director Steven Spielberg and Tom Hanks together for the second time, and this time joined them with then new famous face Leonardo DiCaprio in the lead. That alone is enough to state that the film was great enough to become a critical and commercial success.
'Catch Me If You Can' became a universal success, recording a $300 million profit via its theatrical run. The film's exploration of child troubles (Frank's parents gets a divorce in the film) makes you sympathize with Frank while also at the same time feel the same for Agent Carl Hanratty (played by Hanks). Though at the opposite ends of the line, Spielberg manages to establish a strong connection between Frank and Carl, which keeps the viewers captivated throughout the film. With movies like 'Jurassic Park', 'Jaws' and 'Saving Private Ryan' in Spielberg's filmography, this may not be his best film, but the cheerful acting performances and evocative story-telling makes it an enjoyable watch.
Read More: Best Movies About Teen Romance
8. The Terminal (2004)
Viktor Navorski from a nation of Krakozhia finds himself stuck at JFK Airport terminal after his passport becomes invalid due to a military coup back at his home. Once again, DreamWorks collaborated with co-founder Spielberg and Tom Hanks for this adorable comedy-drama. The way Hanks embraces his character in the film is really awe-inspiring. Along with Hank's sweet and loving performance, Spielberg's modest and sophisticated direction (unlike his previous films) makes the film more pleasurable to watch.
Apart from Hanks, the film is backed by Stanley Tucci's funny and at the same time cunning Frank Dixon and Catherine Zeta Jones's kind-hearted Amelia. In the two hours stretch of the movie, a slow and sound interest begins to develop in the viewer which turns the tale of a man living at the airport into a new kind of adventure.
Read More: Best Bowling Movies of All Time
9. Munich (2005)
Munich Olympics. A group of Palestinian terrorist infiltrates the Olympic village and take eleven Israeli athletes hostage and eventually murders them all. After the horrific bloodbath, Israeli government retaliated with Operation Wrath of God, led by Mossad Agent Avner Kauffman. Based on the real-life massacre, 'Munich' was adapted from the non-fiction book Vengeance; and once again Steven Spielberg has another epic cinematic piece at his disposal. His erudite experience, proficient skillset and beatific vision play a considerable and significant role in what becomes of this chilling tale of revenge and justice.
Eric Bana is the protagonist of this tale and he is much more than just good. His sincerity and dedication towards a character, which he first displayed in 'Troy' a year back, reaches a level high in this feature. He is supported by Daniel Craig, Ciarán Hinds, and Ayelet Zurer. The film received further acclaim during Academy Awards that year when it earned five nominations including Best Picture and Best Adapted Screenplay.
Read More: Best Monster Movies of All Time
10. Dreamgirls (2006)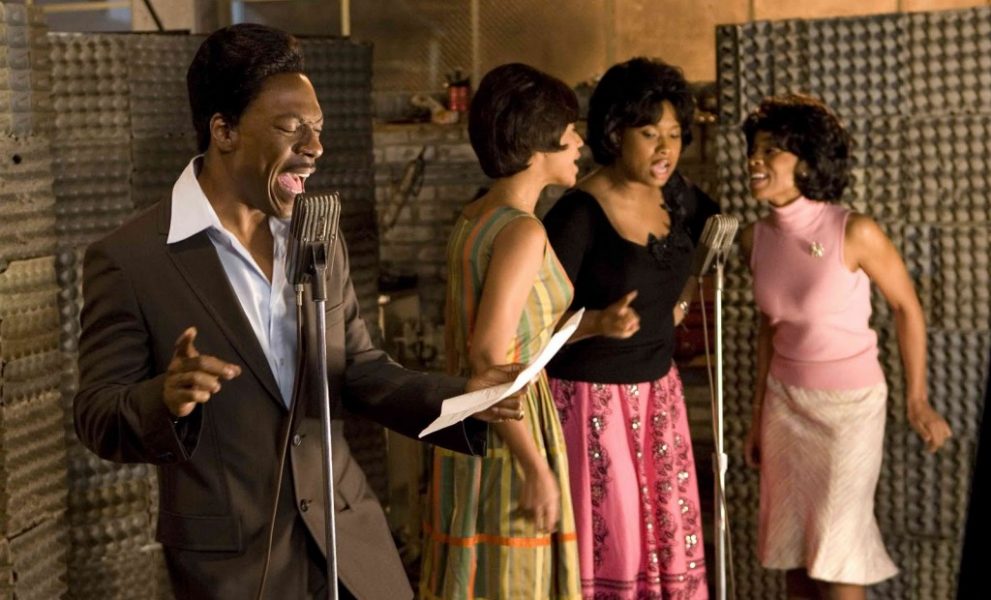 A stint in the musical film genre by DreamWorks Studios, 'Dreamgirls' is a story of a girl group, called Dreams, and their executive, who tries their luck in R&B music. Based on a 1981 musical, the film borrows inspiration from Motown Record Label and their act The Supremes.
Directed by Bill Condon, 'Dreamgirls' includes, Jaimie Foxx, Beyoncé, Jennifer Hudson and Eddie Murphy. The critics heavily praised the simple casting and how the film's musical numbers put the simple plotline on screen in a dazzling manner. It was also noted for its all-black cast and was the debut of Hudson, who was an American Idol finalist. The film's soundtrack topped the Billboard 200 in January 2007. The film won two Academy Awards, one of which went to Jennifer Hudson for Best Actress, and it also bagged the Golden Globe Award for Best Picture- Musical or Comedy.
Read More: Best Crossdresser Movies of All Time
11. The Kite Runner (2007)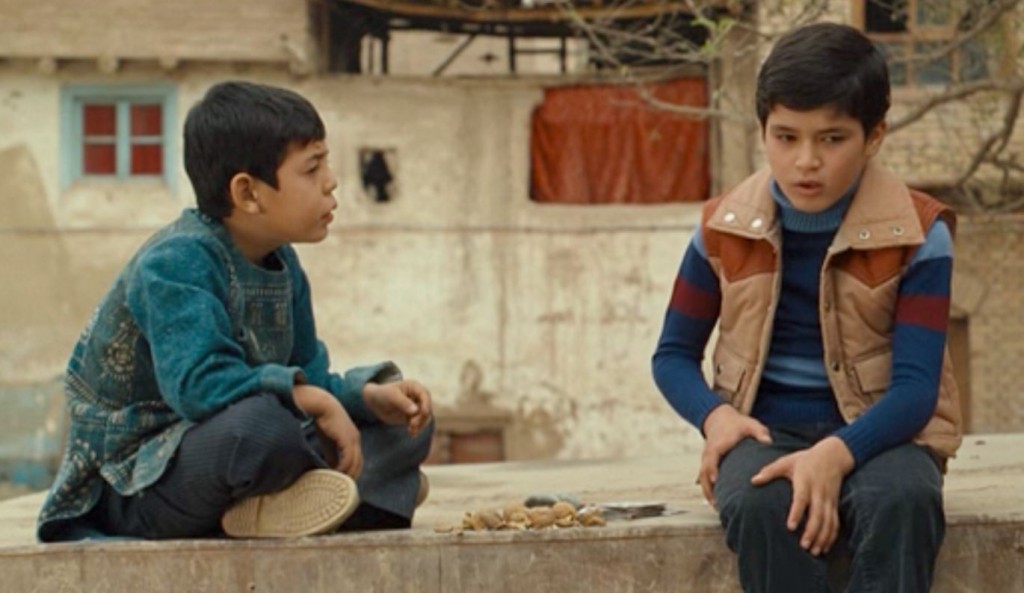 Based on a 2003 novel of the same name, 'The Kite Runner' is a story of Amir, an American resident from Pakistan, who goes back home in order to rescue his old friend, he abandoned years ago. Directed by Marc Forster (who later directed World War Z), the film's majority of dialogue were in Dari language. Though the film left out a lot of plot from the book, it was however praised for the pivotal story-line that was beautifully put on screen. Film's backdrop about the exodus of Afghan Refugees and U.S.A's situation with then Taliban Regime was quite accurately portrayed.
The film gained a lot of critical attention and was praised for its depiction of the theme of friendship in a new and eccentric manner, which though the book readers thought was not up to the mark. Nevertheless, it proved to be a worthy and watchable adaptation of the book and earned Best Foreign Language Film nomination at the Golden Globes and a Best Original Score nomination at Academy Awards.
Read More: Best Party Movies of All Time
12. Tropic Thunder (2008)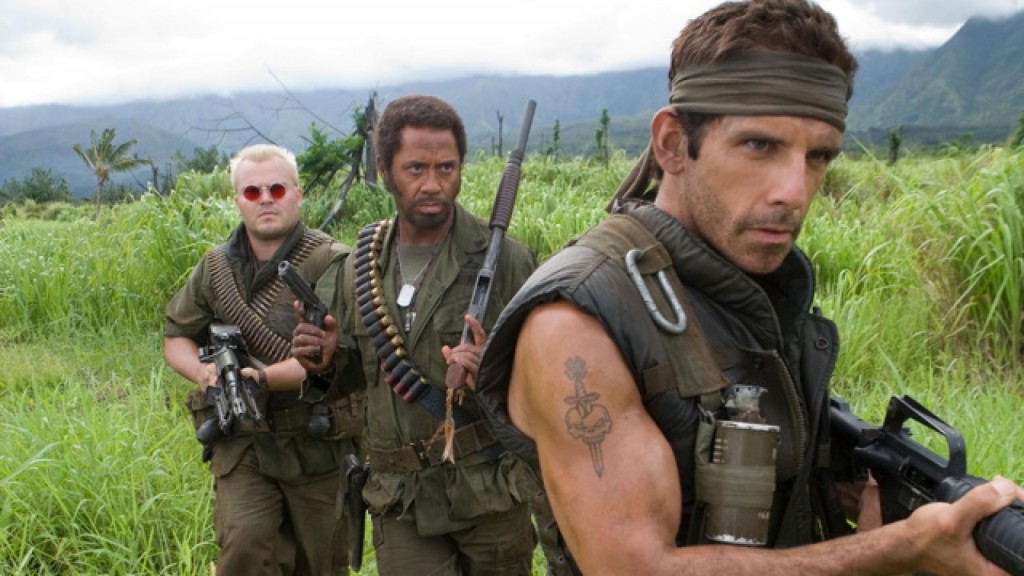 'Tropic Thunder' can be called as the first film in the genre of satirical comedy from DreamWorks.The film is about a group of actors and their film crew, who are trying to complete a film based on the events of Vietnam War. What happens during the course of the shoot is what makes you laugh your ass out throughout the film.
Directed by Ben Stiller, the movie is a complete package of laughter, humor, action and a "thunderous" cast. Ben Stiller stars as an actor who is trying to revive his career with the film and is hilariously failing at it. He is backed by Robert Downey Jr. plays a method actor, who goes to length to make his own character the best and Jack Black, a drug-addicted comic actor famous for some "tacky" but humorous roles. The lead actors are joined by Steve Coogan as the frustrated director, Danny McBride as the pyro-idiot and Tom Cruise in his most hysterical and hilarious role ever.
Ben Stiller's direction takes the plot of the film and divides it among the cast, and lead them ahead in the movie amazingly and keep everyone happy all the way long. You don't even judge the execution of the plot when you see such a bunch of terrific actors enjoying their part and they amuse the viewers in every second of the film. The film was a commercial success and critics poured positive reviews in its favor. Downey and Cruise were highly applauded by the critics. Downey earned an Academy Award nomination for Best Supporting Actor though he lost to Heath Ledger.
Read More: Best MMA Movies of All Time
13. War Horse (2011)
Based on a 1982 novel of the same name, 'War Horse' is a war-drama film, about Joey, a Thoroughbred horse, who is taken away from his owner and bought by British Army during WWI and records his experience and encounters with numerous people during the course of the war.
The movie was produced and directed by none other than Steven Spielberg, who is probably the only director capable of executing such a unique screenplay. The film was a huge success, for its story-line, the recreation of war-like atmosphere and visualizing its horrors through the eyes and perspective of a non-speaking character. The film also focused on the condition and emotions of war soldiers who no personal quarrel but stuck between a war going nowhere. The scene where a German and American soldier together helps Joey to get out of entangled wires is an epic sequence, leaving an over-whelming message for the viewers.
It was the first time, that Spielberg forayed in WWI story after he directed six WWII films and producing two other along with two mini-series. The film introduced Jeremy Irvine in his debut role, who Spielberg chose after months of auditions. The film also starred Tom Hiddleston, David Thewlis, Emily Watson, Benedict Cumberbatch and Toby Kebbell in supporting roles. The film was nominated for six Academy Awards including Best Picture but failed to win in any category.
Read More: Best Volcano Movies of All Time
14. Lincoln (2012)
After 'War Horse', which was set amidst WWI, DreamWorks and director Steven Spielberg ventured into American Civil War. 'Lincoln', penned by Tony Kushner focused on President Abraham Lincoln's attempts to have the Thirteenth Amendment of U.S. Constitution passed in the U.S. House Representatives. It also focused on Lincoln's personal life during the course of the debate and finally lead up to his assassination in 1865.
The film's lead protagonist was portrayed by actor Daniel-Day Lewis, who I'd say is the heart and soul of the entire film and no other actor could have done what he did with the character. His imitation of Lincoln was very authentic and literal, which can be easily observed in his voice, walking style and flawless acting and expressions. Daniel-Day Lewis was awarded an Academy Award for Best Actor, which made him the first actor to win in the category thrice. Lewis is supported by some hard-hitting performances by Sally Field, David Strathairn, James Spader and Lee Pace. 'Lincoln' is such a movie where a visionary director and an extremely talented actor very eloquently combines there gifts to create an epic cinematic piece, which will remain as an example among the industry and its authorities for years to come.
Read More: Best Submarine Movies of All Time
15. The Post (2017)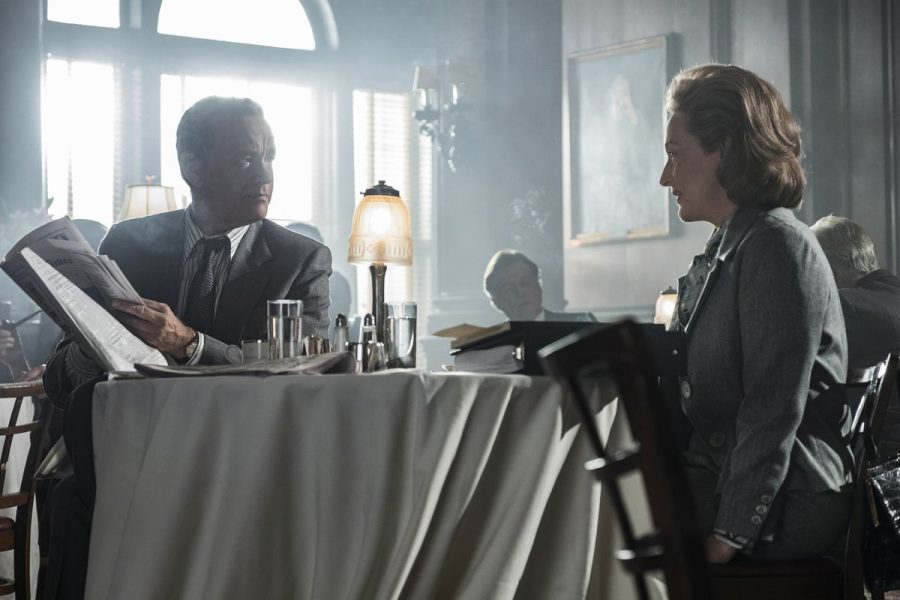 'The Post' is DreamWorks Studios' upcoming film about the leak of Pentagon Papers by the journalists of The Washington Post and The New York Times, which contained information regarding U.S. Government's involvement in the Vietnam War.
Though the movie is still set to release worldwide, its limited release has already created a buzz among movie lovers and had gnarred much critical acclaim from the critics and celebrities alike. The film brings back director Steven Spielberg and his longtime collaborator Tom Hanks along with Meryl Streep on board. So there are a lot of Academy Awards placed right there. The film received six nominations at the to be held Golden Globes coming year including Best Picture- Drama, Best Actor- Drama, Best Actress- Drama and Best Original Screenplay. A front-runner for Oscars, this is the film I am eagerly waiting for.
Read More: Best Anorexia Movies of All Time