Hallmark has a penchant for making movies that tug at our heartstrings and make us feel the deepest emotions in the most wholesome manner possible. 'Hearts of Winter' is an excellent example of such a film, as it takes us into the mind of a man who is unwilling to let go of his past, at the cost of a possibly beautiful future.
We meet Bethany, a designer and lifestyle expert. She is somewhat of a local celebrity, who announces a home makeover contest. This catches the eye of Zoe, who wants her father, Grant, to move on from Zoe's mother's death. She writes a letter to Bethany which touches her.
When she shows up to help with the makeover, Grant and Bethany's chemistry is evident, and soon sparks are flying in the budding relationship. However, despite Bethany's desire to love, Grant has to get over his past and embrace what the future holds. Over the course of the heartwarming story, we see that the movie takes us to a couple of locations.
While some of it is based in Grant's house, which is being renovated, there are quite a few beautiful outdoorsy scenes. Naturally, you might have noticed the sprawling vistas and might be wondering about where was 'Hearts of Winter' filmed. We have got you covered in that regard, right after walking you through the cast of the movie.
Hearts of Winter Cast:
'Hearts of Winter' features a talented cast including Jill Wagner and Victor Webster. Jill appears as Bethany, a career-driven woman whose mantra is her MAP method, that is, bringing meaning, abundance, and peace in one's house. Bethany is all set to take her career to a national level, and Beautiful Homes Magazine even wants to do a spread on her. This is when she meets Grant, and life is not quite the same for her, as she starts to desire love, all over again.
As for Jill herself, she combines a wicked sense of humor with an indefatigable work ethic. She has appeared in shows like 'Wipeout', after having made her mark in 'Punk'd' opposite Ashton Kutcher. She has punked celebrities like Katie Holmes. On the acting front, she can be seen in 'Braven' opposite Jason Momoa, and in shows like 'Teen Wolf'. She has also appeared in other Hallmark movies like 'Autumn Dreams' and 'Christmas Cookies'.
Coming to Victor, he plays the role of Grant in the movie. The Mountain Lodge Activities Director seems to be wallowing in sadness after losing his wife. Grant raises Zoe, his daughter, on his own, acting as both mom and dad. However, by his own admission, his house is one step away from being a bachelor pad. Thus, when Bethany enters his life, he is not initially forthcoming.
Eventually, she manages to tear his walls down, as the two get closer. However, Grant is rather hung up on the past and might squander away a chance at possible happiness, as is evident when Zoe drops her mother's special bowl.
Victor Webster himself is a familiar face for anyone who loves television shows. He made his debut in 'Days of Our Lives', but has since then appeared in several popular series like 'Sex and the City', 'Castle', and 'Criminal Minds'. In films, he has appeared in the third and fourth parts of the 'Scorpion King' franchise. The Canadian born actor has worked on previous Hallmark projects like 'Love Blossoms' and 'Homegrown Christmas'. Victor is an artist to the core.
Where was Hearts of Winter Filmed?
'Hearts of Winter' is set in locations strategically to trace the progress of Grant's home makeover and, parallelly, the relationship between Bethany and Grant. Notably, Bethany is from Colorado, where she is a local celebrity. She even appears on a show called 'Hello Today', planning to take her career to a national level. Meanwhile, Grant is the Mountain Lodge Activities Director. He works at the Windemere Mountain Lodge.
While the lodge's name itself is fictional, the location it is filmed in is very real. Now, without further ado, let us walk you through the details of the filming location.
Windermere, British Columbia: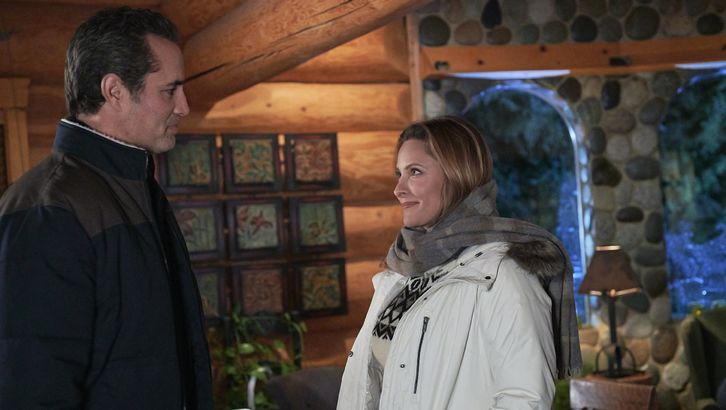 Windermere happens to be a small community located south of Invermere on Windermere Lake. It is in the Regional District of East Kootenay, in British Columbia. It is also the perfect filming location since it offers snowy vistas. As Grant is the activities director, he arranges for a fun-filled day outdoors, which includes skiing and roasting marshmallows.
Filming is also bound to have taken place at the Panorama Mountain Resort nearby, which is essentially snuggled in an alpine village. Tucked deep in Canada's oldest mountains, the place offers numerous adventures and a chance to make new memories, which is exactly what Grant and Bethany set out to do, in their own way. Filming the movie in spots popular for activities like skiing and hiking makes sense because the infrastructure is already present to support it.
In fact, in one of the scenes of the movie, Grant takes Bethany on a romantic starlit hike, at the end of which they are about to share a kiss, before being unfortunately interrupted. You can check out the image below to see how the Lake Windermere area offers excellent skating and hiking opportunities.
In conclusion, 'Hearts of Winter' does not shy away from using multiple locations. We are given a glimpse inside Grant's house and his workspace. Besides that, a lot of activities are staged outside, so as to allow the viewers, and the characters to be awestruck by the views. Ultimately, the locations inspire a growing sense of warmth, love, and familiarity, despite being rather snowy.
The idea in 'Hearts of Winter' is to take a house and make it a home, which is exactly what the location choices help the movie to do.