'Whitney Houston: I Wanna Dance with Somebody' is a musical drama depicting the life and legacy of the renowned American singer Whitney Houston. The biopic, directed by Kasi Lemmons, stars Naomi Ackie as the central protagonist alongside Stanley Tucci, Nafessa Williams, and Tamara Tunie. It follows the young, talented, "vocally ambitious" Whitney Houston's journey from singing in the church choir to becoming a nationwide musical sensation. Through Whitney's experience in the entertainment industry, the film explores the good, the bad, and the ugly sides of fame and tells a moving story. If you're interested to see where this picturesque yet tumultuous ride takes Whitney, here is everything you need to know about the ending of 'Whitney Houston: I Wanna Dance with Somebody.' SPOILERS AHEAD!
Whitney Houston: I Wanna Dance with Somebody Plot Synopsis
19-year-old Whitney Houston is a part of her local church choir, where her mother, Cissy, guides and trains her as a vocalist. In 1983 New Jersey, Whitney meets Robyn Crawford and becomes close friends with her. Meanwhile, Whitney also pursues her musical dreams by singing backup for her mother at the Sweetwater nightclub. As her home life becomes complicated due to her parent's strained relationship, Whitney finds her happiness with Robyn and soon becomes romantically involved with her. She moves out of her parent's house and starts living with Robyn, much to her parent's dismay.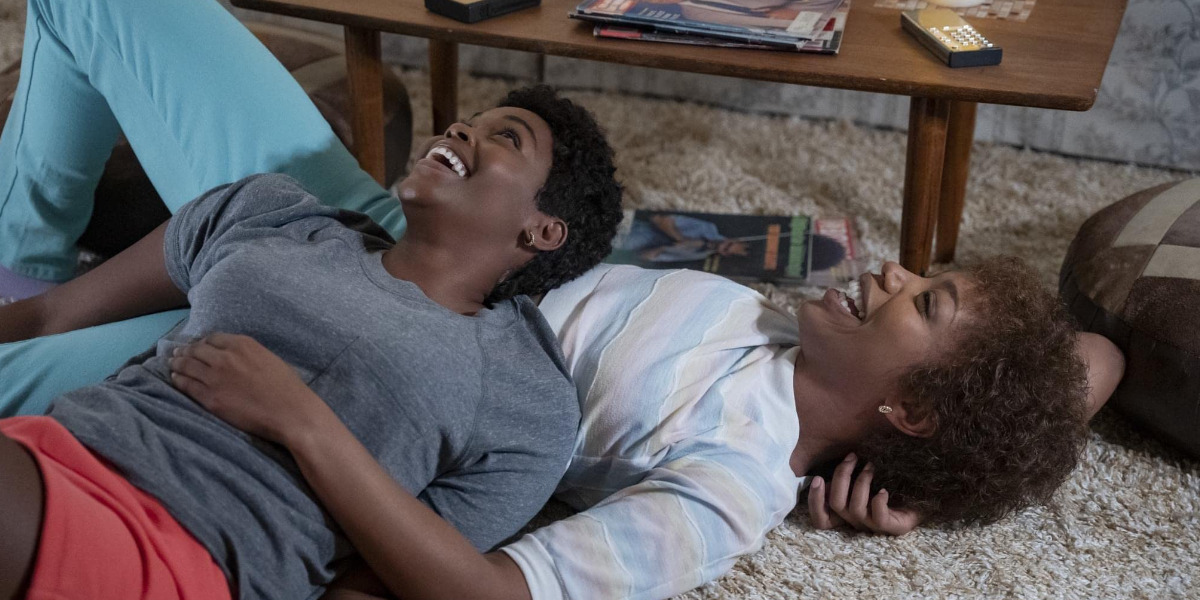 One night when a bigshot record producer makes an appearance at the Sweetwater nightclub, Cissy feigns a sick throat and pushes her daughter to do a solo performance. As intended, Whitney catches producer Clive Davis's attention, and he signs Whitney to his record label, Arista Records. Whitney makes her live debut on 'The Merv Griffin Show' and garners much praise. Soon after, Whitney starts working on her first album, picking melodies and songwriters with Clive.
After hearing her song on the radio for the first time with Robyn, Whitney impulsively asks Robyn to be her creative director. However, her father/manager, John, is against her decision and puts forth a condition. He asks the girls to start going on dates with men in public. Robyn vehemently declines, but Whitney agrees to his terms and starts seeing another singer Jermaine Jackson. After Robyn finds out about Whitney's involvement with Jackson, she's furious. Robyn is left heartbroken, and the two end their romantic relationship. Nevertheless, they still agree to be best friends, and Robyn starts working for Whitney.
Soon after, Whitney's career skyrockets, with her single 'I Wanna Dance with Somebody (Who Loves Me)' going number one on the charts. As her fame grows, people start accusing her music of not being "black enough." As such, in a radio interview, Whitney gets called a sellout. Simultaneously after tabloids start printing rumors about Whitney's sexuality, John tries to get Whitney to fire Robyn. Whitney stands her ground and refuses to part ways with her friend. However, the small but vocal public backlash continues when Whitney attends an award function and finds a crowd of protestors at the event. After losing out on the Best Music Video Award, Whitney meets Bobby Brown, who makes an impression on her.
She starts dating Bobby Brown and releases an R&B album. Together the pair are dubbed the king and queen of R&B, with Whitney scoring multiple Grammy nominations. In time, Bobby proposes to Whitney, and after Whitney says yes, he reveals that he had gotten his ex-girlfriend, Kim, pregnant. Though Whitney is enraged about the news, at first, she still agrees to marry Bobby. Later, when the pair break the news of their engagement to Robyn, Whitney finds out she's been chosen to sing The National Anthem at The SuperBowl. Her career continues to soar as she stars in her first movie, 'The Bodyguard' opposite Kevin Costner. She also records her iconic single 'I Will Always Love You,' and performs at the Concert for Nelson Mandela.
However, as her career peaks, her personal life starts to decline.Whitney soon finds out about her husband cheating on her and confronts him about it. As a result, she goes down a depressive spiral and turns to drugs. Her career experiences a slight drought after she doesn't release a studio album in eight years. At the same time, she finds out her father has been misusing her money all this time and has majorly messed up her finances. As such, she is pushed to go on a taxing world tour, wherein her drug addiction worsens alongside her personal life. As her condition deteriorates, she has to cancel shows and push herself to the limit. Clive tries to pursue her to consider rehab, but Whitney refuses and continues with her tour. After hearing about her father's deadly condition, Whitney visits him in the hospital. There the two get into an argument, and Whitney fires her father as her manager. In retaliation, her father sues her for millions of dollars days before his death. John's death ultimately sends Whitney down a spiral of fatal substance abuse.
I Wanna Dance With Somebody Ending: Does Whitney Divorce Bobby Brown?
Whitney had always wanted a family, and so when Bobby proposes, she agrees to marry him. Still, her marriage suffers from many speedbumps along the way. While filming for 'The Bodyguard,' Whitney undergoes a miscarriage. In this devastating time, she finds comfort and solace with Bobby, and the couple soon becomes parents after the birth of their daughter, Bobbi Kristina Brown. However, not long after, Whitney and Bobby have a falling out after Whitney finds out about Bobby's infidelity.
Coming from a home with an unhappy marriage, Whitney doesn't want her daughter to have the same upbringing as her. Therefore, Whitney doesn't separate from Bobby and decides to stand by him through his many public missteps. Bobby becomes overtly controlling of Whitney when her issues with substance abuse increase due to media pressure. After witnessing Whitney's condition every night on stage, Robyn and Cissy urge Whitney to drop the world tour. Bobby disagrees and encourages Whitney to keep going. He even keeps news of Whitney's sick father from her, and Whitney only finds out about it through Robyn.
Following Whitney's argument with her dying father, Whitney refuses to show up at his funeral. Cissy finds Whitney at her house, severely intoxicated and barely lucid. As a result, the police take Whitney away for court-mandated rehab. Her doctor sends her to a private residence for four months, where professionals closely monitor her progress. As she gets better, she rebuilds her relationship with her daughter and makes significant improvements.
One of the first things she does after getting out of rehab is visit her husband, Bobby Brown. Though Whitney doesn't blame Bobby for the way things unfolded, she knows he's not the right person for her. He may have not caused her addiction, but he never tries to help her overcome it. Whitney returns Bobby's engagement ring to him and ends things with him once and for all.
How Does Whitney Die? Does She Relapse?
In 2009 Chicago, Whitney debuts a live performance of her comeback album on 'The Oprah Winfrey Show.' Following a somewhat successful comeback, Whitney pushes for another tour despite Clive's reluctance. In the end, the tour does not go over well with her fans. Many of them walk out on the show, and even those who make it through to the end are disappointed. Due to Whintey's drug addiction, her vocal range had severely diminished. As an artist primarily known for her vocals, Whitney fails to reach her previous stardom again after her rehab.
In 2012 Los Angels, Whitney shows up for Clive's pre-grammy party, in which many people are anticipating a performance from her. She wants to perform 'Home' for the event, but her bassist Rickey is hesitant about the idea and tries to talk her out of it. However, Whitney insists on going through with it. Still, her nerves start to get the better of her, and she reaches out to her supplier. In the hotel lobby, she meets with a fan and discreetly exchanges a notebook with him for his pen. The notebook contains some cash, and likewise, the pen contains drugs.
After reminiscing about her past with a bartender at the hotel, Whitney returns to her room and draws herself a shower. As she sings to herself, she recalls the highlights of her life and thinks back to the iconic performance in 1994 at the AMAs. She had sung a medley of three challenging songs, 'I Loves You, Porgy,' 'And I Am Telling You I'm Not Going,' and 'I Have Nothing.' She takes the drugs and is later found dead in the bathtub. Though she had drugs in her system, and her addiction severely affected her health, she passed away at 48 due to accidental drowning.
Read More: Is Whitney Houston I Wanna Dance with Somebody Based on a True Story?