Paramount+'s 'At Midnight' is a romantic comedy movie that follows the story of Sophie and Alejandro. She is a Hollywood superstar, and he works as a junior manager at a hotel in Mexico, where she arrives to shoot for her latest film. Things are complicated because Sophie has broken up with Adam, her co-star and boyfriend, who was cheating on her. Meeting Alejandro is like a breath of fresh air for her, but he is bound by the hotel policy not to mingle with guests.
Sophie and Alejandro's romance soars through their secret meetings at midnight. The film reveals their hopes and dreams and how they factor into each other's wildly different lives. Directed by Jonah Feingold, 'At Midnight' is rooted in the classic tropes of a rom-com but also gives a fresh story to the audience. If you are wondering whether it is based on a true story or a book, then here's what you should know.
Is At Midnight a True Story?
No, 'At Midnight' is not based on a true story or a book. The film's original script was written by Giovanni Porta and later polished by Maria Hinojos and Jonah Feingold. The director revealed that the idea originated with actor Diego Boneta, who serves as a producer on the film. The latter wanted to set a love story in Mexico, breaking away from the 'Narcos' image and was interested in showing the beauty and life of Mexico City. Referencing movies like 'Midnight in Paris' and 'Sleepless in Seattle,' Boneta emphasized a city's role in any romantic comedy. Through 'At Midnight,' he wanted to focus on all that Mexico City offers in this context.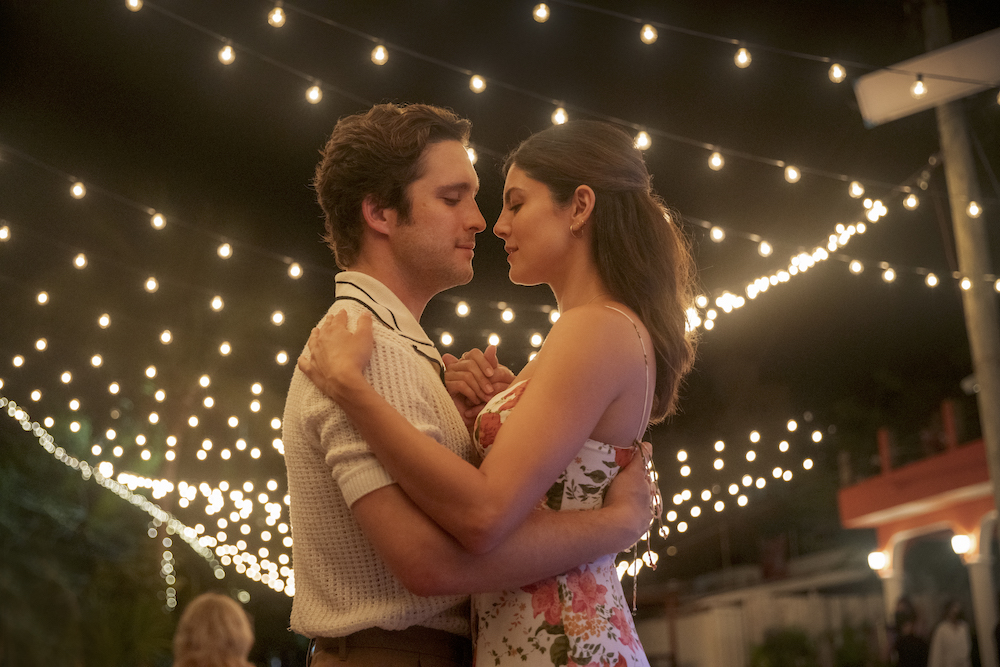 In an interview with Screenrant, Boneta revealed that in 2018, he had a meeting with Paramount where they inquired about the next project he would produce. He gave them a rough idea of a rom-com "in the vein of 'Notting Hill'" set in Mexico. Following the meeting, Boneta and his producing partners approached Porta to write the script. This paved the way for the making of the film with Feingold, whose 'Dating and New York' had impressed Boneta and the other producers, coming on board as the director and giving his own twist to the storytelling.
Before the filming commenced, the entire team of 'At Midnight' spent a week in Mexico City, imbibing the place's culture and beauty. Boneta took it upon himself to introduce them to various aspects of the city, from its restaurants and bars to its art and the people. This allowed the director to understand the city's vibe, further enriching the script. For Feingold, it was essential to nod to all the classics that have influenced him over the years, but he also wanted to create something that felt both contemporary and a fairy tale.
Talking about the film that influenced him, Feingold revealed that he and the crew drew upon the films of Billy Wilder, Nancy Meyers, and Nora Ephron while adding elements from classic Disney fairy tale romances like 'Cinderella,' 'Snow White' and 'Lady and the Tramp.' Movies like 'Singing in the Rain,' 'Day and Night,' and 'It Happened One Night' were also referenced while deciding on the presentation of 'At Midnight' and how best to make it something that the audience can find dreamy as well as realistic.
In the movie, the characters have to deal with challenges that feel very real. Both Sophie and Alejandro have problems in their personal and professional lives that the viewers can deem relatable. Be it the fear of starting a new venture, jumping headfirst into a new relationship, or struggling to let go of a previous one, 'At Midnight' keeps itself close to reality, even though it is entirely fictional.
Read More: Where Was At Midnight Filmed?