Fast and Furious has slowly turned into one of the biggest franchise in the world and each movie that releases surpasses the previous by a mile on the box office. Dom Toretto (Vin Diesel) doesn't have friends, he has family which will go to any limits to keep every member of the family safe. These movies are known for their fast cars and explosive action sequences. The cars are an integral part of the franchise and one of the top reasons why we get excited about every new movie in the franchise.
With that said, here's the list of films similar to Fast and Furious that are our recommendations. You can watch several of these movies like Fast and Furious on Netflix, Hulu or Amazon Prime.
14. Los Bandoleros (2009)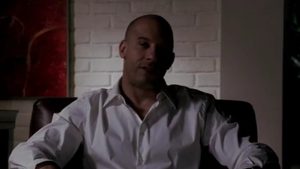 This is the prequel to "Fast and Furious", the fourth installment in the Fast and Furious franchise.The title is Spanish for "The Outlaws". It explores the events leading upto the oil truck heist in the opening scene of "Fast and Furious". The crew reunites to break Leo Tego out of prison and hijack the gas shipment. The movie was completely shot in the Dominican Republic giving it a very real look.
Read More: Movies Like I Spit On Your Grave
13. XXX (2002)
An extreme sports athlete, Xander Cage is recruited by the government for a special mission. He must infiltrate a Russian criminal ring, which is plotting the destruction of the world. Vin Diesel was the perfect choice for the role and he does an excellent job as Cage. The movie has a lot of great action scenes and is an entertaining and thrilling watch. It also turned into a franchise, the most recent installment also featured Deepika Padukone doing action scenes.
Read More: Movies Like Primal Fear
12. Gran Torino (2009)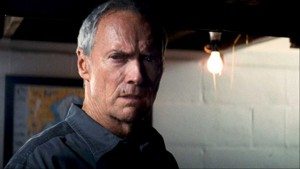 Clint Eastwood directed and starred as Walt Kowalski, a racist Korean War veteran living in a crime-ridden Detroit neighbourhood is forced to confront his own prejudice when a troubled Hmong teen from his neighbourhood attempts to steal his prized 1972 Gran Torino. He soon finds himself fighting a group of gangsters who were forcing the teen to steal the car. It is a humorous, touching and intriguing old-school parable.
Read More: Movies Like A Few Good Men
11. Days of Thunder (1990)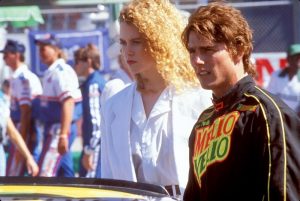 Cole Trickle, a budding racer, is recruited by a big brand which gives him a chance to compete at the top level. But unable to adjust to the guidelines, he meets with an accident. However, when he returns, he follows every word of his car's engineer which leads him on a path to success with just one obstacle in the thrilling grand finale in which he must compete against Russ Wheeler, a driver who not only wants to see Cole defeated but permanently disabled.
Read More: Movies Like John Wick
10. Gone in 60 Seconds (2000)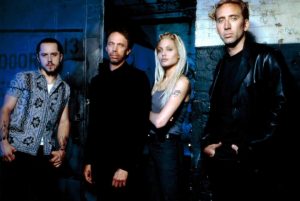 Randall "Memphis" Raines , who can practically steal any car, is planning on retiring when his younger brother Kip gets into trouble with a dangerous crime boss and to save him Memphis must steal 50 cars in one night with the help of other car thieves and must also compete against a rival group which is doing the same job. It is a remake of the 1974 movie of the same name. It has some great car chase scenes which keep the adrenalin pumping.
Read More: Movies Like About Time
9. Torque (2004)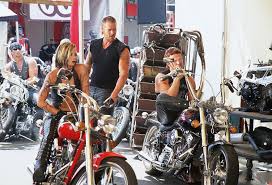 Biker Cary Ford is framed by an old rival and biker gang leader for the murder of another gang member who happens to be the brother of Trey, leader of the most feared biker gang in the country. Ford is now on the run trying to clear his name from the murder with Trey and his gang looking for his blood. It has some good action sequences and is good for a one time watch.
Read More: Movies Like Leon: The Professional
8. Death Race (2008)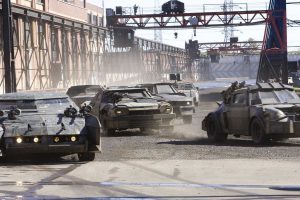 Ex-con Jensen Ames (Jason Statham) is forced by the warden of his prison to compete in our post-industrial world's most popular sport: a car race in which inmates with life sentences must brutalize and kill one another on the road to freedom. The final race is filmed beautifully and will keep you on the edge of your seat with shouts on every twist and turn. Statham is brilliant as Ames and does what he is best at, "Action".
Read More: Movies Like One Day
7. Rush (2013)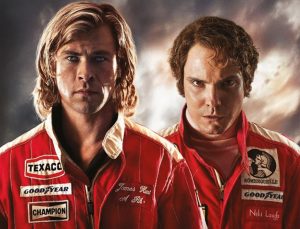 Based on the legendary 1970s Formula 1 rivalry between talented English playboy James Hunt (Chris Hemsworth) and his disciplined Austrian opponent Niki Lauda (Daniel Bruhl). It features some of the best Formula 1 race sequences which are damn satisfying to watch. The plot is taken to great heights by amazing performances by Hemsworth and Bruhl. The movie is directed by Two-time Academy Award winner Ron Howard and he does an excellent job with this one.
Read More: Movies Like The Imitation Game
6. The Transporter (2002)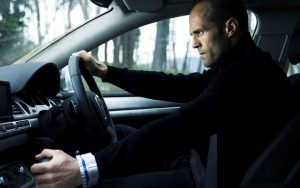 An ex-soldier turned mercenary, Frank who goes by the name "Transporter" as he transports packages which may be a human, from one place to another but complications arise when a transportation goes astray and he has to save the life of the girl being transported by him. Jason Statham does some great action in the movie and it has many long action sequences which blend into one another. You will witness some of the best action which surpass any other action movie.
Read More: Movies Like Blue Crush
5. The Italian Job (2003)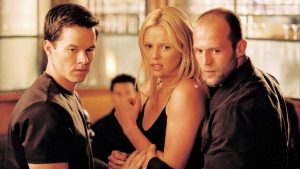 What is better than a heist movie? – A heist movie involving cars. This intelligent and adrenalin fueled movie is the remake of a 1969 movie of the same name. After being betrayed and left to die in the Italy by a crew member, Charlie Croker (Mark Wahlberg) reassembles the team and also recruits the daughter of his mentor who died in Italy to take revenge on their former member by planning an elaborate gold heist.
Read More: Movies Like Triangle
4. Redline (2011)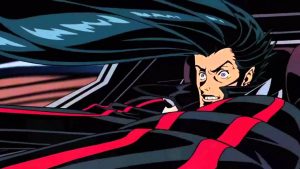 It is an anime about the biggest and most deadly racing tournament in the universe which is only held once every 5 years. JP, a reckless daredevil driver oblivious to speed limits with his ultra-customized car takes part in the race where he falls in love with a rival Sonoshee as he tries to win the race. It was the debut feature movie of director Takeshi Kolke. The animation is at its best in the movie and is very well directed as it would have turned a bit chaotic without great direction. It is a sci-fi anime which is insanely exciting and visually beautiful.
Read More: Movies Like Lost In Translation
3. Speed (1994)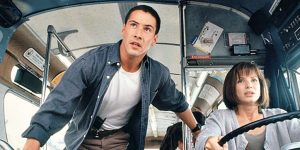 It is the fastest moving adventure movie ever made with excellent performances from Keanu Reeves, Dennis Hopper and Sandra Bullock. When a bomber and extortionist fails to extort money after planting a bomb in an elevator, he plants a bomb in a local bus which is wired to go off if the speed drops below 50 MPH and will be disarmed only if his demands are met. It is upto LA Bomb Squad specialist played by Reeves to save the passengers in time and disarm the bomb. The pace of the movie never drops and you won't even feel like blinking for the fear of missing something. It is a very exciting movie which will keep you on the edge of your seat.
Read More: Movies Like The Departed
2. Drive (2011)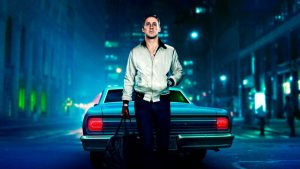 A stuntman by day and getaway driver by night,Driver (Ryan Gosling) falls in love with Irene (Carey Mulligan) who is married to a criminal. After a job goes wrong and Driver starts getting tailed by dangerous criminals who he realizes are not after the money but after his love and her son, he goes on the offense. It is a very dark film which portrays the love story between Gosling and Mulligan very beautifully.
Read More: Movies Like Atonement
1. Mad Max :Fury Road (2015)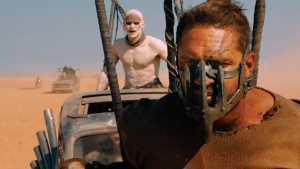 It is one of the best action movie of recent times that revived a great franchise which was lost. In a post-apocalyptic world, a tyrant rules over a stark desert, controlling every drop of water. A woman rebels against him in search for her homeland with the help of a group of female prisoners, a psychotic worshipper and a drifter named Max. The whole movie is like a canvas which is painted perfectly which combined with the amazing soundtrack takes you in a different world.
Read More: Movies Like Mad Max