'Wine Country', produced and directed by Amy Poehler, stars Poehler alongside Maya Rudolph, Rachel Dratch, Ana Gasteyer, Paula Pell, Emily Spivey, Jason Schwartzman and Tina Fey in major roles. The film tells the story of a group of women who embark on a wine-tasting tour to Napa Valley, California. In fact, this film is based on a real-life event. Poehler and her friends had actually taken a trip to celebrate Dratch's 50th birthday in the year 2017. Of course, here, the actors play their fictional counterparts. We see the control freak Abby, who has the complete plan strictly laid out in front of her. Then there's birthday girl Rebecca, who is a therapist. We're also introduced to the techie, gadget-addict, and workaholic Catherine, and Naomi, a mother who harbors a shocking secret. Finally, we see Jenny, the one who always stays at home, and Val, who's a lesbian.
Amidst all the fun that these women experience during the trip, we additionally witness their various troubles related to job loss, marital conflicts, health, and sex. But, in a nutshell, this is a film about celebrating womanhood, friendship, and freedom. If you have already seen the movie and are looking for films that are thematically similar to this one, then we've got you covered. Here's the list of best movies similar to 'Wine Country' that are our recommendations. You can watch several of these movies like 'Wine Country' on Netflix, Hulu or Amazon Prime.
10. Thelma & Louise (1991)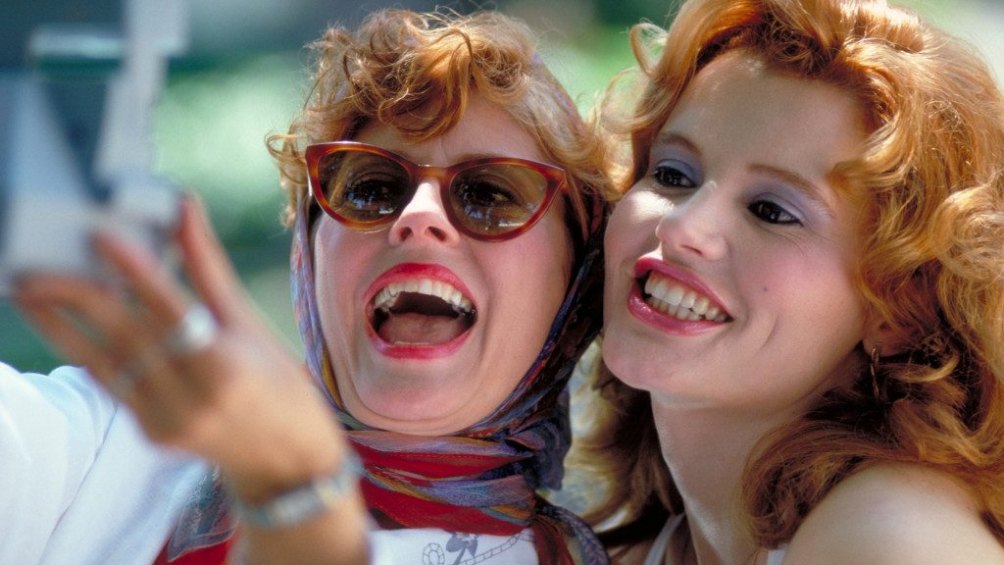 Released in 1991, 'Thelma & Louise' is a beautiful movie about female friendship with an unexpected, shocking turn. It is a road movie directed by Ridley Scott and written by Callie Khouri. Starring Geena Davis and Susan Sarandon as the leads, the film is about two friends. While the former is a meek, docile homemaker, the latter is a bold, independent waitress. They go on a short fishing trip but situations get bad when Louise kills a man who tried to rape her, resulting in the duo fleeing to Mexico. This movie also stars Harvey Keitel, Michael Madsen, and Brad Pitt in supporting roles. You can watch it currently on Amazon Prime.
9. Crossroads (2002)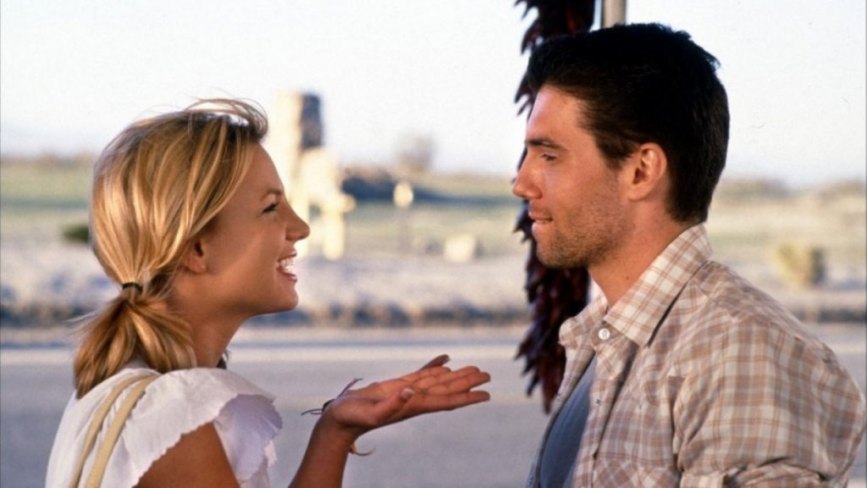 'Crossroads' is directed by Tamra Davis and written by Shonda Rhimes. It stars Britney Spears, Anson Mount, Zoe Saldana, Taryn Manning, Kim Cattrall, and Dan Aykroyd in major roles. The story revolves around three teenage girls who reunite during their graduation and embark on a cross-boarder road trip. On the way, they refresh old memories and rekindle their friendship. But can they handle the situation when a menacing guy interferes their journey?
8. Spice World (1997)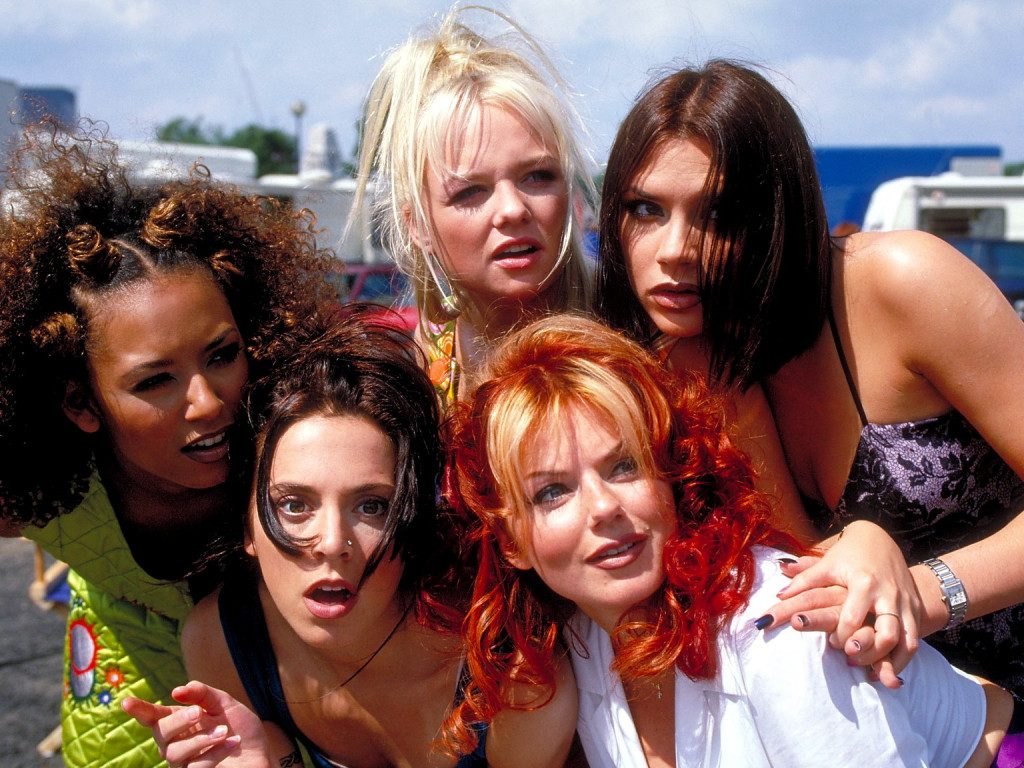 Oh well! This is apparent from the name. 'Spice World' is about the pop girl band Spice Girls. The movie stars Emma Bunton (Baby Spice), Geri Halliwell (Ginger Spice), Melanie Brown (Scary Spice), Melanie Chisholm (Sporty Spice) and Victoria Addams (Posh Spice) in their feature film debut. The musical comedy is directed by Bob Spiers and written by Kim Fuller. 'Spice World' chronicles various incidents as the crew travels to perform at their major concert at London's Royal Albert Hall.
7. Bachelorette (2012)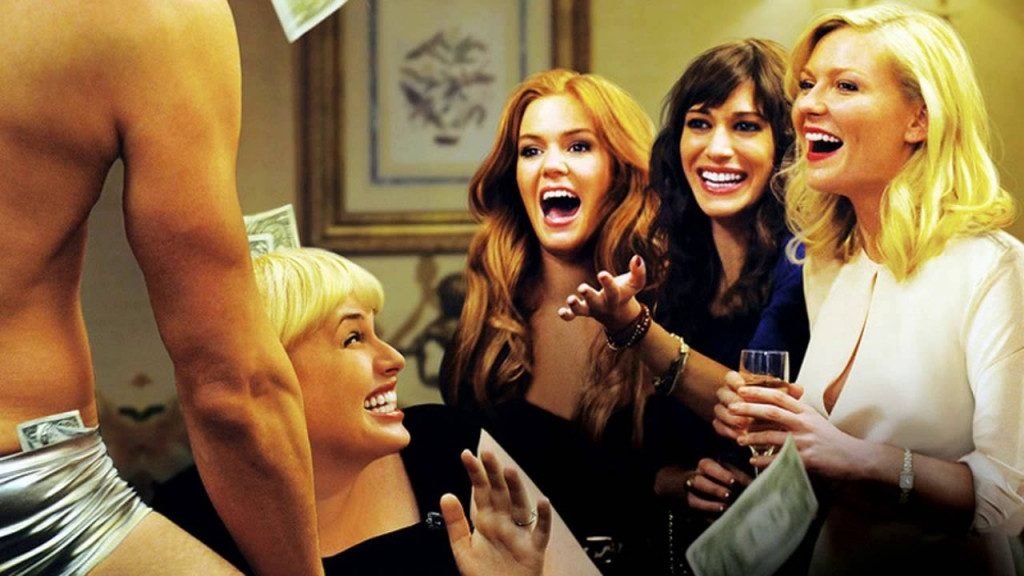 Written and directed by Leslye Headland, 'Bachelorette' follows the lives of three troubled females who get together to celebrate the wedding of their friend. But when they end up destroying the bride's dress, they embark on a frantic search for a replacement. But instead, they reunite to spend a night filled with parties, clubbing, drugs, and alcohol. Starring Kirsten Dunst, Lizzy Caplan and Isla Fisher as well as Rebel Wilson in major roles, this is surely a movie packed with crazy women antics.
6. Girls Trip (2017)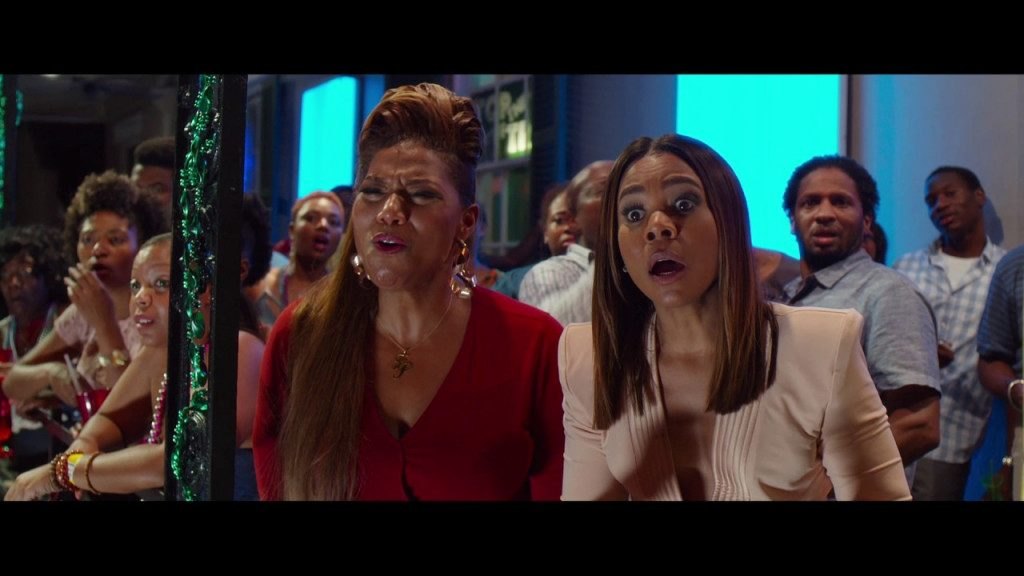 'Girls Trip', released in 2017, stars Regina Hall, Queen Latifah, Tiffany Haddish, and Jada Pinkett Smith as the protagonists. Directed by Malcolm D. Lee and written by Kenya Barris and Tracy Oliver, the story revolves around four friends who arrive at the Essence Music Festival. However, they see this is as a golden opportunity to reconnect and hence embark on an impromptu road trip to New Orleans.
5. Rough Night (2017)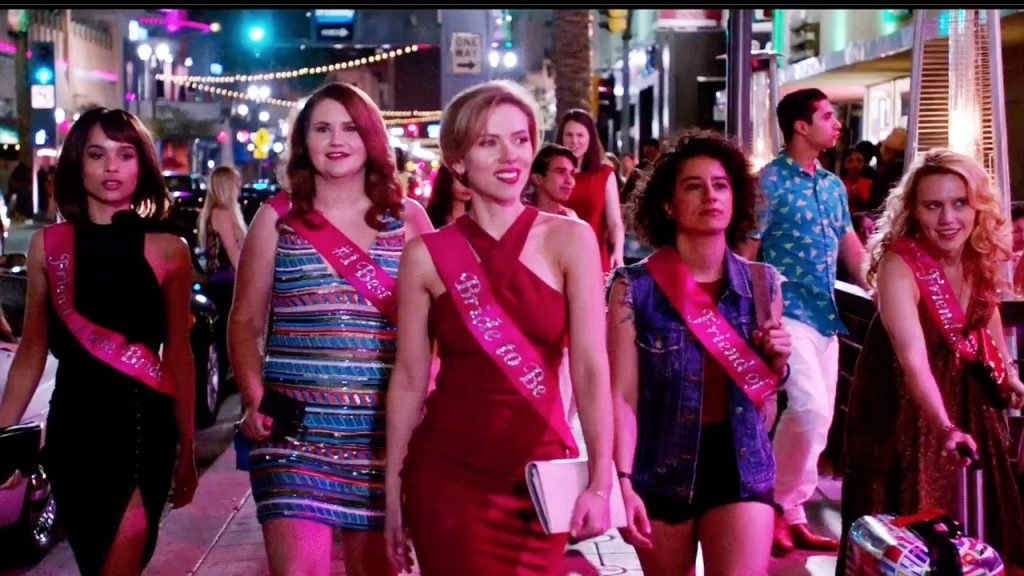 'Rough Night', directed by Lucia Aniello and written by Aniello and Paul W. Downs, is a black comedy starring Scarlett Johansson, Zoë Kravitz, Kate McKinnon, Jillian Bell, Ilana Glazer, Paul Downs, Ty Burrell, and Demi Moore in the lead roles. The film begins with a bachelorette party thrown in honor of the bride. But things go for a toss when the male stripper suddenly dies. To make matters worse, his death is accidentally caused by one of the girls.
4. Spring Breakers (2012)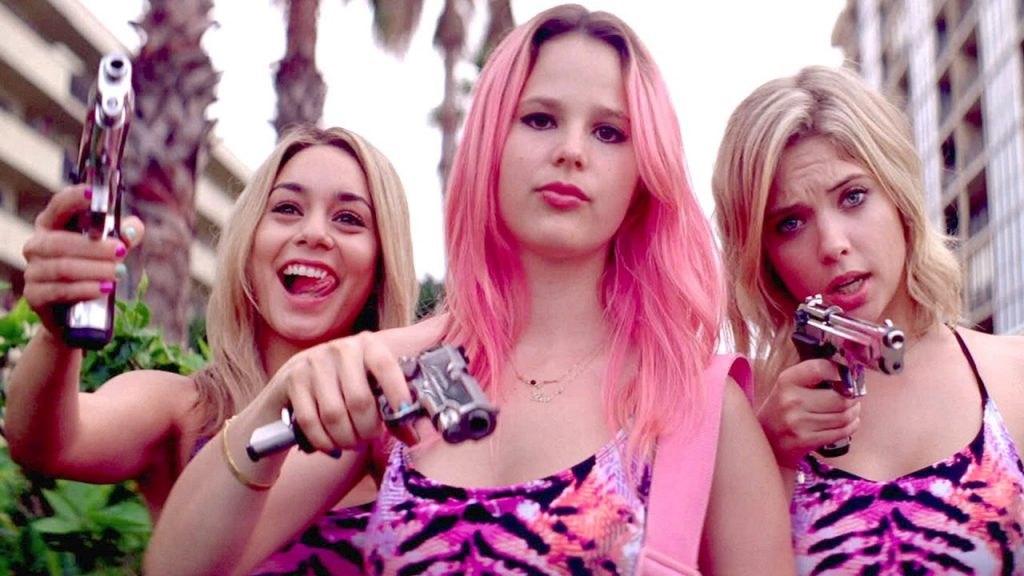 Meet Candy, Faith, Brit, and Cotty — four college girls who need a spring-break trip but are short on cash. Hence, they rob a bank and travel to Florida. However, they are soon arrested. Now, things take a surprising turn when they are bailed out by Alien, a drug dealer and an aspiring rapper. Things get further complicated when the girls decide to join him in a life of crime, drugs, and violence. Starring James Franco, Vanessa Hudgens, Selena Gomez, Ashley Benson and Rachel Korine in major roles, 'Spring Breakers' is definitely an entertaining watch.
3. Think Like a Man Too (2014)
'Think Like a Man Too', a comedy-drama directed by Tim Story, is a sequel to the 2012-released 'Think Like a Man', which is again an adaptation of Steve Harvey's book, 'Act Like a Lady, Think Like a Man'. The story revolves around five couples who arrive at Las Vegas in order to attend a wedding and have a romantic vacation. Packed with a lot of drama, hilarious moments and misadventures, this movie makes for a very entertaining watch.
Read More: Movies Like The Curse of La Llorona
2. Morvern Callar (2002)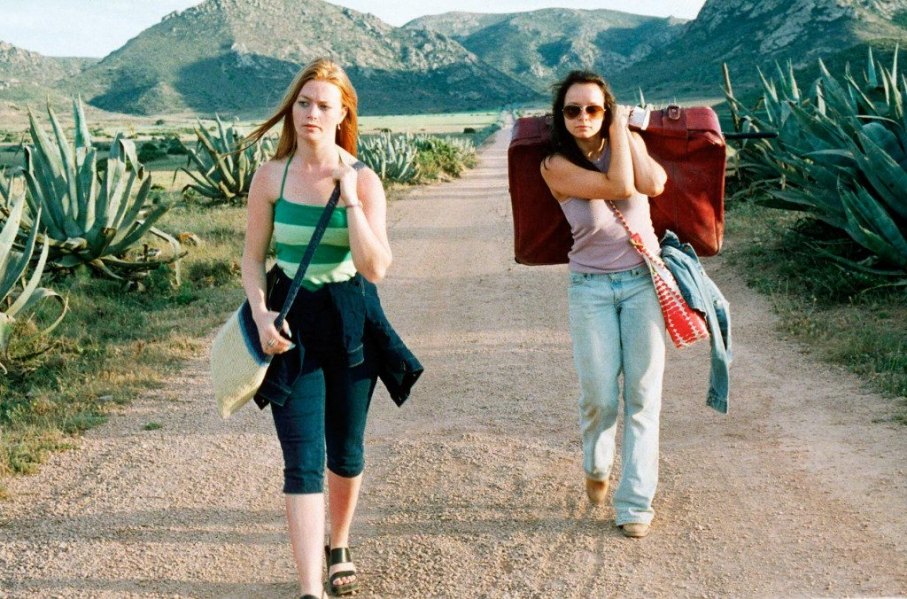 'Morvern Callar' is arguably one of the finest films of the last decade. Directed by Lynne Ramsay and adapted from Alan Warner's 1995 novel of the same name, the film revolves around its titular character, who resides in Scotland in a small port town. One day when she wakes up, she is shocked to find out that her boyfriend has committed suicide. All he has left behind is a suicide note, a mix tape, and a manuscript of his unpublished novel.
Now, here comes the bizarre twist: Morvern erases the name of her boyfriend from the manuscript, replaces it with her own name, and sends it to the publisher (earlier recommended by her now deceased lover). She cuts up the boy, buries it in the mountains, and withdraws the money from his account which was meant for his funeral as per his request. She leaves her tedious job at the local supermarket and along with her best friend Lanna, embarks on a trip to Almería, Costa del Sol. After a few days, she meets the publishers who've arrived in Spain to meet her, where they pay her an advance of £100,000 for the novel. She returns to Scotland and asks Lanna to accompany her on a world-exploring journey. But Lanna refuses, after which Morvern packs her bags and leaves for the railway station.
Read More: Movies Like UglyDolls
1. Bridesmaids (2011)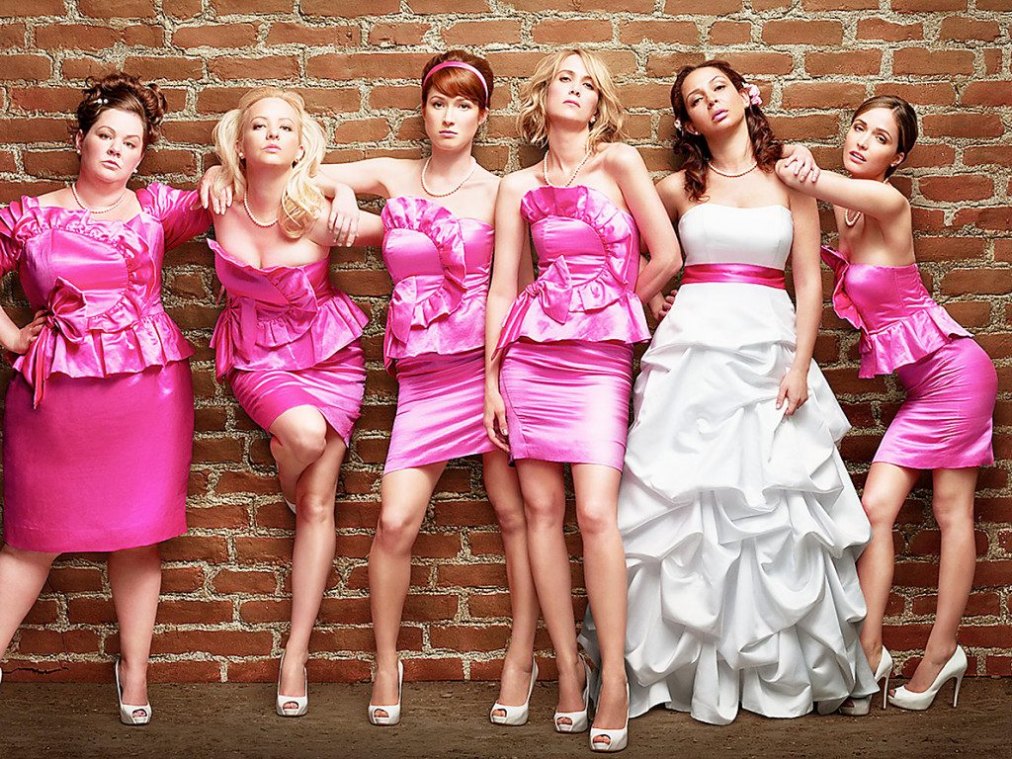 Directed by Paul Feig and written by Annie Mumolo and Kristen Wiig, 'Bridesmaids' stars Maya Rudolph, Rose Byrne, Melissa McCarthy, Ellie Kemper, and Wendi McLendon-Covey in the lead roles. Chris O'Dowd, Rebel Wilson, Matt Lucas, Michael Hitchcock, Jon Hamm, and Jill Clayburgh also make appearances in supporting roles. The plot introduces us to Annie who is the maid of honor for her BFF Lillian. However, Annie's own life is a mess: she is jobless, broke, and is not yet over her breakup. And when she is forced to assume the role of a bridesmaid, she is very apprehensive. Moreover, she also gets into frequent conflicts with the other bridesmaids, making the whole journey even more complicated and difficult.
Read More: Movies Like The Last Summer