If there's one guy in the whole of Hollywood that I admire the most behind the camera, he's Charlie Kaufman. Probably the most acclaimed and revered screen writer of his generation, his alluring body of work is an eclectic charade of unbridled and enkindled passion. His tryst with identity crisis, mortality, and the meaning of life has culminated in some of the greatest movies of the 21st century. His exploration of such themes through a metaphysical and parapsychological framework is exemplary and inherently riveting. While his work resists labels, it is at times deemed as surrealist. A recipient of four Academy nominations-three for writing and one for direction-and numerous other laurels, Kaufman's prodigal excretions through his immortal reverie never cease to amaze. His knack for producing evocative and provocative cinema is uncontested and sagaciously worshiped in the industry.
It is absolutely bewildering how anyone, who has never made an appearance on screen, can be so influential through his work, which has profoundly afflicted my very being and has certainly changed the way I discern the daily trifles and motifs of life. I am simply overwhelmed and enamored every time I am an audience to his brilliant mind, and am very grateful to him for that. Here is the list of top Charlie Kaufman movies, ranked from average to best. Happy reading!
7. Human Nature (2001)
It simply eludes me as to why the movie got such polarized reviews. A philosophical burlesque, 'Human Nature' follows the ups and downs of an obsessive scientist, a female naturalist, and the man they discover, born and raised in the wild. As scientist Nathan (Tim Robbins) trains the wild man (Rhys Ifans) in the ways of the world – starting with table manners – Nathan's lover Lila (Patricia Arquette) fights to preserve the man's simian past, which represents a freedom enviable to most. This was Kaufman's second film, and won the National Board of Review Award for Best Screenplay. He beautifully managed to sustain the intrinsically dark and lighthearted tone of the film, leaving us with an enduring sense of vitiated satisfaction.
6. Confessions of A Dangerous Mind (2002)
This endearing biographical-spy comedy movie marked George Clooney's directorial debut and Kaufman's fourth film. And after seeing the film you might wonder: why did Clooney procrastinate his stint behind the camera. In an eerily beautifully written and performed film, the vibrant era of the 70's is brought to life in an utmost vivid fashion. The flick revolves around the problematic, yet appealing life of Chuck Barris, a meddling simpleton whose hand is forced by a CIA Agent, Jim Byrd, to work as an assassin. His meteoric rise as a famous TV anchor presents him with worldly troubles of struggling to conceal his true identity. A marriage of bright pop images from the 60's and 70's and dark, cold spyscapes that seem to augment the sense of belonging and enthrall with every minute, the characters Kaufman gave life were ones to remember. A paradigm of paranoia, as I like to describe it.
5. Adaptation (2002)
This is funnily one of the most intriguing and mesmerizing work of the writing paragon. The premise is originally based on Susan Orlean's non-fictional novel, 'The Orchid Thief'. During the adapting process, Kaufman suffered from writer's block, a condition, primarily associated with writing, in which an author loses the ability to produce new work, or experiences a creative slowdown (the formal way of saying the writer smoked too much pot). As a result, he couldn't lucidly or sanely interpret the novel, and ended up manifesting a script based on his experience of adapting the book into a screenplay. Yes, that happened! Though the film is billed as an adaptation of The Orchid Thief, its primary narrative focus is Charlie Kaufman's struggle to adapt The Orchid Thief into a film, while dramatizing the events of the book in parallel. I mean who does that?
4. Being John Malkovich (1999)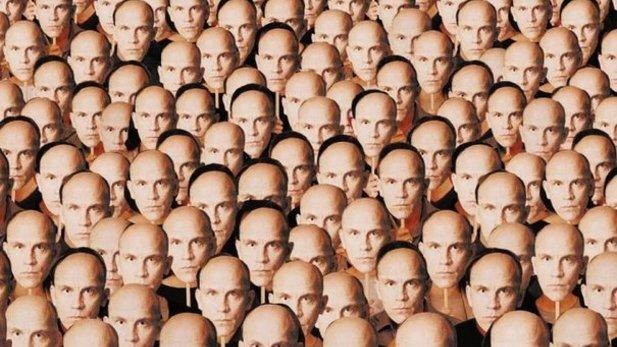 With probably the worst hint of an idea to make a film with, or anything for that matter, Kaufman earned his first Academy nomination. A perverse plot, with an even stranger title, 'Being John Malkovich' follows a failing puppeteer, Craig, who is forced to give up his passion and take up a day job. Even reporting for the job, he has to go through a weird floor no, 7½, abnormally low ceilings and even more peculiar colleagues. One such employee catches his fancy, who blatantly rejects his overtures. One day, he discovers a small opening behind the big file desks and viola: he becomes John Malkovich. The former seizes his unrequited love and compels him to exploit the opportunity. The fatuous seeming premise actually turned out to be a stroke of sheer genius, as the film became a big commercial and critical success. Kaufman's fresh breath of life pervaded pleasantly through the industry and today rests as an iconic film in our hearts.
3. Anomalisa (2015)
How could someone even think about something like this, let alone get an Academy nomination doing it? I have an answer. Charlie Kaufman. My mind was absolutely blown away after just ten minutes into the movie. The plot convalesces on Michael Stone, a mundane customer service employee, who has latched to banality like an infant to its mother's teat. To his conscience, every voice that ever goes into his ears is the same, except one day, Lisa's vocal chords shake up his very existence. I was broken into smithereens when I finished the film. Emotionally eviscerating and rendering me immobilized with its charm, the movie broke my heart and taught me a wonderful life lesson, which I won't tell. See the movie to understand. In a lot of ways I felt it was an incarnation of Jonze's 2013 film 'Her', which also implied a vaguely similar context and recurring themes. Irrespective of that, Kaufman's brilliant conceptualization of human insouciance and morbid spirits masqueraded as living souls truly humbled, and left us with a profound and enduring sense of self-reflection.
2. Synecdoche, New York (2008)
I recently encountered an inquisitive inquiry on a social media platform, asking how does one select a movie to watch. My answer: if it has Philip Seymour Hoffman. Well it isn't corollary or ratiocinate in thought, it is an attempt to glorify this exemplary artist's prodigal talents. A thespian whose reputation precedes him, Hoffman turned into a vessel and the very medium for Kaufman to translate and tell his story to us in his directorial debut. A theater director, whose life seems to be getting the better of him, decides to do something about the maelstrom of unfortunate incidents that have disheveled his life, opting to wither the hurricane using New York City as his mast. He gathers a covey of subservient actors and "directs" them living their lives in a mock-up of the great city. Another mind-boggling concept that could have only come out of Kaufman's mischievous brains, cast a spell on us and eased its way through with effortless charm. A riveting tale of passion, desire, and ambition, the film is inexplicably exhilarating in every moment and every breath.
1. Eternal Sunshine of the Spotless Mind (2004)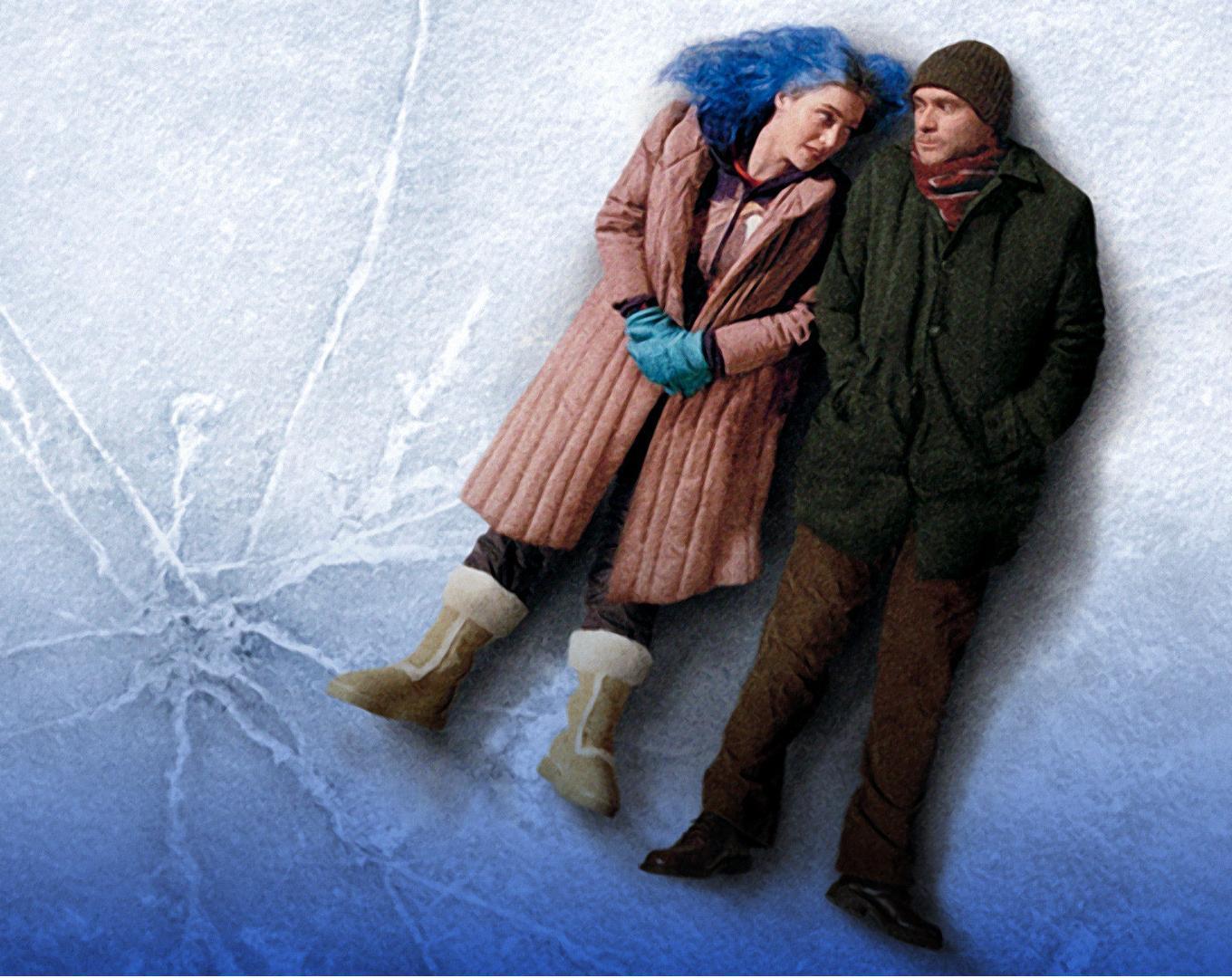 The image above is emblematic of the underlying tenet of the film. Living life on the edge. Another Kaufman movie, another alternate reality, and another Academy nomination and win. The implications of the toil that a human being goes through everyday psychologically, are relayed so viscerally by the writing. He lends a tangible pain to the scenes, and ambivalently makes us feel self-loathing and self-admiration. Told through a non-linear storyline and a motley of flashbacks, the movie gives plenty of food for thought. The story follows Joel Barish, a lonely and taciturn individual who has hopelessly given up on life and has embraced a morbidly dull life. One day, on his way to work, he notices a girl in the train, and instantly falls for her. A friendship blossoms, which eventually transitions into an envious and satisfying relationships. It is only after they are separated, Joel discovers they were former lovers, and undergoes the same procedure she subjected him to. The unabashed romance and intolerable heartache relish in expressing the bewildering beauty and existential horror of being trapped inside one's own addled mind, and in allegorising the self-preserving amnesia of a broken but hopeful heart. 'Eternal Sunshine of the Spotless Mind' is, without a doubt, one of the greatest movies ever made.
Read More: Best Kate Winslet Movies