This comes in just days after the folks at Marvel officially confirmed what people were earlier terming 'Avengers: Endgame's obese, dejected and alcoholic Thor to be: Bro Thor. Following the character's stellar, hoot-worthy appearances in 'Thor: Ragnarok', 'Avengers; Infinity War' (absolute scene stealer this one!) and 'Avengers: Endgame', even I had a hard time believing Hemsworth would not be donning the lightning another time to play the god of thunder, but Marvel and Kevin Feige put all those doubts to rest when they confirmed that a fourth Thor film would most definitely be happening, with more than a few familiar faces returning. Well, it was in fact true what Feige said of the MCU after its third phase closed with 'Far From Home', that the story wasn't over yet, and that there was certainly more to come.
Even among Marvel's master plan of having trilogies for its original trio of Avengers, there would not be virtually a single person who would disagree when I say that Thor, despite being the singularly strongest Avenger before Captain Marvel was brought in, seemed like the weakest link in the chain.
The first 'Thor' was a simply passive movie by all means and a precursor to 'The Avengers', and the second one is widely regarded as the weakest MCU movie till date, a position that I personally believe has been taken over by 'Captain Marvel' now. It was then 'Thor: Ragnarok' that turned the fate and the image of the character around with some retro, neon flavoured vibes, and well-timed comedy: it is in fact amongst the funniest Marvel movies to date. Again, I have a different set of issues with the film and felt that it failed to realise its full potential, squandering it over sporadically funny moments, but even a naysayer like me wouldn't deny that the film had unmistakable character: something that already sets it apart from at least 70% of MCU films, and the man to take all credit for it is Taika Waititi.
So cue 'The Immigrant Song' by Led Zeppelin, because honestly, that is how I want to see Thor hereon, with LZ playing in the background. Here is everything we currently know of the recently announced sequel to the 'Thor' trilogy of films and another Thor chapter in the MCU that nobody thought was coming. Read on.
Where is Thor Now?
An important question that needs answering before we seek to know what the sequel could house for its viewers. The last three films wherein Hemsworth made his appearance as the eponymous Norse god have been a topsy-turvy ride for him, but have also in a way completed his arc into realising the full extent of his powers, rising, falling, being dejected and finally redeeming himself by the time the credits rolled on the Marvel extravaganza, 'Endgame'.
After Asgard, Sakar, Nidavellir, Earth, Asgard again, Earth again, to finally tagging along with the Guardians of the Galaxy on their next galactic adventure, this has been quite a journey, and it is yet to be seen where Thor will be when his fourth outing would open. It is highly unlikely that the Guardians would make an appearance even if the opposite of that happening (Thor appearing in GOTG3) has a higher probability, and it would thus be an informed assumption that GOTG 3 would directly lead us on to the events of Thor 4, leading us to the answer of the question that we have been asking. it would also not be too wrong to say that after the events of 'Endgame' where he was biding his time on Earth after Asgard and its people were destroyed in previous films, he has gone on an upward looking journey of self-exploration. More on this in the next section.
Thor 4 Plot: What Could It Be About?
Come to look at it, the only Phase I Avenger who had even the slightest room for another solo film after the events of 'Avenger: Endgame' would be Thor, and Marvel have been quick to cash in on that with the announcement of the fourth film. However, Thor's storyline has been an increasingly tragic one since his third film, ironically also his most fun film. With Jane Foster, his mother Frigga, father Odin, Heimdall, Loki (presumably), all of Asgard, and every known aide except Valkyrie and new-found allies in Korg and Miek gone, the god of thunder will surely be looking at some new terrain to traverse among the stars, and quite possibly, some new allies.
It is not too tough to spot patterns when it comes to Hollywood commerce and franchise logic, and what that would reveal is that quadrilogies are increasingly uncommon: it's either a trilogy that is the expanded version of the three-point narrative, or the beginning of another one, which is what I feel the intent of a fourth Thor film is going to be. The MCU too hasn't shown any signs of wrapping up any time soon, with the news of Thor 4 after everyone assumed 'Endgame' to be the final film for all Phase I Avengers confirming that, and it would sure seem that the writers have a big, big challenge at their hands, given that most of the major arcs and villains for Thor are already done with (or rushed through in the case of Malekith and Surtur).
Again, while critics have raved about 'Ragnarok' being stylistically and aesthetically remarkable, it still left me frustrated at how badly the foretold Norse 'Ragnarok' was handled and led to fruition. I'll give it to the film for being wildly funny in parts, and that may not be a compliment when you are dealing with the supposed end of times and the death of Norse Gods. Keeping personal opinion aside, there was something with the third that surely worked, and while I won't put a pin on it, it is but obvious that the more the fourth has of them, the better.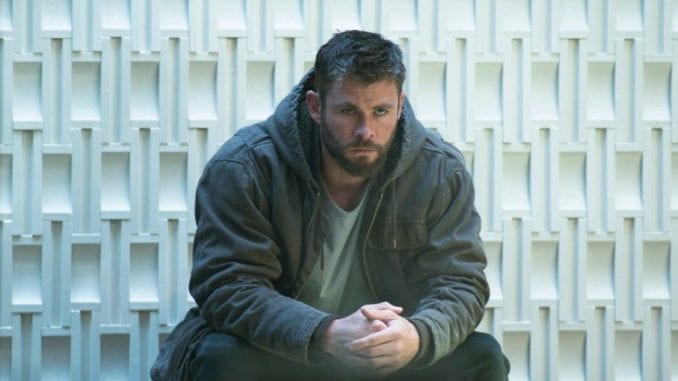 Seeing as though 'Ragnarok' already had a pretty stuffed storyline with Hela, Planet Hulk and the titular arc already in there, Beta Ray Bill, a very well-known Thor adversary/ally was written off from the script owing to there being very little room for such an important character to thrive. That didn't mean that the makers were going to pass on the chance of throwing in a Beta Ray Bill easter egg in 'Ragnarok' in a wide shot over one of the towers in Sakaar. Check that out in the image below!
Now 'Thor 4' will have plenty of room for him, and a lot of other room for introducing other characters including Mangog and Man Thing that could square off against Thor later. For starters, an interesting piece of trivia for fans who haven't heard of Beta Ray Bill: he was the original wielder of the Stormbreaker, and can also summon and wield Mjolnir. Now THAT is bound to make things interesting for the two and the film. Furthermore, latest news straight from the SDCC confirms that there will be a She-Thor in the MCU! If that doesn't get you excited for the film, I don't know what will.
Thor 4 Cast: Who Could Be In It?
Hemsworth has worked with the intended director and writers for 'Thor 4' behind the scenes in shaping a script suitable for the character, so it is an absolute no brainer that he would once again be donning the cape and wielding the lightning for technically his eighth turn as the god of thunder. While Hemsworth's and co-star Tessa Thompson's pairing couldn't help this year's 'Men in Black: International', they have certainly proved to be a hit for the MCU, and with Valkyrie now being the ruler of New Asgard, Tessa Thompson would be returning in all probability as well.
Furthermore, just like 'Ragnarok', I feel that the MCU isn't done with the Hulk yet, and the now "Professor" Hulk (Mark Ruffalo) could very well make a comeback for this film, since any plans for a Hulk solo film this late wouldn't materialise and also since the duo have been an unlikely pair since the first Avengers film in 2012.
I am not counting out Tom Hiddleston as Loki too to appear in the film after being "apparently" dead following 'Infinity War', since we know how long that lasts. Although this time it may seem really tricky, I still believe the god of mischief to find a way to surprise us once more. The singularly biggest surprise on this front comes in the form of Natalie Portman getting up on the stage herself and announcing that she would be returning as Jane Foster after a long absence, and that she would wield the Mjolnir too as She-Thor. Taika Watiti too will in all probability return to voice Korg, although he is also involved in a much bigger capacity that I will reveal in the next section.
Thor 4 Crew: Who is Behind it?

Fans of 'Ragnarok', rejoice, since this year's SDCC brought in some good news from the Marvel Panel. It was announced officially that a fourth Thor film would be happening and that Taika Waititi would be returning to direct after he painted the previous film in all his own colours. Any other details about the film's crew are yet unknown, but we sure know that Waititi will also be writing the film, along with Feige returning to produce.
Thor 4 Release Date: When Will it Come Out?
Disney and Marvel both have an increasingly busy slate for the upcoming years, but when the god of thunder returns, you make way. Simple as that. The last available slot on Disney's upcoming slate for an untitled Marvel film is the July 22, 2022, roughly three years from the date I write this. However, 'Thor: Love and Thunder' (Yup, that's what they are calling it!) sits comfortably in the November 5, 2021 slot for Marvel. The thunder rumbling in the distance is now closer than ever!
Read More in Movie Previews: Dark Phoenix | The Batman