A glimpse into a small-town mystery, 'Deadloch' paces a deadly series of murders in a satirical comedy. The plot follows Senior Sergeant Dulcie Collins and Detective Eddie Redcliffe on an investigation following a series of murders. On a mission to locate the serial killer claiming men as their victims, Dulcie and Eddie find themselves amidst a number of hilariously awkward situations. Without invoking comedy on the crime, Amazon Prime's 'Deadloch' follows the events that skew the investigation into a spiral.
The show is created by Kate McCartney and Kate McLennan and features Kate Box and Madeleine Sami as the titular leads. Despite delving into wokeism, gentrification and even murder, 'Deadloch' manages to merge each element with comedy flawlessly. So, if you're also equally hooked on the mystery drama, we have collated a list of shows for you to watch. You can watch several of these television shows, like 'Deadloch' on Netflix, Hulu, or Amazon Prime.
8. Mapleworth Murders (2020)
Yet another quest for truth, 'Mapleworth Murders' follows the story of Abigail Mapleworth, a saucy murder mystery writer who teams up with her niece in the small town of New Woodstream to solve homicides. Similar to the quaint town of 'Deadloch' in Tanzania, New Woodstream also becomes an unlikely site of mysterious occurrences with no answers. Created by Paula Pell and John Lutz, who also star in the show, 'Mapleworth Murders' follows the dynamic duo trying to uncover hidden secrets and find the perpetrators at fault. So, if you enjoyed the satirical whodunit in 'Deadloch' then you'll find 'Mapleworth Murders' equally livening.
7. The Good Cop (2018)
Like Dulcie and Eddie, whose investigating techniques differ completely, Tony Caruso Jr. and Tony Caruso Sr. also exist on opposite ends of the spectrum. After serving seven years in prison for a corruption conviction, ex-cop Tony Caruso Sr. decides to use his knowledge and experience for all the wrong reasons. Naturally, his father's frenzied yearnings mean trouble for Tony Caruso Jr., whose obsessively true nature keeps him going above and beyond to keep his dad in check.
Created by Andy Breckman, the series features Tony Danza, Josh Groban, Monica Barbaro, and Isiah Whitlock Jr. Much like Dulcie and Eddie, Tony Caruso Jr. also finds himself in the midst of riveting mysteries. So, if you found 'Deadloch' interesting for its no-nonsensical investigative techniques, then you'll find the different approaches to investigations in 'The Good Cop' fascinating too.
6. Bad Sisters (2022-)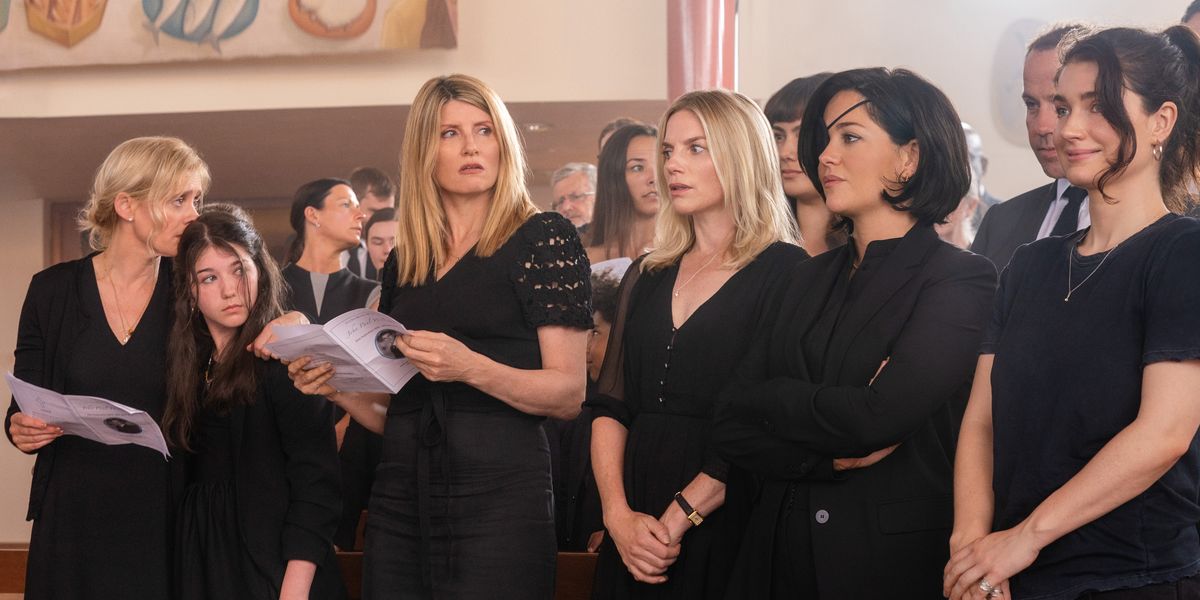 With Sharon Horgan, Anne-Marie Duff, Claes Bang, Eva Birthistle, and Sarah Greene, 'Bad Sisters' follows the story of the Dublin-based Garvey sisters, who find themselves under the life insurance company's radar after their brother-in-law's mysterious death. Created by Sharon Horgan, similar to 'Deadloch,' 'Bad Sisters' does not shy away from delving into traumatic themes such as grief and murder. Not just this, the show also coalesces these heavy elements with comedy effortlessly. Much like 'Deadloch' where Eddie and Duclie find themselves unraveling the murder mystery with prospective moral undertones, 'Bad Sisters' also ponders on the theory of retributivism.
5. Murderville (2022-)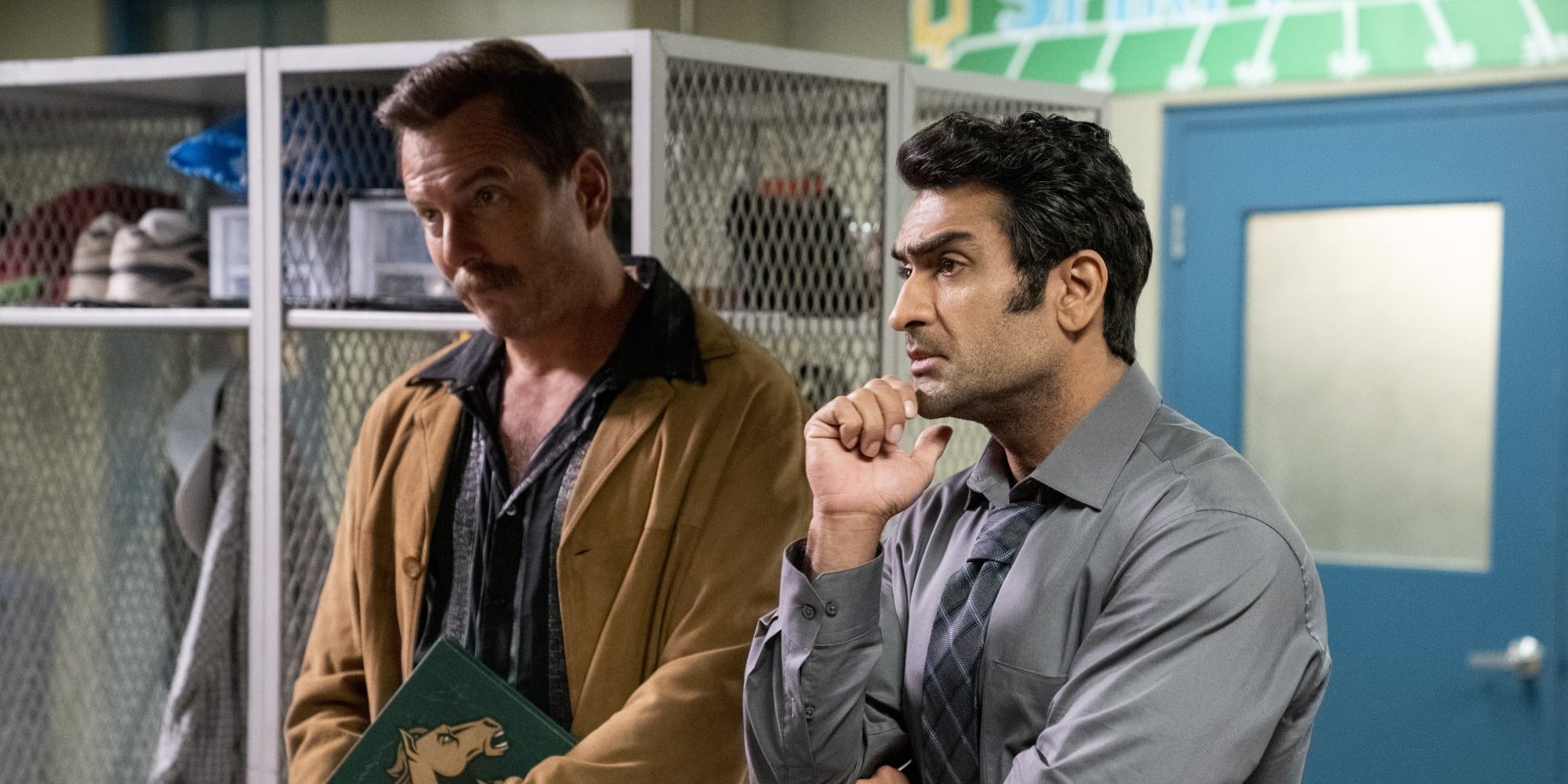 Will Arnett leads the cast as Detective Terry Seattle, who has to team up with clueless guest celebrities in order to solve a murder. The catch of the show is that the guests aren't handed a script and must improvise their investigation. Weaving mystery in an unscripted comedy, 'Murderville' merges eccentricities with profane crimes flawlessly. Inspired by the BBC3 series 'Murder in Successville,' creator Krister Johnson works in the kinks of amateur investigative skills into a thrilling mystery. While 'Deadloch' may not follow as a thematic parallel to 'Murderville,' it still features all the elements of a classic mystery and includes additional improvisation in the event of an undefined script, which makes this series an equally entertaining mystery comedy to watch next.
4. Why Women Kill (2019-2021)
Unfolding the stories of women across three decades, 'Why Women Kill' features a housewife in the '60s, a socialite in the '80s and a lawyer in 2019, with one thing in common: betrayal. Despite their contrasting personalities and demeanour, the one thing that binds them together is their response to said betrayal. The anthology features how in spite of their varied timelines, their reaction to infidelities has remained the same.
Starring Ginnifer Goodwin, Kirby Howell-Baptiste and Lucy Liu as the titular leads, 'Why Women Kill,' is yet another series that chronicles the radical steps that end in bloodshed. Created by Marc Cherry, 'Why Women Kill' follows a similar devastating series of events that stem from corrupted morals. So, if you were intrigued by the exploration of death and grief in 'Deadloch,' then you'll find this comedy-drama equally appealing.
3. The Afterparty (2022-)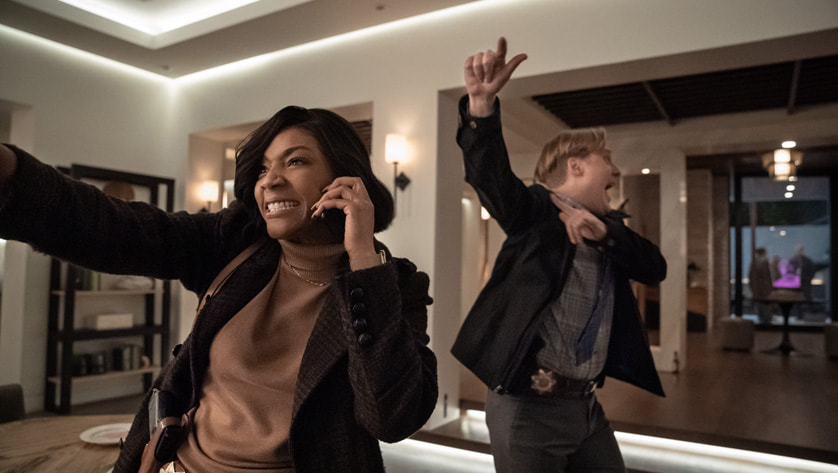 Following the devastating events after a high-school reunion, 'The Afterparty' features the death of Eugene Xavier Duckworth and the consequent investigation led by Detective Danner to nab the killer. The cast features Tiffany Haddish, Sam Richardson, Zoë Chao, Ben Schwartz, and Dave Franco. Created by Christopher Miller, 'The Afterparty' follows a humorous high-stakes situation unfolding in an unconventional thrilling manner. Much like Dulcie and Eddie piecing the mystery with few clues, 'The Afterparty' also follows Detective Danner's endless strive to find the murderer in a group of ragtag misfits.
2. Broadchurch (2013-2017)
Featuring David Tennant, Olivia Colman, Andrew Buchan, Jodie Whittaker, and Arthur Darvill, 'Broadchurch' follows the murder of an 11-year-old boy Danny Latimer and the consequent investigation by local police that sends the coastal community of Broadchurch into a frenzy. Despite the axiomatic differences that place 'Broadchurch' on a different level than 'Deadloch,' creators Kate McCartney and Kate McLennan have spoken on how the show piqued their interests and have even referred to 'Deadloch' as "Funny Broadchurch." So, naturally, despite its drastic differences, 'Broadchurch' is still a riveting mystery that explores a number of disturbing themes and creates suspense through and through.
1. Only Murders in the Building (2021-)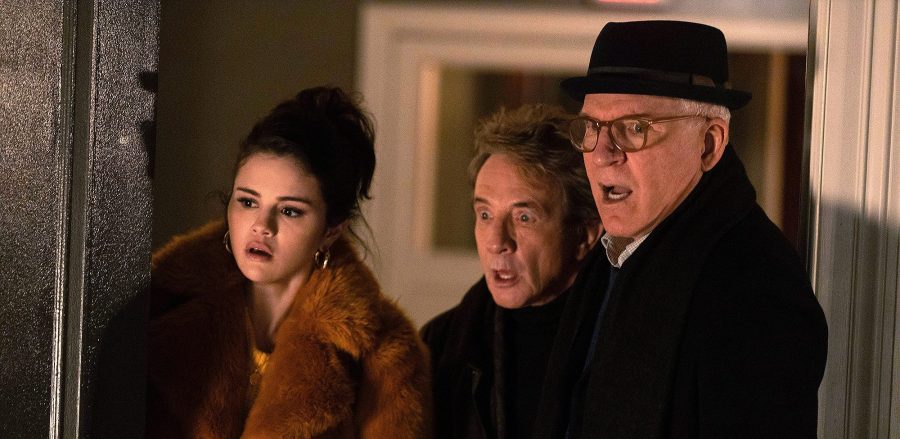 Creators Steve Martin and John Hoffman base this murder mystery on the ever-growing obsession with true crime. When a grisly murder renders an exclusive Upper West Side apartment building confounded, three strangers with equally different personalities find themselves coming together to solve the murder. The trio decides to use their true crime podcast knowledge by teaming up and finding the culprit.
With Steve Martin, Martin Short, and Selena Gomez as the titular leads, 'Only Murders in the Building' meanders the obsessive nature of true crime and delivers a journey filled with comedy and thrill. So, naturally, if Dulcie and Eddie's endless toil to find the connections in the murders piqued your interest, then you'll find an amateur coalition on a quest to find the perpetrator equally intriguing.
Read More: Is Deadloch Based on a True Story? Is it a Real Place?