Sitcoms are among the most popular genres of television shows. Since the medium of television started gaining mainstream popularity, sitcoms were among the most watched and loved genres in TV. Among the many iconic sitcoms released in this century, few can compare themselves to the impact that ABC sitcom 'Modern Family' has had on pop culture. Created by Christopher Lloyd and Steven Levitan, the series received widespread critical acclaim soon after its release. Though the love from the critics started to dwindle as the show progressed, its mainstream popularity kept the series going until it was announced that the show will be discontinued after its eleventh and final season.
The story of 'Modern Family', as it might be clear from the title, is about families in this present day and age. There are three families that the show focuses on. All of them are inter-related through the leading character Jay Pritchett and his children Claire and Mitchell. While Jay and his second wife Gloria have a family comprising of step-relations, Claire lives with her nuclear family comprising of her husband and three children. Last but not the least, Mitchell is a homosexual man who has found love in Cameron Tucker. Together, they have also adopted a daughter.
The show depicts the complexities in the relationships between this vast range of characters. It explores various themes like communication in modern society, parenting, sexuality, and so on. If you have enjoyed watching 'Modern Family' and are looking for similar shows, then you have arrived at the right place. Here's the list of best shows similar to 'Modern Family' that are our recommendations. You can watch several of these series like 'Modern Family' on Netflix, Hulu or Amazon Prime.
7. Married…With Children (1987-1997)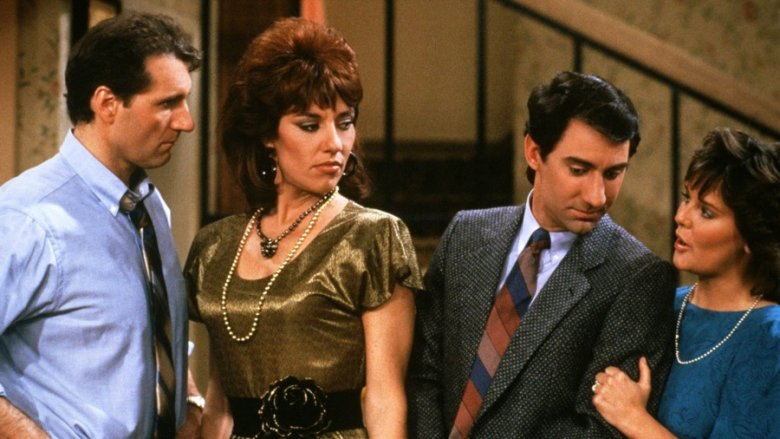 This Fox original sitcom is about a dysfunctional family. Led by the patriarch Al Bundy, the series delves into the numerous hilarious situations he, his wife Peggy, and their children Kelly and Bud find themselves in. While Al is a disgruntled, misogynist who makes a living by working as a shoe salesman, Peggy mostly sits at home doing nothing. Their daughter Kelly is popular among her friends, but she is rather stupid for anyone to take her seriously. On the other hand, Bud is intelligent, but quite unpopular among his friends and at school. The comedy on display in this sitcom is rather crude, and has triggered some activists who even wanted the show to be canceled. But it must be admitted that each character in this series is as fresh in the minds of the fans as they were when the show first released. 'Married…With Children' also sold an impressive amount of merchandise during its time.
6. How I Met Your Mother (2005-2014)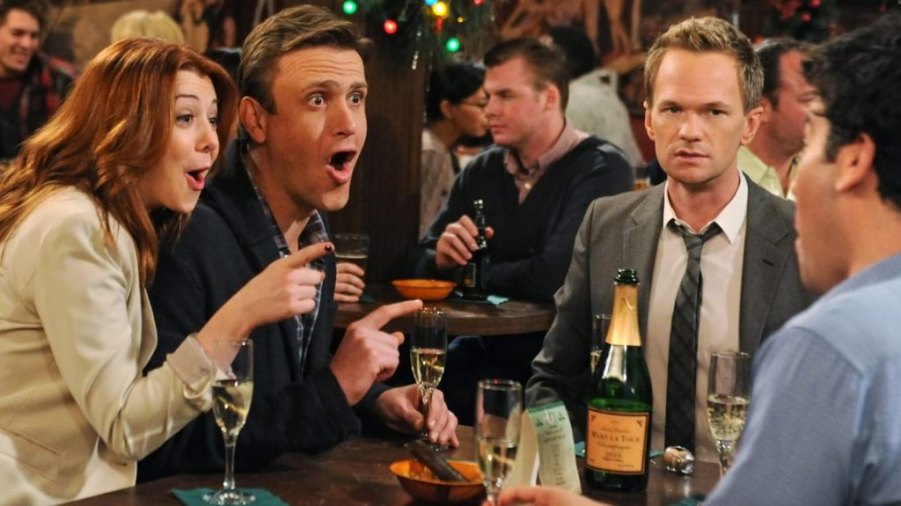 Just like 'Modern Family', 'How I Met Your Mother' is also one of the most popular sitcoms of this century. If the name confuses you, the show is simply about a father telling his now grown-up children the story of his life, and how, after many failed relationships, he finally met their mother and started a romantic relationship with her. The series occurs entirely in flashbacks and it is the leading character Ted Mosby's accounts of his younger days that the show focuses on. The best part of the series is that it sometimes retells one incident from various points of view, and we get an idea of how Ted censors his stories while retelling them to his children. The unique blend of past and present, finely written characters and an impressive set of cast members helped the series earn the massive popularity that it enjoys to this very day.
5. Rules Of Engagement (2007-2013)
This CBS original sitcom created by Tom Hertz centers around the lives of six friends. Among them, there are two couples, while the remaining two are single. Jeff and Audrey have been married for a long time, while Adam and Jennifer live together and are engaged, but have not married yet. Their two single friends are the womanizing Russell and the mild-mannered Timir. The show examines modern-day love and relationships through the lives of these characters. Each one of them is well-fleshed out, with fascinating backstories and their own unique perspectives on love and life. Interestingly, the characters of Russell and Timir act as the perfect foil to each other.
4. The Goldbergs (2013-)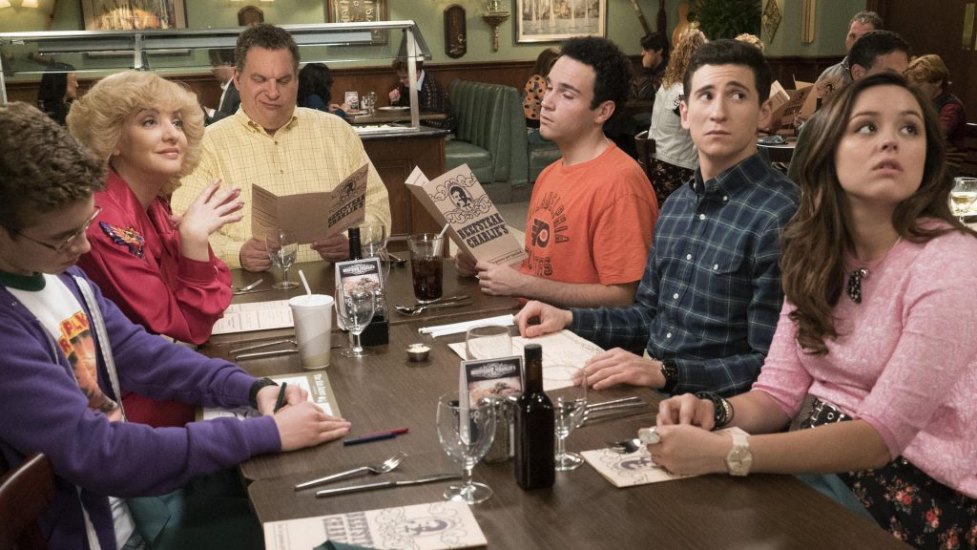 Adam F. Goldberg, the creator of this ABC sitcom, has based the story mostly upon his family and their antics. The central character of the series is a young boy who is also called Adam, and it is his recollection of his life with his family in the 1980s that becomes the central focus of the show. Each of Adam's family members is eccentric in his/her own unique way: his father is quick to get angry; his mother is too protective of her children; his sister is rebellious in nature; while his brother is rather sensitive. Unlike most other sitcoms, each episode of 'The Goldbergs' ends with a positive message. Another major highlight of the series is the fact that it sees the world from a child's perspective. In most television shows, the complexities of adult life are shown from the perspective of the person going through such a situation. But when it is looked at from the perspective of a kid who does not actually understand what it means to be an adult, it gives a whole different picture.
Read More: TV Shows Like Friends
3. Life In Pieces (2015-2019)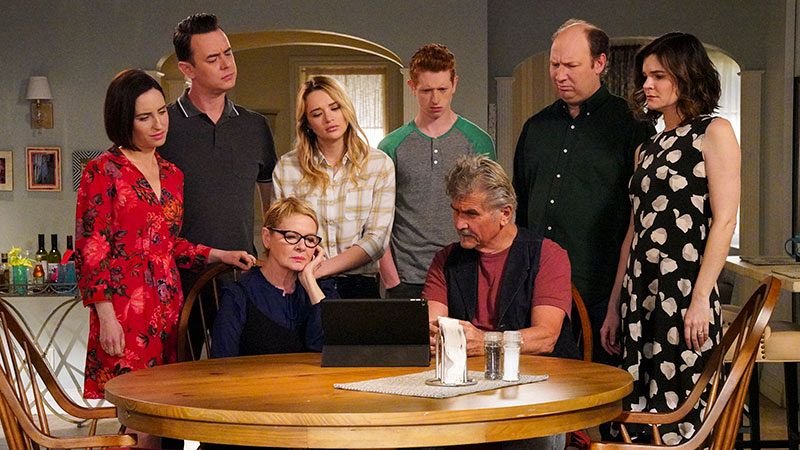 Similar to 'Modern Family', this CBS sitcom, 'Life In Pieces', tells us about the lives of three generations of a single family – the Shorts. Living in Los Angeles county, each character of this large family deals with hilarious situations, and this becomes the main source of the series' humor. Each episode of 'Life In Pieces' is divided into four parts. The first three parts take a look at the lives of the three different branches of the family, while the last one is used to tie in the three strands and draw the episode to a proper conclusion. The cast of this series is rather impressive in their performances. However, it must be said that at times the jokes or the plotlines of this show tend to get a bit out of touch with reality.
Read More: TV Shows Like Life in Pieces
2. Two And A Half Men (2003-2015)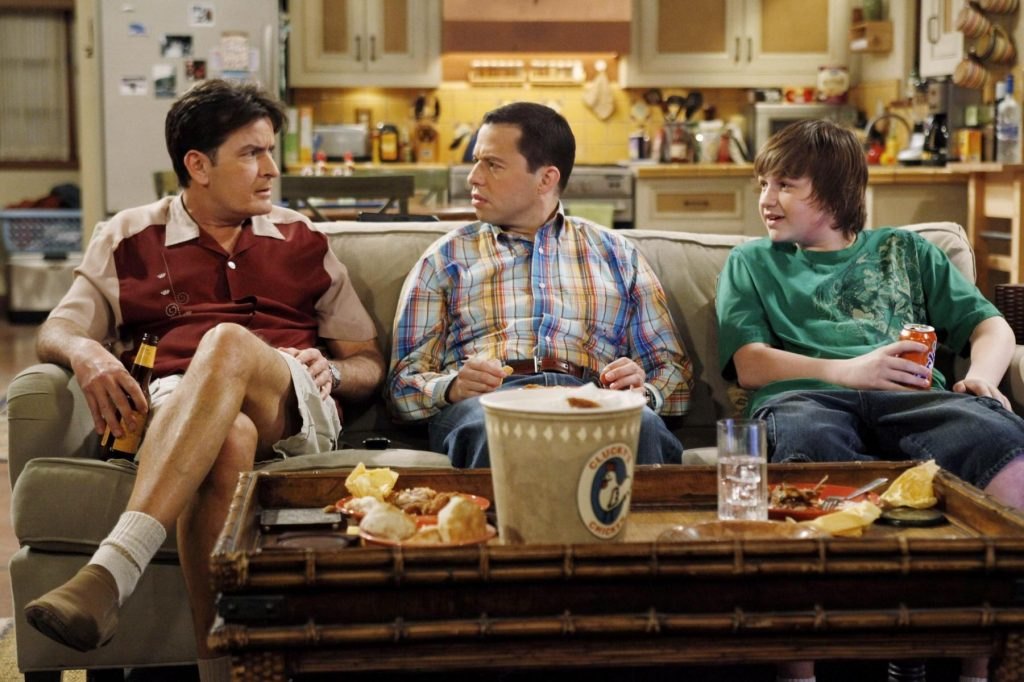 No matter how difficult things in life get, we always know that we have members of our own family on whom we can depend for some support. This is what the show tries to focus on. It revolves around the lives of two brothers Charlie and Alan. After losing his house in his divorce case, Alan moves into his brother Charlie's Malibu beach house along with his son Jake. The brothers do not exactly adore each other, but are always there for each other during times of need. The show focuses on their interactions and explores the intricacies concerning their relationship. Charlie Sheen does an amazing job of portraying Charlie; but it is the chemistry between the three leading characters which becomes the highlight of the show.
Read More: TV Shows Like Unforgotten
1. Fresh Off The Boat (2015-)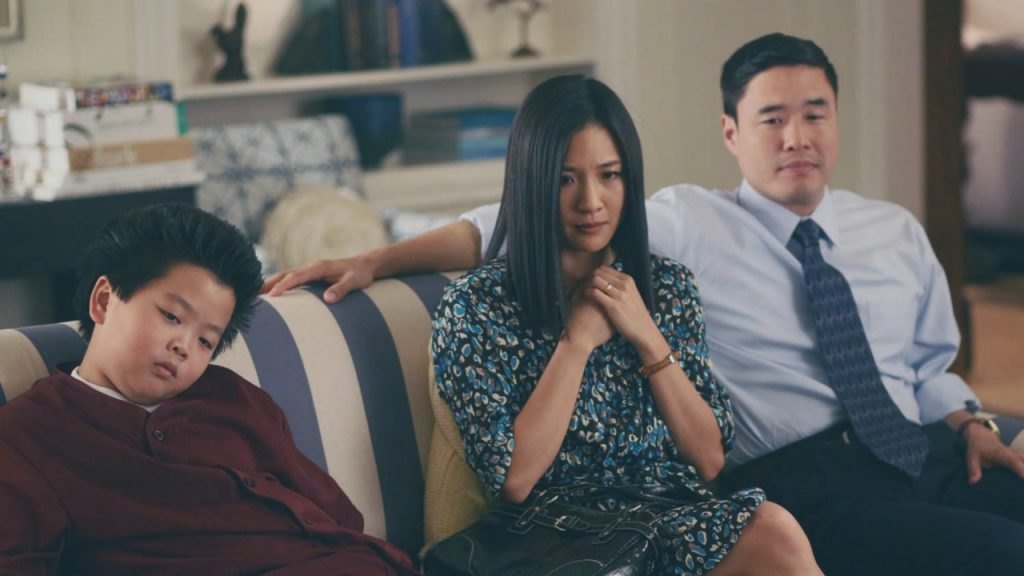 Adjusting to a completely new surrounding is one of the most difficult tasks any human being has to do. Being social animals, we get not only dependent, but also attracted to the place we have been living in for a long time. And now when we are asked to move out of that place and stay in a completely different environment, it naturally comes as a great challenge to us. This is what exactly happens with Eddie Huang's Taiwanese family, who move from Washington's Chinatown to Orlando, Florida. Unlike their earlier neighborhood, this area does not have a noticeable Asian population. This makes it difficult for Eddie's mother to connect with the neighbors, while Eddie himself struggles to make friends at school. The show depicts how the Huang family manage to get over such difficulties and readjust their lives.
Read More: TV Shows Like Friends from College