Ryan Murphy has teamed up with his old collaborators Brad Falchuck and Ian Brennan for his first Netflix original series, 'The Politician', a comedy revolving around the life of a highly ambitious high school student. The student in question is Payton Hobart, the young son of a wealthy family whose ultimate dream is to become the President of the country. For him, this is not just a daydream; he actually imagines himself as the future President of the United States and wants to do everything that will smoothen his path to the White House. But before conquering the world with his lofty political ambitions, Payton needs to get over his high school politics first, by becoming the president of his class. The series might remind you of Wes Anderson films like 'Rushmore', but the humor here is more acidic.
The biggest name in this show is undoubtedly the Academy Award-winning actress Gwyneth Paltrow, who plays the role of Payton's mother. Paltrow returning to the small screen will surely draw the interest of many of her fans. The humor in this series is rather refreshing. There are several unexpected twists and turns, and the performances are also pretty strong. If you loved watching this series and are looking for more similar shows, then we've got you covered. Here's the list of best shows similar to 'The Politician' that are our recommendations. You can watch several of these series like 'The Politician' on Netflix, Hulu or Amazon Prime.
7. Faking It (2014-2016)
High school is a time when we do a lot of things to come off as cool. And sometimes these actions can have severe effects on our lives. This is exactly what happens with the characters Karma Ashcroft and her best friend Amy Raudenfeld. The school they are in celebrates a deviation from the path of normalcy, and Karma has always wanted to be an eccentric figure who stands out in a crowd. When Karma and Amy go to a party at the house of one of their homosexual classmates, the others take them to be a lesbian couple and hail them as their homecoming Queens. Karma loves the attention and wants to continue it, while Amy genuinely starts falling in love with her. 'Faking It' takes an interesting look at teenage psyche and helps us understand the complex ways in which their minds work. The yearning to be popular is something social media has embedded in all of us, and this is what drives us towards doing a lot of things which can otherwise be avoided.
6. Freaks And Geeks (1999-2000)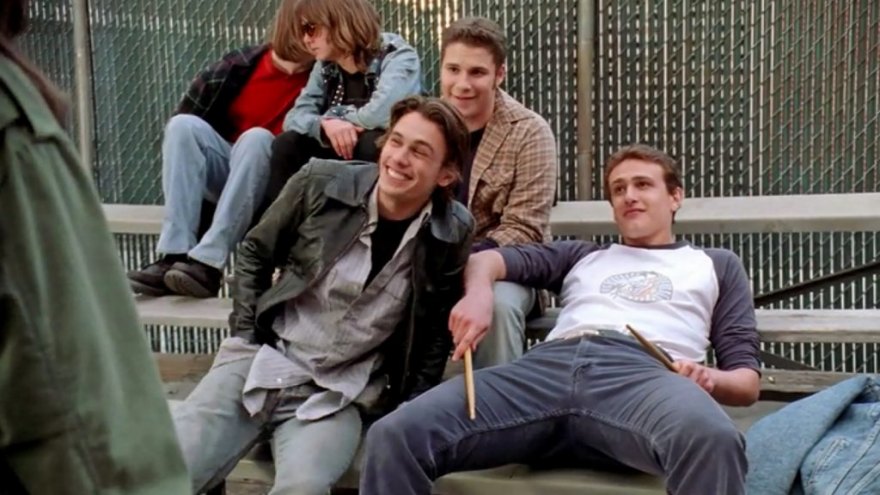 This short-lived NBC series launched the careers of James Franco, Seth Rogen, Jason Segel, Linda Cardellini, Busy Philipps, and John Francis Daley. Despite not receiving much popularity during its run, the series has since developed a strong cult following. The story of 'Freaks And Geeks' follows two friends' circles – the "freaks", who are Lindsay Weir's friends, and the "geeks", who are Lindsey's brother Sam's friends. The show follows Lindsay and Sam's lives as they grow up into adults. Through Lindsay's character, we see how social acceptance goes a long way in building one's personality as a teenager. Adolescence is looked through a humorous lens in this show, and thus many nuances of the period start becoming clear to the viewers.
5. City Guys (1997-2001)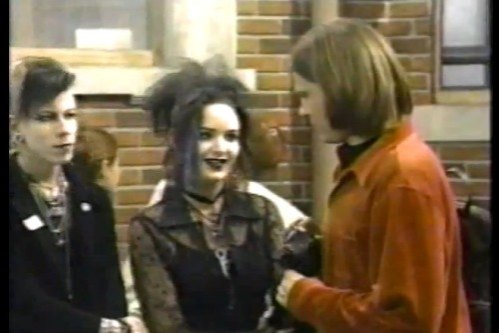 Another interesting high school TV series, 'City Guys' centers around Jamal and Chris. Both of them study at the Manhattan High School, and though their relationship starts off on a wrong footing, the two off them eventually become the best of friends. Jamal is from a poor background, while Chris comes from a rich family, but that does not become an issue when it comes to their friendship. Along with a few of their friends, their journey from adolescence into adulthood becomes the central focus of the series. Besides being a comedy, 'City Guys' also serves as an important social commentary on the condition of youth in the late 90s and early 2000s.
4. Popular (1999-2001)
When we are teenagers and are dependent on our parents, we need to adjust our lives according to our parents' life decisions, no matter what our opinions are. This is exactly what happens to the leading characters of the series 'Popular' – Brooke and Sam. Both these girls study at the same school, and while Brooke is a popular cheerleader, Sam is a journalist nobody really knows about. These two characters are one day forced to live under the same roof when Brooke's father gets engaged to Sam's mother. The story then focuses on how the two girls develop a relationship between themselves and play a vital role in their parents' lives. 'Popular' is also co-created by Ryan Murphy, and as usual, the series' scope goes much beyond the limitations of the comedy genre. It explores the concepts of maturity and responsibility from a teenagers' point of view. Friendship and camaraderie are other themes that the show tries to explore.
Read More: TV Shows Like Undone
3. Community (2009-2015)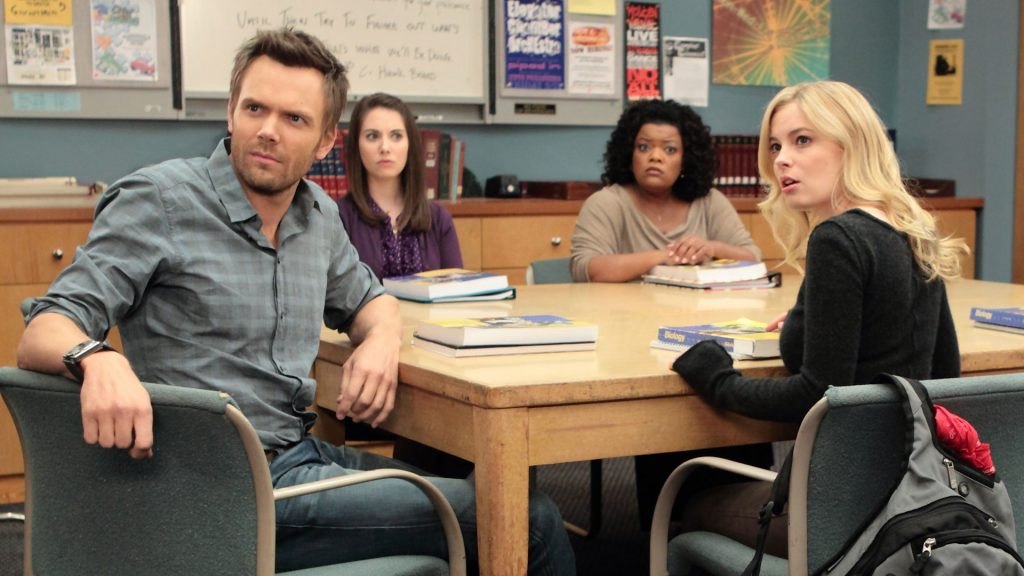 It is a cardinal sin to lie at job interviews because if you are caught after you get hired, nothing can be more embarrassing than that. You will not only lose your job, but also earn a reputation for being a fraud. This is exactly what happens with Jeff Winger after a law firm realizes that he does not have the bachelor's degree from Columbia University as he had earlier claimed. They then force him to enroll in a college and get a real degree. This is the reason Jeff finds himself at the Greendale Community College. Here, he comes across various eccentric people who go on to become some of the major characters of the series. Ambition is good, but lying to get ahead in this world amounts to nothing. This is the lesson that we can learn from the show.
Read More: TV Shows Like Schitt's Creek
2. House of Lies (2012-2016)
Don Cheadle is now a household name all over the world, thanks to his performance in the 'Avengers' series. But he has been a successful comedy actor for quite some time now. Cheadle's comedic talents are probably best explored in the Showtime original series, 'House Of Lies'. The show centers around the life of a management consultant called Marty. He is as ferociously ambitious as the leading character of 'The Politician', and will do almost anything under the sun in order to get his job done. Cheating, lying, manipulating, surpassing the law are regular occurrences at the consultancy firm that Marty starts after quitting his job at a firm where he was a partner. The show employs asides, where Marty breaks the fourth wall and talks directly to audiences. These asides become our special connection with Marty, whom we start to care for despite his lack of honesty. Performances by Cheadle and Kristen Bell in the leading roles are undoubtedly the highlights of the show.
Read More: TV Shows Like It's Always Sunny in Philadelphia
1. Glee (2009-2015)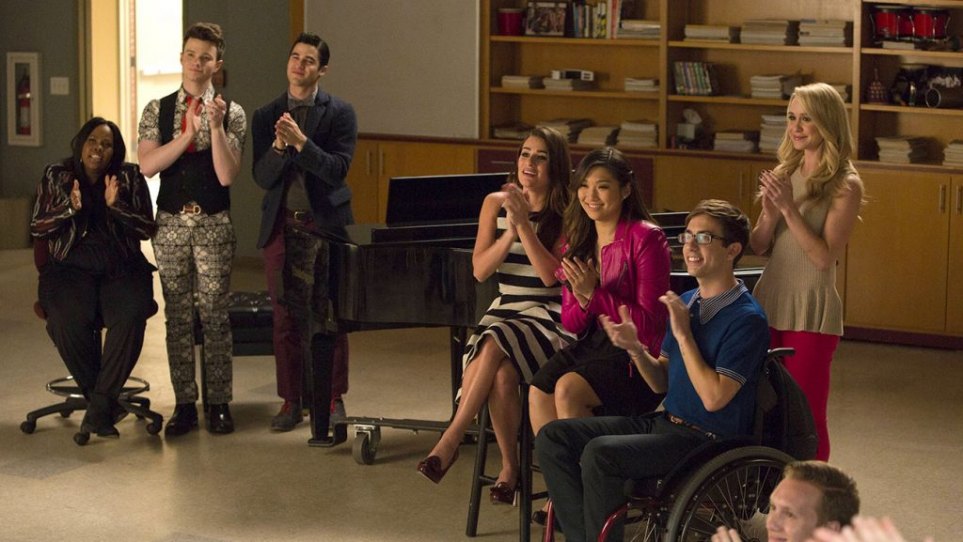 Another creation by Ryan Murphy, 'Glee' specifically focuses on the "glee club", or the show choir of a group. After the teacher-in-charge of William McKinley High School's choir is shown the door, Will Schuester takes charge and guards his wards towards a path of success by inspiring them to put their heart and soul into performing for their school. The show also focuses on the personal lives of the teachers and the members of the choir as they deal with their relationships, heartbreaks, unwanted pregnancies, and so on. A lot of teenage problems and social issues are thoroughly explored in the series, which makes it one of the most important teenage shows of recent times.
Read More: TV Shows Like Grey's Anatomy