"I feel it in my fingers, I feel it my toes, Christmas is all around me and so the feeling grows"
If you sang along and felt it in your toes then you definitely know what this means. 'Tis the season to spread some holiday cheer, feel the love, and happy cry rewatching your favourite Christmas rom-com for the 100th time. Yup, it's time to revisit Richard Curtis' 'Love, Actually' and let it take you to the warm winter wonderland that restores your faith in humanity, and of course, love. Even if it's just for one day.
The film is about ten interconnected love stories, or really, stories about love, in all its different forms, that take place simultaneously in London during the Christmas season. In a lot of ways, 'Love, Actually' is an ideal title for a Christmas film because at the end of the day, the festival is all about love. This adds to the opening scene where Bill Nighy's Billy Mack accidentally mixes up the word "christmas" with "love". The film features an ensemble cast and majorly includes British actors like Hugh Grant, Alan Rickman, Emma Thompson, Colin Firth, Keira Knightley, Martin Freeman, Liam Neeson, among others.
Interestingly, Curtis did not initially intend to make the film about Christmas, but because of his own love for the festival, he ended up giving to us what's now considered a modern-day Christmas staple. In fact, it is voted to be Britain's favourite Christmas film of all time. 'Love, Actually' is also the film that turned London into every Christmas crazy person's winterland fantasy. Yes, this means you can actually have your very own self-guided 'Love, Actually' tour this holiday season, and we're here to help you with that.
Filming Locations
'Love, Actually', is in many ways, a celebration of love, Christmas, and of course, London. The film tours across the city as it explores its different stories revealing to its viewers that both love and Christmas are, in fact, very much around us in London. Most the film was actually shot on location in the city. With the craze of the film and the way it maps out London, the scenes filmed in the city have become so iconic over time that there are, in fact, "Love Actually Tours" in the city which take you around all the places where these were shot.
Heathrow Airport
If you think about it, airports are amongst the most emotionally charged spaces in our lives. These are spaces where all strangers have that one thing in common, despite all their differences. Everyone is either goodbyes or reuniting with someone. But especially around the festive season, airports mean thousands of strangers coming back home to their loved ones.
Curtis, through 'Love, Actually' romances airports like no other film has, with his montage of airport embraces. What makes it even more heartwarming is the fact that he captures the tenderness of these reunions with real-life people meeting their loved ones at the Heathrow airport, all filmed from hidden cameras. It is Curtis' way of telling us that love is really all around us, as the film opens with Hugh Grant's heartwarming dialogue:
"Whenever I get gloomy with the state of the world, I think about the arrivals gate at Heathrow Airport… If you look for it, I've got a sneaky feeling you'll find that love actually is all around."
Heathrow Airport, the biggest and busiest airport in London, plays a key role to almost all the stories in the film. It is where the film both opens and closes. Each story concludes at the airport as end everyone comes home for Christmas, while little Sam (Thomas Sangster) runs after this first love, Joanna who is flying home to the US. All of the airport scenes were filmed in Heathrow's Terminal 3.
Somerset House, Strand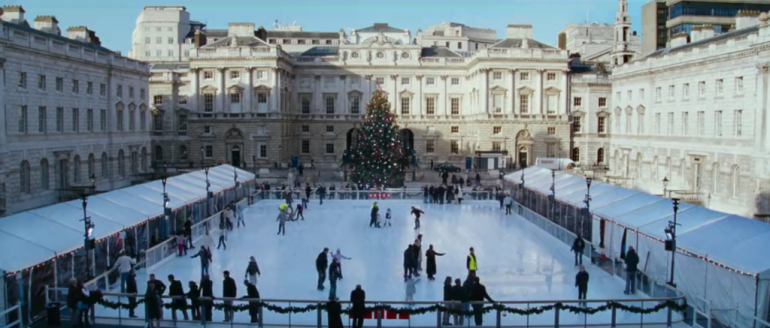 Another place that will make you feel the joy and love of Christmas is Somerset House, located along the Strand and the River Thames. Somerset House's grand neo-classical architecture makes it a prime location for visitors. But what makes it even better is the stunning ice skating rink that is set up each year around the festive season in the courtyard of the building.
Now, how can one not feel they are in a marvelous Christmas special while ice-skating here? It is impossible not to feel so. It also impossible to not feel all the love and warmth in this space around Christmas when you spot lovers, friends, and families holding hands and skating in the magical atmosphere the space has to offer. Somerset House was featured in 'Love, Actually' in the opening sequence of the film, as a part of the montage.
Selfridges, Oxford Street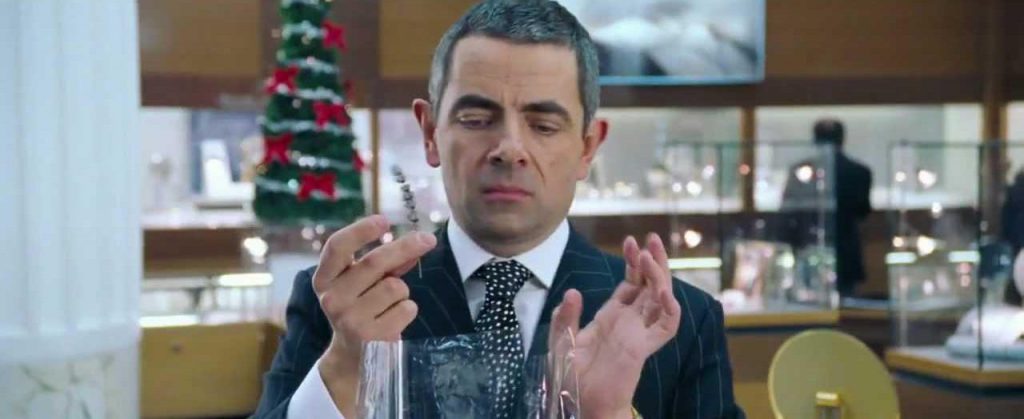 The high-end department store, Selfridges, is a must-visit for anyone who goes to Oxford Street. It is the store where Harry (Alan Rickman) and his wife, Karen (Emma Thompson) do there Christmas shopping. Harry buys an expensive flashy necklace for his secretary Mia, who he is secretly having an affair with.
The scene becomes iconic because it introduces us to Rowan Atkinson's Rufus who hilariously gift wraps the necklace with utmost delicateness and precision, taking all the time in the world, which almost gets Harry found out. Just for the sake of Trivia, let me tell you that Rufus' character was initially supposed to be a Christmas angel. This explains why he takes so long with the packing, and also how he ends up helping Sam in the airport.
Grosvenor Chapel, Mayfair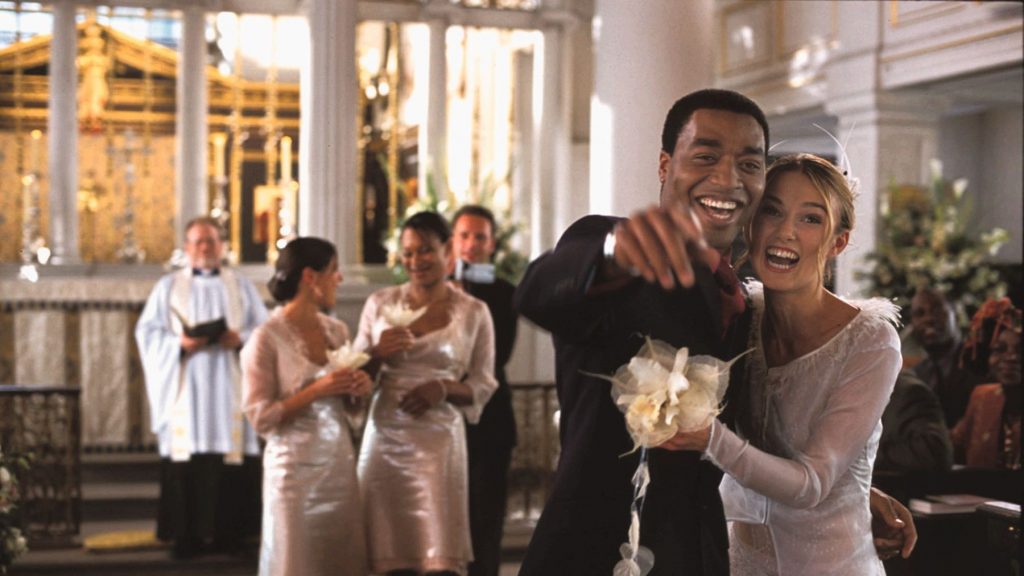 A film with ten stories about love will obviously feel incomplete if doesn't feature even a single wedding. Curtis' 'Love, Actually' then gives us the absolutely marvelous Grosvenor Chapel in Mayfair, where Peter (Chiwetel Ejiofor) and Juliet (Keira Knightley) get married as The Beatles' "All You Need is Love" plays. The entire ceremony is recorded by Peter's best friend, Mark (Andrew Lincoln), who surprises the couples with a spectacular french horn band, adding to the magical feel of the wedding and the space.
Other Locations in London
Along with the locations mentioned above, there were also several others that featured some iconic scenes from the film. One such location is Gabriel's Wharf, central London, where young Sam drops some pearls of wisdom about love and confesses that he is in total agony because he is in love with his classmate. The scene where Mark finally confesses his love to Juliet through placards, without expecting anything in return, takes place in the pastel coloured rows of houses in St Luke's Mews, Notting Hill.
Other places also include Oxo Tower Wharf, Elliott School in Putney, Whiteley's, Trafalgar Square and many more. The scenes set in 10 Downing Street were filmed at the Shepperton Studios. Along with London, certain scenes were also filmed in Marseille Airport and Le Bar de la Marine in France. If 'Love, Actually' does not make you want to pack your bags and immediately leave for London during Christmas, I don't know what will. While going to London might not work out at the moment, you can definitely let the city cast its magical Christmassy spell on you by rewatching 'Love, Actually'.
Read More: Where to Stream Love Actually?