Netflix's 'Too Hot to Handle Brazil,' also known as 'Brincando Com Fogo,' is a dating reality series that sticks to the structure of its original English-language productions and keeps the viewers intrigued and excited by producing unadulterated relationship drama. Here, the attractive and sexually driven singles must abstain from all forms of physical intimacy if they want to stand a chance of winning the massive R$500,000 (approx. $95,000) prize. However, as we've already seen, that is easier said than done. Thus, if you are curious to know how the couples from the debut season are faring today, we've got you covered.
Brenda and Matheus: Still Together
Brenda Paixao and Matheus Sampaio felt an instant spark flowing between them when they saw one another in the dreamy villa. Taking advantage of this fact, they paired up, made out, and went all the way before Lana, the virtual assistant that scans all, could even announce her edicts. Following that, they set the bar for having the most turbulent bond and breaking the most rules. After all, apart from arguments about their respective natures, when allowed a night alone, Brenda and Matheus had sex five times. It appeared as if their connection was simply physical, but they proved us wrong.
Not only did Matheus repeatedly tell Brenda that he had fallen in love with her, but when she confessed that she believed in "I see you" instead of an "I love you," he changed to that. Time and time again, he showed just how much he cared about the gorgeous redhead, so it wasn't a shock when he finally asked her to be his girlfriend. Thus, we're happy to report that they are, in fact, still together. Matheus and Brenda's Instagram feeds certainly don't reveal much, but their stories and her TikTok posts do. The make-up artist and entrepreneur are undoubtedly still together.
Caio and Thuany: Still Together
Caio Giovani's surprise entry in episode 4, right in the middle of the retreat, turned Thuany Raquel's whole experience upside down. From the second they met, their attitudes only complimented each other, so, of course, Caio asked her out on a date as soon as the chance arose. They seized every opportunity to get to know one another, but it still took Thuany a lot of time to truly open up. A few heated arguments and insecurities were also present, yet they always managed to work things out. Caio's incredible personality eventually won the 26-year-old businesswoman's heart.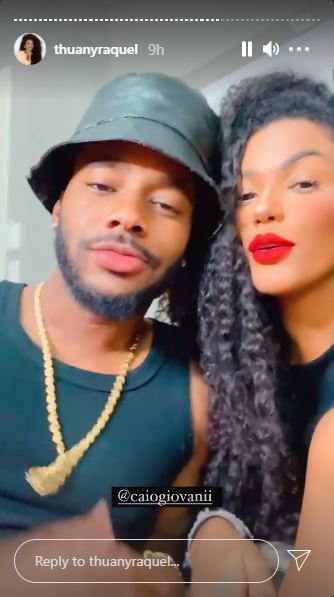 The actor, musician, and composer even wrote a song about his Thu Thu with the help of Matheus, and when he sang it for her, they got their first, actual green light. Moreover, this gesture helped Thuany concede that Caio uncomplicated her complex past and character. Therefore, although Caio is based in Rio de Janeiro and his partner in Pernambuco, they're still very much together and in love, as made evident from their social media feeds, stories, and interactions. It genuinely looks like Caio and Thuany will never let anything or anyone come between their romance.
Leandro and Marina: Separated
Despite Leandro's initial internal problems upon getting rejected by Rita Tiecher, Leandro and Marina's involvement was the most stable in the debut season of 'Too Hot to Handle Brazil.' During their first conversation together, they found common ground in their observant inclinations and passion for athletics. So, they decided to stick by each other throughout the process and see where this link takes them. From a night in the private suite to a green light for their honest and deep dialogues, this duo was granted it all due to their (Leandro's) diligence to follow Lana's rules.
On paper, their contrasting styles – Leandro's shy and quiet temperament alongside Marina's open and straightforward nature – looks almost idyllic. However, from what we've been able to discern by their public presence, it doesn't seem like it worked out for them in the real world. In simpler words, the 23-year-old professional swimmer from Brasília and the 24-year-old fashion lawyer from the Rio Grande do Sul area follow each other on Instagram, but that's about it. There is no additional trace of their supposed lover on their respective social media platforms.
Davi and Kethellen: Unclear
Davi and Kethellen's tale began following a tantric class where they chose each other as partners by complete chance while wearing a blindfold. The emotions surging within them nearly made them lock lips that day without even realizing it, resulting in them turning inseparable. Though this couple was one of the youngest in the villa, they showed a level of maturity when it came to their connection that shocked us. Yes, the two made mistakes and got drunk a little too often, but they regularly communicated about their feelings to not cause unintentional hurt or pain.
Unfortunately, even with that, it's unclear where they stand today. We can say for sure that Davi and Kethellen remain on excellent terms considering their online interactions. Yet, they haven't uploaded anything to insinuate a continued romantic involvement. Therefore, all we know is that while Davi proceeds to expand his career as a DJ and influencer, Kethellen now divides her time between Amazonas and São Paulo.
Igor and Ana Clara: Unclear
Although Ana Clara came to this beachy paradise as Lana's instigator and swindler on purpose, she managed to have her heart melted by Igor Paes. She'd picked him in the hopes of breaking some rules and walking away with a bag full of cash for her bank account. However, Igor's lovable personality, alongside their genuine conversations, won her over. Thus, Ana Clara decided to stay and further her bond with Igor, only to gain an extraordinary experience in return.
Hence, regardless of whether they are still in a relationship, which remains unclear, we know that the entrepreneur and the artist are at least on good terms, which seems enough for them.
Read More: Which Sexy Beasts Season 1 Couples Are Still Together?