Mooted to be the strangest reality dating series, 'Sexy Beasts' is a Netflix original that places the focus of hot and young singles on personality over appearance in a very peculiar way. Imagine the concepts of 'Love is Blind,' 'Dating Around,' and 'The Masked Dancer' all mixed into one, and you'll end up with this exact production. In simple words, the willing contestants are disguised as insects, animals, monsters, and dinosaurs while speed dating three individuals before choosing their potential long-term suitor, or "sexy beast." So, let's find out where all the pairings ended up, shall we?
Emma and Bennett: Separated
Dressed as a Demon, Emma's prospects were Bennett, Archie, and Adam, all of whom failed to impress her during the first round. Yet, as Adam was the one she felt no spark with, she booted him and asked the other two to step up their game, which they did. While Archie took the model to a spa, Bennett beat him by taking Emma to a theme park and kissing her in the rain. A "fairytale ending" is how the pair ultimately described their bond.
As for where they are now, although the former volleyball player traveled to New York, Emma's base, for the first time in December 2020, there's no trace of her on his social platforms. Then, in February 2021, Emma posted a video on her YouTube channel talking about love and relationships, where she clearly stated that she's single. With that, Bennett now seems to be working as an actor, digital creator, and television personality.
James and Alexis: Separated
As a lab technician from Los Angeles, California, James joined the cast of 'Sexy Beasts' in the hopes of finding a partner who could be fun and profound at the same time. He added that it would be a plus if she had a great behind because it's always "ass first, personality second" for him. Thus, once Alexis came into the picture, James was hooked. After all, not only was she kind and energetic, but she also indulged him in an unusual yet sweet "beaver kiss."
In the end, James admitted that he'd "hit up Tamiko" if things do not work out between him and Alexis, and that explains where they stand today. He does follow both women on Instagram, seeming as if he is on good terms with them, but Alexis has moved on and looks happy with a new partner. Today, while James is trying to make a name for himself as an actor/stuntman, Alexis continues to expand her music and law career.
Kariselle and Tyler: Possibly Together
Professional Party Motivator and Pageant Girl, Kariselle has been ready to get married for quite some time. Therefore, she even consulted a psychic, who told her she'd find love abroad in November 2020, the exact time she was in London for 'Sexy Beasts.' Even though Kariselle liked both Josh and Tyler (an engineer and a model, respectively) out of her prospects, the latter won her heart with his energetic temperament and funny dad jokes.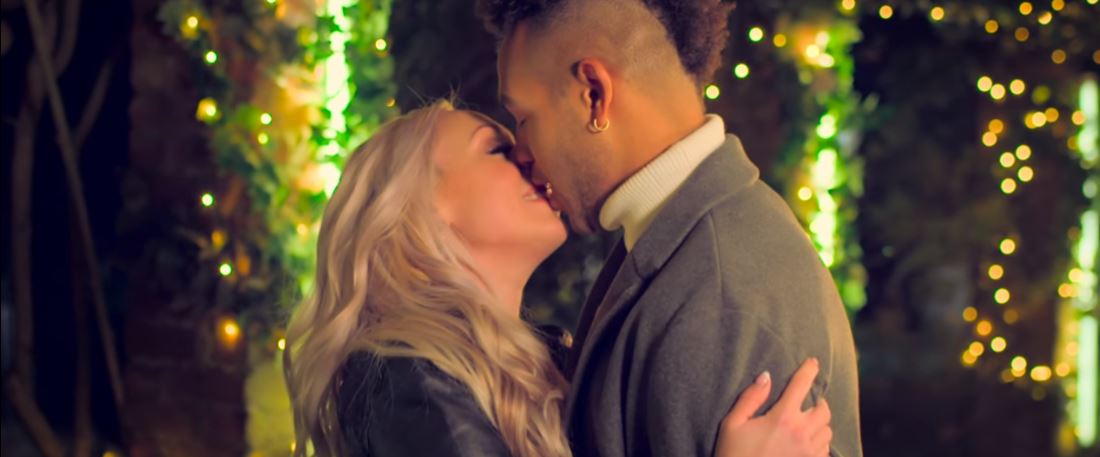 From what we can tell, it seems as if Kariselle and Tyler have remained on excellent terms, so they may still be together. They have not verified their connection or uploaded a public image with each other as of yet, but their flirty interactions in the comment section of Tyler's posts explain enough. Kariselle leaves numerous heart-eye emojis on his pictures, and Tyler replies with a sweet and simple panda emoji, referring to her disguise.
Ibrahim and Gabi: Separated
Disguised as a Wolf, Ibrahim landed three spectacular dates on this series with Bella, Gabi, and Karissa to find his "queen." However, it was Gabi who won him over with her ability to let loose, keep the discussions rolling, and create jokes about their gin-baby. The fact that she danced in front of the professional dancer also impressed him.
Unfortunately, Gabi just got a "friend vibe" from the New York and London-based artist, so it looks like they are no longer together. We assume that Ibrahim is still flourishing as a graffiti illustrator and dancer, while Gabi, we know, resides in London and attends the Royal Veterinary College. It also appears as if she's in a relationship with someone else.
Nina and Mick: Unclear
For Nina, the dream has always been to end up on a farm with a "cowboy" who adores and regards her as an equal. So, when she met Mick, a curly-haired and self-proclaimed "spiritual cowboy," who matched Nina's energy at every turn, it was like she found her ideal man. The others failed to live up to Mick's chivalry and charm, making him Nina's "sexy beast."
Mick and Nina follow one another on Instagram, and they even live pretty close by. Thus, although they haven't revealed their relationship status yet, we're hopeful for a continued romance. However, one thing is for sure, even if they're not intimately involved, they're still friends. Moreover, it seems like both Mick and Nina are now hoping to become actors.
Kelechi and Martha: Unclear
With Lilly, Cassie, and Martha as his suitors, Kelechi was a happy man as all his requirements – intelligent, goofy, and aspirational – were ticked off by each of them. Nevertheless, he had to eliminate Cassie as he bonded with her on just a friendship level. As for Lilly, she was booted off simply because Kelechi had more of a romantic connection with Martha, who couldn't help but make him smile throughout their date.
Although an ocean currently separates Kelechi and Martha, they still appear to be on good terms, as indicated by their Instagram profiles. It's hard to discern where exactly they stand today, but since Kelechi and Martha continue to follow each other, we will stay optimistic about their connection until they reveal otherwise. While Martha is now in the entertainment industry as a model, actor, and influencer, Kelechi will graduate from Knoxville's SCSP in 2022.
Read More: Where is Sexy Beasts Filmed?