Fans of survival adventures worldwide have taken a liking to Netflix's 'Outlast.' The reality show may be meant to test the effectiveness of teamwork in the wilderness, but it has provided the viewers with much more, given just how unexpected the turn of events can be. One of the most intriguing participants to grace the show is Angie Kenai, whose impressive journey came to a halt due to circumstances beyond her control. Naturally, people are eager to know more about the same and where the contestant is nowadays. So, let's explore it all together, shall we?
Why Did Angie Kenai Leave Outlast?
Shortly after entering the Netflix series, Angie Kenai became a member of Charlie Camp. Along with her teammates Nick Radner, Andrea Hilderbrand, and Seth Lueker, the 30-year-old was determined to emerge victorious. However, she was far from happy about Nick's behavior regarding taking charge. Initially relieved that she was not the only woman on her team, Angie was highly disappointed when Andrea decided to leave the show due to health reasons.
Now the only woman in her team, Angie became frustrated regarding the dynamics of her team. The simmering tension became a strong argument during the crab pot task, where she insisted that she wanted to be the one on the raft, an idea that Nick highly disagreed with. Nevertheless, Angie represented her team for the mission and was the only one to get crab pots. This positively helped soothe the issues among the members of Charlie Camp.
While things between Angie's team and Delta Camp did go sour after Paul Preece switched from the former to the latter, it also helped Charlie Camp dominate the competition. After securing an alliance with Alpha Camp, Angie and her teammates had to refuse Javier Colón's request to join them not to increase their troubles. Now with only two teams in the play, Camps Charlie and Alpha were given a chance to fish as the winter grew stronger.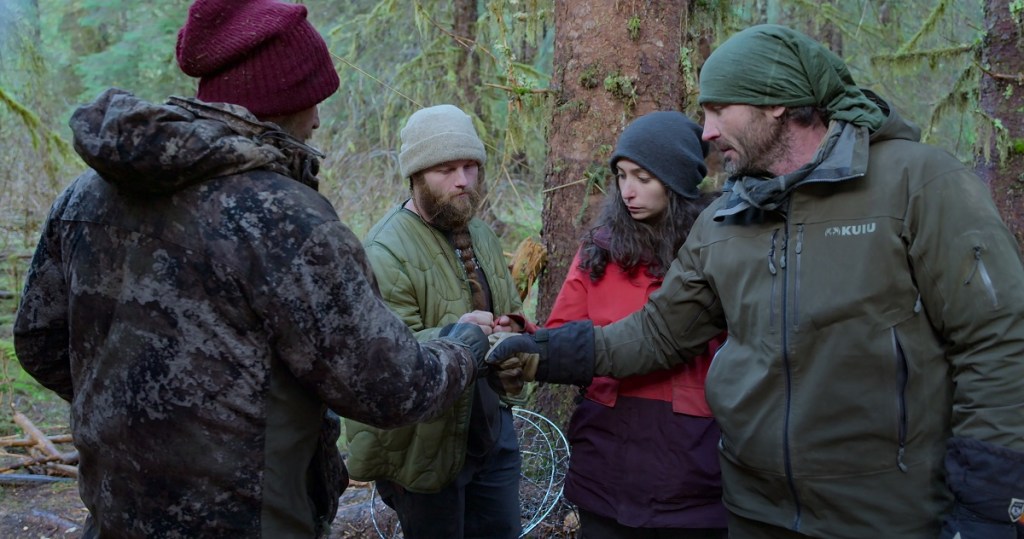 Even though plenty of food would have customarily meant a good thing, Angie was a different case. The following day, she could not help but cry out from the constant pain in her stomach. Having not had a bowel moment in all of the 24 days that she had been on the show, she was apparently at a high risk of perforation. This meant a hole could be torn open in her digestive system, leaking the contents and contaminating her blood.
Knowing that the situation could turn fatal, Angie was quickly evacuated to provide her with the requisite treatment, after which she would have the choice to come back or exit. Ultimately, she did not return and instead sent her teammates a heartfelt letter expressing her regrets and encouraging them to keep playing until the end.
Where is Angie Kenai Now?
Angie seems to have recovered from her health issues and is happily promoting the Netflix show via her social media. Having been a Texas State Guard before, the reality TV star is well used to harsh living conditions. She grew up alongside her younger brother and sister and lived in several places across the country due to having a parent in the army. This helped her become well-versed in various forms of terrain and weather patterns. Angie is based in San Antonio, Texas, and works as an Emergency Medical Technician(EMT).
Angie likes to spend as much free time enjoying the outdoors as possible. Apart from trekking, she is fond of hunting and is particularly partial to recurve bows while chasing hogs and turkeys. Her weapon knowledge includes the workings of axes, knives, and rifles. Nevertheless, the former State Guard is pretty good with handguns and slingshots. Moreover, she is quite an expert in creating traps and nets to catch fresh meat. The reality TV star is happily in a relationship and is hopeful about completing her next goal of catching a shark, having tattooed the aquatic animal on her arm as a reminder.
Read More: Why Did Jordan Williams Leave Outlast? Where is He Now?