'In Another World With My Smartphone', also known as 'Isekai wa Smartphone to Tomo ni', is just another one of those typical Isekai shows. It has the most cliched characters and even its story is quite predictable. If you have never seen an Isekai anime, which is close to impossible, this one has a lot to offer. But for those who are quite familiar with the sub-genre, this one does not offer anything particularly new.
When it comes to the art, don't expect much as it comes from a lesser-known studio and even the music is quite bland for the most part of it. 'In Another World With My Smartphone' is an anime that you should watch with no expectations, solely for the purpose of killing some time. You'll be surprised at how uplifting it can be with its nonsensical Harem gigs and fanservice. If you enjoy the whole idea of characters getting summoned to a fantasy world, then we've got some more similar titles that you might want to check out. Here's the list of best anime similar to 'In Another World With My Smartphone' that are our recommendations. You can watch several of these anime like 'In Another World With My Smartphone' on Netflix, Crunchyroll or Hulu.
8. Re: ZERO -Starting Life in Another World (2016 – 2021)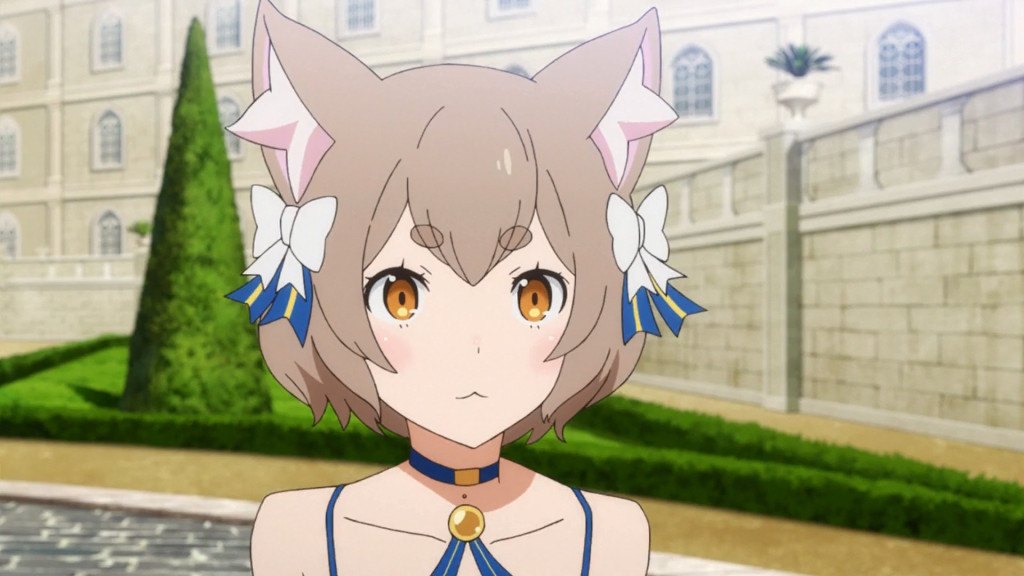 'Re: Zero' tells the story of a young boy named Natsuki Subaru who gets abducted to another world. This is when a magical girl comes to his rescue and to repay her, he decides to help her find a stolen item that she's looking for. But everything does not turn out so well as during their journey of hunting down the item, both of them get killed. Fortunately for Subaru, he returns to a point zero where he gets to relive his life again and fix everything that went wrong during the first attempt. He uses this power to not only save the life of the magical girl, but also of many other innocents in this strange new world.
The one obvious commonality between the two shows is that they're both Isekai, where the main characters, Touya and Subaru, find themselves in unknown lands. The boys, despite being quite powerful in the new world, try to achieve multiple outcomes and don't confine themselves to one positive goal. Touya from 'In Another World With My Smartphone' tries to help everyone he can with his newfound abilities. Similarly, Subaru shows a lot of courage and tries to achieve the best possible outcome that he can get from all of his actions. If you're looking for somewhat of a time loop anime that reminds you of sci-fi Hollywood classics like 'Groundhog Day' and 'Source Code', you should definitely check this one out. You can watch the anime on Crunchyroll.
7. KonoSuba: God's Blessing on This Wonderful World! (2016-)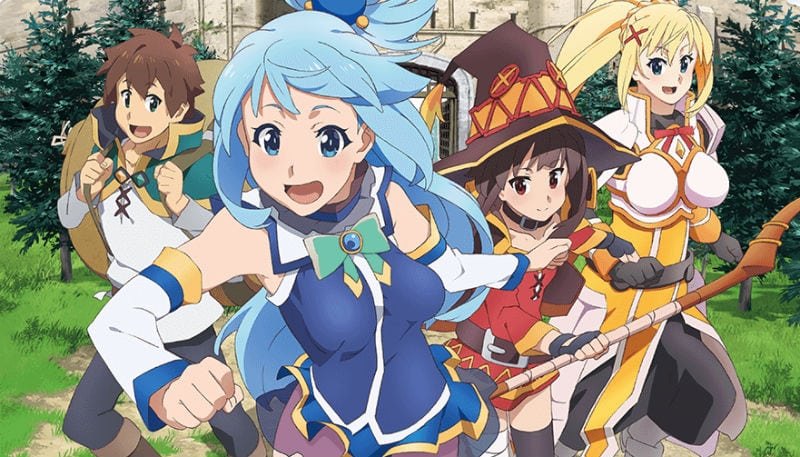 Satou Kazuma is a typical NEET who never really leaves his home and has no formal education. But even then, when it comes down to saving the life of a stranger one day, he does not hold himself back. Unfortunately for him, the girl he tried saving was not exactly in any kind of trouble and what's even worse is that he ends up dying during this act. He is then constantly mocked by a goddess named Aqua who, out of pity, gives him a second chance. She tells him that in order to go back to his normal life, he must kill the Demon Lord in this new world. She also offers him the option of choosing any one ability that he would like to use for executing this mission. But in the haze of panic and exasperation, he ends up asking for the Goddess's company instead of a weapon or an ability. Aqua's whole plan pretty much backfires at her and she is forced to join him on his little adventure. To add to his miseries, two other annoying girls join him on his journey.
'In Another World With My Smartphone' and 'KonoSuba' are both Isekai that depict the involvement of a Godly figure when their protagonists are transferred to a new world. Also, the two characters get familiar with their abilities way too quickly and instead of panicking in their new worlds, they actually start off really well. But since 'KonoSuba' is more of an Ecchi, the main character is extremely perverted and his mischievous acts often land him in unwanted trouble. If you're looking for an Isekai that is full of hilarious fanservice, then this is the show you should go for. You can stream the anime on HBO Max and Crunchyroll.
6. No Game No Life (2014)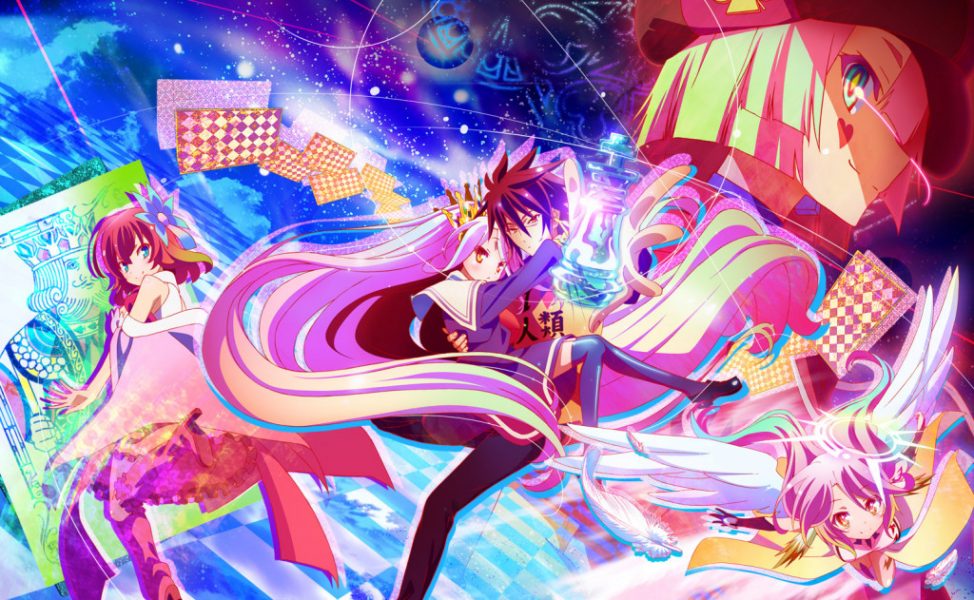 Sora and Shiru are two Otaku siblings who play online games all day. Going by the username "Blank", the two shut-ins have acquired a legendary status in the gaming world. Even the world's most renowned gamers now fear playing against their expertise in almost every game. But after receiving a strange email, the two of them are thrown into a distant world where they meet Yet, the God of Games. The God of Games now expects them to unite all the races of the world and then ultimately, face him in a match of chess.
In 'Isekai wa Smartphone to Tomo ni', as the name suggests, the protagonist carries his cellphone with him in the new world he gets summoned to. Similarly in 'No Game No Life', the two siblings not only carry their phones, but also carry other technological equipment that could help them. The implications of modern conveniences have been emphasized in both the shows. You can watch the show on Hulu.
5. Sword Art Online (2012 – 2020)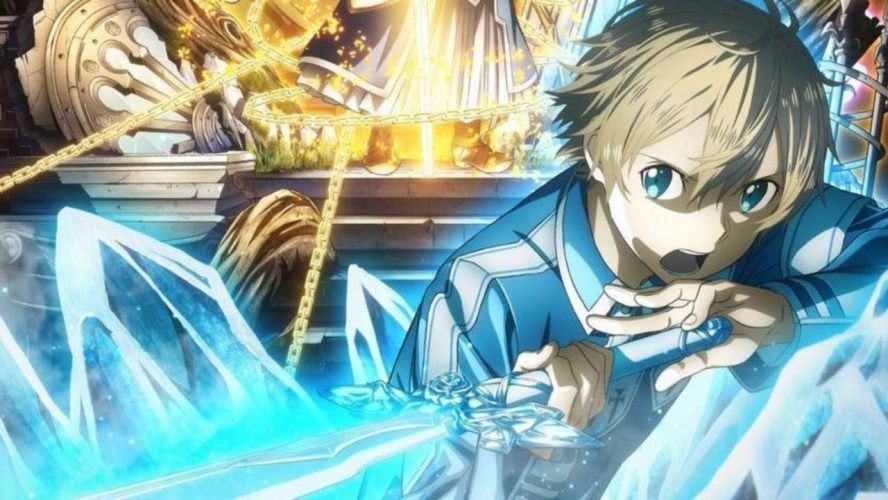 One of the best anime shows in the Isekai genre, 'Sword Art Online' is the first anime that popularized the concept of gaming anime. Since its release, many shows have tried to recreate it but have not been able to reach its high standards. Set in the near future, it revolves around a young gamer named Kirito. He is one of the ten thousand lucky kids who'll get to experience virtual gaming of the future. Unfortunately, after entering the gaming world through devices known as "Nerve Gear", the kids find out that they're stuck in there and if they ever want to get out, they will have to learn to survive.
Unlike 'In Another World With My Smartphone', the characters of 'Sword Art Online' are not physically present in their new world. But dying is a real threat in both shows and every wrong step that a character takes can have some very negative consequences. Also, the main protagonists of both shows act as leaders in their new world and boldly take on every responsibility that is laid on them. 'SOA' also has some occasional Ecchi which plays a major role in lightening its tone from time to time. You can stream the anime on Funimation or VRV.
4. Dog Days (2011)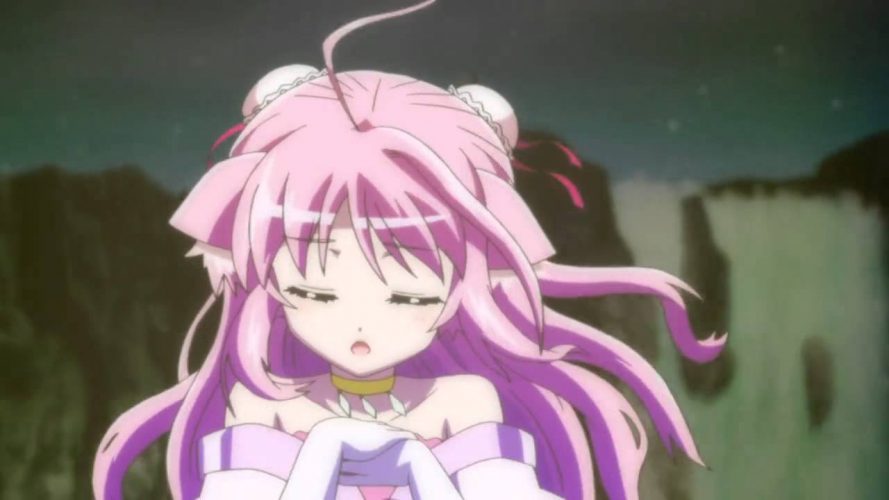 Izumi Cinque is an ordinary high school kid who loves gaming. When the inhabitants of a fantastical world start waging a war against each other through games, Princess Millhiore of Biscotti kingdom is forced to summon Izumi from the human world. She expects him to be their savior and though it takes him a while to adapt to the new animal-eared humans of this new world, he is able to prove that he is indeed a true hero.
The main characters, Touya and Cinque, from both anime shows try to make the most of their new situation instead of running away from it in fear. They also meet strange animal people and among these, they stand out not only because of what they look like, but also because of their newly acquired abilities. Just like 'In Another World With My Smartphone', 'Dog Days' is a lighthearted anime that will surely bring a smile on your face.
Read More: Anime Like Absolute Duo
3. That Time I Got Reincarnated as a Slime (2018-)
Satoru Mikami is a middle aged man who does not really hate his monotonous life, but is not too content with it either. But everything changes when he gets stabbed by an assailant on the street one day. Before dying, he starts hearing strange voices and as soon as he opens his eyes, he realizes that he's in a strange new world with the physical appearance of slime. He then comes to know that he also possesses the ability to mimic the appearance of anything just by devouring it. With a new sense of purpose now, he uses these powers to bring some changes in this new world and decides to leave his old boring life behind.
'That Time I Got Reincarnated as a Slime' is another popular Isekai title. Like 'In Another World With My Smartphone', even this one has more of a comic tone and it features a very unique protagonist who is driven by his strong sense of purpose. Both the protagonists actually feel good after escaping into their new worlds and don't even think about looking back. 'That Time I Got Reincarnated as a Slime' is another fantasy comedy that has been overly hyped but is still quite entertaining. All episodes are accessible for streaming Funimation and VRV.
Read More: Anime Like That Time I Got Reincarnated as a Slime
2. Outbreak Company (2013)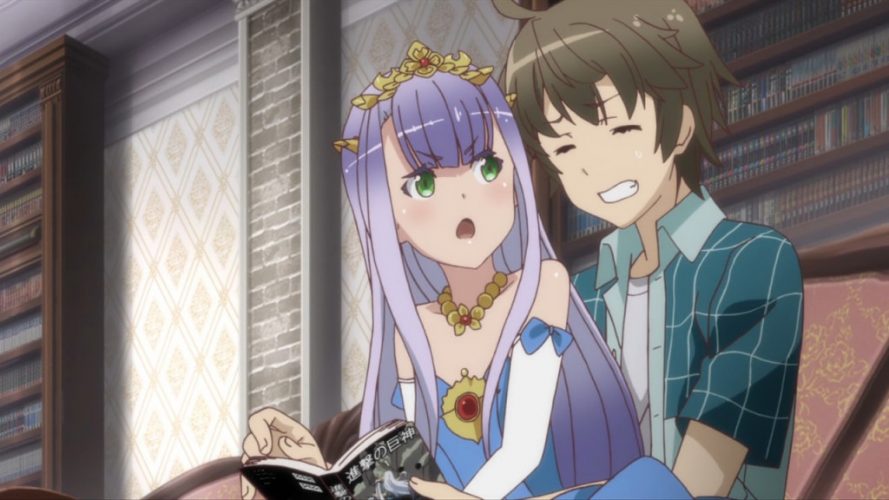 'Outbreak Company' centers around a character named Kanou Shinichi who somehow gathers the courage to propose to his childhood friend. Unfortunately for him, he gets rejected and is totally shattered. While looking for a job online, he comes across a strange yet interesting ad asking for an Otaku. He decides to give it a shot and being the hardcore Otaku that he is, he easily nails the interview. This is when he gets magically transported to an alternate world where the government expects him to spread the Otaku culture. He accepts the challenge and sets out on a mission to popularize the one thing he's passionate about.
'Outbreak Company', just like 'In Another World With My Smartphone', later turns into a typical harem comedy. The main characters of both the shows become quite enthralled about their new worlds instead of complaining about it. They also feel a strong sense of purpose because compared to the real world, they are actually seen as heroes after getting summoned. If you observe carefully, you'll also notice a lot of cultural references in both. You can stream the anime on VRV and HIDIVE.
Read More: Anime Like One Piece
1. Trinity Seven (2014)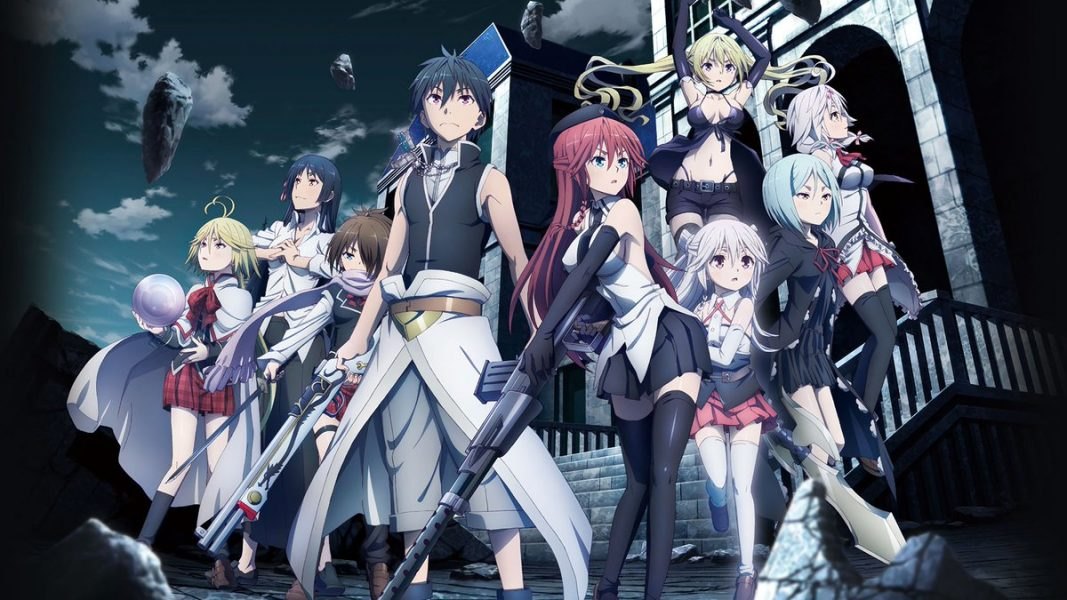 Yet another Harem Comedy, 'Trinity Seven' revolves around a character named Kasuga Arata. Just like Touya from 'In Another World With My Smartphone', Arata turns out to be extremely talented when it comes to controlling his newfound abilities. Compared to Arata, Touya's harem of girls is slightly smaller but he's still no less of a ladies man. 'Trinity Seven' is not an Isekai but still shares its similarities with others on this list. It has a typical convoluted magical system and also involves a whole lot of fan service. Despite its cliched High school setting, what makes it really enjoyable is its unique eccentric characters who bring in some refreshingly new Ecchi gags. Definitely a must-watch for anyone who enjoyed 'In Another World With My Smartphone'. The anime is accessible for streaming on Funimation or HIDIVE.
Read More: Anime Like Trinity Seven