'Log Horizon' starts off as a very bland version of 'Sword Art Online' but it soon turns into an anime that is probably the second-best thing that has ever happened to the gaming anime genre. In the case of most similar anime shows, a similar setup with gaming rules makes them more cliched and repetitive. But 'Log Horizon' wisely implements these gaming rules is such a way that it actually turns to become a very well-thought-out show which has been strategically devised to perfection. Especially for those who are familiar with games like 'World of Warcraft', 'Log Horizon' has a very special appeal. That being said, if like many viewers out there, you were left disheartened when 'Log Horizon' came to an end, we've got a list of some similar anime shows just for you. You can watch many of these anime like Log Horizon on Hulu, Crunchyroll and Funimation.
9. DanMachi (2015-)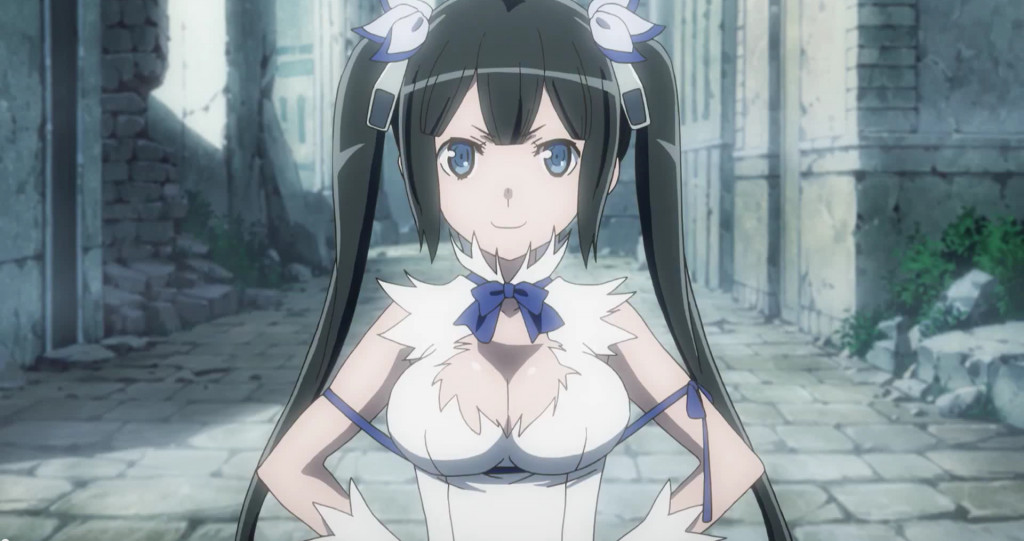 'Is It Wrong to Try to Pick Up Girls in a Dungeon?', also known as 'DanMachi', is a well-known fantasy comedy that brings in elements very similar to that of an RPG. It's a typical Ecchi that also has an interesting story along with its excessive fanservice. What makes it similar to 'Log Horizon' is its obvious use of gaming references such as gaining experience points, leveling up and even acquiring magic. Its fresh non-Isekai setup gives it more of a fresh appeal compared to all the other similar shows out there.
Its story is about a young boy named Bell Cranell whose life is saved a female swordswoman. Named Ais, she is a calm young girl who proves to be extremely powerful during battles. Into the deep dark catacombs of the city, Bell sets out on a journey with her and hopes that someday, he will be able to be as strong and worthy as Ais.
8. Hai to Gensou no Grimgar (2016)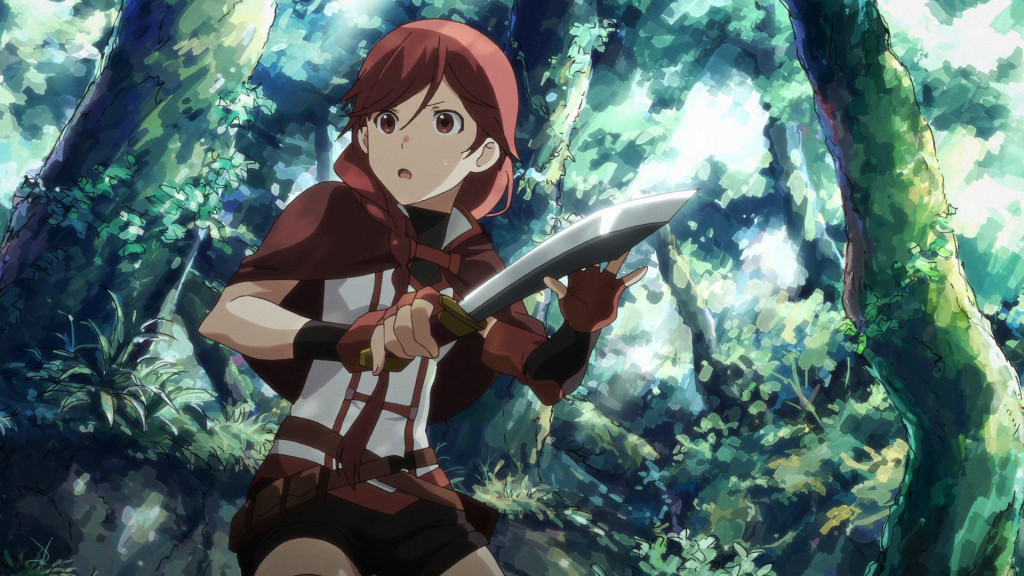 'Hai to Gensou no Grimgar' follows a fantasy game concept which is very similar to that of 'Log Horizon'. In both the shows, the protagonists are a bunch of warriors who find themselves in a world where survival is their prime motive. But unlike 'Log Horizon', which focuses more on the political structure of the new world, 'Hai no Gensou no Grimgar' keeps it's storyline quite simple and only revolves around the day-to-day survival of the characters. Another thing that's common between the two is that both will be quite relatable for anyone who has ever played MMORPGs. They involve typical skills and battle strategies that resonate with all the gamers out there. Another way to look at it is that both the shows are just alternate extensions of each other and if you enjoyed watching 'Log Horizon', you will surely love this one.
7. Spice and Wolf (2008)
'Spice and Wolf' also involves several political and economical themes in context with a fantasy world. Apart from that, it also packs a whole lot of action and fantasy elements which are very similar to 'Log Horizon' and 'Sword Art Online'.
The story of 'Spice and Wolf' takes a more romantic turn and is not exactly confined to the idea of survival. It starts off by introducing a traveler named Kraft Lawrence who is on a quest to find a stable way to earn some income. But along the way, he runs into a very beautiful girl who has furry wolf-like ears and a tail. He later comes to realize that she is actually a harvest goddess known as Solo and she only intends to return to her home. What follows is the story of the two characters who set out on journey along the countryside. This journey takes them through a rollercoaster of emotions where they get to learn a lot about love, but eventually, they're both left with heavy hearts full of sorrow.
6. Code Geass: Lelouch of the Rebellion (2006-2007)
Compared to all the other shows on this list, 'Code Geass' barely has anything in common with 'Log Horizon'. It has an entirely different premise and it does not even come close to being a gaming anime. But if you were drawn to the main character, Akatsuki, of 'Log Horizon', you will absolutely love Lelouch from 'Code Geass'. Both these characters are the smartest anime characters of all time and are basically strategic geniuses. Apart from this, the two shows also have some minor fantasy elements in common.
Set in the year 2010, Japan has been taken over by the Holy Empire of Britannia that holds a secret impeccable weapon. This is when Lelouch, an ordinary Britannia student, gets caught up in a crossfire between the Japanese rebel forces and Britannia. Luckily for him, a mysterious girl comes to his rescue and offers him the "Power of Kings". This is when he becomes an overpowered mastermind who starts his own war against Britannia and aims to restore peace in his nation.
5. Maoyuu Maou Yusha (2013)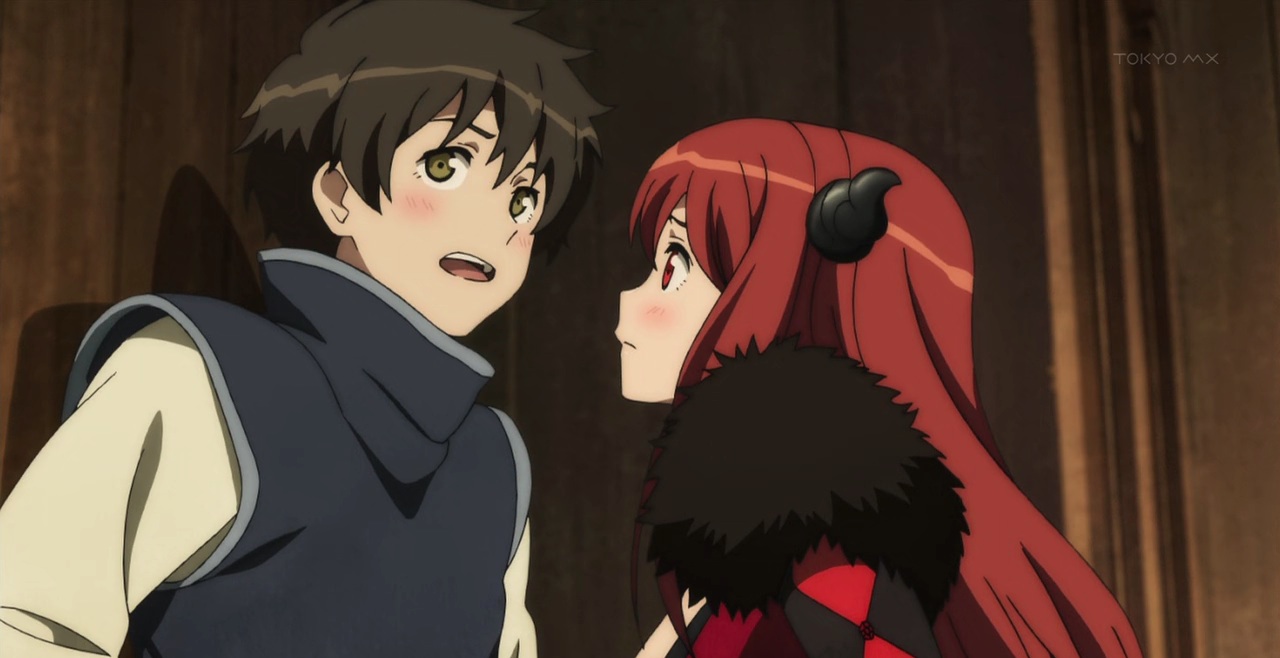 'Maoyuu Maou Yusha' and 'Log Horizon' have been created by the same author, Mamare Touno. The two are very similar in terms of the basic details of their fantasy worlds. Even the characters share some similarities and the overall premise of both is quite intellectual.
'Maoyuu' is a short 12-episode anime that sets a perfect example for how every historical drama should be. Instead of heavily relying on fanservice or fillers, it brings in a moderately diverse show that has the best narration and involves the perfect blend of historical references with fantasy themes. The personalities of some characters are just stale generic stereotypes, but just like 'Log Horizon', it often surprises you with economic and strategic aspects of a battle. 'Maoyuu' is the kind of anime that has a lot of evident flaws, but it still manages to compensate for all of it by creating a very dynamic universe. A perfect anime for anyone who enjoyed the conceptual values of 'Log Horizon'.
4. No Game No Life (2014)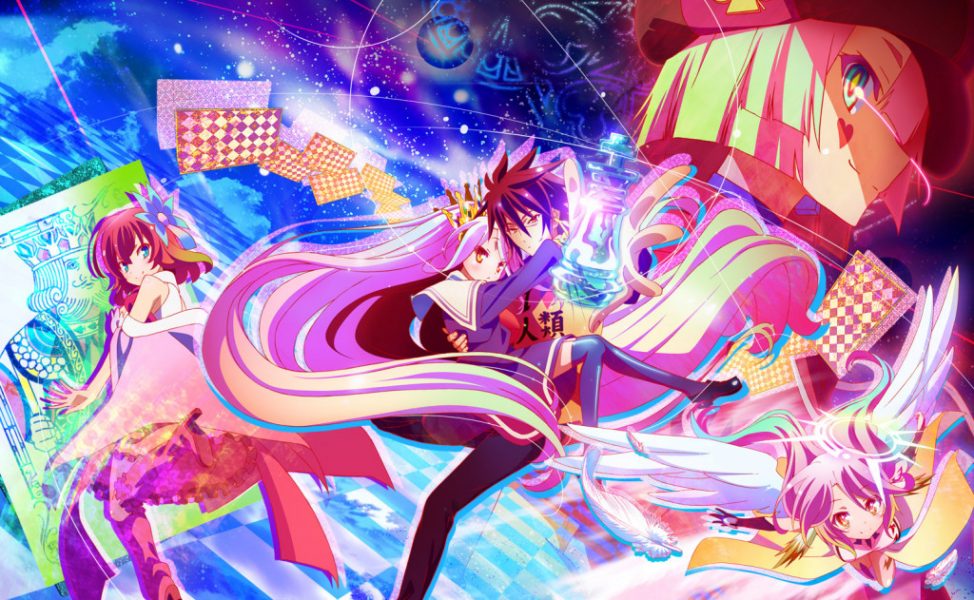 'No Game No Life', just like 'Log Horizon', has a diverse set of characters, huge fantasy worlds, strategical thinking and most of all, a gaming setup. It centers two main characters, Shiro and Sora, who are both hardcore Otakus. They hate the real world and spend most of their time playing video games. This is when they get magically transported to a gaming world where, in order to save humanity, the siblings must join forces and become the last bit of hope that can rescue this alternate reality.
3. Accel World (2012)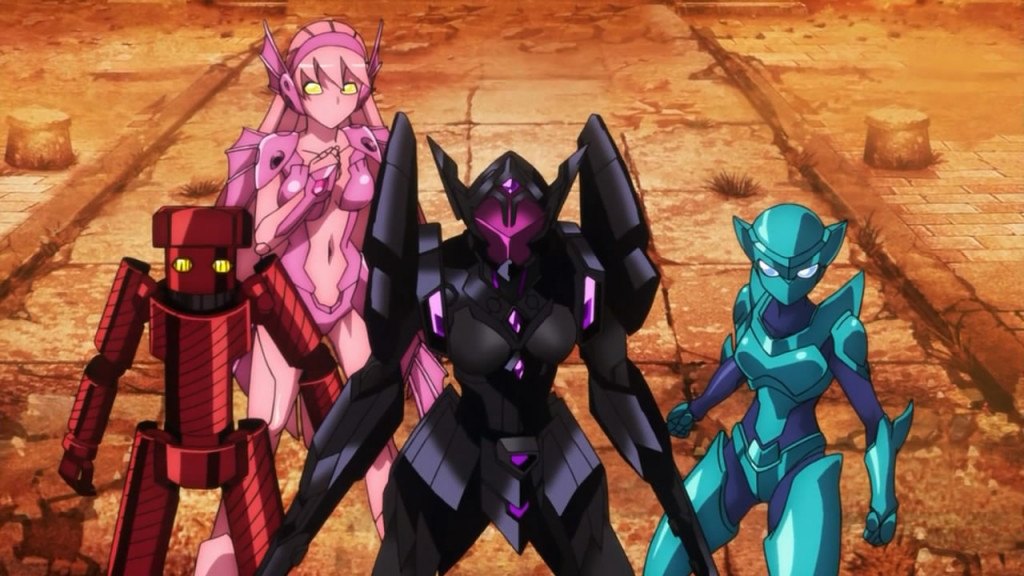 Haruyuki, the main protagonist 'Accel World', hates getting bullied all the time and decides to completely escape into a virtual realm. This when Kuroyukihime, who is also a high scorer in the game, notices Haruyuki's online presence. Being the vice president of the student council, she invites him over one day and asks him if he would be interested in playing an augmented reality game using a headset known as "Brain Burst". Though a little reluctant about it, he agrees as she promises him that he will never be bullied again. The two join forces and make their way to the top in order to unravel the mystery behind the creator of the game.
Just like 'Log Horizon', 'Accel World' also presents a whole gaming world where the protagonists use common strategies to reach their goals. But 'Log Horizon' is more of an Isekai where the new world is enforced upon the characters, whereas in 'Accel World', the characters are free to leave whenever they want and are not physically present in the virtual world.
2. Overlord (2015-)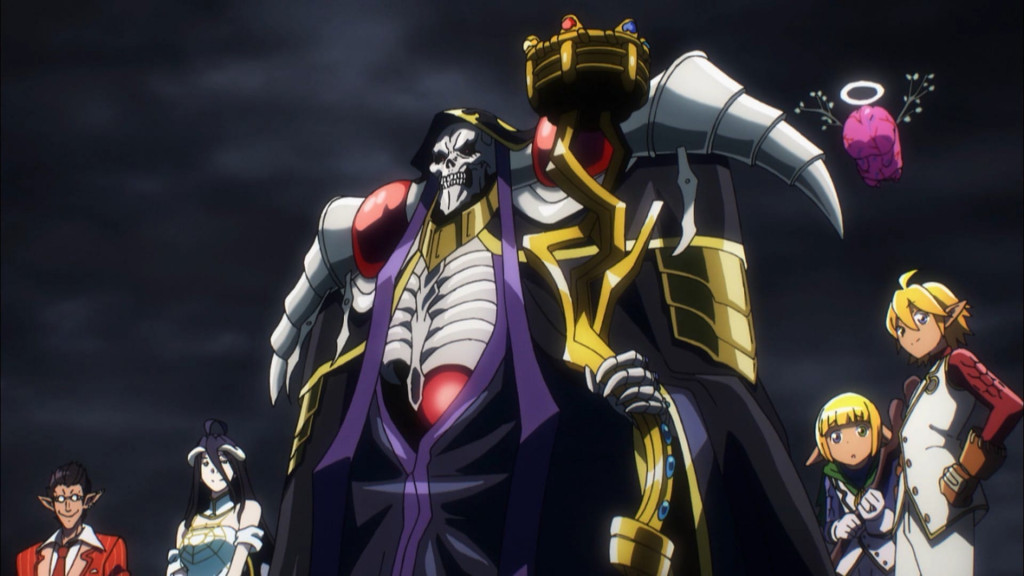 Momonga, a middle-aged man, decides to play his favorite MMORPG for the last time before it goes offline forever. Disheartened by the fact that none of his guild members showed up, he continues to make the most of his limited time. That's when the clock strikes the game's end time, but to his surprise, he still seems to be a part of the game. Soon he realizes, that all the NPCs of the game have become sentient and are able to talk to him out of their own free will. To get a better hold on his strange situation, he decides to explore the world around him but will he be able to take control of it?
In both, 'Overlord' and 'Log Horizon', the protagonists are stuck in a gaming world where they must learn to adapt and instead of escaping it, they must aim to improve it. Both the anime capture the true essence of real-life gaming by not following the footsteps of other typical survival anime. The only big difference between the two is that unlike 'Overlord', the main protagonist of 'Log Horizon' is not overpowered.
1. Sword Art Online (2012-)
An anime list related "gaming shows" or Isekai is incomplete without 'Sword Art Online'. It tells the story of a young boy named Kirito who, along with a few other "lucky" gamers, gets to experience virtual reality gaming. But after trying out this new technology, he and all the other gamers realize that they're not so lucky after all and they must now learn to survive in this new virtual world. Logging off from this is impossible and anyone who dies in the game will also be dead in the real world. With all the odds against them, Kirito and his friends must find a way to break free.
'Log Horizon' and 'SOA' have a lot in common. But for some reason, 'SOA' has reached the pinnacle of popularity while 'Log Horizon' still remains underrated. So obviously, if you had a good time watching the lesser-known 'Log Horizon', you will surely love 'SOA' since it was the first anime which popularized the whole video game Isekai concept.
Read More: Anime Like Sword Art Online