Greek cinema has for a long time not received the equal amount of acclaim in the international film circuit as Italian or French cinema. However, that is not to say that their films are not good. Greek cinema has for a long time maintained its own set of aesthetics and represented their own history in a way that only they could. A country with a rich heritage and social complexities Greek cinema have some wonderful gems among them. Here's the list of top Greek movies ever made. You can watch some these best Greek movies on Netflix or Hulu or Amazon Prime.
12. Sweet Bunch (1983)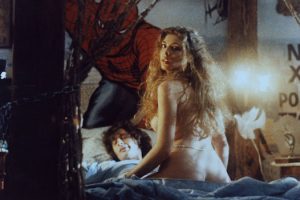 Directed by Nikos Nikolaidis, this film explores the lives of four youths Argyris, Andreas, Marina, and Sofia. The beauty of the film lies in the portrayal of disillusionment that these young people feel towards life. This feeling festers and puts them on a path of crime where these kids try all criminal experiences bringing them under the radar of the authorities. Their first misstep occurs when Sofia kills the police who was keeping tabs on them. A film that has often been ranked as one of the best in Greek cinema, this movie explores love, life, and friendship through its unconventional anti-authority, anti-society figures and their dialogic exchanges capture the social cynicism and social condition that the director tries to portray.
Read More: Best Hood Movies of All Time
11. Attenberg (2010)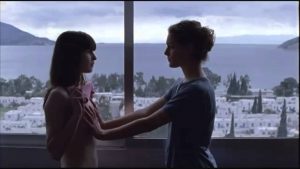 Directed by Athina Rachel Tsangari, this film was duly noted by the critics in most circles for its expert handling of delicate subject matters such as love and loss. The story is about Marina, a coming of age story, where this young woman must navigate two equally difficult fields – her dying father, and her first sexual encounter with a stranger. Tarantino, who was the head of the Jury at the 67th Venice International Film Festival, where the film was nominated for a Golden Lion, commented that the film grew on the audience and showed a different side of Greece. The most striking feature of the film, however, is its bias towards adolescent purity and its handling of love and loss. A truly spectacular film, this movie shows how far Greek cinema has come in the world.
Read More: Best Robot Movies of All Time
10. Miss Violence (2013)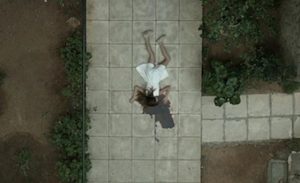 Directed by Alexandro Avranas, this film follows Angeliki, a young girl who jumps from the balcony and kills herself on her eleventh birthday. At the time of her death, she has a smile on her face. The next ninety minutes, which forms the plot of the film, is served in trying to piece together the sequence of events that led to her jumping. The family keeps insisting that the whole thing was an accident and the film that engrosses the viewers take them to the heart of the family unit – a corrupt and rotten heart. A powerful tale of abuse and lies, the deceptive cold formal handling of the movie masks its true force which sneaks up on the audience and punches them in the gut leaving them reeling from the impact of this directorial brilliance.
Read More: Best Rainy Days Movies of All Time
9. A Touch of Spice (2003)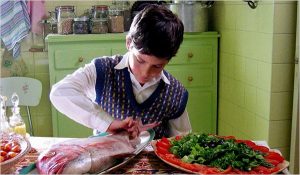 Directed by Tassos Boulmetis, the film's title itself is a hint into the content of the film. Called Politiki Kouzina, the title closely means political cuisine and the movie deals with how the politics of the individuals shape their lives. The plot follows Fanis, a man who is deeply influenced by his grandfather's teachings and his interest in spices. Fanis is later expelled from Constantinople and the tensions between Turkey and Greece rise. Sent back to Athens, a land he has no connection with, Fanis' only way to cope with this displacement is through cooking. However, when berated by his mother who feared he might be depressed or a homosexual, Fanis is forced to sever this last remaining tie to his roots. A movie that brilliantly deals with foreignness in one's own country and the horrors of displacement and the nostalgia of roots and belonging, this movie is truly wholesome in every sense of the word and is a heartwarming look into the lives of these Athenians.
Read More: Best Religious Cult Movies of All Time
8. Plato's Academy (2009)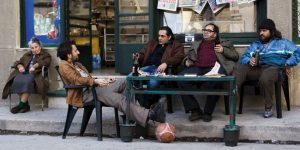 Directed by Filippos Tsitos, this movie is excellent in the way it portrays racism. It doesn't attempt to teach a moral lesson, it doesn't attempt to have didactic overtones or exoticize a race, it just effectively analyzes the culture and behavior. It does this through four xenophobic friends who drink beer or coffee all day and study the hardworking laborers who they believe have invaded their neighborhood. Stravos the protagonist is a man who cannot really cope with the shots life throws at him and his only comfort is his apparent racial superiority. Thus these four friends mock the Albanian construction workers the most and then it turns out that the protagonist himself might be Albanian. This is where the movie poses through the protagonist the most important question – what does it mean to be Greek? Because the protagonist's ancestry might be Albanian but the man himself is of the firm belief that he is Greek to the core. A wry script with humorous insights that capture the social condition, this film deserves more viewers as a fine example of Greek cinema.
Read More: Best Nuclear War Movies of All Time
7. The Red Lanterns (1963)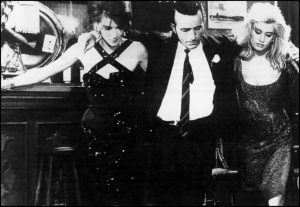 Directed by Vasilis Georgiadis, this film is based on a play be Alekos Galanos. The plot revolves around five prostitutes who work at the titular Red Lanterns. They are each complex personalities with their own secrets and experiences that have led them to work here. However, these women are essentially kindhearted and look out for one another. However, a series of tragic events lead to the shutting down of their workplace and these women's lives are displaced and thrown into disarray. Nominated for the Academy Awards, the film's first-rate handling of the subject matter and brilliant direction effectively makes it one of the finest foreign tragedies of the twentieth century.
Read More: Best Portuguese Movies
6. Dogtooth (2009)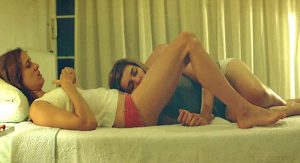 Directed by Yorgos Lanthimos, this film is probably the most original idea in many years, and one of the finest films of the 2000s. The plot is surreally dark and shows the home as hell. The family unit is shown at its most obsessive and controlling, as the parents do not let their children out of their mansion. The only person allowed outside is the father who generates income for the family and the only person allowed inside is Christina, a woman whose function is to serve as a sexual partner for the son. However, the film which shows parental control and how far it can overreach and a fierce need for independence, the narrative also exposes human nature and explores sexual curiosity. The symbol of Hollywood freeing the eldest daughter is marked in an attempt to signal free thought and liberal attitudes. Lanthimos does a brilliant job with this movie and personally, as the first Greek film I'd seen, this movie is a brilliant place to start if you want to know more about Greek cinema.
Read More: Best Movies About Alcoholism of All Time
5. Rembetiko (1983)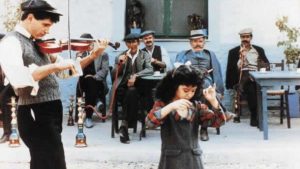 Directed by Costas Ferris, this film is a musical drama that sweeps through forty turbulent years in the life of the protagonist Marika, from the time of her birth in 1917. Marika faces several hurdles in her profession as a singer and in her love life. Ultimately they both remain rather unfulfilled at a large-scale and Marika who is stabbed in the stomach on the night of her reunion dies eventually. This film is perhaps the best film about Greek music and aside from the music it accurately represents the culture and life of Greece from 1917 to 1956 making this film an epic musical masterpiece.
Read More: Best Haunted House Movies of All Time
4. Stella (1955)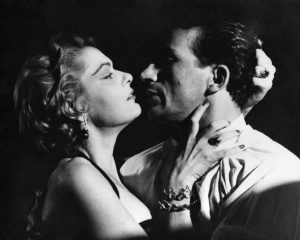 A film retelling of the opera – Carmen, this film is directed by Cypriot Michael Cacoyannis. The film stars Melina Mercouri as a Rembetiko singer who values her freedom over anything else. The plot follows this woman's fiercely independent nature which reflects in her life and love and her subjugation to patriarchal norms comes only at the moment of her death in the climax of the movie. One of the first feminist movies on the big screen, this film treasures above all else female agency and Melina's acting brilliance lends the movie the much-needed edge. A film that shocked the audience for its bold vision, it is after all a 1955 movie, it is now recognized by critics as one of the best five Greek movies of all time.
Read More: Best Adolf Hitler Movies of All Time
3. Eternity and a Day (1998)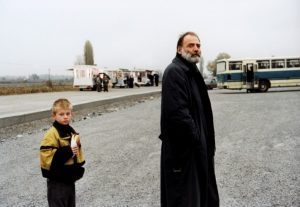 Directed by Theo Angelopoulos and starring Bruno Ganz, this film centers around an old poet who forms a relationship with a young boy, a mutual relationship linked by fear. The poet is nearly at the end of his life as he has to go in for an unspecified test in the hospital, he is fearful of what lies ahead and the impact his life has had. The young boy, too, is fearful of his future and his life in Albania. Eternity and a Day is a well thought and well-made film about coping mechanisms and dealing with the future. A tender directorial hand and some first-rate acting lands this film a spot on this list and makes it one of the most critically acclaimed Greek films in critical circles.
Read More: Best Cheerleading Movies of All Time
2. Never on Sunday (1960)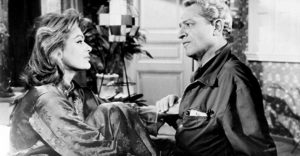 Directed by Jules Dassin, this film too has strong feminist overtones and is about Ilya, a free-spirited prostitute who works in Piraeus. She comes in contact with Homer, a scholar who is enamored with classical Greek culture. The interaction between two is a tug between a path of morality and a free liberal way of life. The film celebrates joy and liberation and is a wholesome movie. However, the most important aspect of the film would have to be its representation of Greek culture – dance, music, and language. Dassin's directorial brilliance along with Mercouri's acting makes this one of the finest Greek movies.
Read More: Best Airplane Hijack Movies of All Time
1. The Ogre of Athens (1956)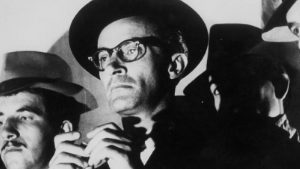 Directed by Nikos Koundoros, this film stars the extremely talented Dinos Iliopoulos as a tragic man who lives a banal and miserable life. However, things take a sharp turn when his facial similarities with an infamous wanted criminal called 'the dragon'. One of the monuments of Greek filmmaking, this movie combines aesthetics of both Italian neorealism and German expressionism. A thrilling crime noir where the man gets involved in a criminal gang due to the same facial features and begins to live his life hiding from the law, the tragedy comes when the woman he falls in love with cannot understand his tragic situation but a member of the gang understands that he is not the dragon and kills him. An excellently made film, this is often lauded for its brilliant direction and is definitely one of the best Greek films of all time and perhaps one of the best films of all time as well.
Read More: Best Spanish Movies