An entertaining mix of anticipation, romance, and drama, 'Are You The One?' is certainly not a reality show you would want to miss out on. The reality series provides its participants a unique opportunity to find love, and the hurdles they overcome to obtain their goal contribute to their overall popularity with the public. Consider the pairing of Danielle Bonaparte and Hamudi Hasoon from season 9 of the Paramount+ show, whose time together may have been brief, but it did fill viewers with much curiosity about whether or not they are still together. Luckily, here is what we know about the same.
Danielle Bonaparte and Hamudi Hasoon's Are You The One? Journey
After entering the beloved dating show, Danielle and Hamudi were hopeful about exploring their options to find the person meant for them. However, finding each other was far from simple, mainly due to the various bonds they developed with some of the other cast members. In fact, one of the most significant romances from this particular installment of the show happened between Hamudi and Mijntje Lupgens.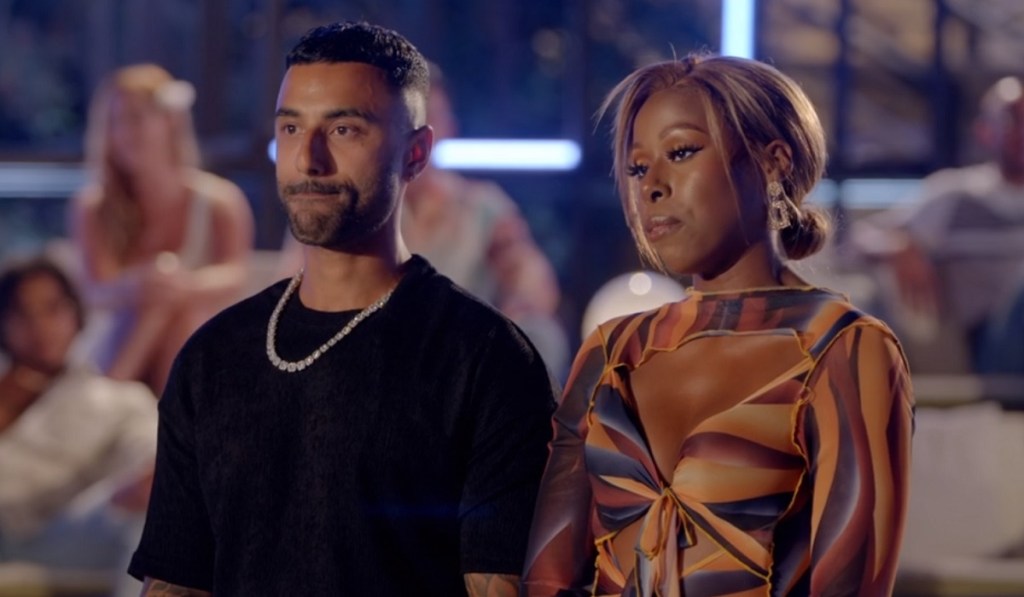 After just a few days of getting to know the various participants, Hamudi and Mijntje grew closer and closer. The pair's bond was considered unshakeable though they tried to keep an open find about their future. Sadly, things for this pairing took a downward turn after the 7th challenge, allowing Hamudi and Mijntje to go on a date. Knowing how well the two meshed, their fellow cast members decided to send them into the truth booth, where it was revealed that they were not a perfect match.
During the next match-up ceremony, host Kamie Crawford disclosed that Mijntje's actual match was Shamal "Samuel" Khan, who had to leave the show for personal reasons. Meanwhile, Danielle continued to search for her match on the show and initially bonded with Leo Svete. However, she then went on a date with William "Will" Gagnon, which ended with a small kiss. Since the latter was still seemingly involved with Courtney Rowe, he decided to keep this development quiet.
Danielle decided to go along with the same until she heard how Will was upset about Aqel Carson kissing Courtney on the cheek as a greeting and decided to share the truth of her date as she thought Will's words were hypocritical given his own actions. For the 9th match-up ceremony, Hamudi chose Danielle as his date. The pair did get along very well and had even paired up for the 3rd match-up ceremony after Michael "Mikey" Owusu selected Mijntje.
However, Danielle and Hamudi had never had the chance to explore the romantic side of their connection. They did admit that they always had fun with each other and were reminded of the same during the 2-minute speed dates that all unmatched participants had gone through earlier. At the end of the ceremony, it was revealed that all the matches were found, indicating that Danielle and Hamudi were indeed each other's perfect partners.
Are Danielle Bonaparte and Hamudi Hasoon Still Together?
As of writing, Danielle and Hamudi have not shared any official updates regarding their romantic status. However, given their limited time with each other while on the show, it is possible that the duo decided not to pursue a romantic relationship with each other. Despite the final outcome of their pairing, the two seem to be on amicable terms and follow each other on social media. Danielle even talked about Hamudi's impressive cologne collection in one of her recent Instagram posts.
Based in Phoenix, Arizona, Danielle is a professional dancer. Unlike many of her co-stars, it seems like the reality TV contestant has decided not to actively participate in the brewing drama among many of the cast members of 'Are You The One?' season 9. On the other hand, Hamudi is thriving in his career as a model and is affiliated with JAM Talent and Modeling Agency. Both of them have been actively promoting the Paramount+ show on their social media and have bonded well with many of their fellow participants.
Read More: Are Anissa and Aqel From Are You The One Still Together?