The romantic side of life can often be challenging for people, especially when all the usual ways of finding a partner yield no results. However, the participants of 'Are You The One?' get the unique opportunity to find their perfect match based on their wants and needs. Obviously, not all is as simple as a straight-up meeting, and the reality show's unique format allows viewers to truly get immersed in the stories that unfold over each season. Take the tale of Anissa Aguilar and Aqel Carson, one of the strongest couples from the Paramount+ show's season 9, who quickly captured the hearts of fans worldwide. If you are curious whether the pair is still together, worry not because we have your back!
Anissa Aguilar and Aqel Carson's Are You The One? Journey
Anissa and Aqel entered the Paramount+ dating show, hoping to end their romantic woes. Based on their first week of interactions, the latter partnered with Courtney Rowe during the first match-up ceremony. At the same time, Anissa was chosen by Oliver "Ollie" Andersen. Nevertheless, the night was a blackout as there were no perfect matches, allowing all participants to remove at least one name from their lists.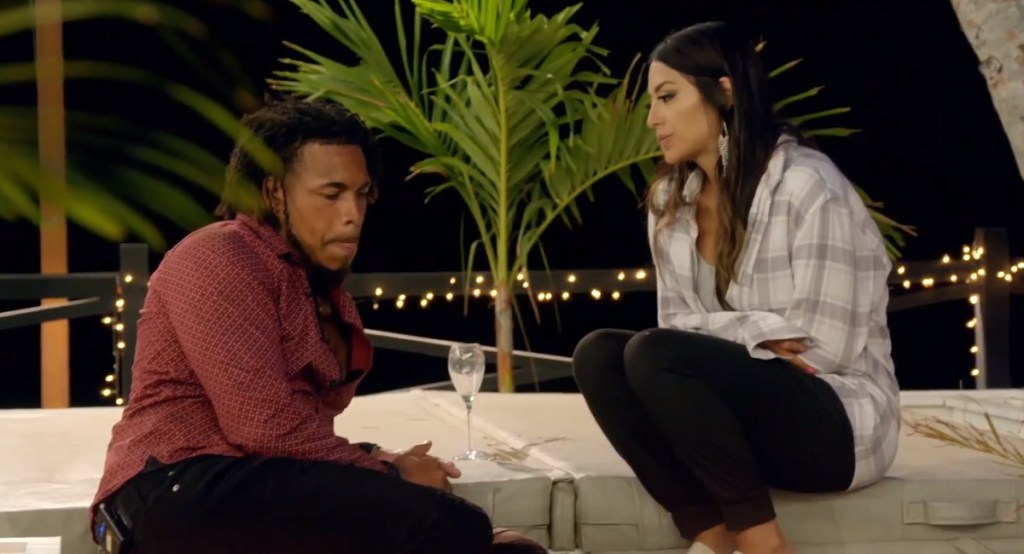 After the first match-up ceremony, Anissa and Aqel started to get closer. Their bond was undoubtedly strong, and both felt the other might be their perfect match. Following the second challenge, Anissa did get to enter the truth booth alongside Hamudi Hasoon, yet it was soon revealed that they were not a perfect match. Hence, in the 2nd match-up ceremony, she wasted no time choosing Aqel as her partner, which also appealed to the latter.
However, as the season progressed, Anissa's confidence in her relationship with Aqel dwindled, especially when some of the strongest "couples" were revealed not to be the pre-decided ones. Besides, most contestants were determined to shake things up to increase the number of beams they might get at the ceremonies, leading Mijntje Lupgens to pick Aqel as her partner during the 6th match-up ceremony. Similarly, Anissa chose Shamal "Samuel" Khan. Throughout season 9, she and Aqel chose each other as their partners most of the time though they never got the chance to confirm their pairing via the truth booth.
Just before the 9th challenge, Aqel shared with Anissa how he had noticed that she would often talk about being friends before the match-up ceremonies. In response, she confessed about not wanting to put all her eggs in the same basket, but she did think that he could be her potential match. The couple's confusion had cleared up when they partnered for the 9th match-up ceremony. All the lights were lit, indicating that Anissa and Aqel were indeed each other's perfect match.
Are Anissa Aguilar and Aqel Carson Still Together?
As of writing, neither Anissa nor Aqel has given any official news regarding their relationship status. Although, we are hopeful that the two are still together, given the beautiful bond they shared on the show. As one of the fan-favorite couples, the pair has maintained a solid following, with people eagerly cheering them on during their on-screen journey. Even now, the two can often be seen interacting with each other on social media, which only adds to the credibility of their connection.
Since the premiere of 'Are You The One?' season 9, Anissa and Aqel have openly discussed their thoughts regarding the weekly episodes. The former even took to Instagram to discuss her on-screen confession regarding her past relationship and medical condition. The founder of The 2112 Project also defended Hamudi from the public regarding his response while they were on a date. "Hamudi is an incredible man; a true gem. And I'm grateful he helped me see a whole new perspective from his POV. We had a beautiful convo after the truth booth, and his response from our date was/is completely valid," Anissa stated in an Instagram post.
Meanwhile, Aqel seems to be making promising progress regarding his legs. As the show's fans might be aware, the reality TV star had been in a car accident some years ago that severely injured his legs. As a result, Aqel had to use braces to move around, but with discomfort. Luckily, in January 2023, he could calf raise his body weight for the first time in about five years. He was delighted to post a video of him running the following month.
"Wheelchair bound for 9 months, arm crutches, walking cane, leg braces…I let none of those stop me from achieving my goals!!," Aqel joyfully expressed in the caption of his Instagram post. My God is a good God. Thank you so much to the people close to me always reminding me of who I am and never allowed me to give up. I am over the moon rn and cannot be happier!!!"
Read More: Are Jordanne Deveaux and Michael "Mikey" Owusu From Are You The One Still Together?